Nusa Penida is a relatively undeveloped island southeast of mainland Bali. You won't find the snazzy beach clubs, organic cafes, or trendy restaurants here, but Nusa Penida is still worthy of a visit. It houses some of the most photogenic sights in Bali.
If you're wondering how to visit Nusa Penida, look no further! I'll guide you through everything you need to know in this post. Read on –
🌺 Traveling to Bali soon? Check out all of my Bali posts here! I also recommend reading my complete Bali Travel Guide – This post contains everything I know about Bali: which areas to stay, what food to eat, and all the activities to do in Bali.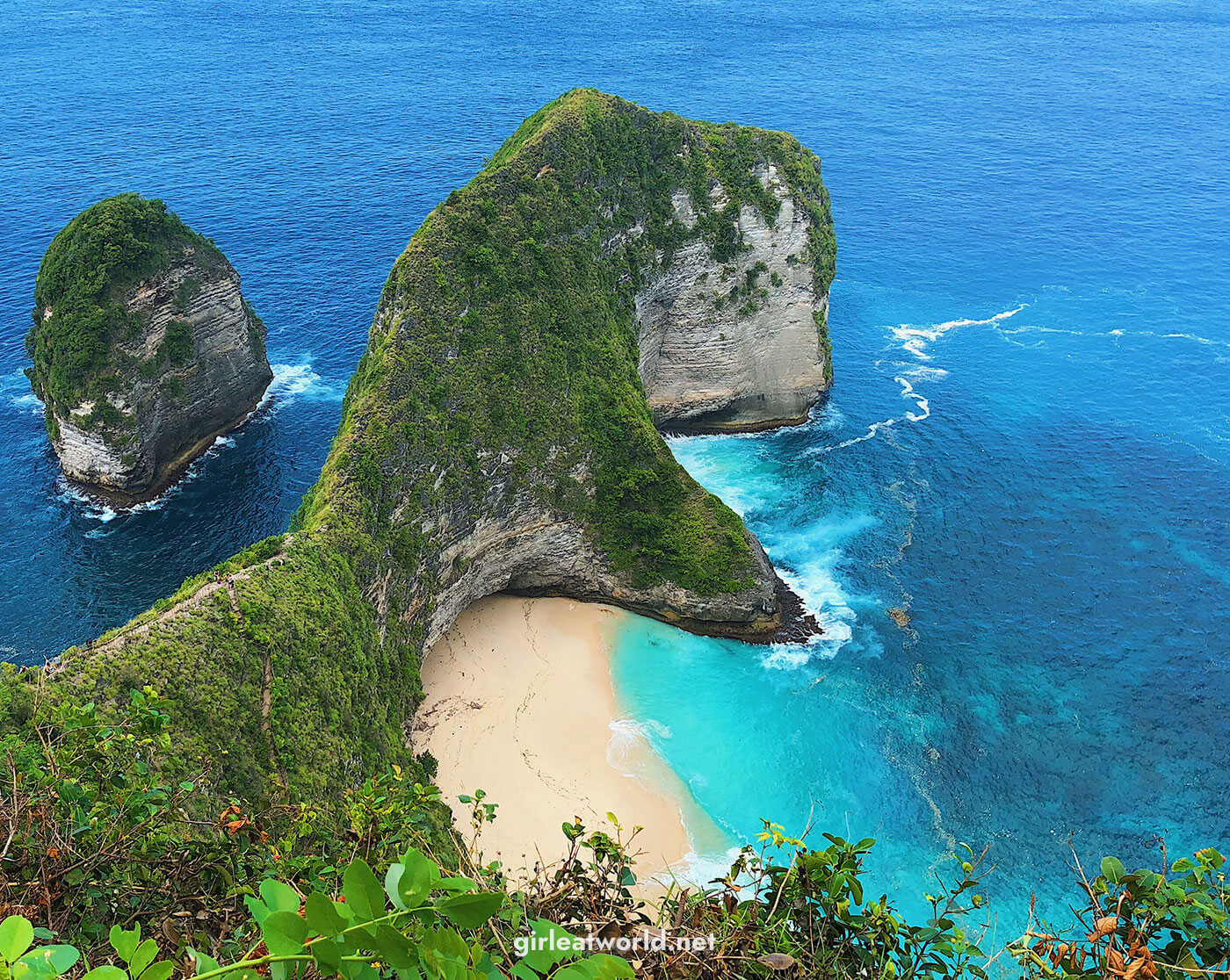 Brief History of Nusa Penida
Nusa means "island" and Penida means "priests" in Balinese. Translated it means the island of priests and it isn't necessary to refer to the island as "Nusa Penida Island" – it would just be redundant!
The island is known to local Balinese as the black magic island. Long before it became a tourist attraction for its natural beauty, Nusa Penida was once believed by locals to be inhabited by dark spirits, banished to the island by the priests of Bali. However, even with such negative connotations, Nusa Penida remains an important religious destination. This is because Bali's spiritual belief dictates balance in the universe, in which both good and evil are necessary.
Nowadays, Nusa Penida is known mostly for Kelingking Beach, Angel's Billabong, and Broken Beach, but you can still visit temples where the dark spirit is worshipped – and kept at bay. I will elaborate more on that below.
How many days should I spend in Nusa Penida?
If you want to see the entire Nusa Penida and enjoy your stay slowly, you would need 2-3 days on the island.
But if you only have one day to spare, a day trip to Nusa Penida from Bali is very doable. You can get to Nusa Penida via a speedboat from Sanur in the morning and come back in the afternoon. I've done this before and got to see a good part of the island!
Where to stay in Nusa Penida
If you have a few days to spare, I recommend staying a night or two in Nusa Penida. Here are some accommodations you can consider:
Cost breakdown for a day trip to Nusa Penida
If you want to DIY a day trip to Nusa Penida without a tour, it's possible! Here is the comprehensive breakdown of costs to help you decide whether it's worth it:
Taxi to Sanur
Rp 75,000 / car one way, depending on where you live
Round Trip Ferry Ticket to Nusa Penida
Rp 300,000 / person
(Rp 150,000 / person if you are Indonesian)
Transportation in Nusa Penida
Rp 85,000 / bike OR
Rp 632,000 / car
Snorkeling Rental
Rp 50,000 / person
Lunch
Rp 35,000 / person
Water
Rp 25,000 / person
Taxi back to the hotel
Rp 75,000 / car one way, depending on where you live
Cost breakdown of Nusa Penida trip
As you can see from the cost breakdown above, the main cost differentiator is your mode of transportation on Nusa Penida. There are 2 ways to get around Nusa Penida:
1. By Rental Motorbike – If you are okay with renting a motorbike and driving the said bike on your own, I estimate it to cost about Rp 490,000 – 540,000 (US$34 – 37) per person to visit the island for a day trip.
2. By Private Car Charter – If you aren't comfortable on a motorbike, then I would recommend renting a car. If you want to rent a private charter car, then you can do so by booking here. A private car charter costs Rp 535,000 (US$37) and the same cost as booking when you get to the island.
If you charter a private car, the total cost of the trip would then go up to Rp 650,000 – 760,000 (US$45 – $54) per person depending on how many people are in your group… which is about the cost of going on a tour! So, the price difference between going on your own via private car charter vs. going with a tour is not THAT much.
Which Tour should I go on with to Nusa Penida?
If you have decided to go with a Nusa Penida tour, I recommend booking the following tours from Klook! Then you don't need to think about anything since they take care of everything from pick up.
What is Klook? Klook is the leading travel and experiences booking website in Asia. And yes, they are legit! I personally always book my activities through them whenever I am traveling. See my review of Klook here.
What to bring to Nusa Penida
Now that we know your options for getting to Nusa Penida, here are things you should prepare for your trip there:
4G Local SIM Card – It's always a good idea to have a 4G SIM Card while in Bali. Coverage was pretty good in Nusa Penida too! Although it got a bit spotty as you go inland, I was still able to navigate using Google Maps and the local data. Order a 4G SIM Card online here and pick it up in Bali, don't wait until you get there because it will be more expensive.
Cash (in Rupiah) – there are hardly any ATMs or places that take credit cards in Nusa Penida, so you need enough to last the entire time you're on the island. I would set aside about Rp 150 – 200k per person per day.
Sun coverage – All the things you need to combat that strong sun in Bali – A hat, sunscreen (at least SPF50!), and Sunglasses. If you are biking, wear a thin layer with sleeves that can be removed.
A thin cotton scarf/sarong wrap – I love this because they are versatile! you can wear it around your neck and shoulder to protect yourself from the sun, but can also double up as something to sit on while you are at the beach.
Bathing Suit – once you see how clear the water is in this part of the world, you'd want to jump in. Trust me.
Suitable Footwear – You need good walking shoes for the treks, but you'd probably want to wear flip-flops while at the beach. So bring both if you can!
How to get to Nusa Penida
If you're curious about getting to Nusa Penida by yourself. Fret not – I have just the right info for you! Nusa Penida is getting popular these days, and there are now three ways you can go there on your own:
By Speedboat from Sanur Beach (easiest way!)
We will go through each option below:
1. Get to Nusa Penida by Speedboat from Sanur Beach
The easiest and most popular option is to hop on a speedboat from Sanur Beach. There are a few operators that run speedboat transfers from Sanur Beach to Nusa Penida. It doesn't matter which one you choose as long as the timing and availability suit you.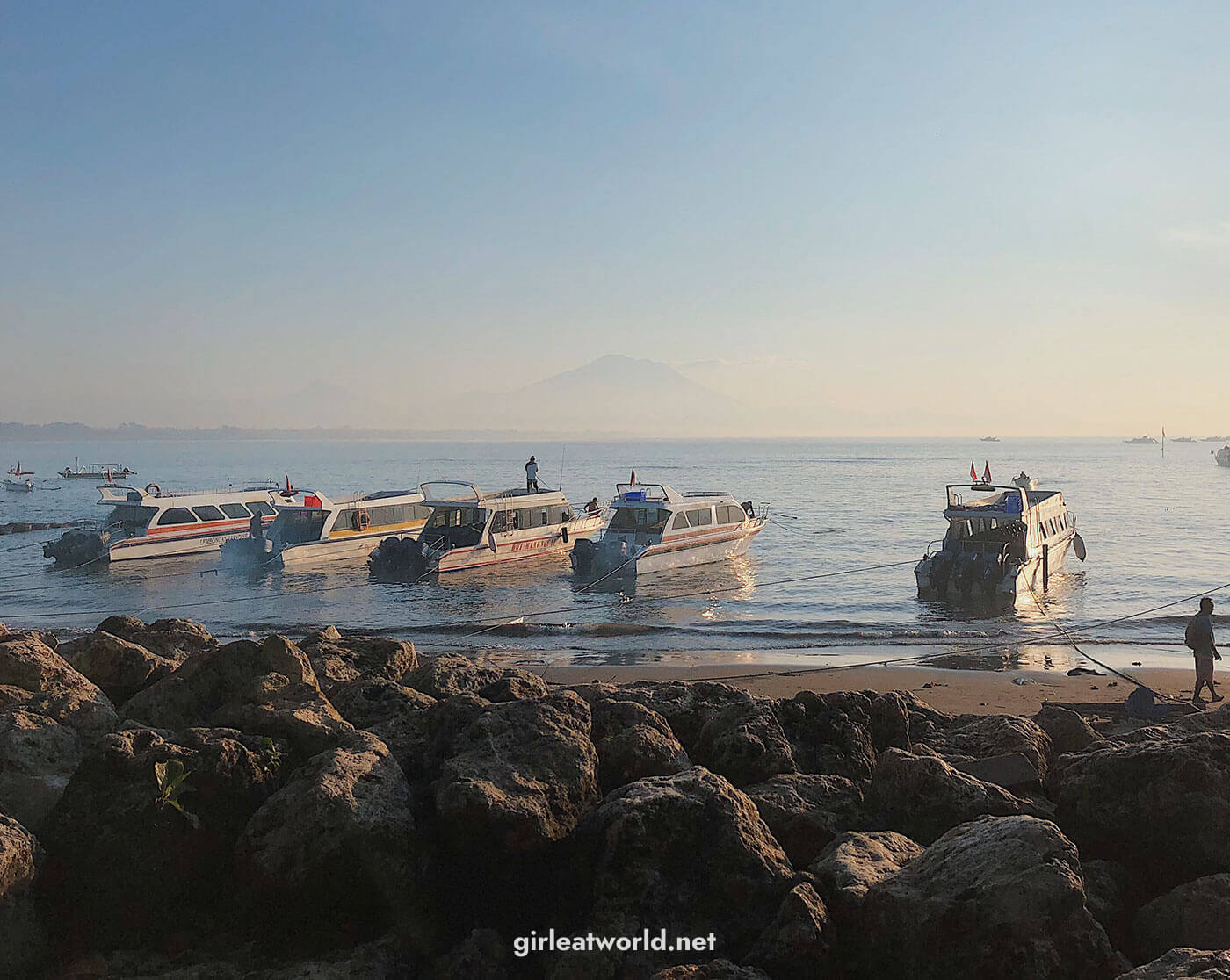 Speedboat Timing to Nusa Penida from Sanur
Most operators have a speedboat going out from Sanur to Nusa Penida at limited timings in the morning and a few in the afternoon: 7 AM – 10 AM and 2 PM – 5 PM. They also have boats coming back in the morning and afternoon at around the same time. If you are doing a day trip, I recommend going to the island as early as you can, so try to catch the 7 or 7:30 AM boat!
Booking Speedboat Tickets to Nusa Penida Online
You can book the Nusa Penida speedboat tickets online through Klook or 12GO:
Booking via Klook is cheaper, but you still need to exchange your e-voucher and book a time with the boat when you get to Sanur Beach. If it's peak time (like summer), the boat might run out of space for the time you want. 12GO on the other hand allows you to book a specific time and view ratings on each of the boats.
Buying Speedboat Tickets to Nusa Penida at Sanur Beach
If you decided to wing it (which is what we did), all you have to do is show up to Sanur Beach early in the morning and buy tickets directly from the operators. I recommend being there 30 minutes before boat departure time to ensure enough time to get tickets.
Here's the exact spot where you can find the speedboat ticket office on Google Maps. They are these open-air huts that lined up Sanur Beach slightly to the north of it – you can see the marker for Maruti Express, Mola-mola Express, etc on google maps.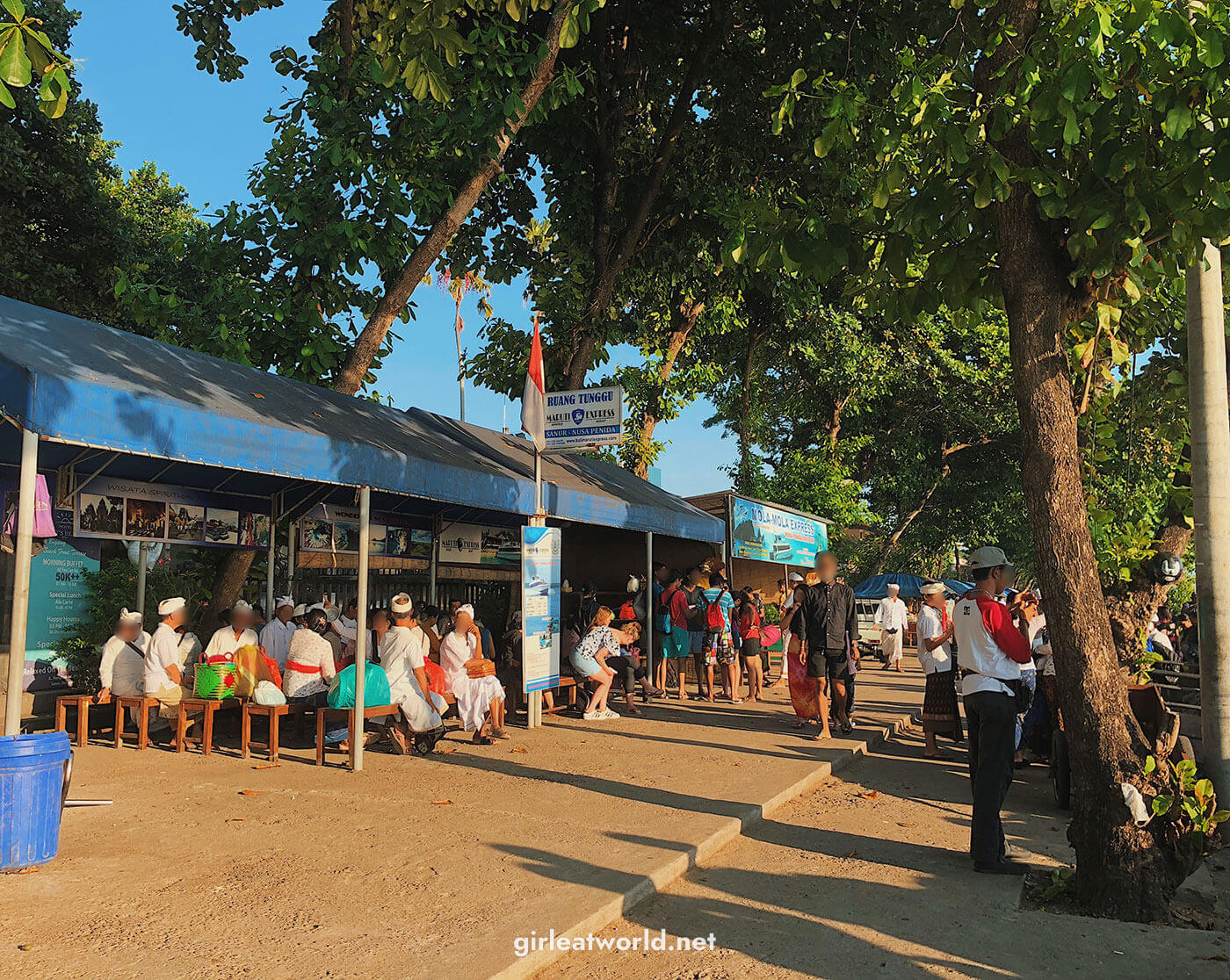 The tickets both cost the same whether you book online or not, but there is a difference in price depending on your nationality. Local / Indonesians pay Rp 200,000 for a roundtrip (US$14) while foreigners pay Rp 300,000 for a roundtrip (US$21). I know that doesn't sound fair, but I don't recommend lying about your nationality because they do check and enforce the ticket price difference. And to be honest, in the grand scheme of things, the difference is not THAT big.
We rocked up to Sanur slightly after 7 and chose Angel's Billabong Fast Boat since they have the closest available departure time at 7:30 AM. When we booked our ticket, they asked what time we would like to come back to Sanur. We chose the latest available time which was 4:30 PM, and I was advised to be back 30 minutes before the departure time to check in and ensure a spot on the boat going back to Sanur – REMEMBER THIS, because it's important! I'll elaborate more on it later.
Getting on the speedboat to Nusa Penida from Sanur Beach
Once you get your tickets, they'll hand you a lanyard. Just wait nearby on the beach until they let you know that the boat has arrived. You then board the boat, which you have to do by wading through a shallow bit of water – it's best to wear flip-flops or other shoes that can be easily removed. Take note to not trip on the boat ropes – they alternate between being slack and taut as the waves come pulling at the boat. A reader of mine has also commented that the water level was much higher when they visited, and they had to wade through water that is deep enough to reach their underwear – so be prepared to get wet!
The speedboat seat layout was not the best. They packed in the seats to maximize the number of passengers so there was barely any legroom between each row of seats. I'm only 160cm and I could barely fit in – my boyfriend, who is much taller than me, had to fold his legs in to be able to sit. Thankfully the ride only lasted about 30 minutes and we arrived on the island in no time!
2. Get to Nusa Penida by speedboat transfer from Tanjong Benoa
There is also an option to take a speedboat from Tanjong Benoa, which is closer to Nusa Dua. It is just slightly cheaper than the boats that leave from Sanur, but the downside is it only leaves on Monday, Wednesday, and Friday. They also only have one time per day. However, the boat condition looks to be a bit better than the Sanur boats we took.
Book your tickets from Tanjong Benoa here
3. Public Ferry to Nusa Penida from Padang Bai
I haven't done this yet and there is almost no information about it online, but I have heard there is a public ferry that leaves from Padang Bai, used mostly by locals and can transfer vehicles. The ticket is only Rp 30,000 per person. However, I would only recommend this if you have time to kill – the ferry does not have a set schedule. It just leaves whenever passengers are waiting, usually from 11 am – 1 pm.
How to get around Nusa Penida
By Rental Motorbike – You can rent a motorbike right off the harbor, fuss-free. We got a bike literally within minutes of getting off the boat! Renting a bike costs you Rp 75,000 (US$5.25) a day, the same cost as Bali mainland. You might also have to top up gas which is going to be very minimal, about Rp 10,000 – 20,000. I recommend topping up your fuel while you are still close to the harbor. I didn't see many petrol sellers as we get deeper into the island. However, if you decide to rent a bike, you have to be comfortable and confident with riding the motorbike since parts of the road leading up to Kelingking Beach and Angel's Billabong are very broken and bumpy.
Google Maps – we relied heavily on Google Maps for directions. Just make sure to save the Nusa Penida map offline, because we did lose reception in certain areas. If you haven't yet, order a 4G SIM Card online here and pick it up in Bali.
By Rental Car – The other option is to get a car rental for Rp 535,000 (US$37), which comes with a driver and can up to 5 people. The road would still be bumpy though, so don't expect a comfortable ride… but at least you'll be in an air-conditioned car? If you prefer getting a car rental, I recommend booking this tour I've linked before as the difference isn't much more than doing it yourself.
What to do in Nusa Penida
Once you are on the island, it's time to explore! Nusa Penida is not a big island, but because of the way the roads are built and the condition of the road, it will still take some time to get from one spot to another.
Nusa Penida Itinerary
Here is a sample itinerary for spending your time in Nusa Penida. To visualize this Nusa Penida itinerary better, I've created a Google Maps link that marks all the routes and landmarks I'll mention in this blog!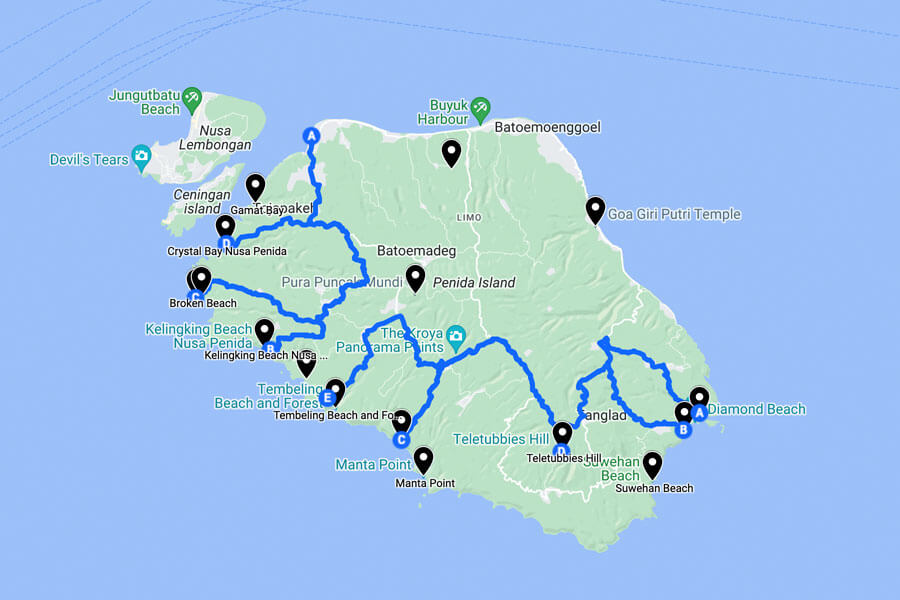 🗺 Save this map to your phone! If you are a Google user, click on the image of the map above. The map will then be saved to your "Recent" maps viewed. Click here for instructions on how to view the map later. It will work from your phone too.
Day 1: West Nusa Penida
If you have only one day in Nusa Penida, I recommend doing this itinerary! It will allow you to see the most famous spots in Nusa Penida
Arrive at Banjar Nyuh Harbor
Go to Kelingking Beach
Angel Billabong and Broken Beach
Snorkeling at Crystal Bay
Day 2: East Nusa Penida
Visit Atuh Beach
Stop by Rumah Pohon
Teletubbies Hill
Guyangan Waterfall
Tembeling Beach and Forest
And here is a detailed list of what to do and things to see in Nusa Penida:
1. Kelingking Beach
After getting our bike, we immediately drove down to the southwest part of the island to find Kelingking Beach, a crowd's favorite. From the harbor, it takes about an hour by bike to get to this beach thanks to the partially broken road.
Kelingking Beach is relatively new, only "discovered" in 2003 by a few tourist divers who reached the beach by boat. Nowadays, Kelingking Beach is probably the most Instagrammed spot in Nusa Penida… and I'm sure you can see why from this photo.
A little trivia – Kelingking means "pinky" in Indonesian, as in your little finger! I'm not sure why it's called that… because it looks more like a T-rex to me.
That secluded Azure Beach at the bottom? You can descend to it provided you ignore the warning sign at the start of the path, which tells you not to go to the beach as the path is very broken and they will not be held liable in case of an accident. So yes, you can go down to the beach, but the path will be very narrow, half-broken, and extremely steep on some parts. My boyfriend and I decided to go down anyway, both in sandals, because we're crazy like that.
Well… it turns out lots of people are also crazy like us, but most of them stop at the halfway point before going back up after taking the famous Kelingking Beach photo, like the one I took below.
Not many people made it down to the beach itself, probably because you can already see how dangerous the path gets. You only have these thin railings made of tree branches to hold on to, and as you get lower, the path gets steeper and steeper with more sharp rocks.
My boyfriend and I got to the halfway point and we thought: "Well, we're already here, we might as well go the entire way". So down to the beach we go, wearing sandals. I reckon we'd be way more comfortable wearing proper shoes. It turns out that as you get lower, not only the path gets more and more steep and sharp, but it also gets more broken. It also gets so steep that you're practically scaling a vertical rock wall while being cautious not to grab onto any broken railing.
After about 30 minutes of descending, we finally made it to the beach! Initially, there were less than 10 people on the beach when we got there at 11 AM but more people arrived when we left an hour later. The beach was super secluded, so we were able to have ample space to ourselves. We sat around under one of the trees and took a dip in the cool clear blue water.
But it wasn't very clean – there were lots of trash and debris both on the beach and floating on the water, which kinda ruined the experience. Most of these seem to be debris from other parts of the island brought here by the ocean current. I wonder if it ever gets cleaned?
After about an hour of sitting around the beach, we left. The climb back up was very difficult for me. If you go back up at noon, the entire path gets full sun with barely any shade… and you know how harsh the sun gets in Bali. Thanks to the steepness of the climb and being battered by the hot direct sun, I nearly passed out on the way up. Also because of this, I got a headache that lasted the entire day. If it's raining I wouldn't even think about going down!
So in short, I'm not sure if I can recommend going down to the beach. Yes, it's secluded and beautiful but I've also seen other similar beaches with more things to do. And that climb back up was not worth it.
We spent some time recovering at one of the warungs near the car park area, replenishing all that fluid we lost while climbing back up. We had a coconut and a large water bottle and still did not need to pee! That's how dehydrated we were.
2. Angel's Billabong & Broken Beach
These two spots are right next to each other, so you can visit them at the same time!
Angel's Billabong is a beautiful natural rock pool that opens straight to the ocean. A word of caution: please be VERY careful while visiting Angel's Billabong and listen to local's warnings if they tell you not to get inside. Even if you aren't planning to get in the water, the wave can get massive here. There have been some fatal accidents where people got swept away and died, so don't take this lightly!
Broken Beach is famous as the viewpoint for an arched tunnel in the cliffs, allowing the ocean to flow into a pool, which is Angel's Billabong.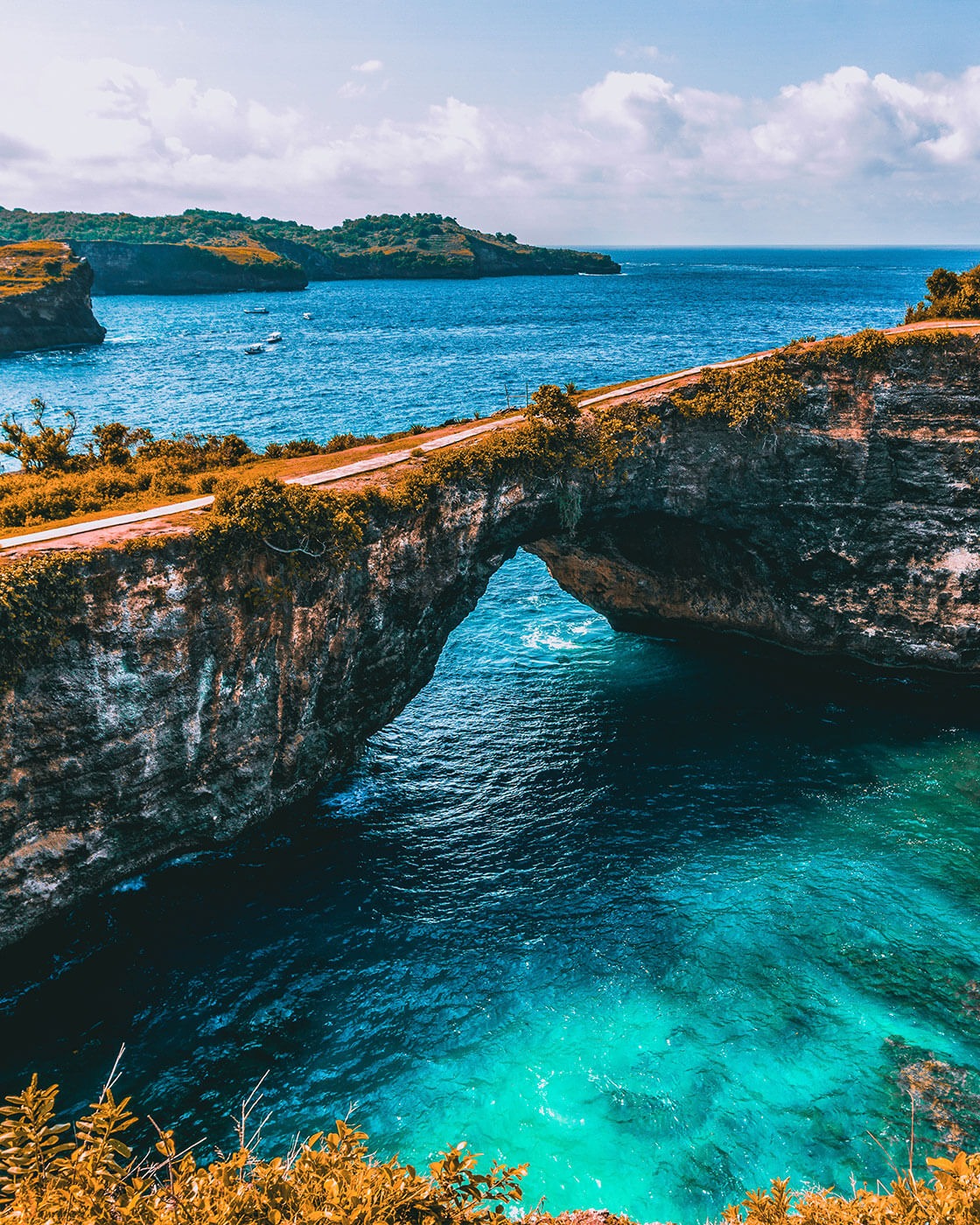 3. Snorkeling at Crystal Bay or Gamat Bay
If snorkeling is the reason why you want to go to Nusa Penida, I highly suggest booking this Nusa Penida Snorkeling Trip, which will take you to all the great snorkeling spots in Nusa Penida and Nusa Lembongan.
After the treacherous hike up from Kelingking Beach, I told my boyfriend that I want to just take it easy and swim at the beach. We started looking at our options – Crystal Bay or Gamat Bay.
This is when I had a light bulb moment and realized that we HAD been to Nusa Penida two years ago, but we took a boat from Sanur and we were on the boat the entire time since we were there for diving. One of the dive spots at that time was called Crystal Bay and I remember having the best snorkeling of my life there during a surface interval.
So we got on our bikes and went to Crystal Bay. Once there, the sun has gotten so strong that it hurts to walk on the sand because it just burns your feet. We immediately camped out under one of the vacant parasols. I rented a mask and pair of fins (Rp 50,000 – about US$3.50) and just jumped straight into the cool water.
What makes Crystal Bay so special is that the corals are very healthy and they are just meters away from the beach. I saw various fish – unicorn fish, trumpet fish, rainbow fish, and a triggerfish which I quickly swam away from – just to name a few. There were also schools of small fishes among the colorful corals. It's honestly as good as diving without the hassle of carrying heavy equipment!
I did not get a chance to go to Gamat Bay, but I heard this is also a good option for snorkeling! You can also check out Manta Point for a chance to swim with Manta Rays. I came here for diving before and we saw a few mantas.
4. Atuh Beach (Diamond Beach)
This beach is on the other side of the island from the harbor, so it takes a bit of effort to reach. It would have taken us 2 hours on the road one way, so we had to skip this time. But it looks amazing!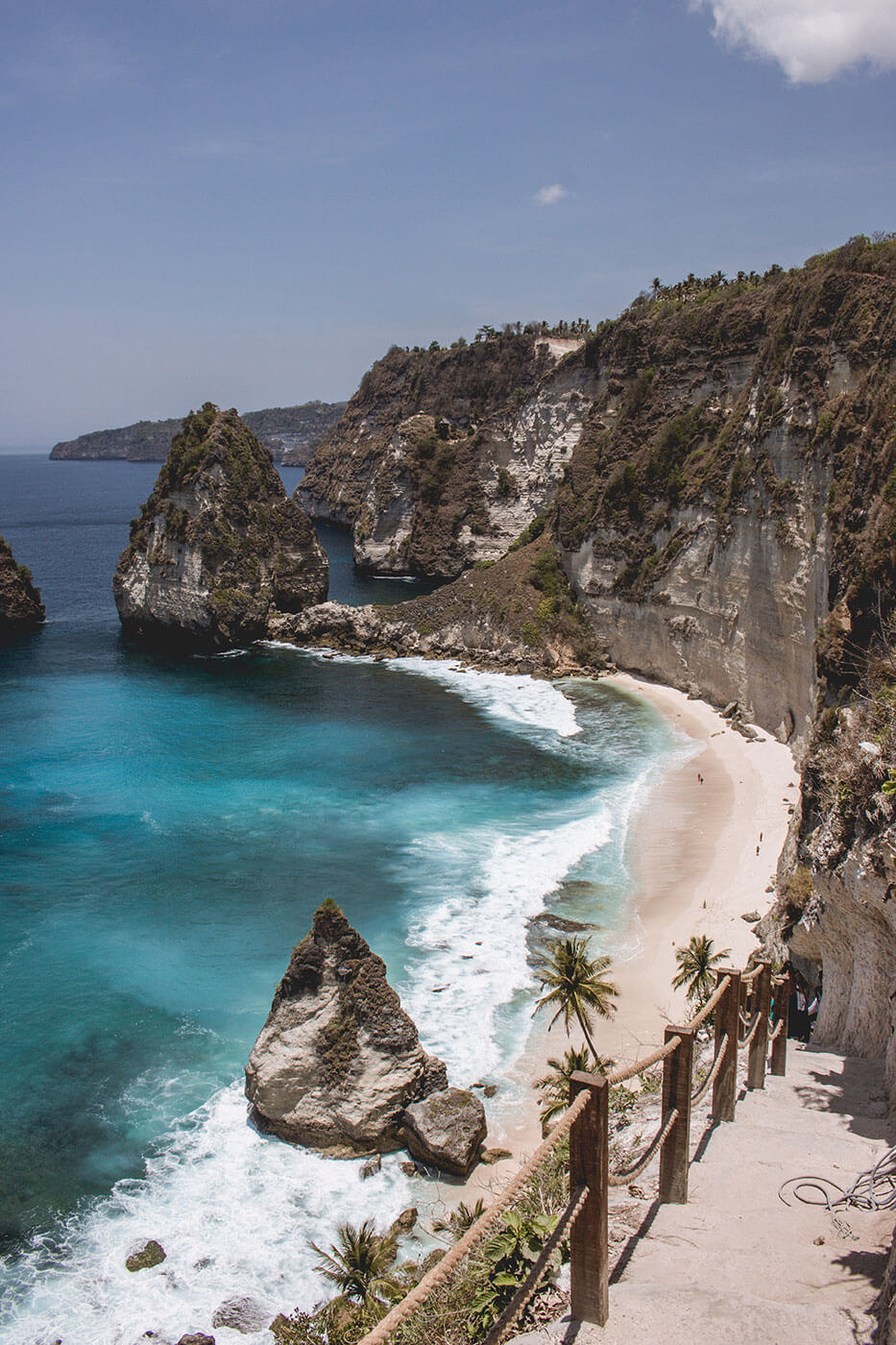 5. Tembeling Beach & Forest
Tembeling Beach is closer to the port than Attu, but it's harder to get to. The road to the beach can only be reached by motorbike, but if you came by car you can hire some "ojek" (bike for hire) for Rp 50,000. Walking down is also an option.
6. Rumah Pohon Tree House
This place started as a simple rustic accommodation, but it has become famous as a photo spot. You used to be able to book the tree house and stay there, but ever since the place became popular, it turned into a paid photo spot. You can go there and pay Rp 75,000 to take a photo on the stairs.
Here is the Google Maps location for the Nusa Penida tree house.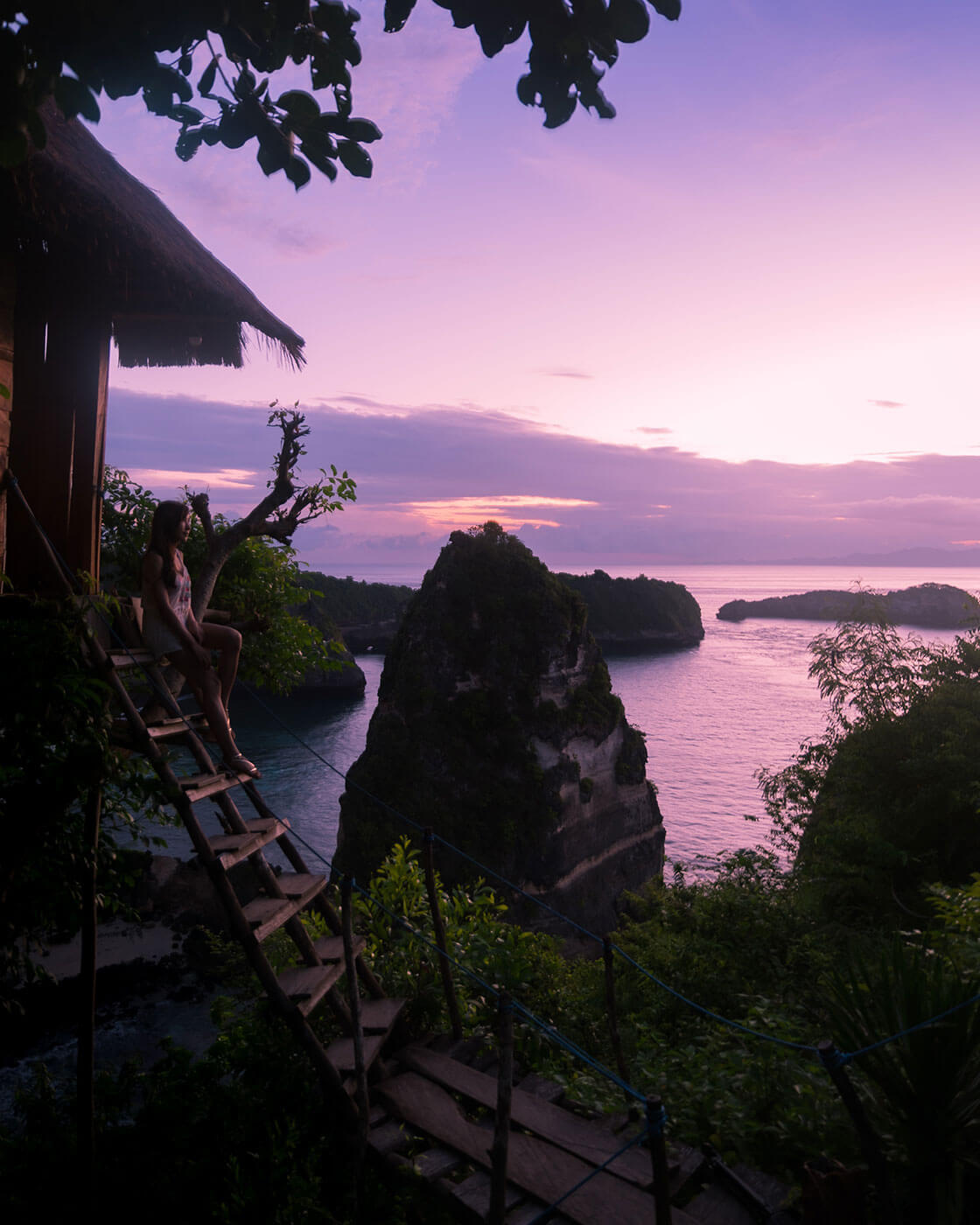 7. Do some Scuba diving!
I would only recommend this as a whole separate trip since scuba diving will already take your entire day. A diving trip to Nusa Penida is very doable from Bali, with many dive operators going with their boats to Nusa Penida. I think it's better to go straight from Bali instead of from Nusa Penida itself unless you're planning to stay on the island.
As an advanced diver with 100+ dives under my belt – you bet I've dived at Nusa Penida before! Here are a few dive operators whom you can book Nusa Penida diving from:
Gangga Divers Bali – Full-day diving which includes 2 dives, hotel transfer, all dive equipment, and lunch.
Nico Dives Cool – You have to contact them directly to book a diving trip, but I did go with Nico when I went diving in Nusa Penida last time in 2015/2016. I had a great time with him! The diving equipment was in great condition, the boat was nice and clean, and he knows his way around the dive spots in Bali.
The famous diving points in Nusa Penida are Manta Point and Crystal Bay. They are the same spots I mentioned under the snorkeling section above, but they are famous diving sites too! Here are my quick reviews of the two spots:
Manta Point – It's almost a guarantee that you will see Manta Rays at Manta Point, but it's also a very crowded spot for that very same reason. If you make it down here, PLEASE do not touch or approach the Manta Rays! They are delicate beings and may run away if you do so, and you will ruin the experience for everyone. Aside from seeing Manta Rays, the diving site isn't particularly beautiful and the visibility tends to be much better elsewhere. Only stop by here if you're keen to see Mantas.
Crystal Bay – This is a famous dive spot, as it is the spot with the highest probability to see Mola-mola, aka the giant Ocean sunfish that are so round and flat that it resembles… a giant plate. But don't hold your breath on seeing Mola-mola, I said it is the site with the highest probability, but they are very hard to spot so the probability remains very low. I've been to Nusa Penida twice for diving and haven't had my luck seeing Mola-mola yet. Aside from that, it is a beautiful site with corals and a really good vis.
8. Chase some waterfalls
No trip to a tropical island is complete without a waterfall! The waterfall to visit in Nusa Penida is called Seganing Waterfall and Guyangan Waterfall. It requires a bit of driving to get to, so you can probably only visit if you plan to be in Nusa Penida for more than one day.
9. Visit the dark spirit temple Pura Dalem Ped
As I've mentioned at the beginning of this post, Nusa Penida is known to the local Balinese as the black magic island. The dark spirit is worshipped – and kept at bay – on this island, specifically at Pura Dalem Ped. This Pura (which means "temple") is very close to the main port of the island, so if you have time before you leave, definitely give it a visit.
Another temple on the island you might be interested in is Pura Goa Giri Putri (Giri Princess Cave), which is located inside a large cave. The location of this temple is a bit further out, so again you can probably visit this if you're staying on the island for longer than a day.
Leaving Nusa Penida
After Crystal Bay, we did not have time to do anything else. It was already 3:50 PM we had to rush back to the harbor to make it on time for our 4:30 PM boat.
Tip 💡: Be back at the port at least 30 minutes before your boat departure time! You'll thank me later!
Remember how I mentioned above that I recommend being at the harbor 30 minutes before departure time and checking in at the ticket office? Here is why!
Leaving the island was CHAOTIC. As it turns out a lot of people were doing the same thing as us (booking the last boat out), and the boat was overbooked. After a 10-minute delay and crowding around the harbor not knowing what was going on, they started calling us by name one by one in the order of check-in.
If you get in and secure a seat, then you get to leave the island on that boat. If not, you have to wait for the second boat to come and pick up the leftover people. And that's why it's important to come early and check in!
📌 Pin this post: Want to read this post later? Click any of the images below to pin them to your Pinterest board!
Alright, that was super long. If you end up doing any of my itineraries, please comment below and let me know how it went! I love reading your comments 😀
Need more guides about traveling in Bali?
Here are my other posts about Bali: