Phuket was one of the first destinations I went to when I first started traveling. It's easily accessible with the recently renovated Phuket International Airport and provides a great introduction for beginner travelers who are looking to travel in Thailand.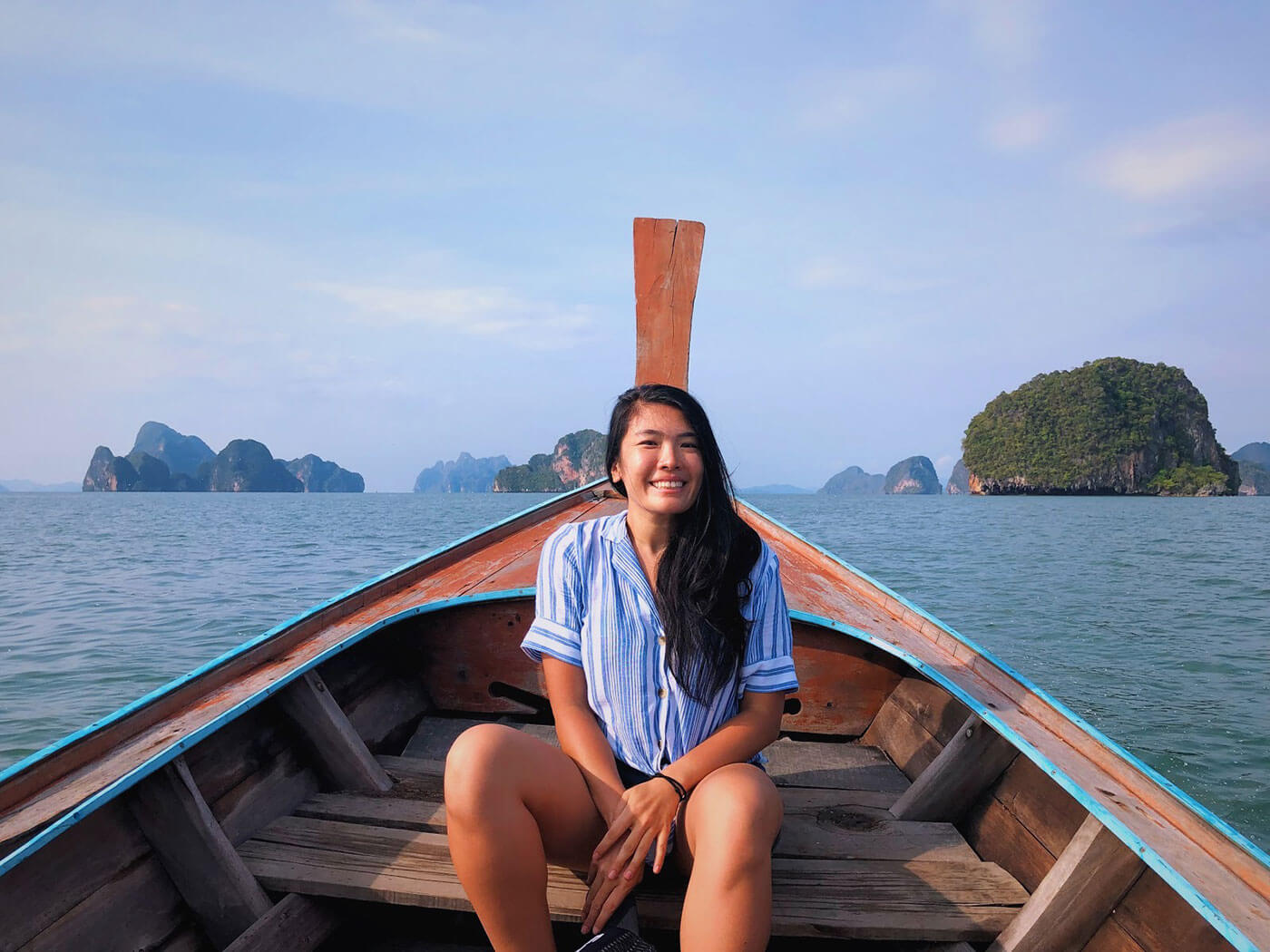 In recent years, Phuket has gotten a reputation for being a wild party place and rampant with dirty bars and sex tourism. It's true to some extent, but the REAL truth is, that's just Patong Beach – a small sliver that makes up Phuket. Phuket is a huge island and there are definitely a lot more to see than Patong Beach! I will outline the activities below to make your trip easier.
Phuket Travel Tips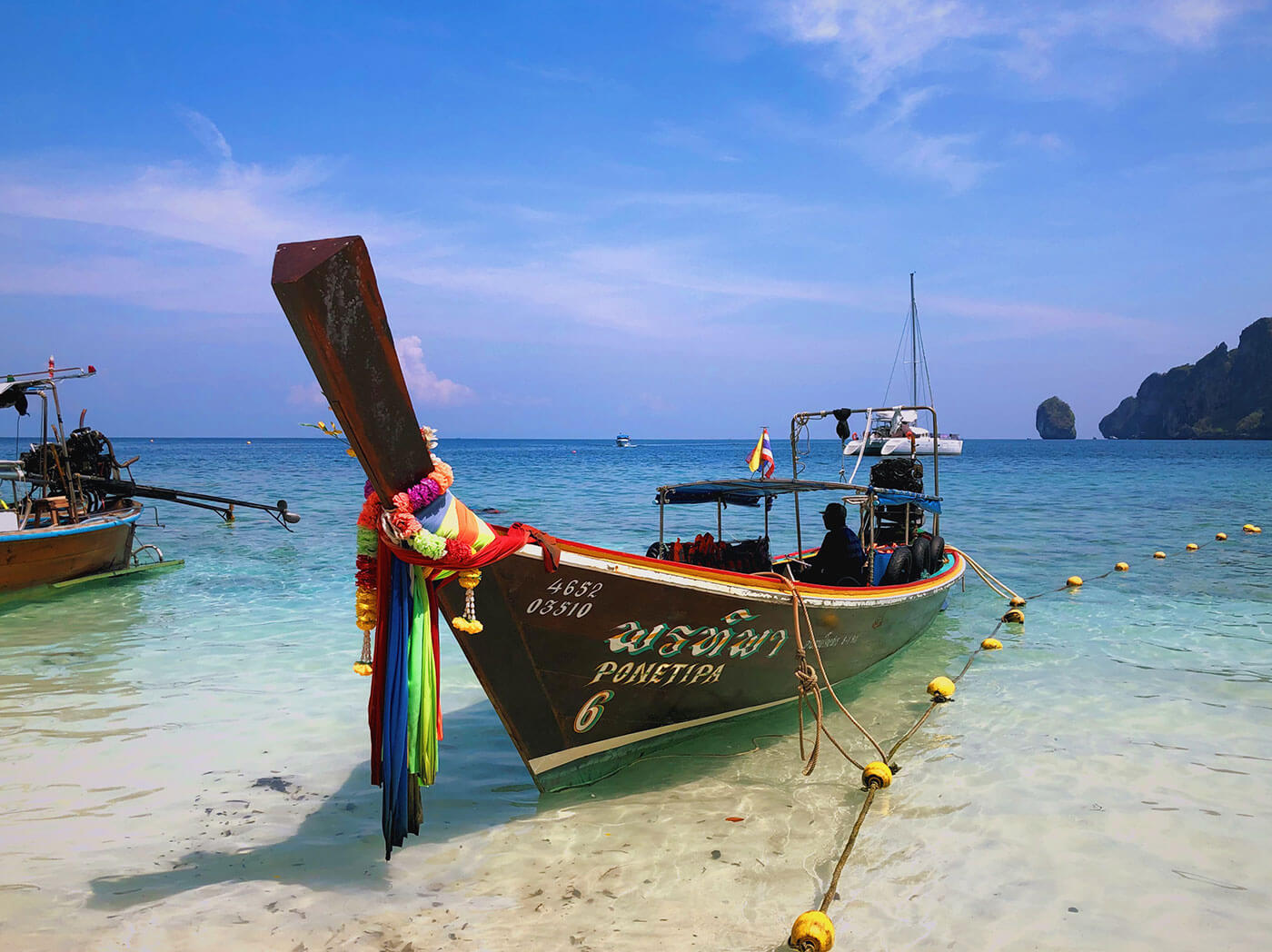 Get in from Phuket Airport
Great news! Phuket Airport is a lot more organized now in terms of transportation than when I came here 7 years ago. Prices are now fixed so you don't need to haggle. The prices are also the same inside the airport and outside at the pickup area.
Below, I am using the prices to go from the airport to Patong / Phuket town for comparison purposes. If you are going to the southern areas such as Kata and Karon, it might be slightly more expensive as it is further away from the airport.
1. Minibus (180 Baht to Patong)
We took the minibus from HKT airport to Patong for 180 baht per person. This is the cheapest option if you are going alone or in a group of 2. They did drop us off individually in front of our hotel, but that also means longer transport time since you might have to wait for others to get dropped off first.
Also, they made us stop briefly at Phuket town to record our drop off point while selling some Phuket tours which added further 15 mins to the journey (although I have to note that there was no hard selling, which was impressive).
2. Private Taxi (650-800 Baht to Patong)
IMPORTANT: If you want to take the taxi option, I recommend booking ahead here since their price is 20% cheaper than getting it from the airport. Their price to drop off at Patong is 650 Baht for the 4-seater car (which takes 3 passengers) vs 800 Baht if you book at the airport.
I recommend this if you are going as a group of 3 or more, as the cost is not that much more than going on the Minibus, and you get dropped off right away in front of your hotel instead of potentially waiting for other people to get dropped off first.
3. Airport Bus Express (150 Baht to Patong)
Although the cheapest, I personally don't think this option makes much sense. For example, it's only cheaper by 30 baht (less than $1) to Patong compared to the Minibus, and it takes longer as it makes stops before finally getting to the tourist area (Phuket Town, Patong, Kata, and Karon). You can view the timetable and fares here.
Get Around Phuket
Where to stay in Phuket
Most tourists stay on the west side of the island. This is because the west side of Phuket houses many bays that offer great swimming, warm water and a great view of the sunset. Here are a few areas you can consider, depending on the traits of each area:
So far, I've stayed in Patong, Kata and Old Phuket Town. I found this combination to be a good mix of beach and cultural vacation.
Things to do in Phuket
Okay! So now that we've gotten the necessary travel planning stuff out of the way, here is what you can do in Phuket:
1. Find the Hidden Secret Beaches in Phuket
Okay, I lie – these beaches aren't exactly a secret since they are well-marked on Google Maps, but they are pretty hidden! The best part? They are only 10 minutes drive from Patong and Karon Beach.
Freedom Beach
This beach requires a little bit of work to get to, but it's totally worth it! There were no amenities like umbrella, restaurants or water activities, but Freedom Beach was one of the best swims I've had in a while! The warm water was clean and the bay is lined with soft white sand. There are also not very many people here, probably because of the difficulties to get here.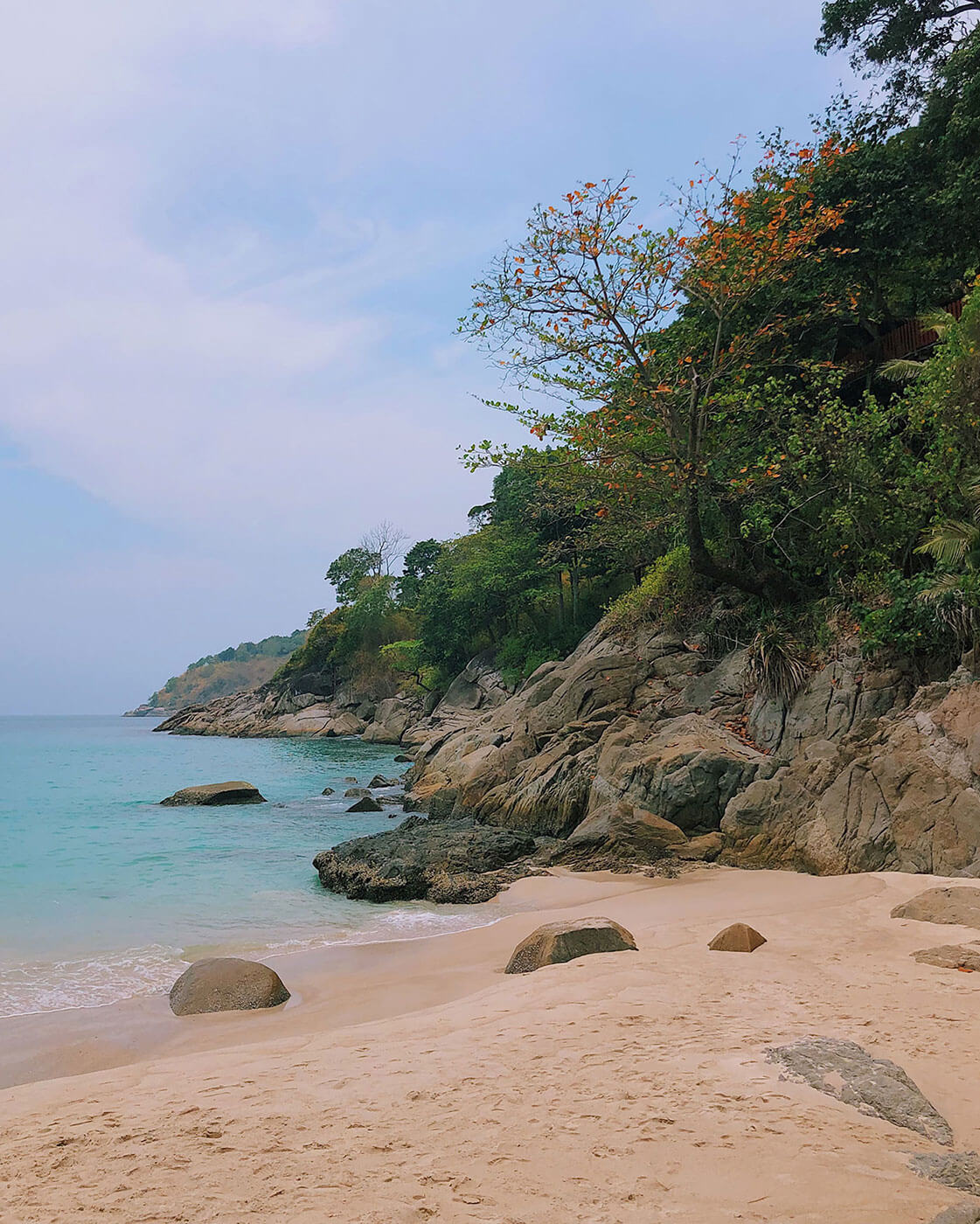 How to get to Freedom Beach
Paradise Beach
Paradise Beach is an established private beach resort and super easy to get to. The beach is located in a calm bay, perfect for swimming and other water activities! You need to pay 200 Baht to get in, and once inside you need to cough up another 100 Baht/person to sit in the Umbrellas. The cost of food and drinks are also pretty steep here, so I would plan to spend at least a few hours here to make it worth it. The good news is, the entrance fee covers a lot of activities for free so you won't be bored.
I recommend walking to the end of the jetty and jumping into the water from there. The water is very clear and there are tons of fish for snorkeling!
How to get to Paradise Beach
Take your motorbike or a taxi to Paradise Beach as marked on Google Maps. The road is well marked and paved the entire way, so you don't have to worry about it. This road will take you to a parking area, where you can then take a free shuttle bus to take you the rest of the way down to the beach. This is because the road down is extremely steep and it's not recommended to drive your own bike or car for your own safety.
2. Learn the History of Phuket at Old Phuket Town
Phuket is now known for the beach, but apparently, there is still another side to this island that many tourists tend to miss out on. I was so very pleasantly surprised when I arrived in Old Phuket Town on my last leg of the trip.
I enjoyed my time in Old Phuket Town so much that I wrote a separate post on it here. It's very historical and charming with lots of colorful Peranakan shophouses and a decent cafe scene, very similar vibe to Penang.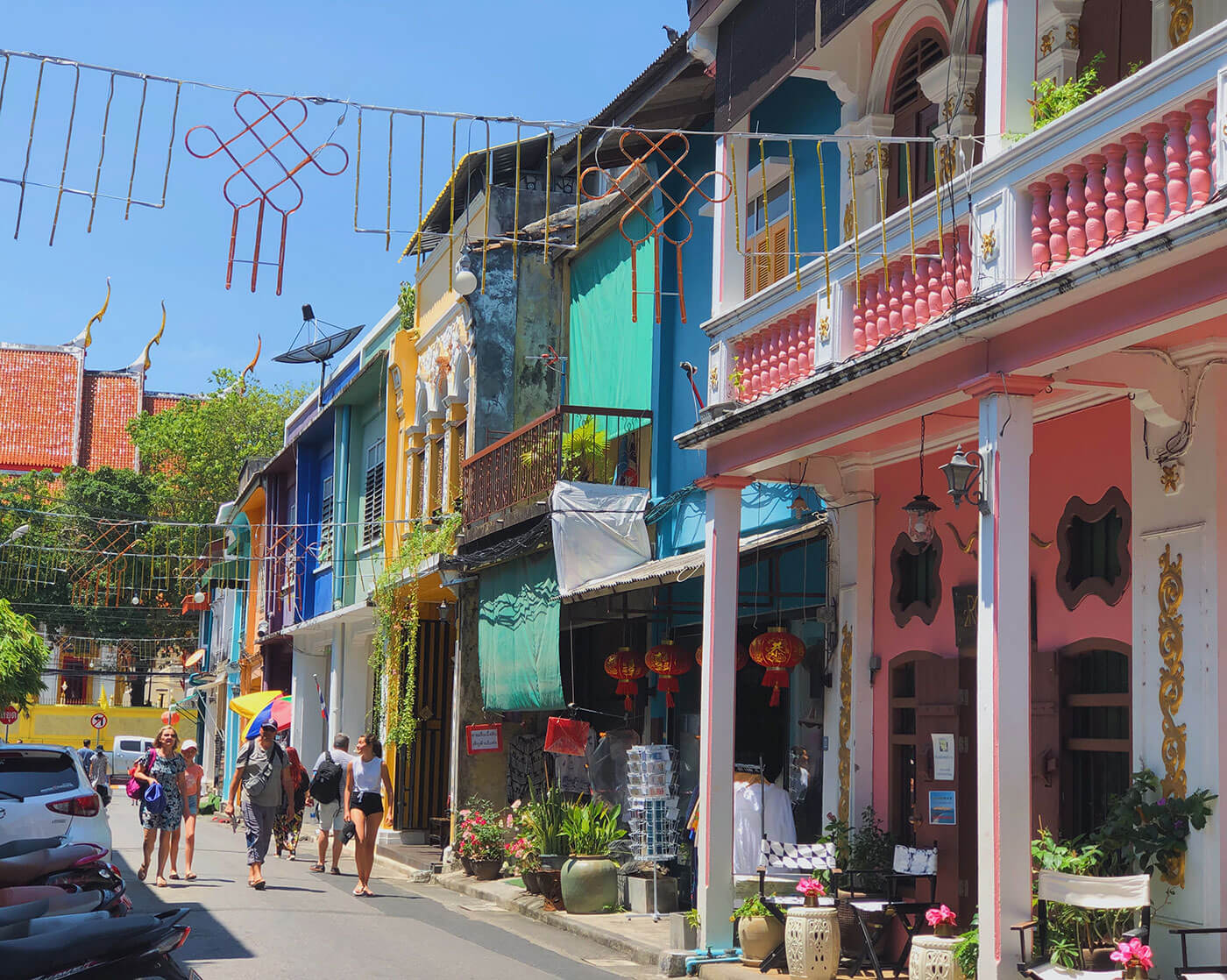 3. Island Hopping Tour to Phi Phi Islands
Visiting Phi Phi Islands is without a doubt one of the most famous activities that can be done from Phuket. This tour takes you to Monkey Beach, vicinity of Maya Beach, swimming in Pileh Lagoon, Lunch at Phi Phi Don (the big Phi Phi island) and Koh Khao Nok. Maya Beach is probably the most popular one, as it was the shooting location of the movie "The Beach" with Leonardo DiCaprio. But Maya Beach is currently closed to the public due to overtouristing, so the tour will only take you to see it from outside of the bay. (Personally, I hope they never open to the public again…)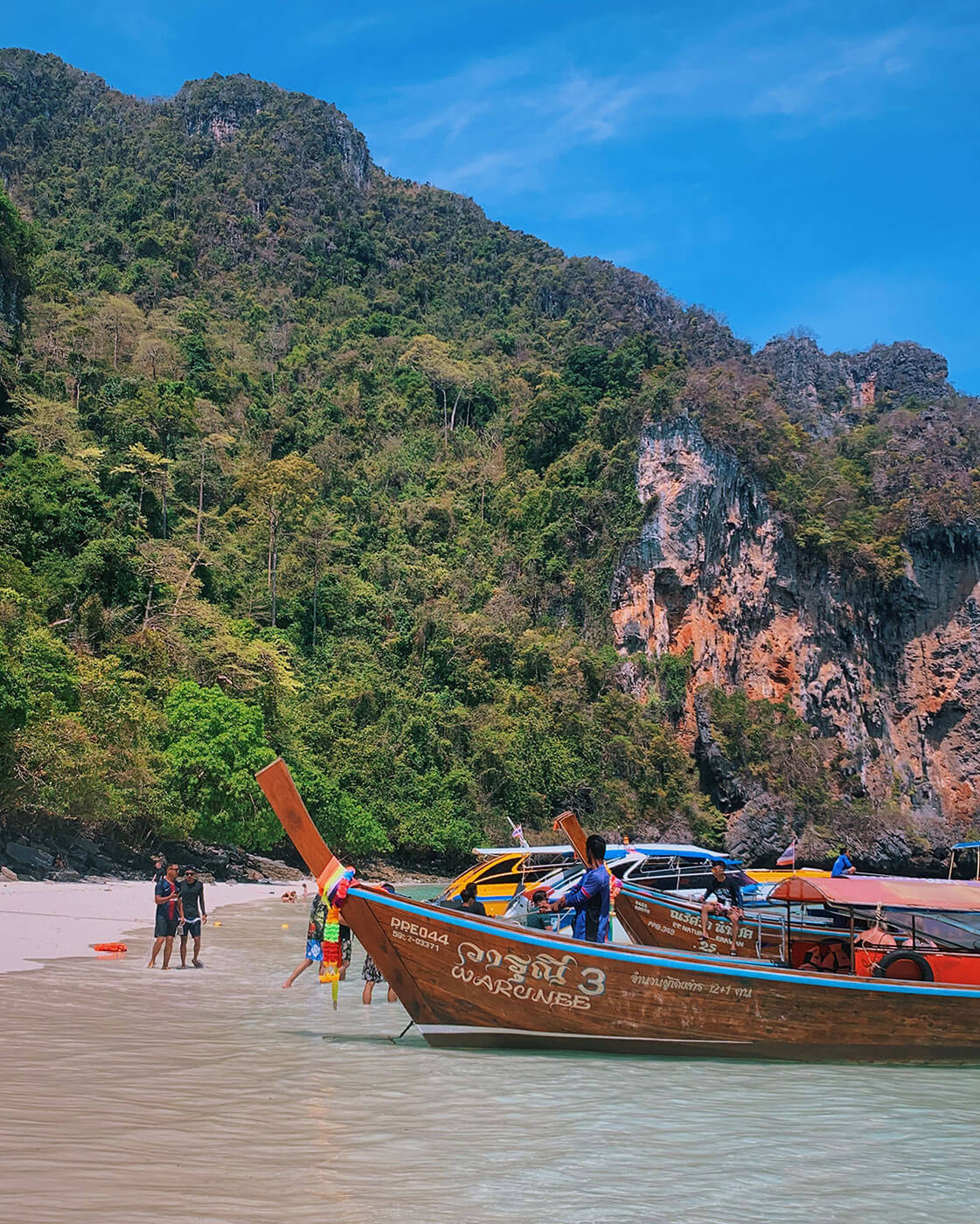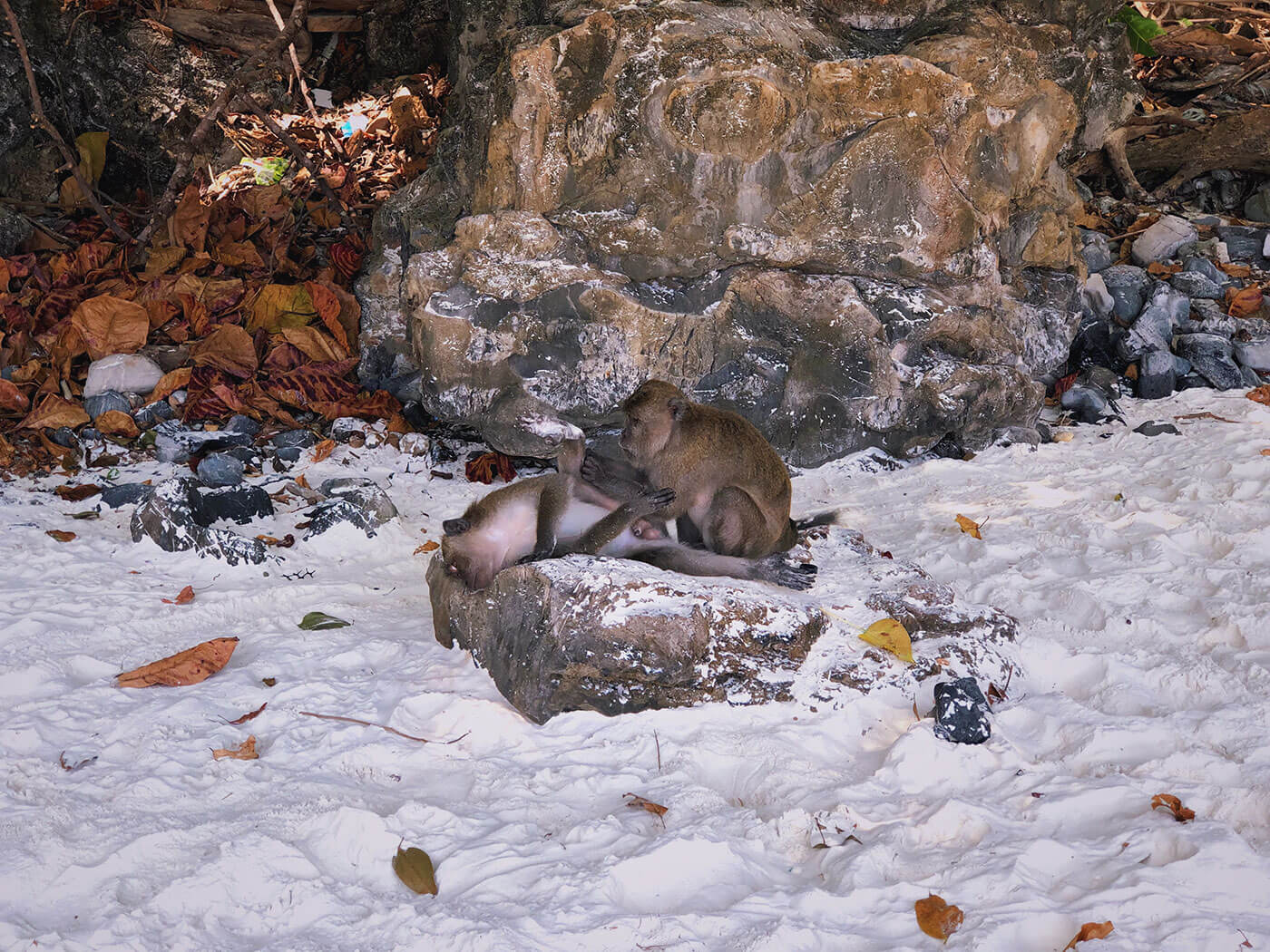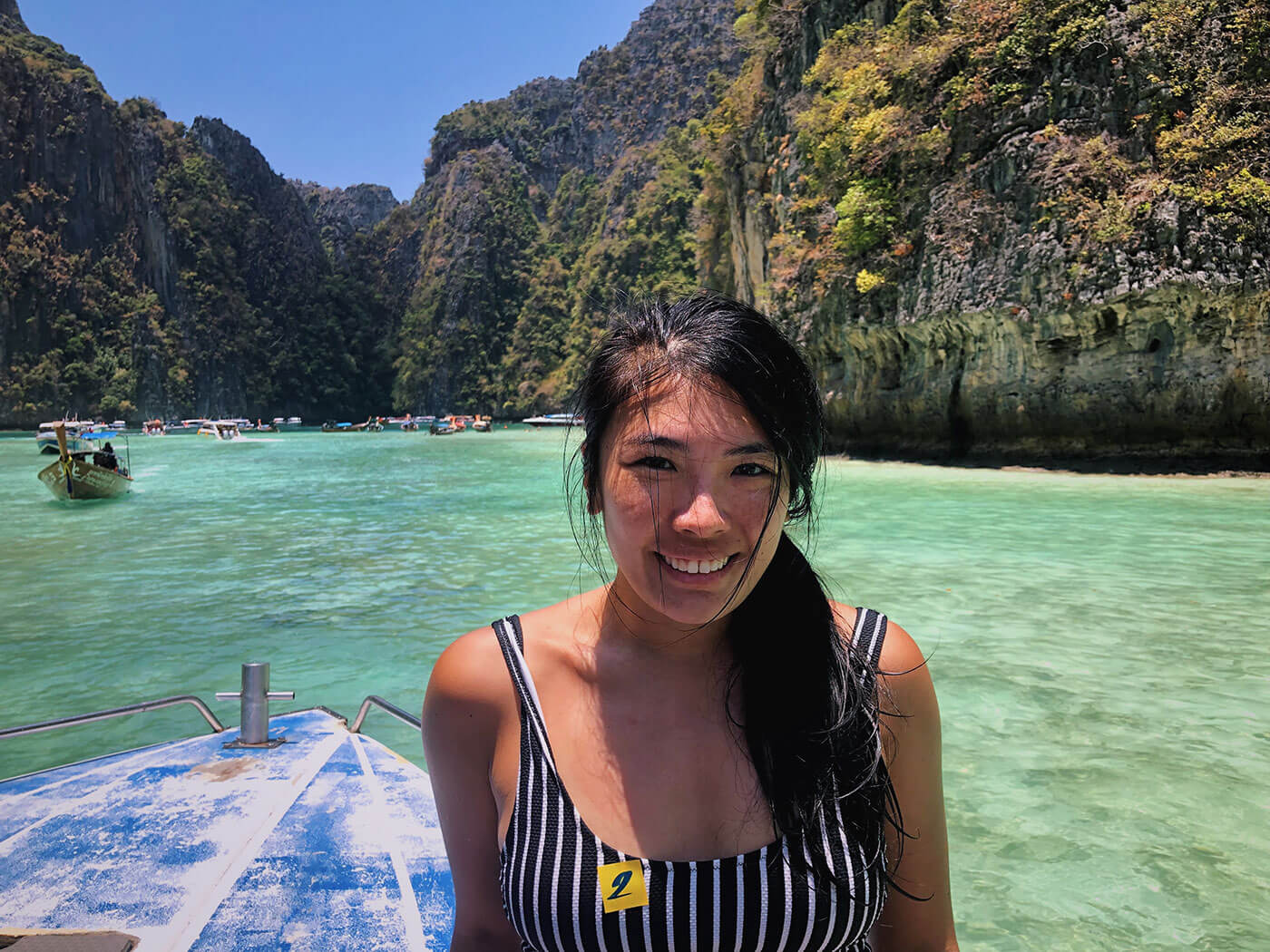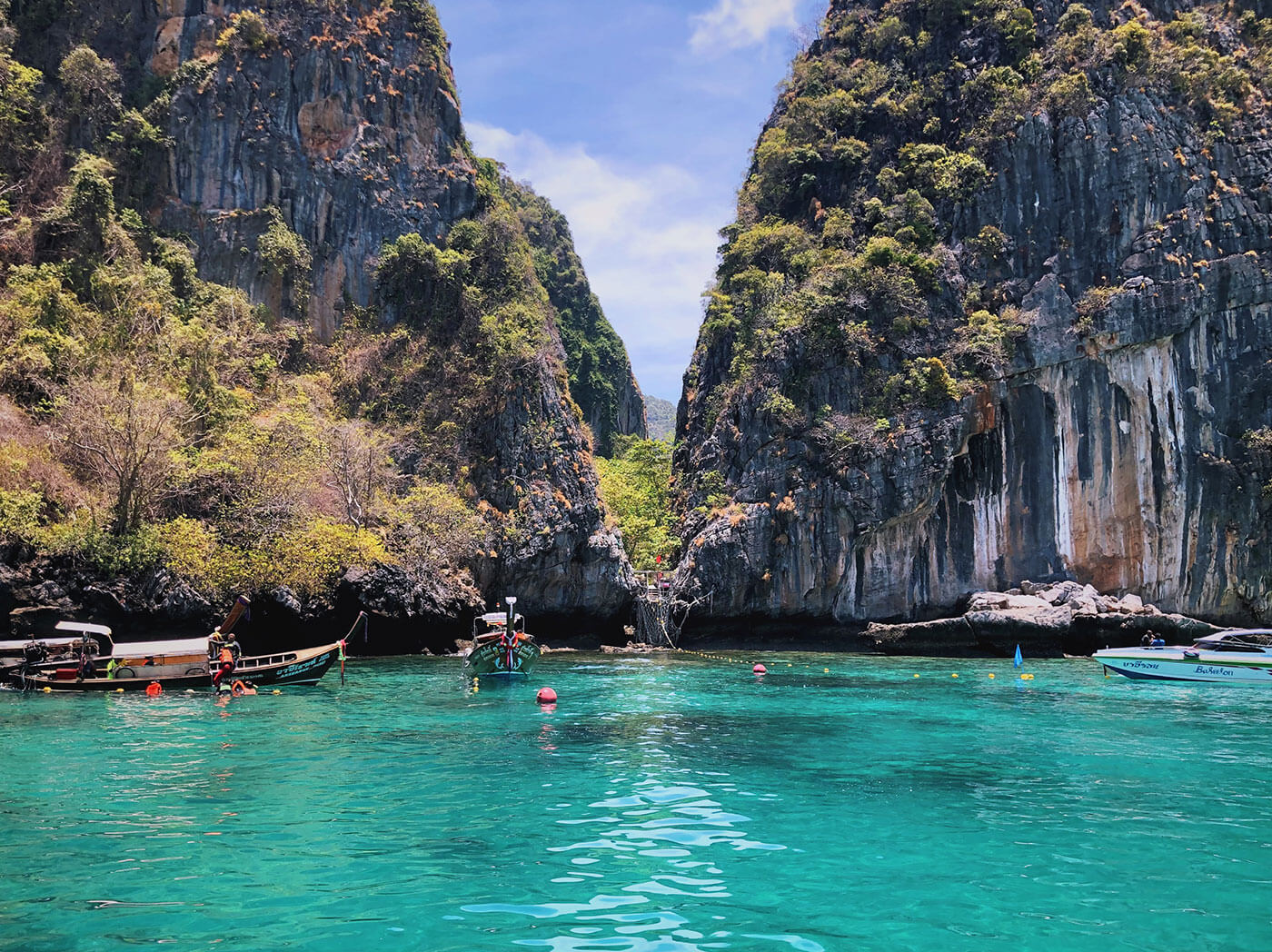 I booked the Island Hopping tour here for 1300 Baht. Most places in Phuket were selling the tour for 1500-1900 Baht, so this was quite a good deal. Plus our guide Bobby was such a delight to have! It's also a well-operated tour, with very on-time pickups and drop-offs. That said, this is also a large tour – at high season, you'd probably be traveling with 20-25 other tourists in a speed boat. But that's the case with Phi Phi Island tours as they are so high in demand.
I think this island hopping tour is too overdone now, but if this is your first time in Phuket you'd still probably want to check this out at least once. It's still a good way to spend the day and enjoy Thailand's beaches. I'm just a grumpy old fart cos I've been to Phuket more than three times and did this tour each time 😛
4. Ao Phang Nga National Park and Phang Nga Bay Day Trip
Ao Phang Nga national park is located slightly north of Phuket, about an hour drive. I learned my lesson after the large group Phi Phi Island experience, so I booked a slightly smaller tour that goes at an off-peak hour. Even though it costs double the price of a normal tour and we had to wake up at 4 AM, it was worth it! In most of the places, we were the only people on site. I highly recommend this if you are sick of the crowds in Phuket.
You can read about the day trip to Phang Nga Bay here.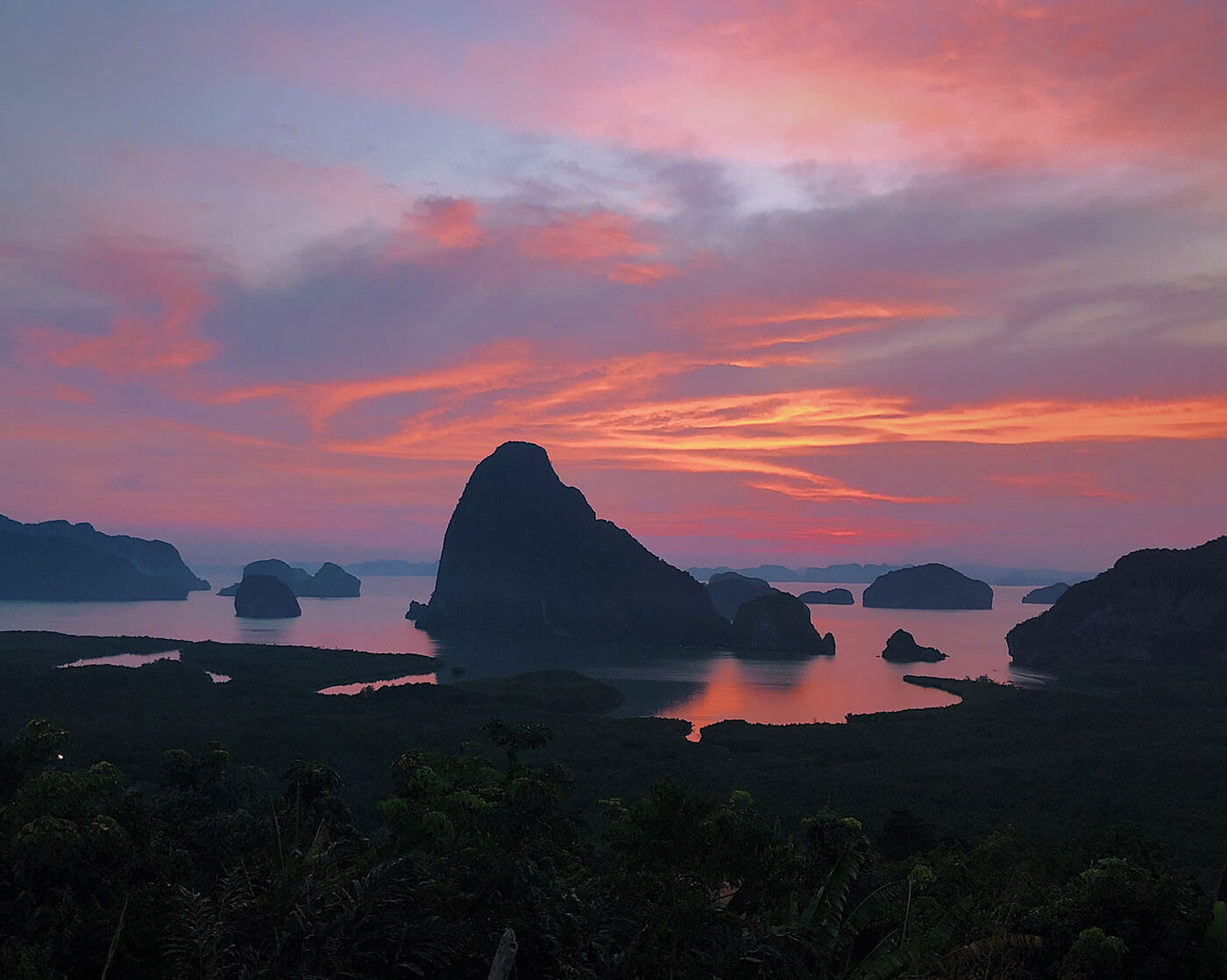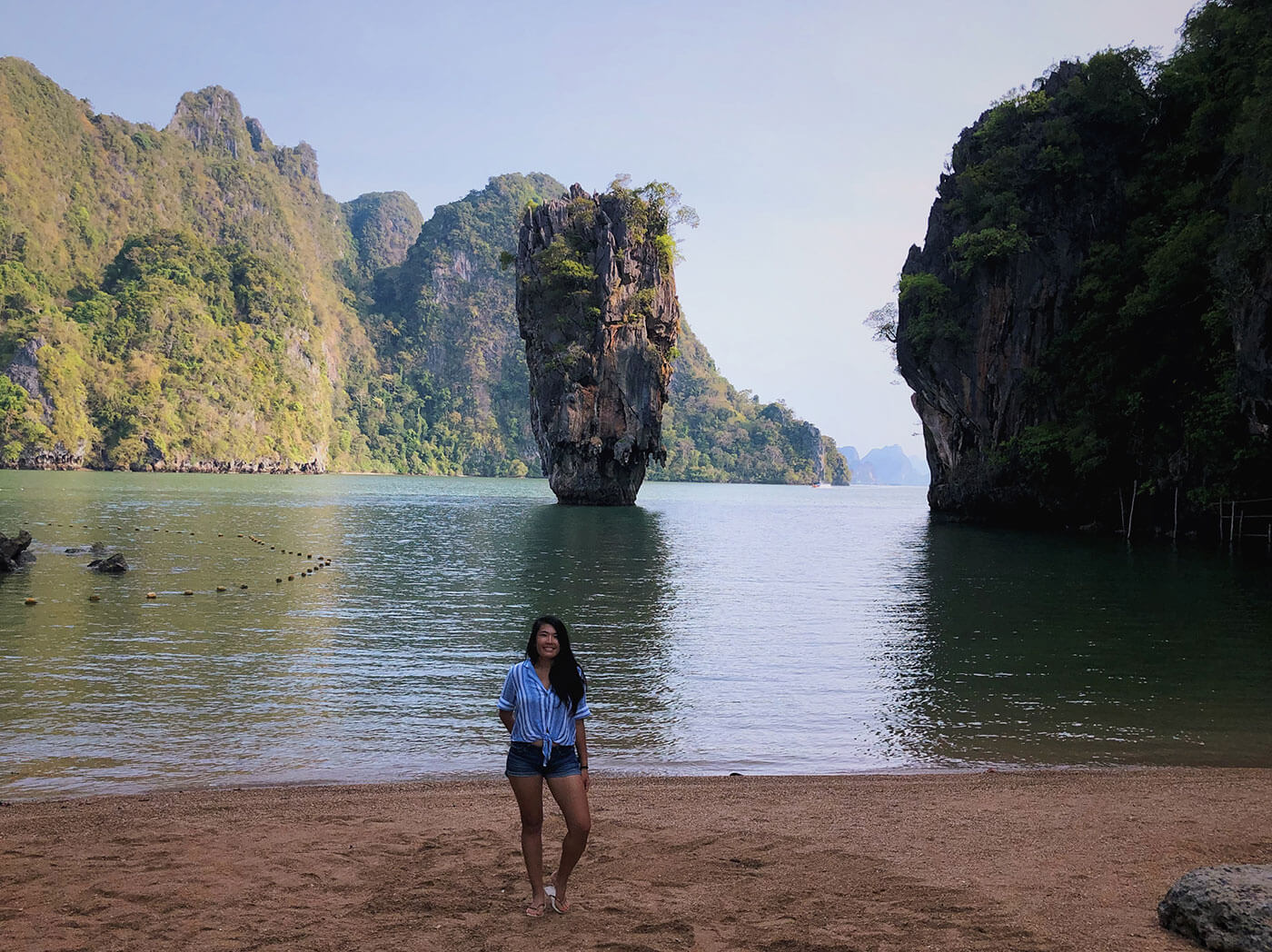 Again, this off-peak-hour tour can be booked here: Phang Nga Treasure and James Bond Island Sunrise Day Tour and I really think it's worth every penny.
5. Spend a few days in Koh Yao Noi and Koh Yao Yai
Note: I did not get to go there on this trip since we wanted to stay longer on the main island due to Songkran festival, but I did do extensive research on it and it's something I want to do in the future!
Koh Yao Noi and Koh Yao Yai are a set of two islands just an hour boat ride outside of Phuket. Noi means short and Yai means long – so you can kinda guess what they are.. yup the north island is shorter, so it's named Koh Yao Noi, while the southern island is longer and thus named Koh Yao Yai. I have heard that Koh Yao Noi is the better island as the northern part offers a beautiful view of Phang Nga Bay.
To get there, catch the hourly long tail boat from Bang Rong Pier from Phuket. You can read Kristin's post on Koh Yao Noi here, and Not Quite Nigella's post here.
6. Scuba Diving in the Andaman Sea
If you are a Scuba diver like myself, you'll be interested to know that some of the best dive sites in the world are quite close to Phuket. Similan Islands, Koh Bon, and Richelieu Rock, just to name a few! These sites are famous for the beautiful purple corals as well as rare sightings of Giant Oceanic Manta Rays and Whaleshark (in the wild, not captive or lured). The best time to see them is from January – March, while the dive season is from December – April before Monsoon comes.
If you do want to do the dive, these sites can be reached by staying in Khao Lak, a small town an hour north of Phuket. You'd have to arrive the day before your scheduled dive and stay in Khao Lak for the dive, so you'll have to set aside at least 2 days out of Phuket. It's not very cheap, in fact, it's one of the most expensive dives I've ever done at 5800 – 6300 Baht for TWO dives, but it's worth the premium price!
I also recommend doing a liveaboard if you have the time, as the dive sites aren't exactly close to town – the ferry ride out could be over an hour. You can also dive most of the famous sites by living on board. You might need an advanced certification due to the currents and depth you'd be doing on these dives. I recommend Khao Lak Explorer and Wetzone Divers. I've dived with both of these dive operators and they are both amazing!
Where to eat in Phuket
Here are restaurants I've enjoyed throughout my trip: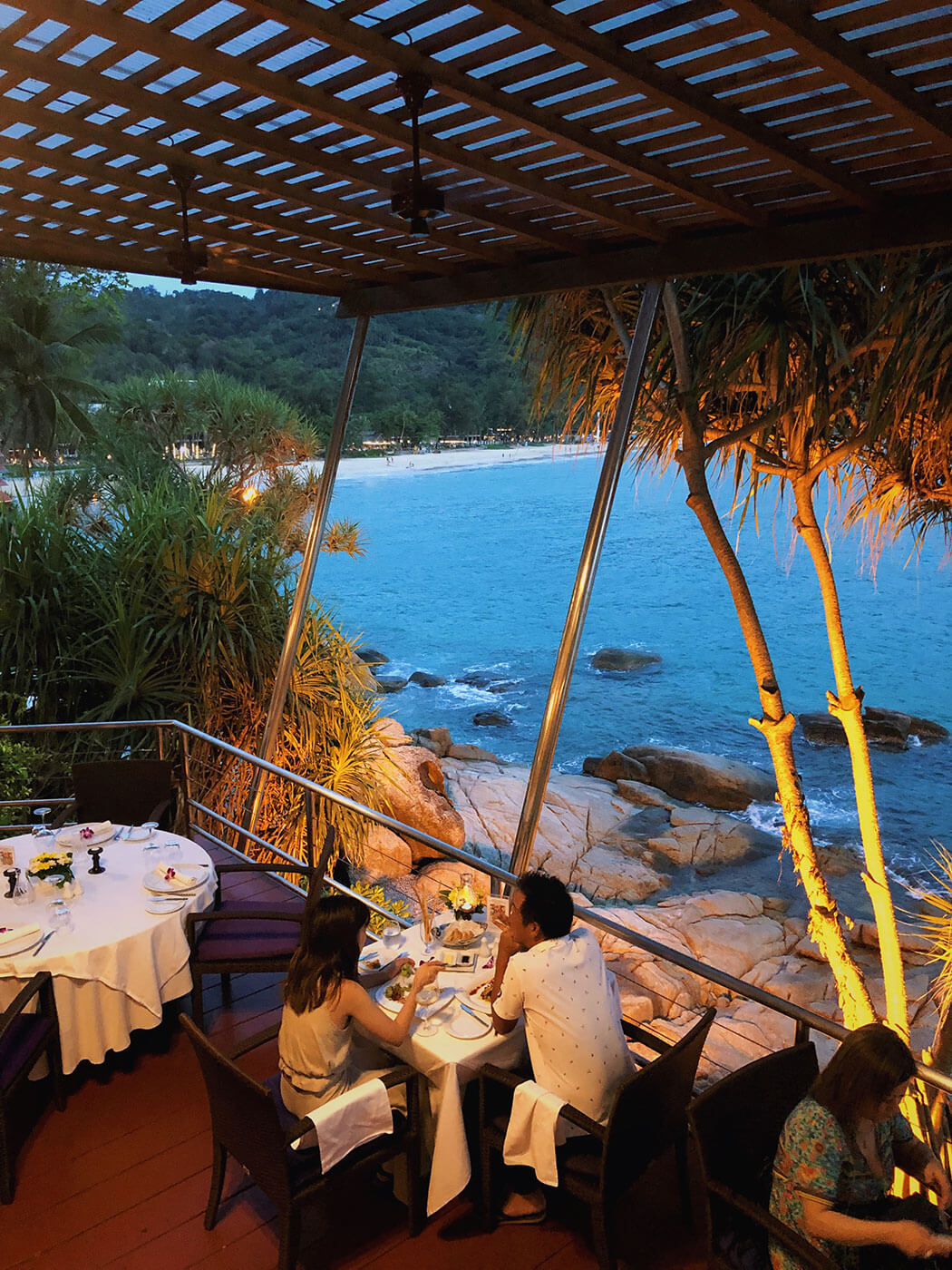 Getting out of Phuket
While getting in from the airport was easy, getting out isn't as straightforward as you can't just book it on the spot (unless you are willing to pay for a premium) and there isn't one price for all. I definitely recommend booking in advance so you don't risk missing your flight.
For a cheap option, you can consider taking the airport express bus. You can also book a shared minivan for 320 Baht, which apparently sometimes results in a private taxi depending on the demand.
As for me, I opted to book a private taxi since I don't want to miss my flight. I booked my taxi through Klook since they are 20% cheaper than the going rate of 800 baht from Patong / Phuket Town.
Alright, I hope you enjoyed your stay in Phuket!