I went on a 10-day road trip to Queensland with Cheaptickets.sg and Queensland Tourism Board. This post details my experience visiting Fraser Island on a day trip. If you are interested in my overall itinerary, please read my Queensland Road Trip post first!
For more Queensland travel posts, please visit this page. If you are planning a trip to Queensland and is interested in my overall self-drive itinerary, please read this post first!
Fraser Island, the World's Largest Sand Island
Fraser Island draws tourism through its claim as the world's largest sand island, but it still has abundant of life in it such as lush rainforest, lakes and mangroves. The aboriginal name for Fraser Island is K'gari, which means Paradise, due to the fact that the island has never experienced droughts and thus it is thought as Paradise by the indigenous people of Australia.
So if the island is made of sand, why is it so green? how are tropical plants able to grow on the sand of Fraser Island? Apparently, it is due to the presence of a microbe that behaves differently, unique to this island than any other places. The microbes on Fraser Island are able to hold on to water which provides hydration and nutrients for plants to grow on.
What to Bring and Expect from Fraser Island
Be prepared to swim! Bring your Swim suit along.
The sun is very strong, so also bring Sunscreen to protect your skin. I recommend Innisfree.
Of course, Sunglasses is a must to shield your eyes. The sun is very strong in Australia, so I suggest you use polarized Sunglasses with 100% UV Protection like this one.
Bring a Hoodie or light jacket since the wind can get very strong.
Wear a comfortable pair of shoes or sandals – you'll be doing a light walk at the forest. I wore a pair of Havaianas.
The road in the core of Fraser Island is very, very bumpy so some parts of the ride will not be comfortable. There is unfortunately not much you can do about this, but it's always good to know these things ahead of time.
Getting to Fraser Island
We stayed at Noosa during our time in Rainbow Coast, and Fraser Island is about 2 hours drive away, which means we had to start the day bright and early. Our guide from The Discovery Group picked us up on time at 6:15 am at our pick up point. We were picked up in a special 4WD All terrain warrior, which has very tall wheels and designed for off-road paths.
We made one stop at a gas station for breakfast then resumed driving to Inskip Point, the crossing point to Fraser Island. It didn't look like anything since there was no port, just a bunch of cars queueing up to get into the ferry.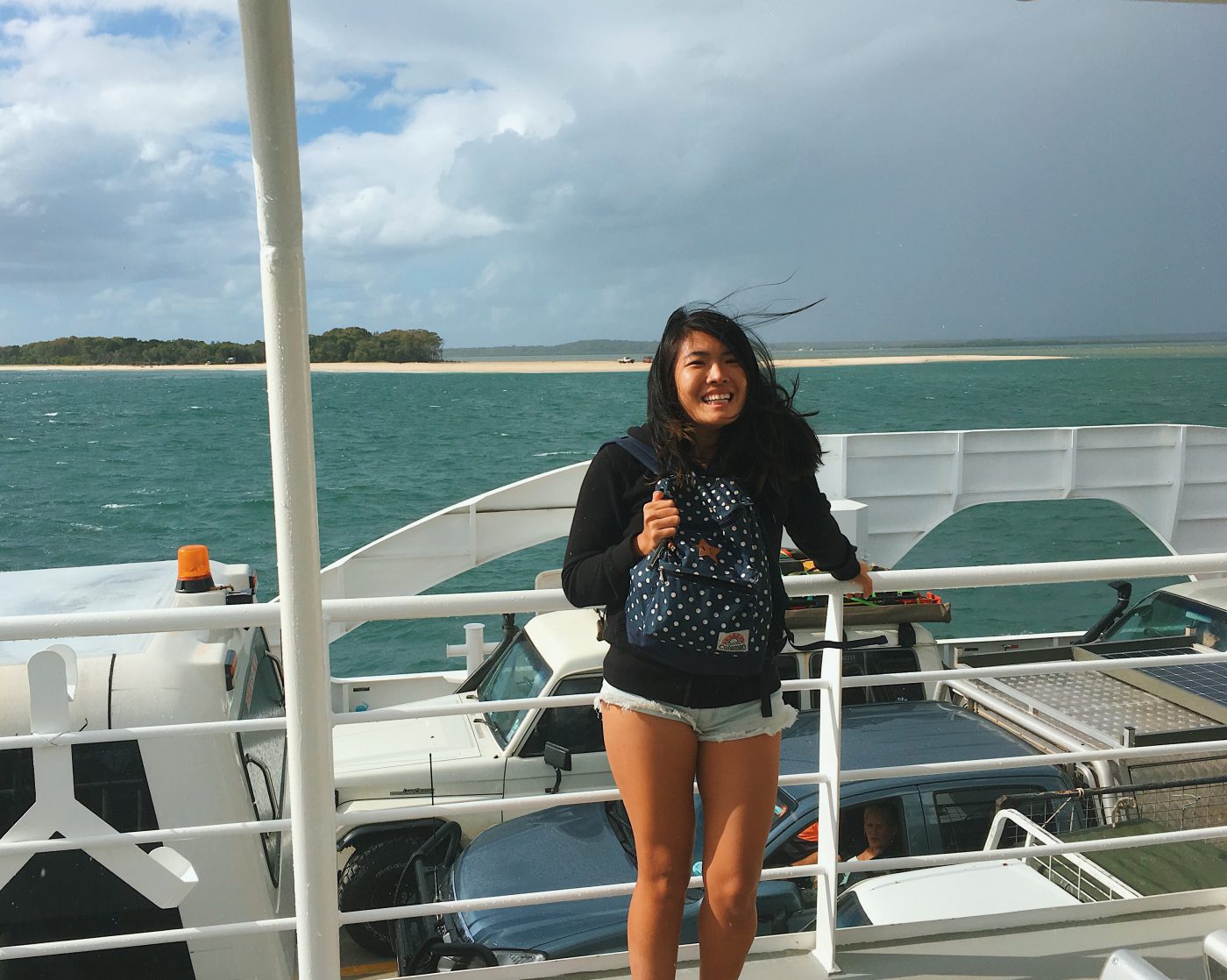 It was just a short ride into Fraser Island and you can already see the island from the boarding point. Once the car is in the ferry, we could get off the car and walk around, but most people opted to stay put due to the rain and wind.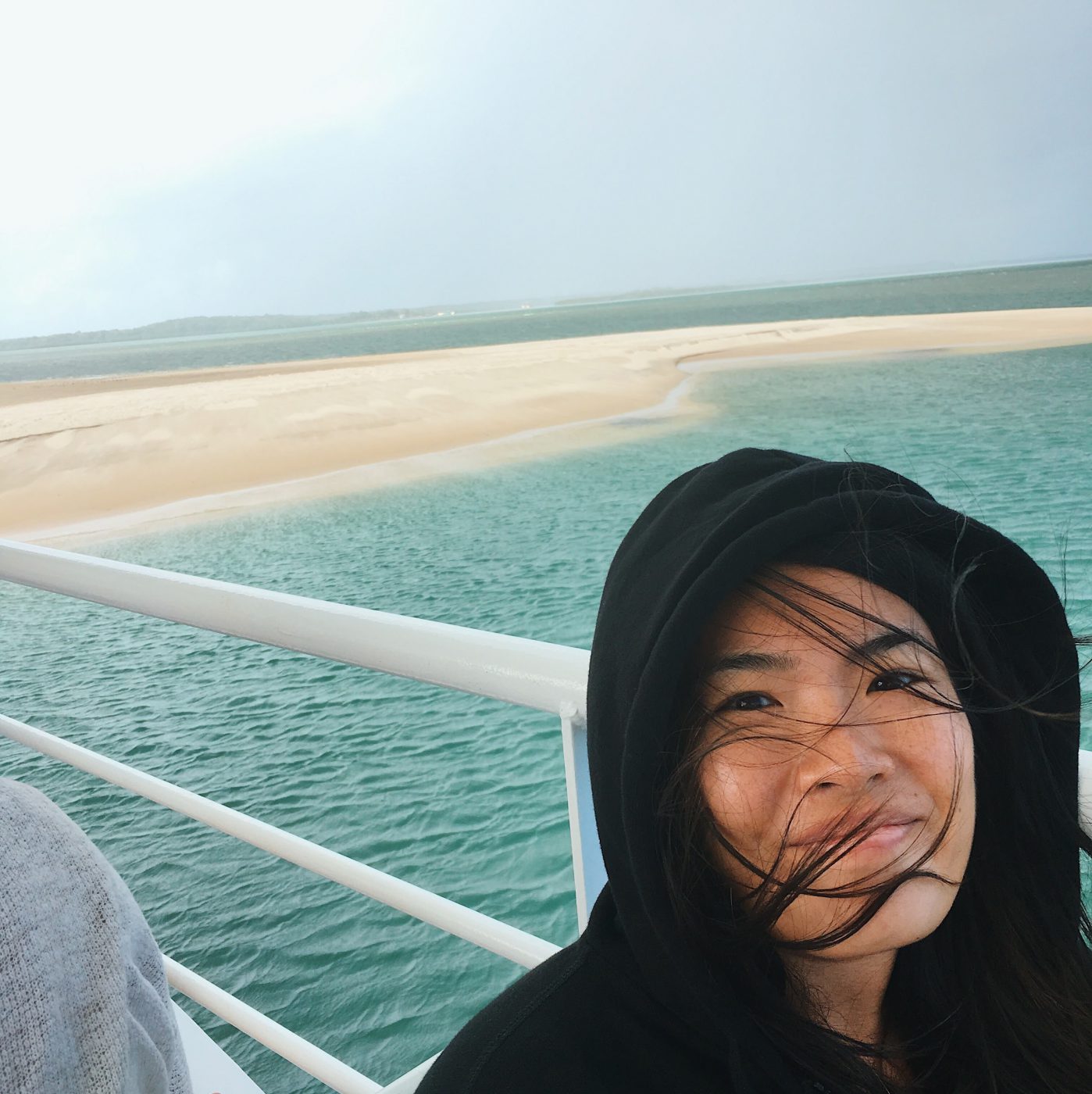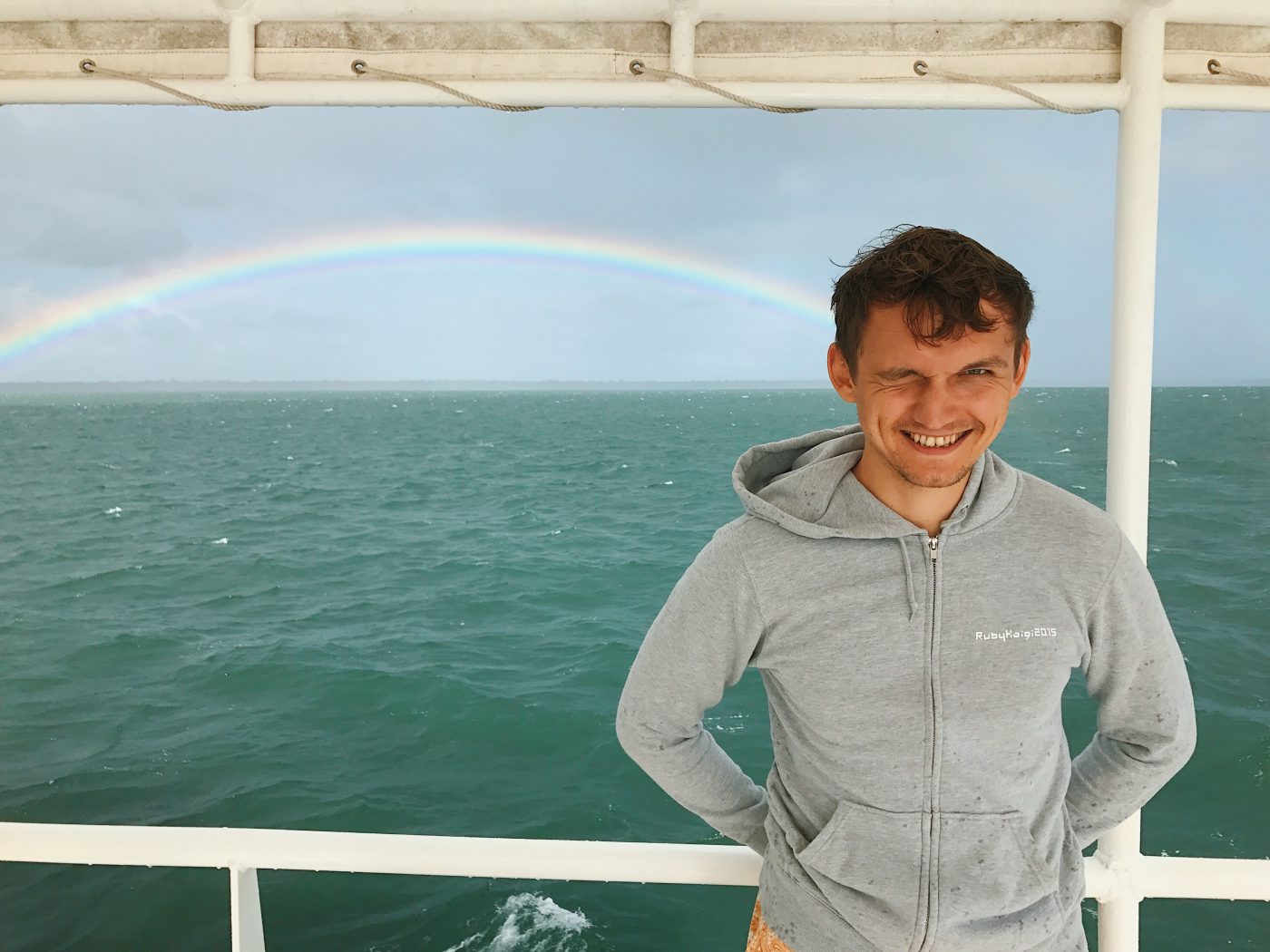 Yuri is blinking weirdly here because it had started raining while we were in the ferry and the wind was blowing all the water into his eyes. This rainbow was actually a double rainbow although the second one was very faint. This area is named Rainbow Beach, due to the frequent appearance of rainbows like this one.
First views of Fraser Island
Soon after we got off the ferry, we drove on sand for awhile before stopping in the middle for a break of tea and some ANZAC biscuits. By the way, you should try ANZAC biscuit while you are in Australia! It is the same recipe used by military personnel during World War I, as it is made of ingredients that does not spoil very easily and can last a long time.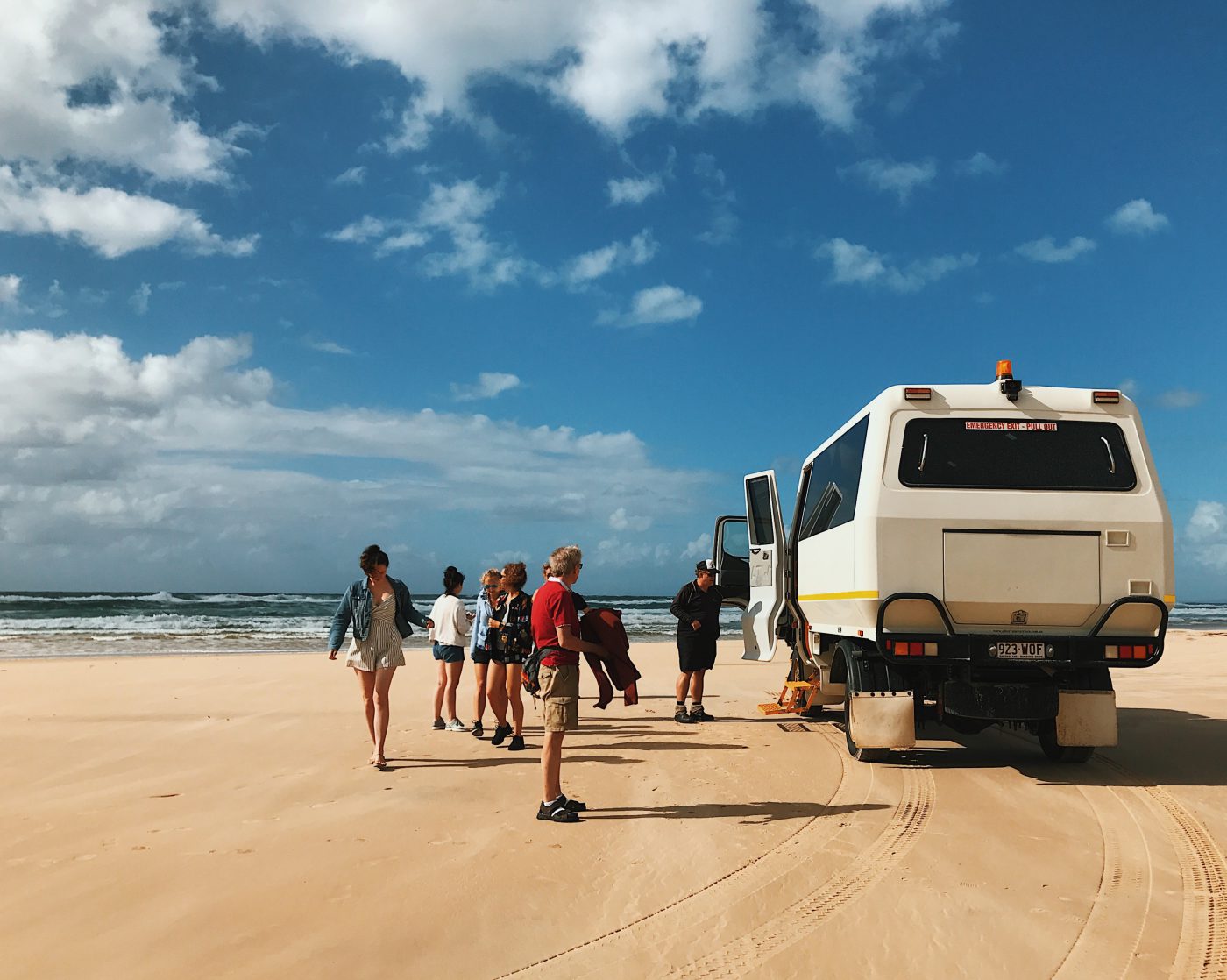 Near where we stopped, there was a narrow creek with brownish-red-colored water. We were told the this is a Tea Tree water river, and the water is actually stained this brown color from tannin from tea trees inside the island!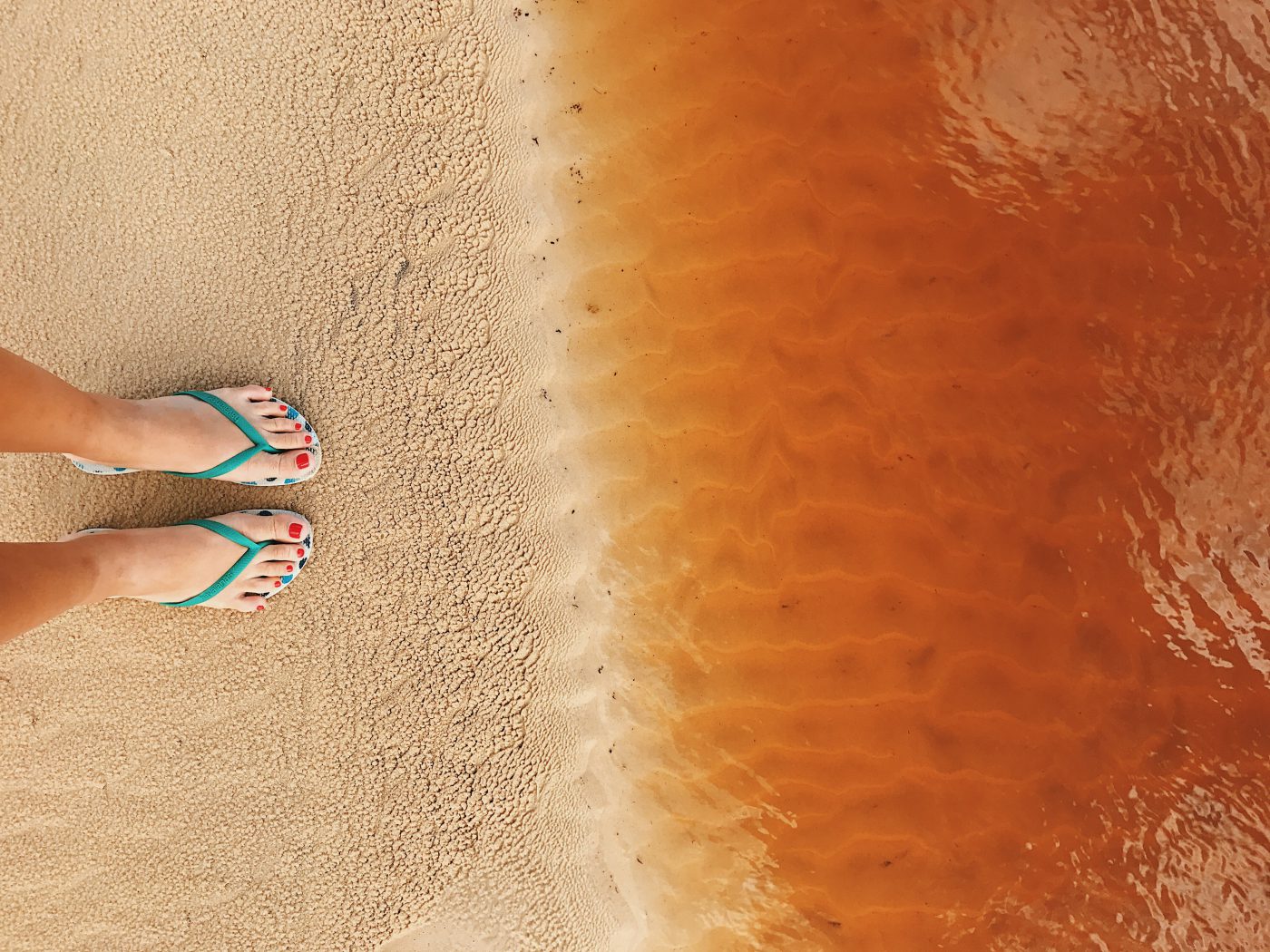 While we were driving on sand, our tour guide pointed out that there are tons of washed up dead blue bottle jellyfish on the beach. I got to examine some of the carcasses. Blue bottle is also known as the Portuguese Man o War, and you really don't want to be stung by one of these things. Their stings are venomous, painful, and could be fatal. There are tons of them in Australia, particularly in this east coast area.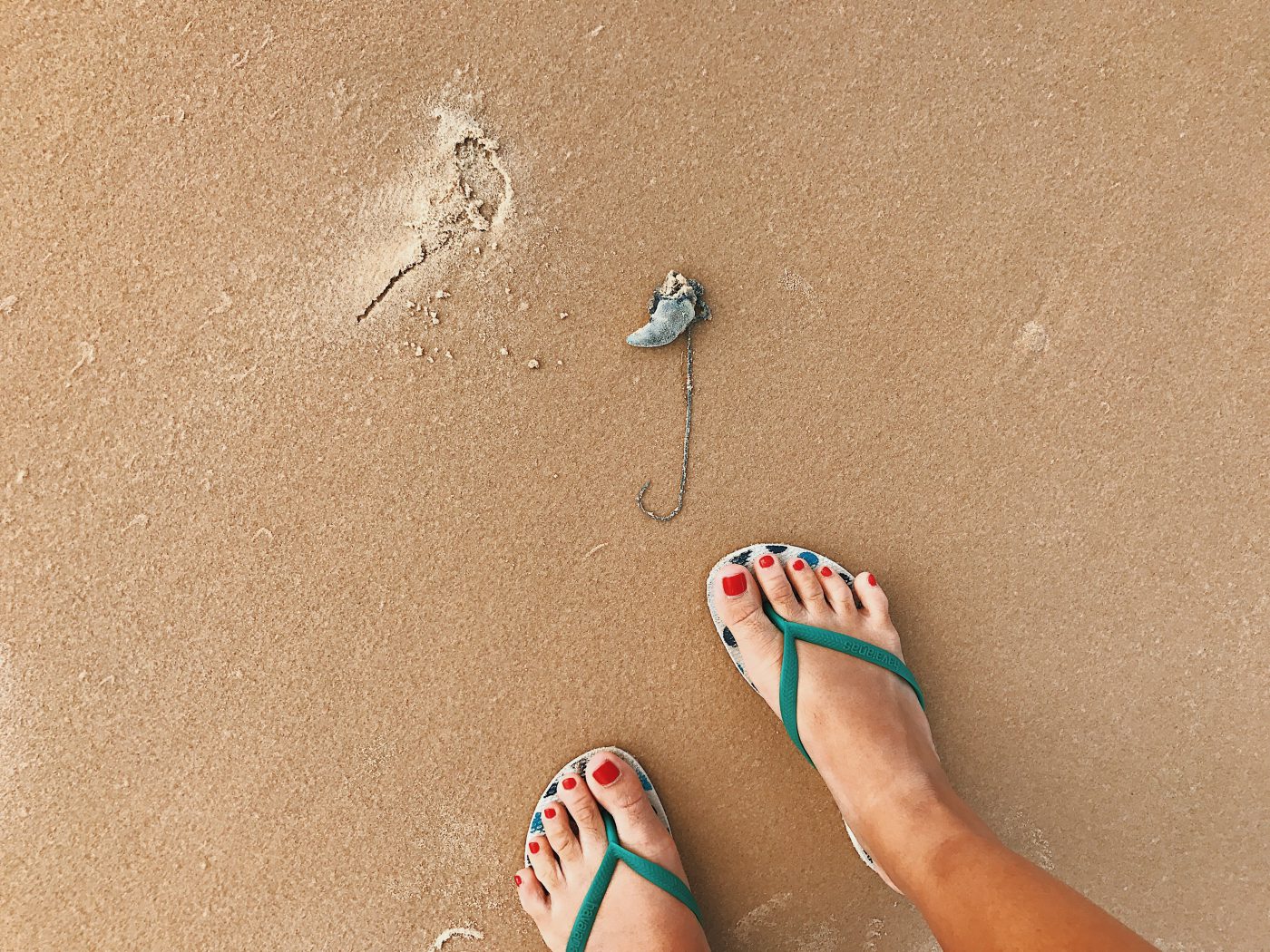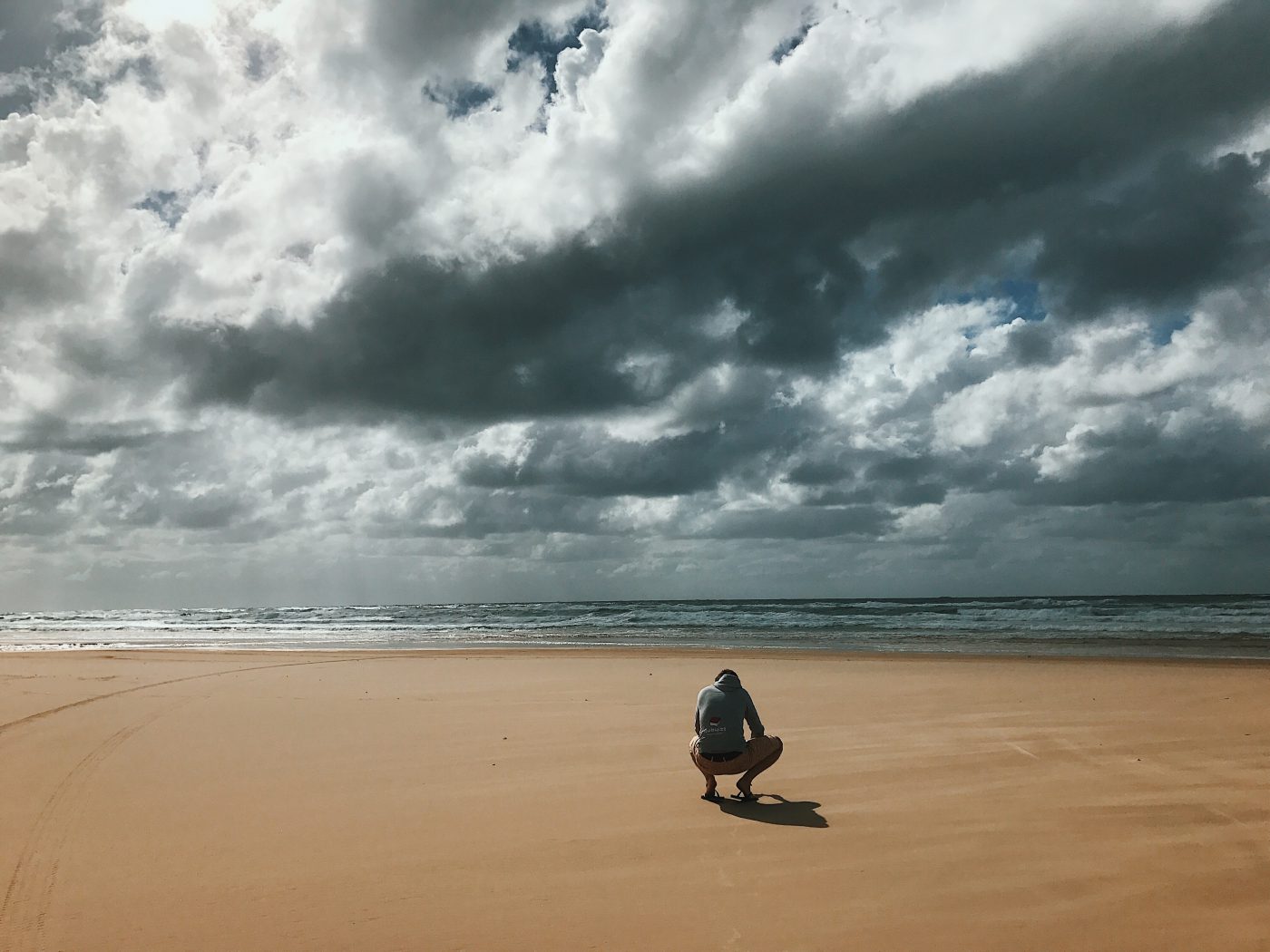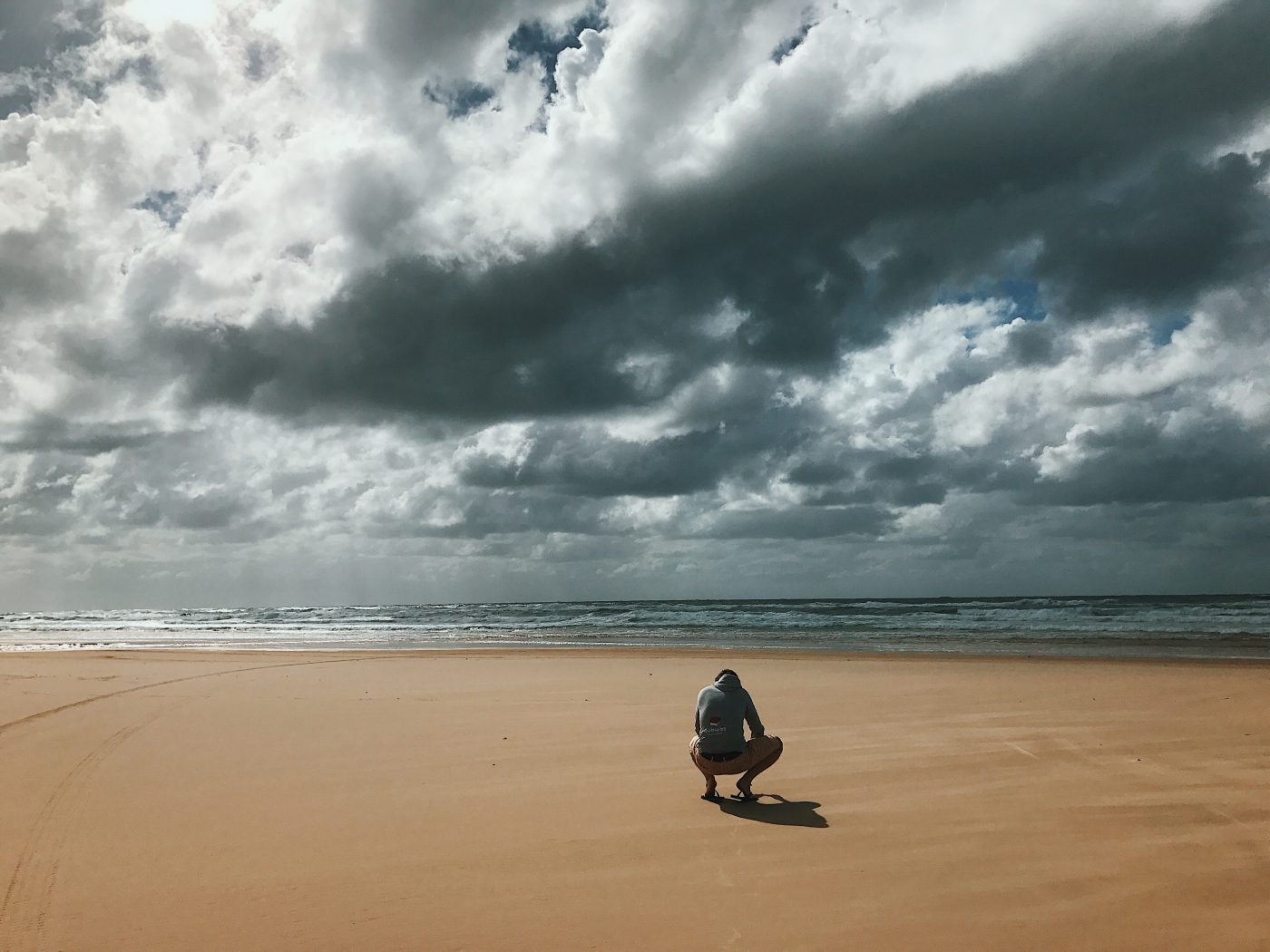 Lake McKenzie – not what it looks like!
Everything in Fraser Island is not what it seems to be. That same rule applies to Lake McKenzie. On a first glimpse, this lake might look like a beach with fine white sands and clear blue water instead of a lake. But Lake McKenzie is in fact 100% a lake and entirely filled with fresh water.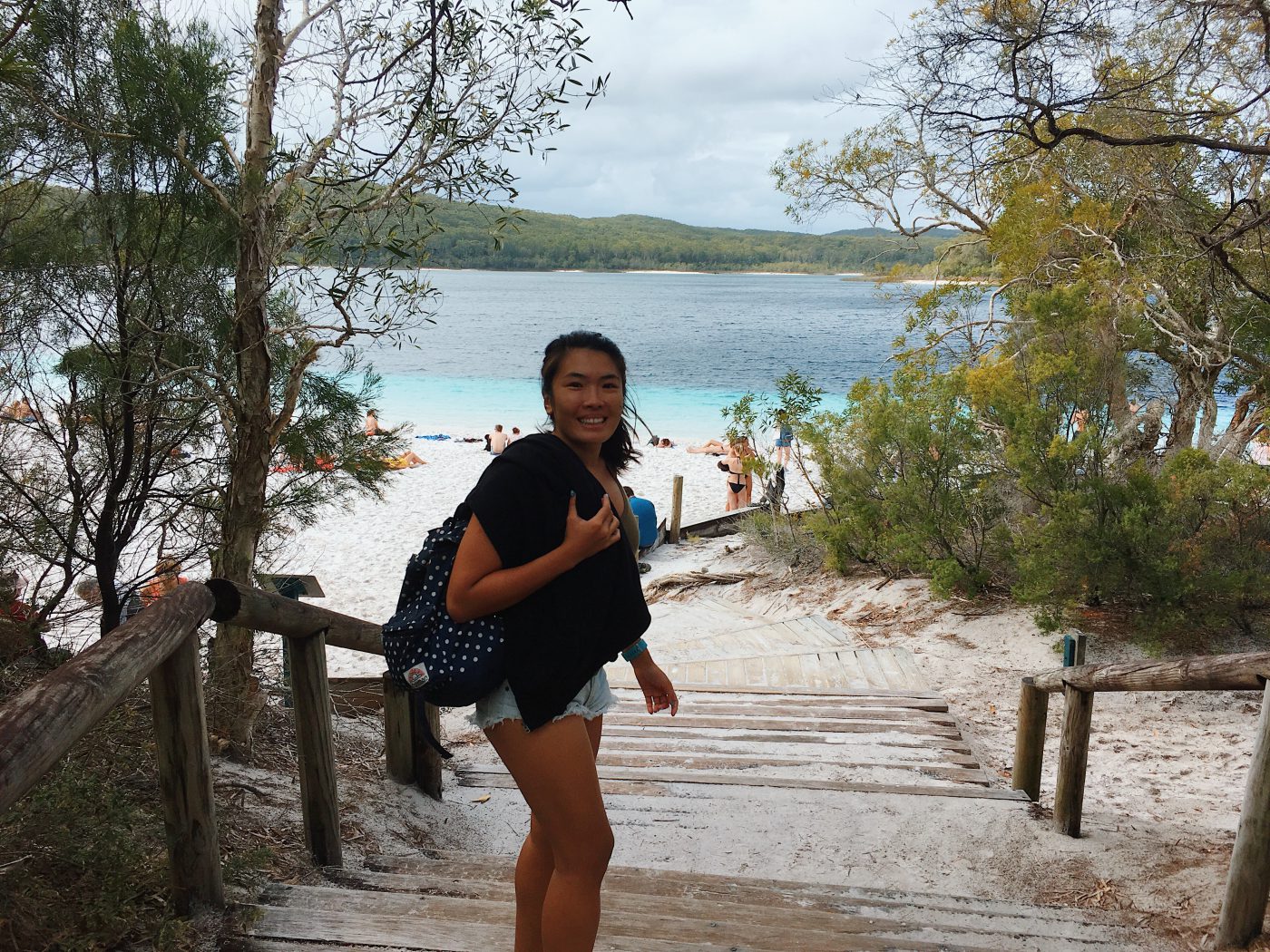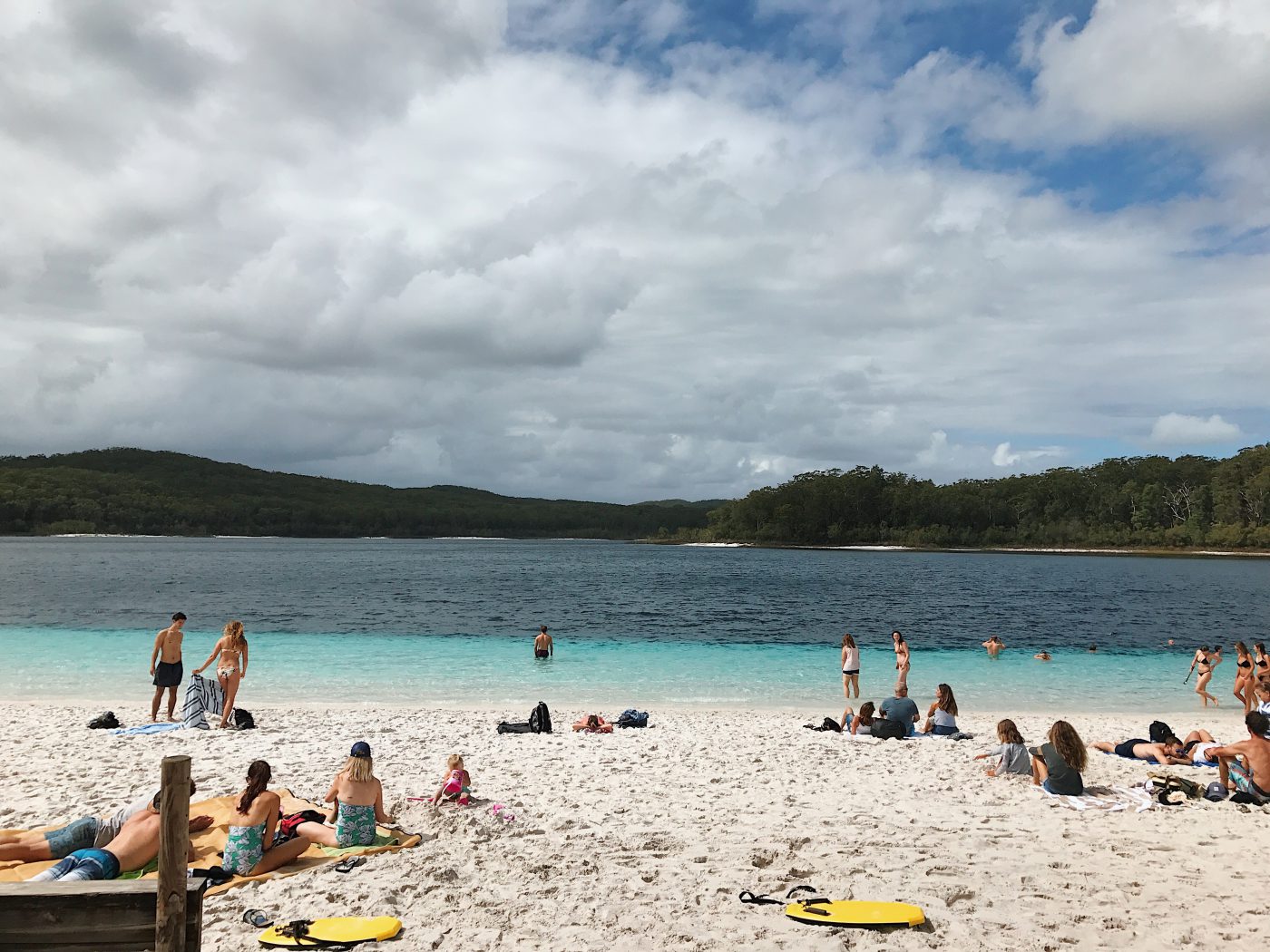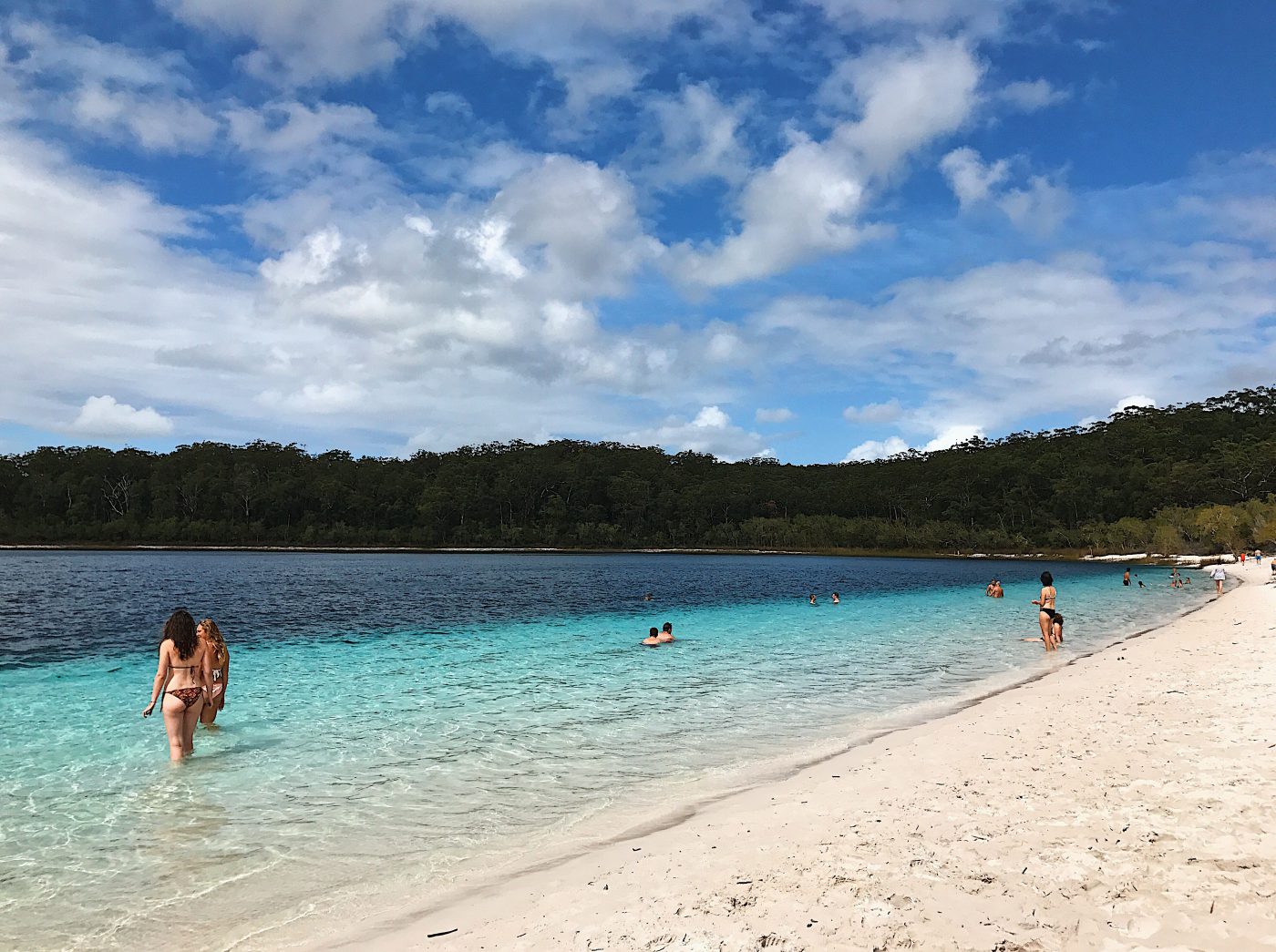 I kept forgetting that the water is not salty just because it feels like we were at the beach. It was pretty hot that day but the water inside the lake was very cold. We needed to catch up with the rest of the group for lunch anyway so we walked back to picnic area after around 20 minutes of water time.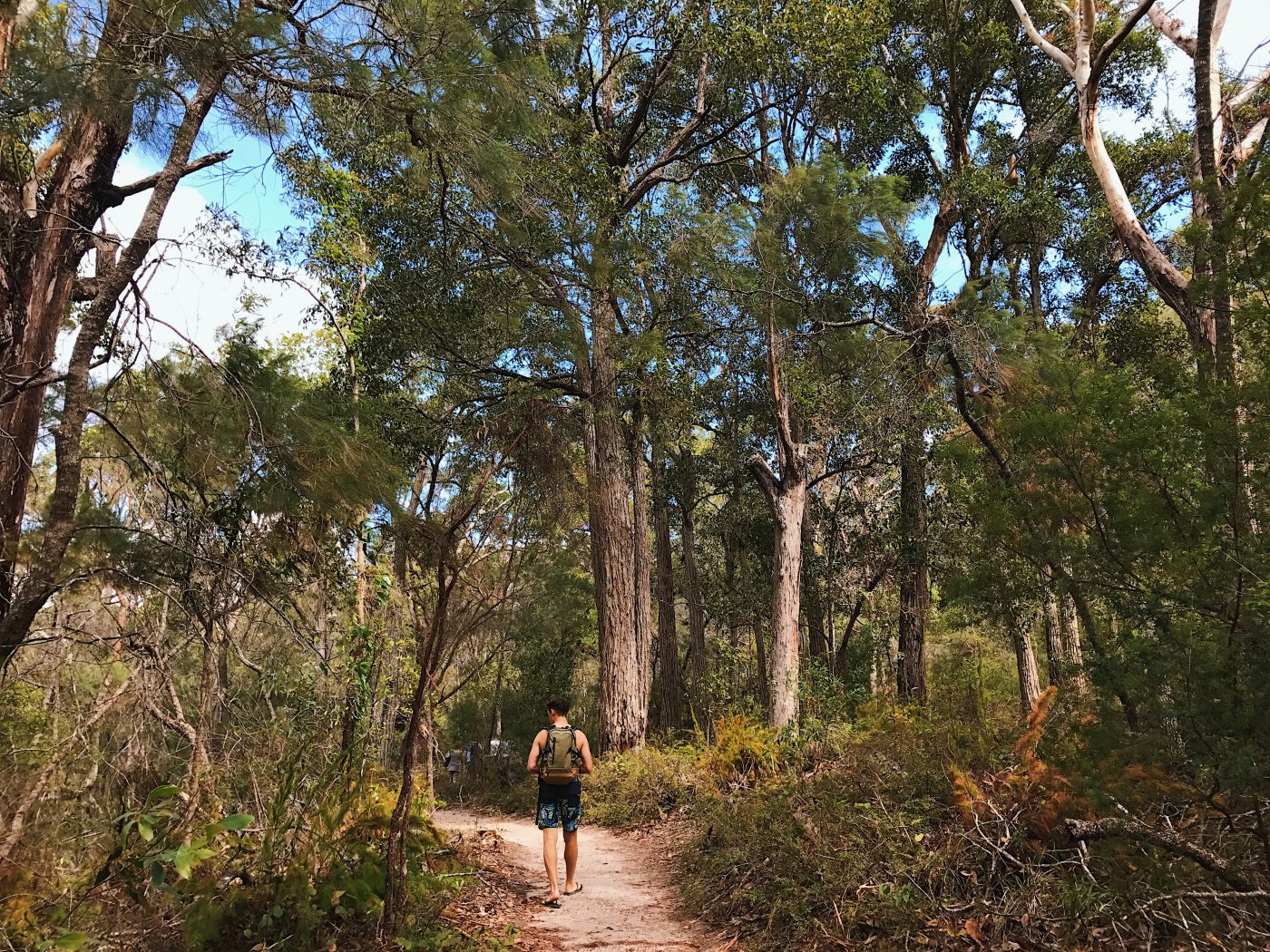 Rain Forest Walk
The next stop after McKenzie is a short 2km walk to observe the unique nature of a rain forest on a sandy Fraser Island. It was a very easy walk and took about half an hour. Our group consists of young fresh grads to middle-aged man and women. None of us had any problem completing the walk. It did start raining, but we were well shielded by the forest that we did not get soaked.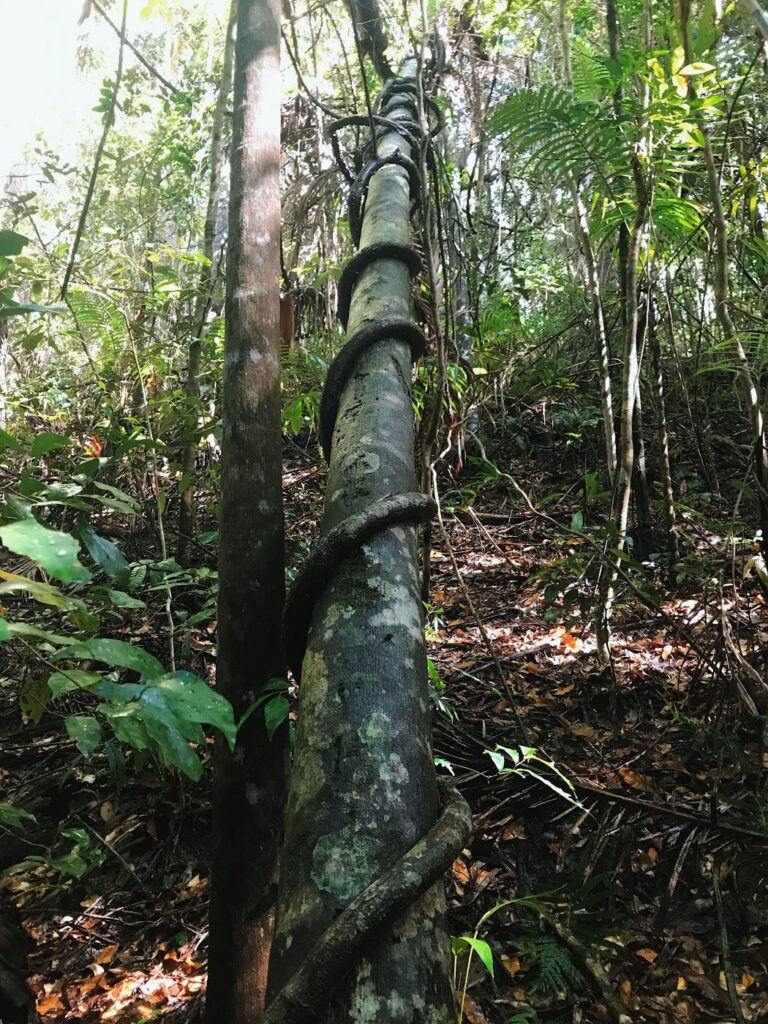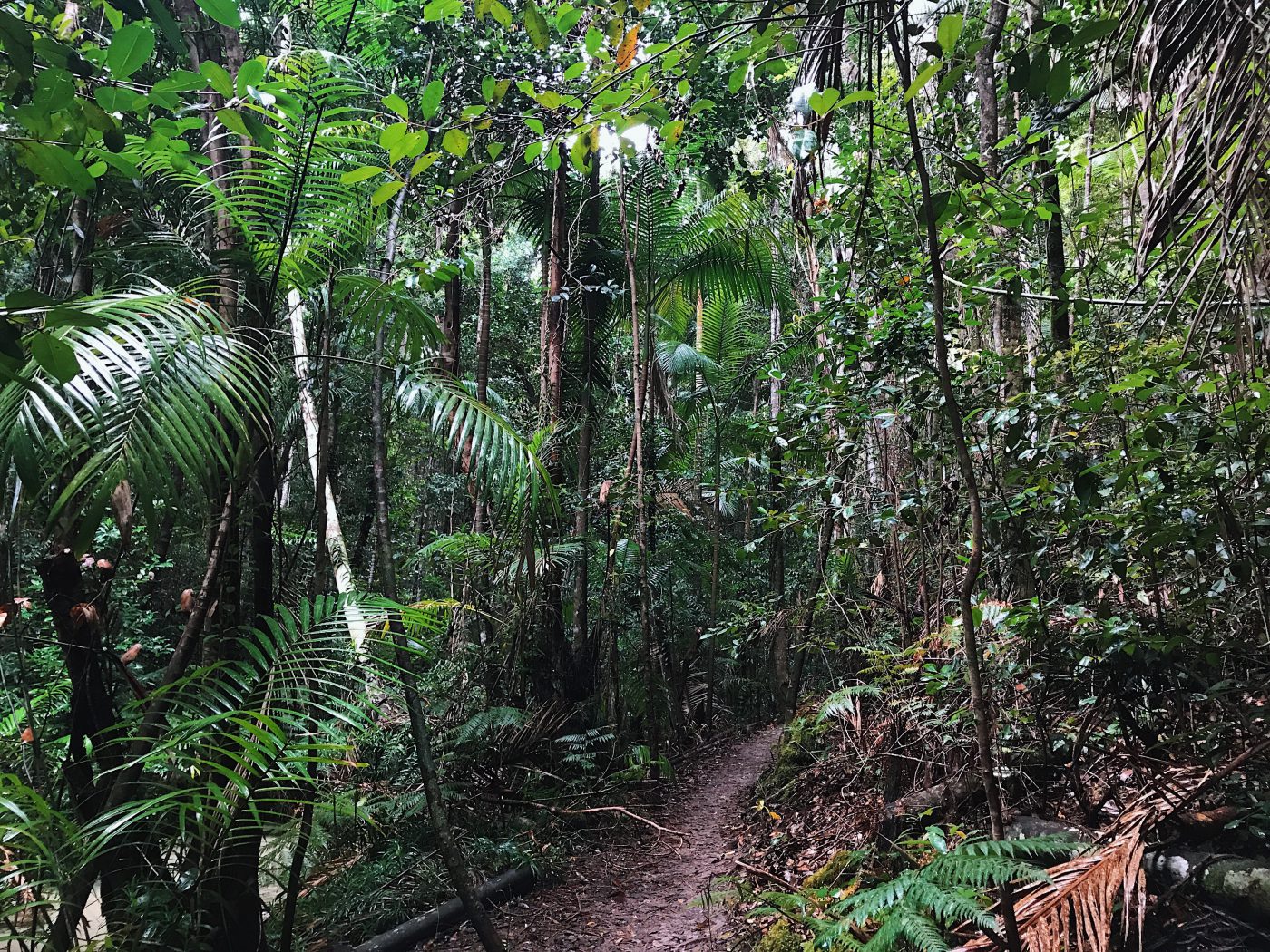 It was an interesting experience walking through the rain forest in Fraser Island. Although it looks and feels just like any other rain forest, down to the humidity and mosquitos, the island is still made entirely of sand and you kind of forget this sometimes until you see clear rivers with soft white sand bottoms.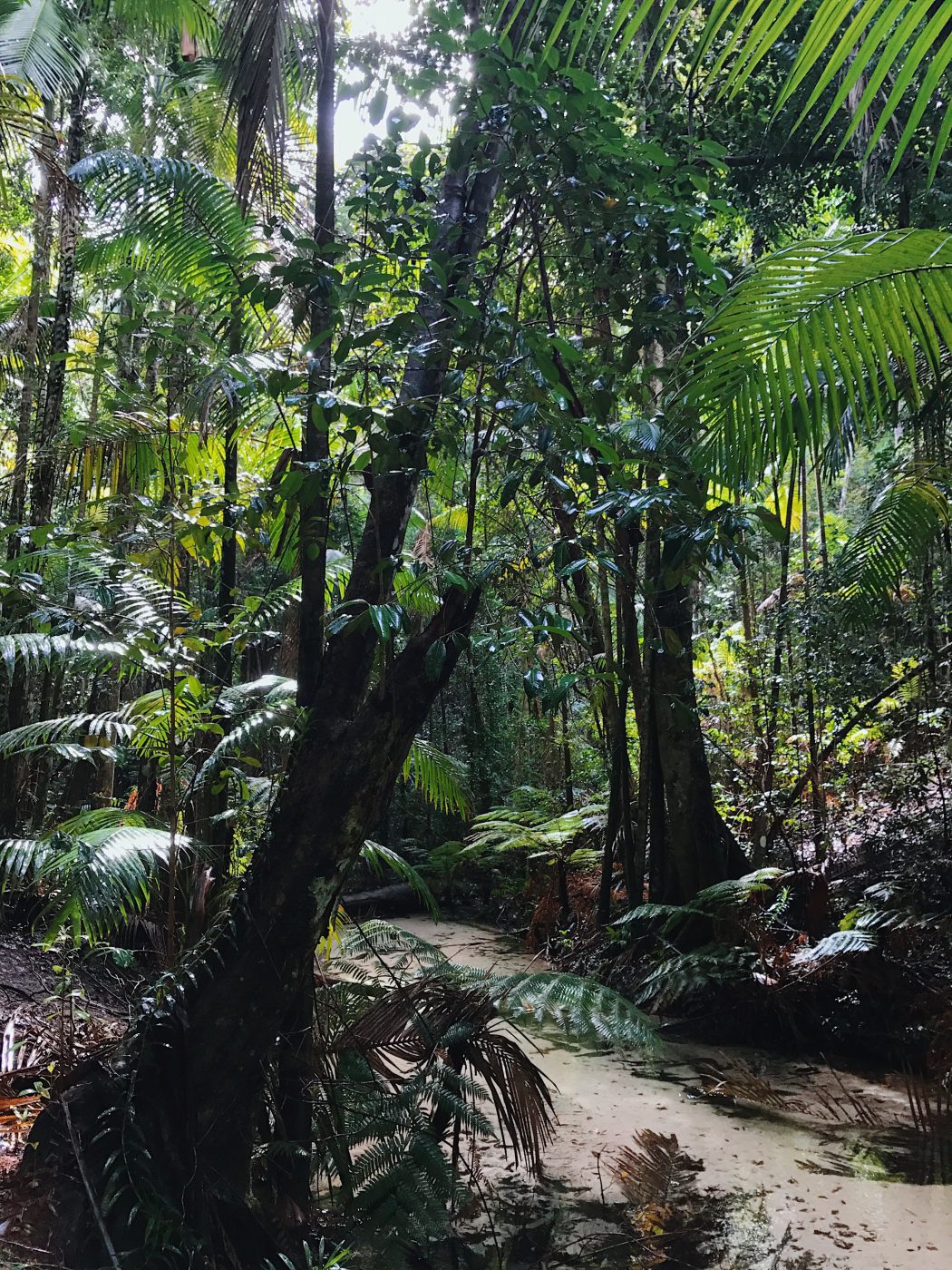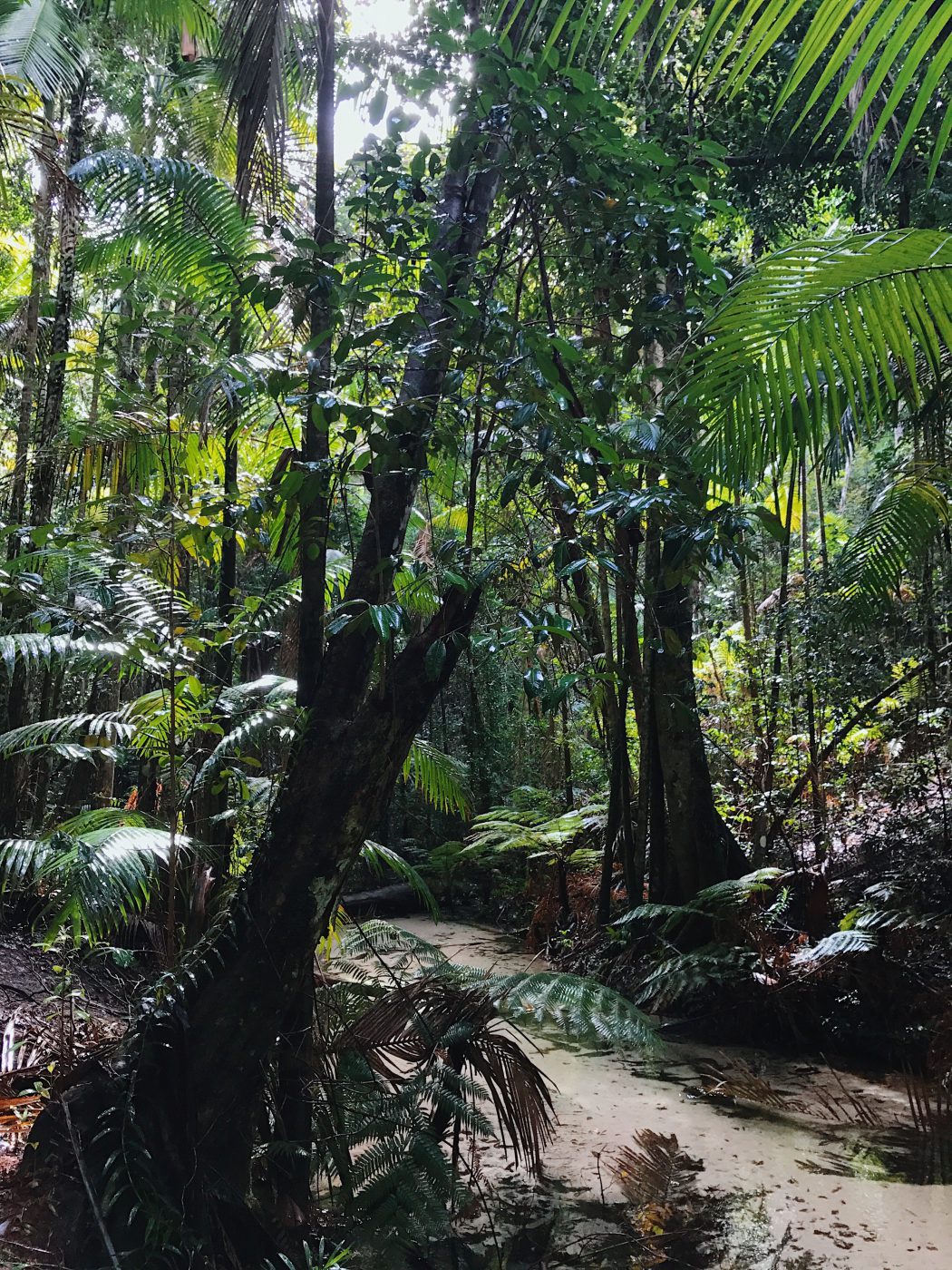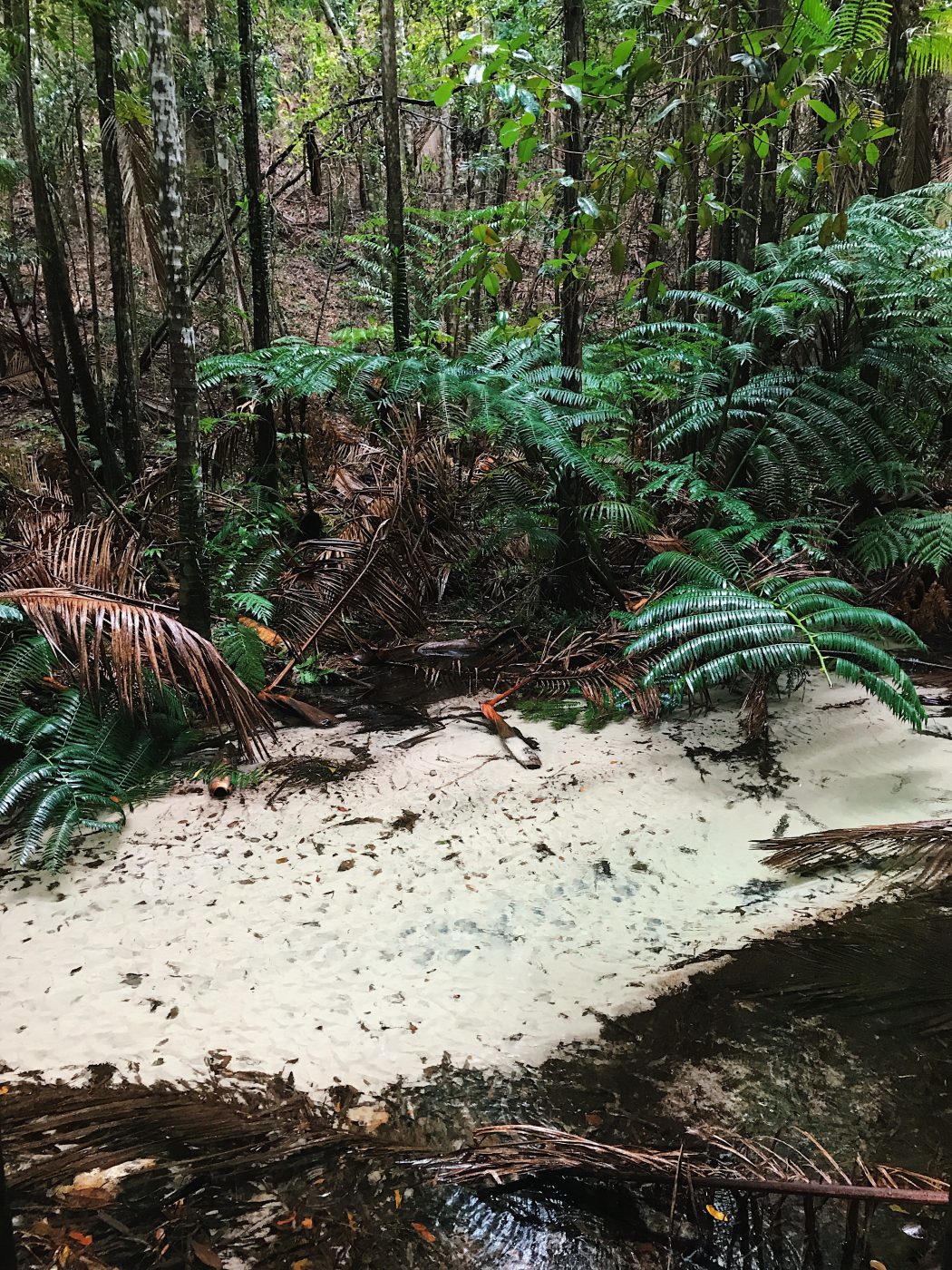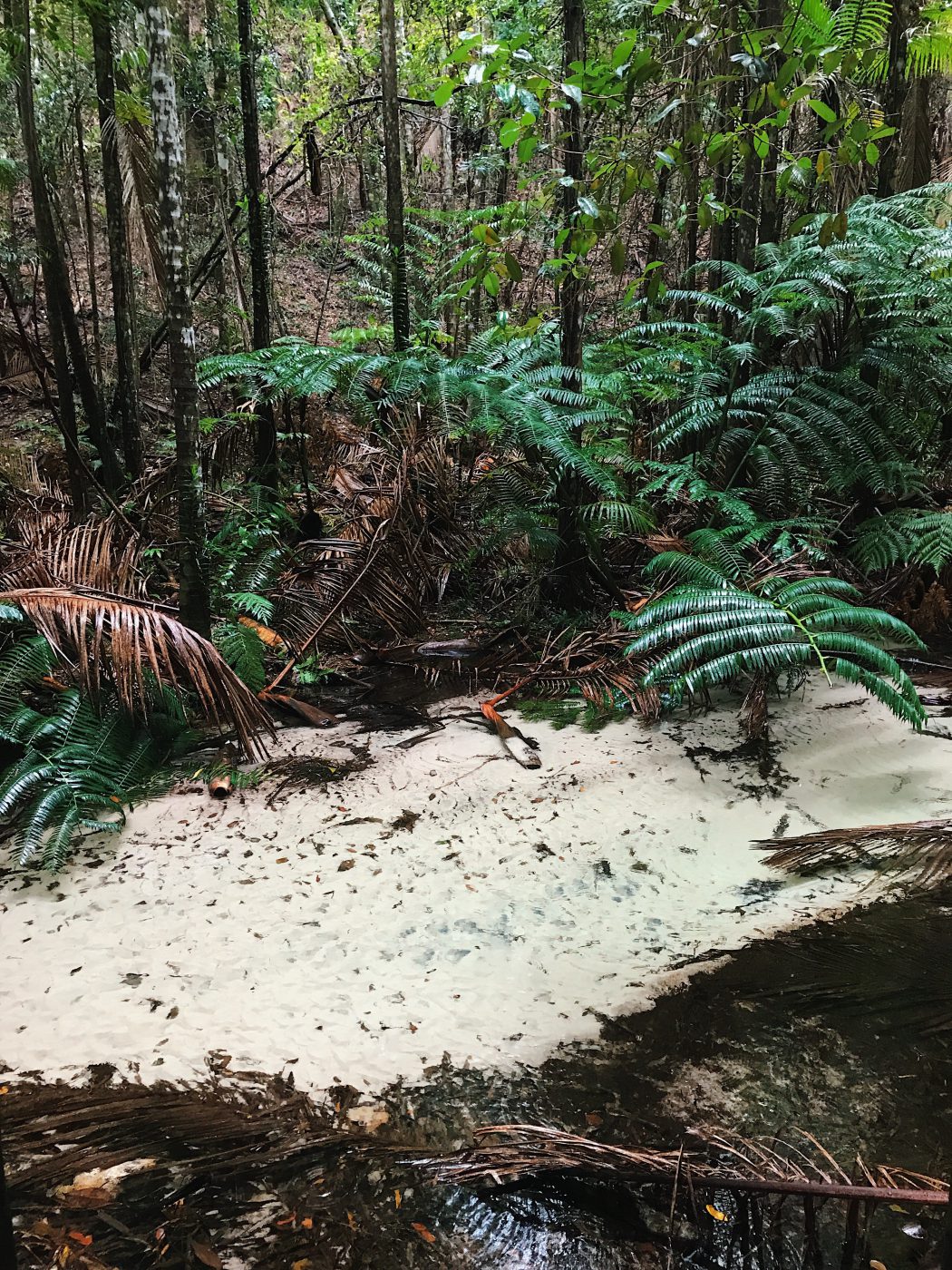 After the rain forest walk, we made our way out of the island and started the drive back to Noosa. It was a long drive back home and we got back quite late – we had to change drivers (and bus) towards the end of it due to an Australia labor law preventing a driver from driving over a certain number of hours a day. We didn't arrive back in Noosa until around 8:30pm, so I would suggest you don't plan anything after this day trip.
And that wraps up my post on Fraser Island.
For more Queensland travel posts, please visit this page. If you are planning a trip to Queensland and is interested in my overall self-drive itinerary, please read this post first!