Fuji Five Lakes is the closest area to Mount Fuji. It is located in the Yamanashi prefecture of Japan, and it's where locals and tourists like to go for a quick getaway from Tokyo. The area receives just as much domestic tourism as international tourism!
What are the Fuji Five Lakes?
Mount Fuji is Japan's most popular and highest mountain. Not many people realize this, but Mount Fuji is an active volcano with the last eruption being in the early 1700s. Fuji Five Lakes are the lakes that formed from the eruption of Mount Fuji. It is locally known as Fujigoko (富士五湖) which literally translates to "Fuji Five Lakes".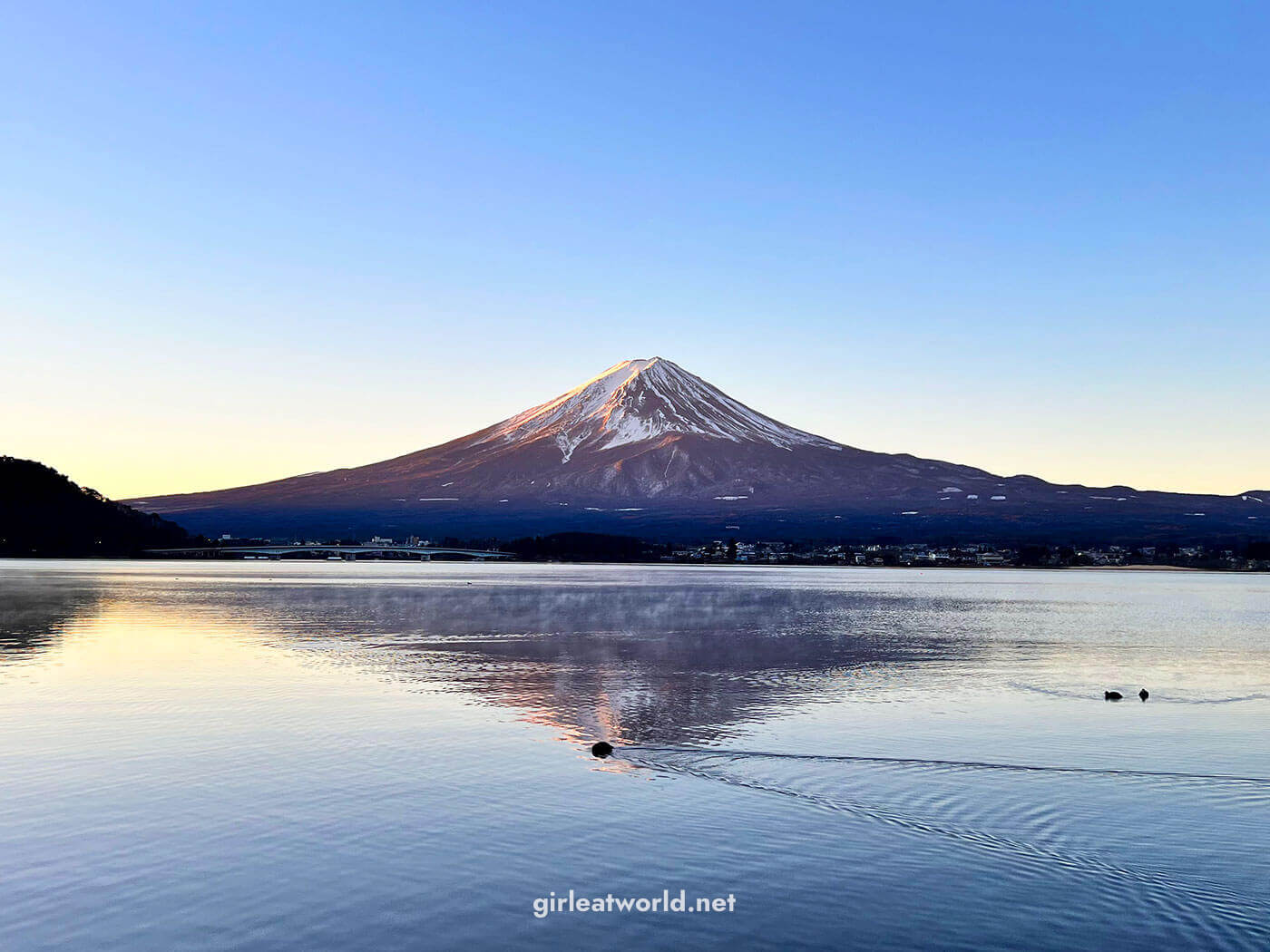 Today, as the name might have implied, the area consists of five lakes around Mount Fuji:
Lake Kawaguchi / Kawaguchi-ko
Lake Yamanaka / Yamanaka-ko
Lake Motosu / Motosu-ko
Lake Sai / Sai-ko
Lake Shoji / Shoji-ko
Hence, the name Fuji Five Lakes! The area is popular with domestic tourists for all kinds of activities: temple visits, water activity as well as snow activities in the winter.
Out of the five, Lake Kawaguchi and Lake Yamanaka are the most popular among tourists. I would highly recommend basing yourselves on these areas if you're visiting.
How to get to Fuji Five Lakes
From Tokyo By Train – Lake Kawaguchi can be reached easily from Shinjuku station. If you have a JR Pass, a portion of this journey is covered from Shinjuku to Otsuki, but you still need to top up for the Otsuki to Lake Kawaguchi part. Otherwise, there are direct limited express trains from Shinjuku to Lake Kawaguchi which will take about 2 hours from Tokyo.
Combine with Hakone – If you're on a trip from Tokyo, you might want to group this trip together with Hakone as Fuji Five Lakes can be reached by bus from Hakone. So you could potentially do Tokyo – Hakone – Fuji Five Lakes – Tokyo, or the other way around. If you are doing this route, you might be interested in the Fuji-Hakone pass, which will cover your transportation.
Day trip from Tokyo via a Private Tour – If you don't have too many days to spare, you can still do a day trip from Tokyo to Fuji Five Lakes. This tour will take you to the most famous spots I'll mention below.
Rent a car and drive from Tokyo – This is the most convenient and easy option since you won't have to depend on public transport. It takes about 1.5 hours one way to get to Fuji Five Lakes from Tokyo by car. Driving in Japan requires an International Driving License. This is the option that I personally went with since I did not want to waste time with public transport. Book a car rental from Tokyo, which you can pick up from the airport or in the city:
How many days should I spend in Fuji Five Lakes?
Depending on what you want to do, 2-3 days can be enough to explore the Fuji Five Lakes area. I went for 3 days and 2 nights and it was just enough to do everything we wanted to do.
When is the best time to visit Fuji Five Lakes?
Much like the rest of Japan, the best time to visit the Fuji Five Lakes area would be around spring during Sakura time, or autumn during Momiji time.
However, if your goal is to see Mount Fuji (not climb it, just see), then your best bet would actually be visiting during winter when there tend to be more clear conditions and Mount Fuji would be visible.
I visited Fuji Five Lakes in December – the weather was cold, but it was perfectly clear blue skies and Mount Fuji was visible the two days we were there. But on the day we left, the weather became cloudy and Mount Fuji wasn't visible at all.
How to get around the Fuji Five Lakes area
Once you get to the Fuji Five Lakes area, the last mile for many attractions can be reached via buses. There are two bus lines you'd be using a lot when you are in this area: The Omni Bus and Fujikko bus. You'd likely be using the red Omni bus the most, which covers the north and eastern sides of Lake Kawaguchi, where most of the famous attractions are.
Where to stay in the Fuji Five Lakes area
Lake Kawaguchi is the most popular area to stay, with Lake Yamanaka being a close second. There is plenty of mountain lodge in this area, as well as onsen resorts. It's also the closest area to most of the attractions I am listing below!
If you prefer to stay off the beaten path, then you can look at staying near the smaller lakes, but you'll need to be self-sufficient as there would not be many restaurants or shops nearby and limited public transportation.
Where to stay near Lake Kawaguchi
If you are planning to get to Fuji Five Lakes by train, it's better to stay near the Kawaguchiko station. Many buses will originate from the station too.
But if you're going to be driving, or don't mind the commute, then I've recommended some mountain cottages that are a bit further away from the station!
Here are some recommendations for where you can stay: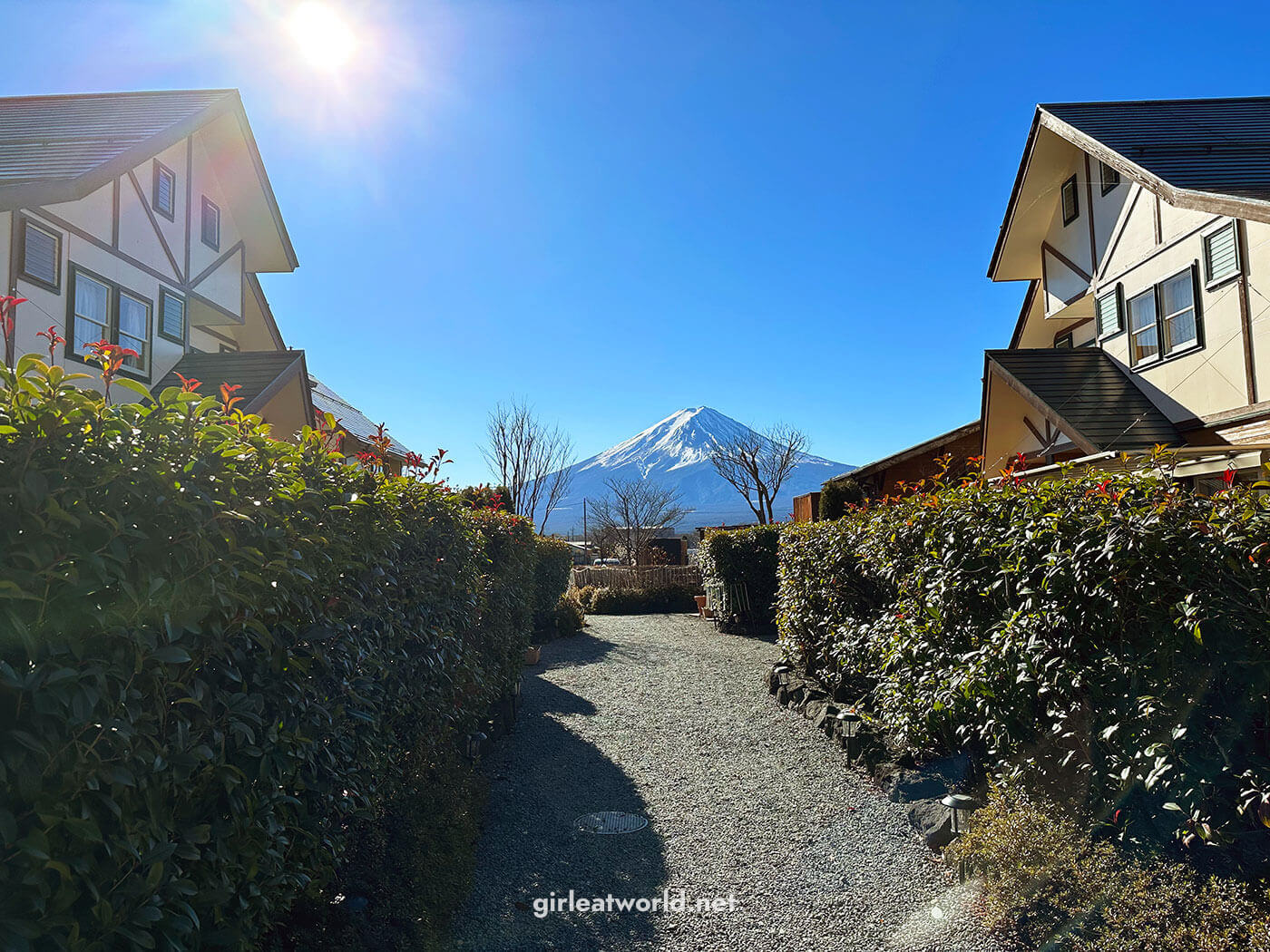 Where to stay near Lake Yamanaka
If you want to be truly away from other tourists, you can consider staying near Lake Yamanaka. Here are a few recommendations:
Mount Fuji Itinerary in Fuji Five Lakes
There are many attractions and places you can visit in the Fuji Five Lakes area. Here is a map of the area so that you can visualize the area better!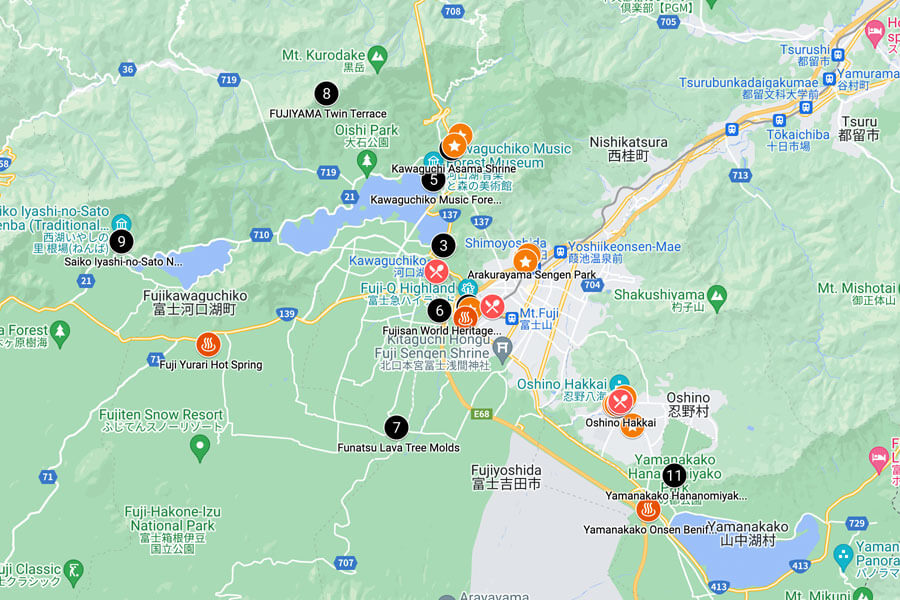 🗺 Save this map to your phone! If you are a Google user, click on the image of the map above. The map will then be saved to your "Recent" maps viewed. Click here for instructions on how to view the map later. It will work from your phone too.
I've made some recommended itineraries, taking into account the time to travel since you can only travel by bus here. I would suggest prioritizing these attractions. The rest are nice to visit, if you have time, if the weather permits, and if you have a specific interest in them.
Day 1
Day 2
Scroll down to see the details of each attraction!
What to do in the Fuji Five Lakes area
1. Arakuyama Sengen Park
➡️ Admission Fee: Free!
Arakuyama Sengen Park is a park on a hill with stairs that allows you to climb up all the way to the top very easily. At the bottom of the hill is a shrine with a large vermillion torii gate called Shiogama Shrine that perfectly frames Mount Fuji. Further up, there is Arakura Fuji Sengen Shrine where you can buy omamori from, and a small food truck with snacks.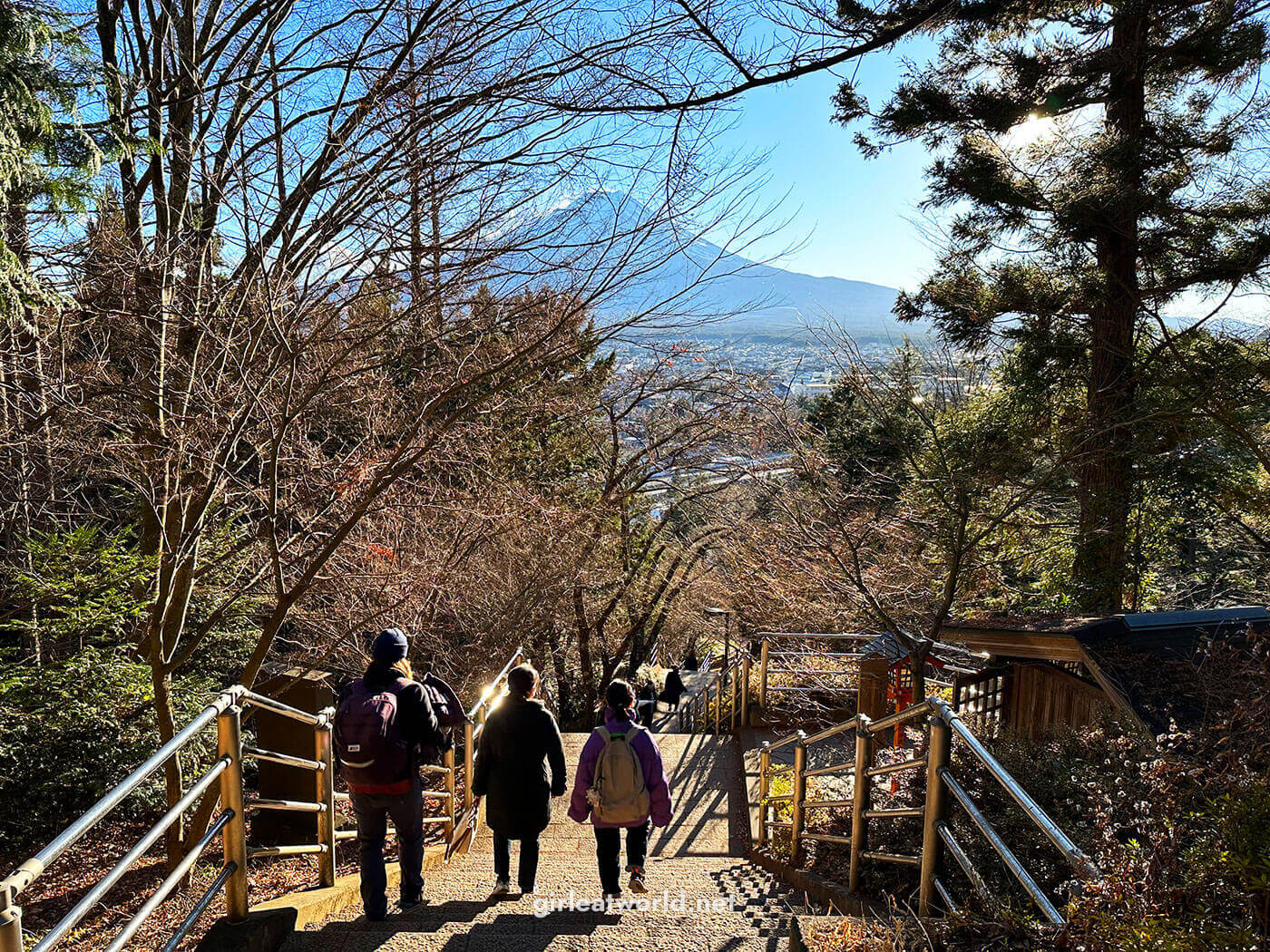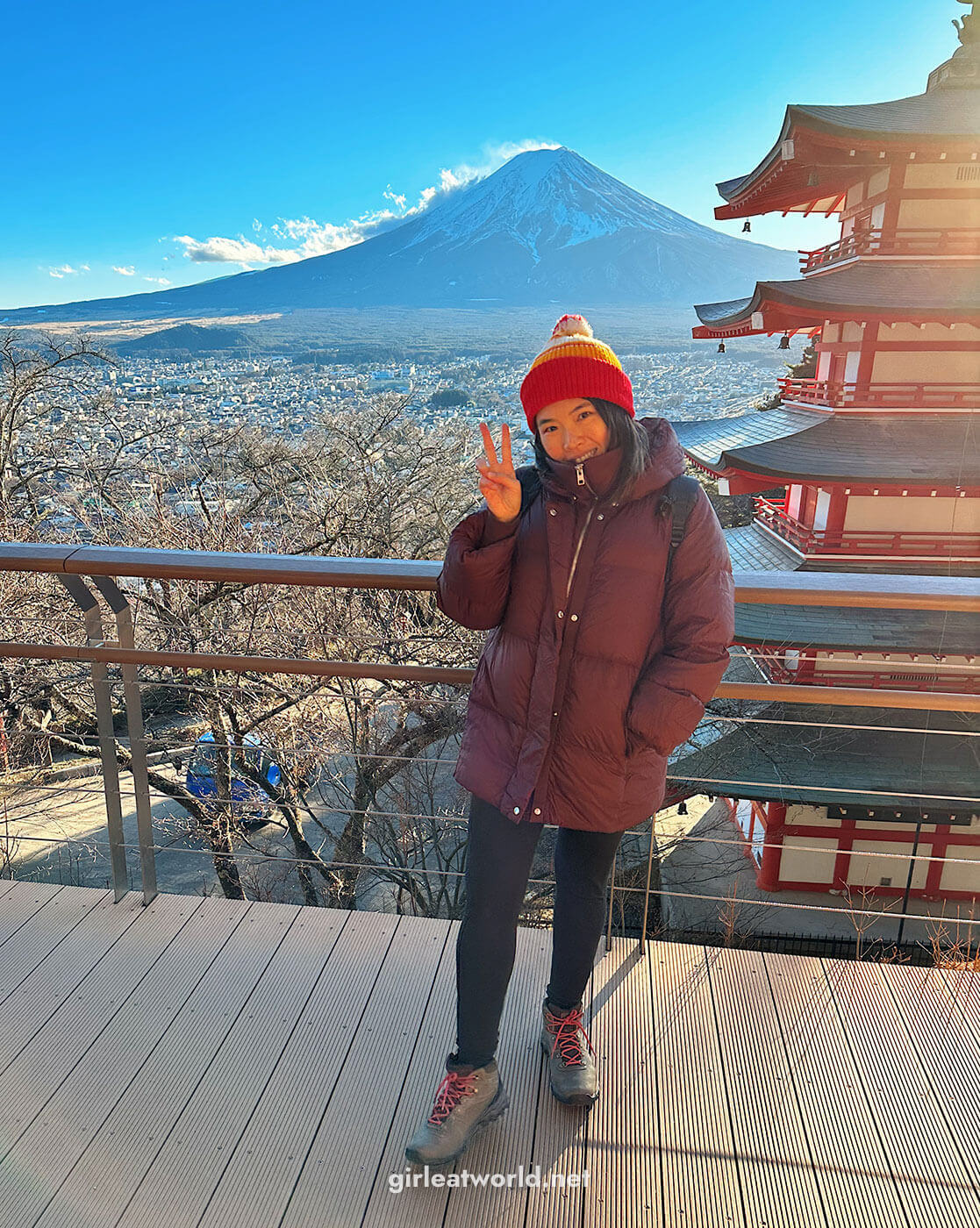 There are a lot of stairs to climb to the very top of the hill, but trust me, it's well worth it. At the top of the stairs is Chureito Pagoda and behind the pagoda, there is a viewing platform where you can see both Mount Fuji and the shrine at the same time. It was absolutely gorgeous! I felt like I was in a travel magazine.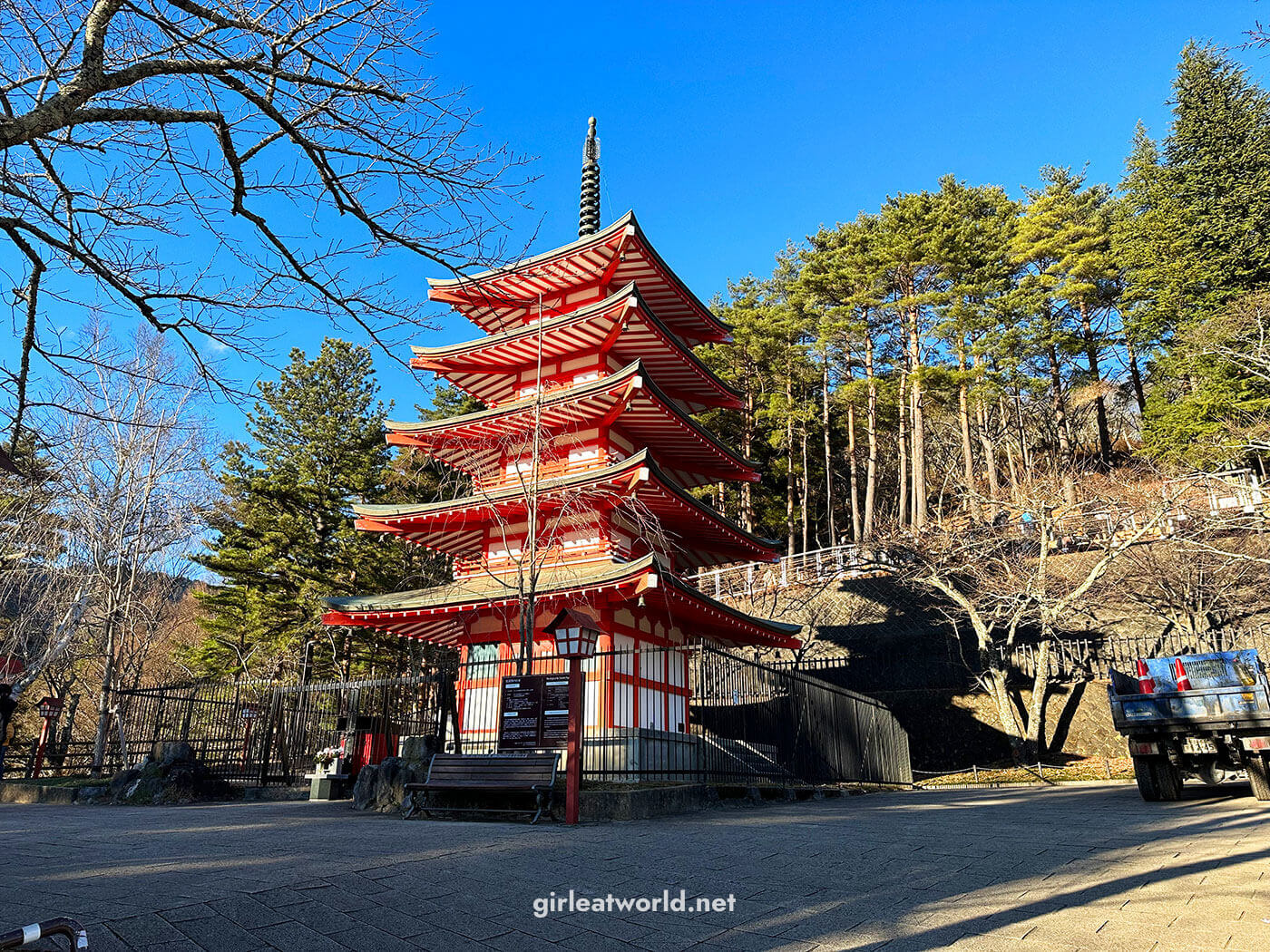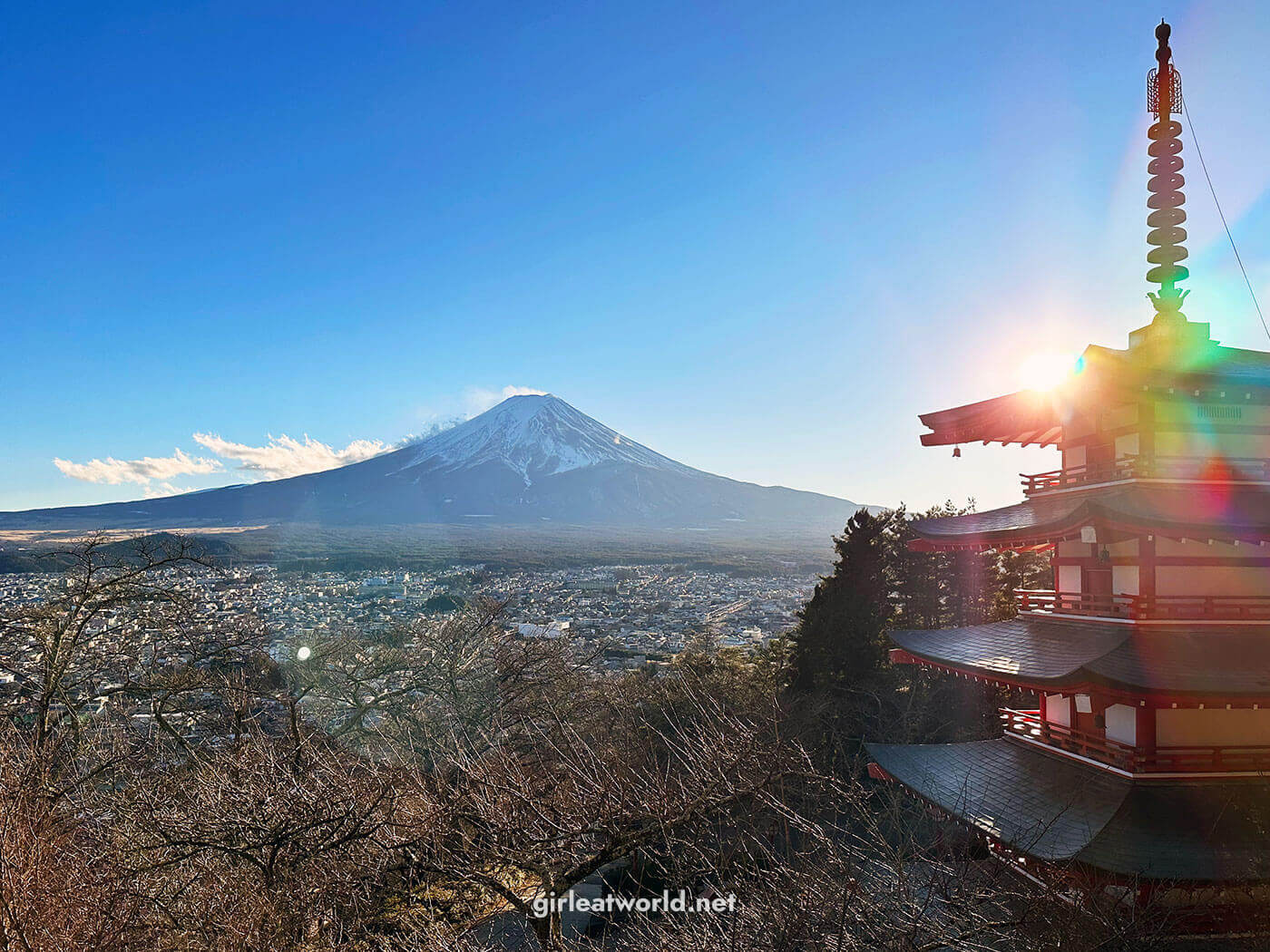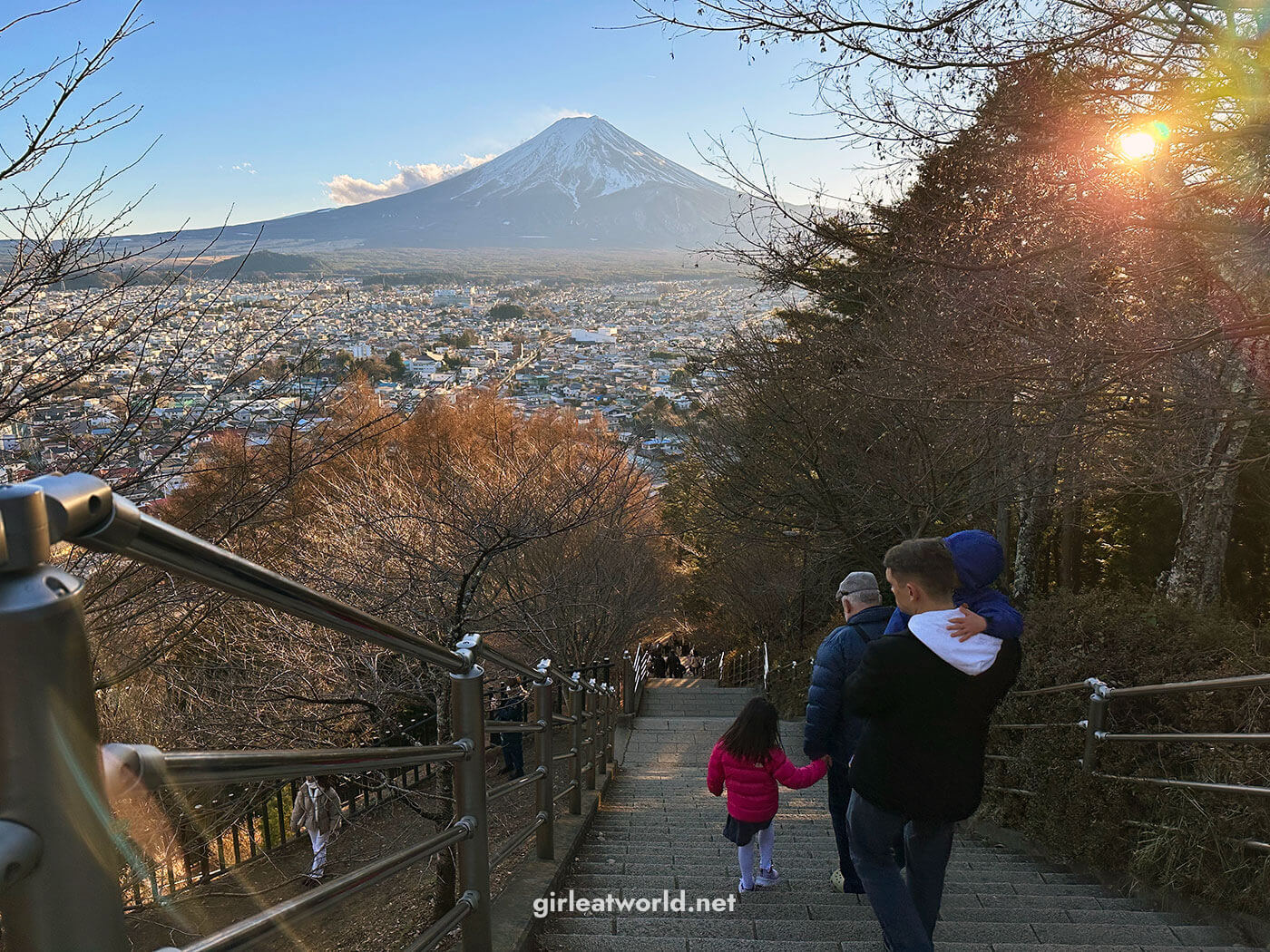 2. Oshino Hakkai
➡️ Admission Fee: Free to Oshino Hakkai, 200 yen per person for the Hannokibayashi Folklore Museum
Oshino Hakkai (literally translated "Eight Seas of Oshino") are the eight ponds/springs that can be found near Mount Fuji. It is believed that water from this pond came straight from the snow that melts from Mount Fuji itself, and is filtered all the way down here, resulting in very clear spring water.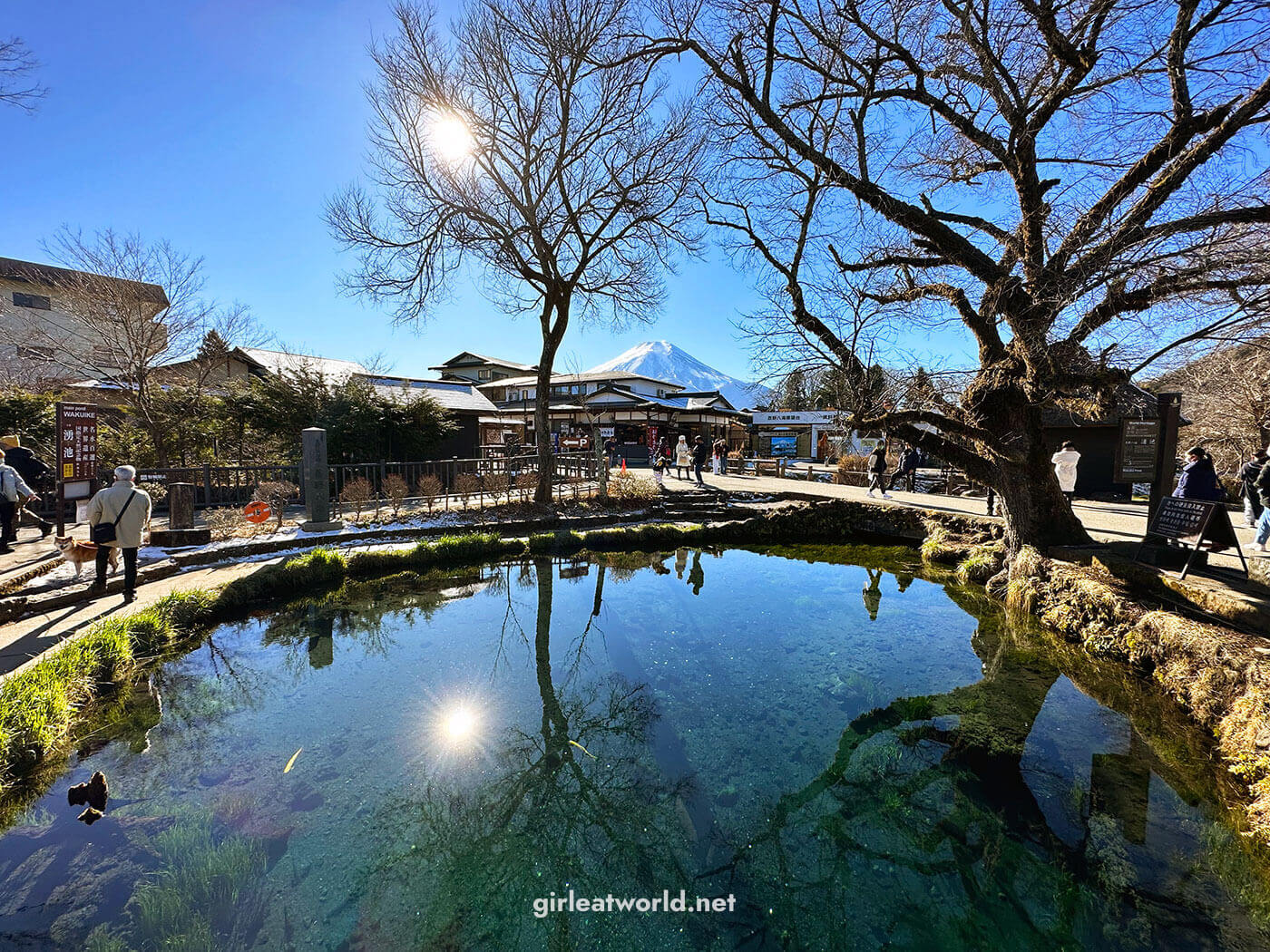 You can walk around to find all the ponds if you have time! Chu-ike and Waku-ike are the most popular and most beautiful ponds, so I recommend visiting those two first. Chui-ke is one of the deepest ponds, reaching a depth of 8 meters. Shobu-ike and Deguchi-ike are further away from the main area, so you'll likely see fewer tourists around those areas.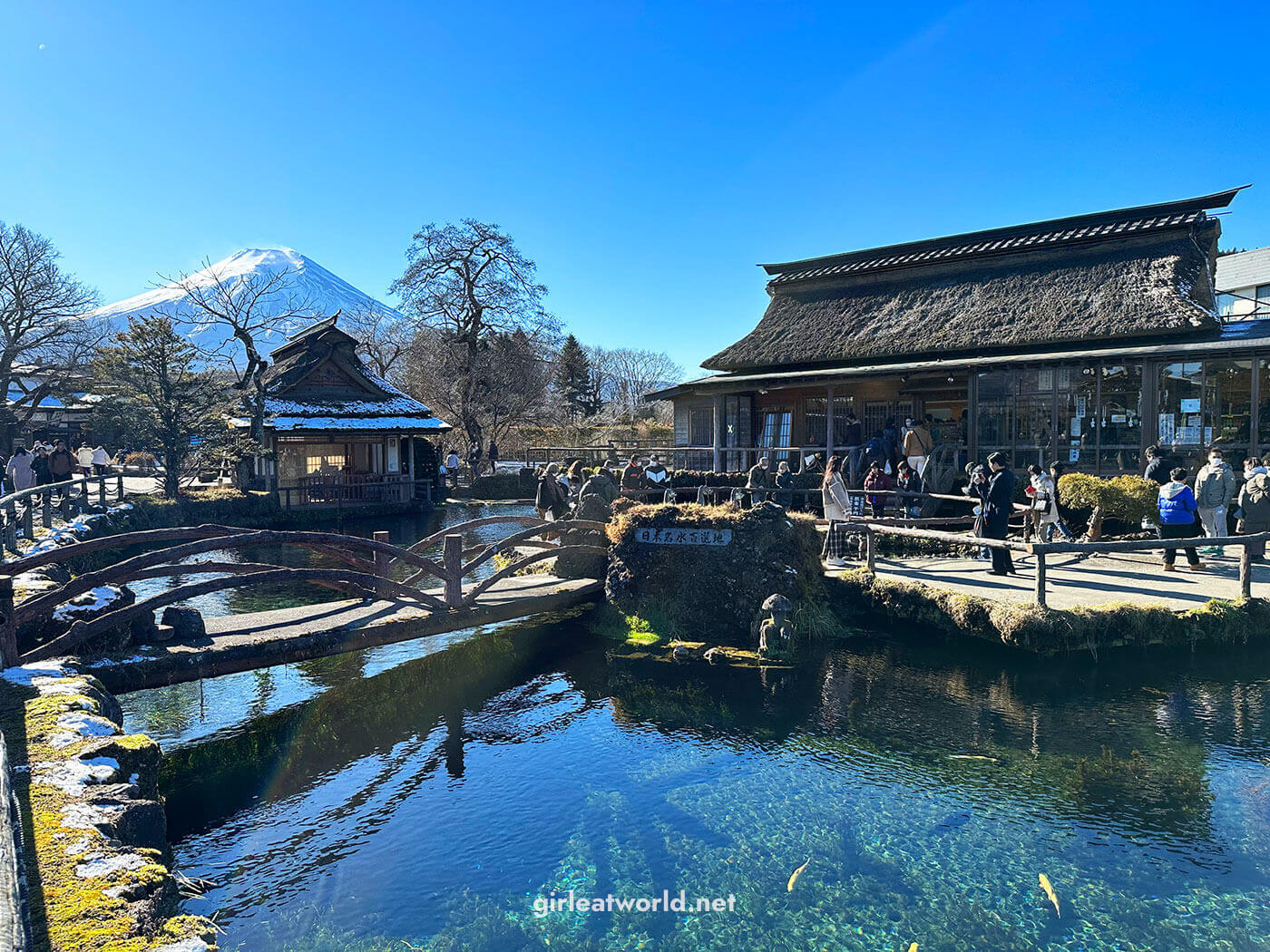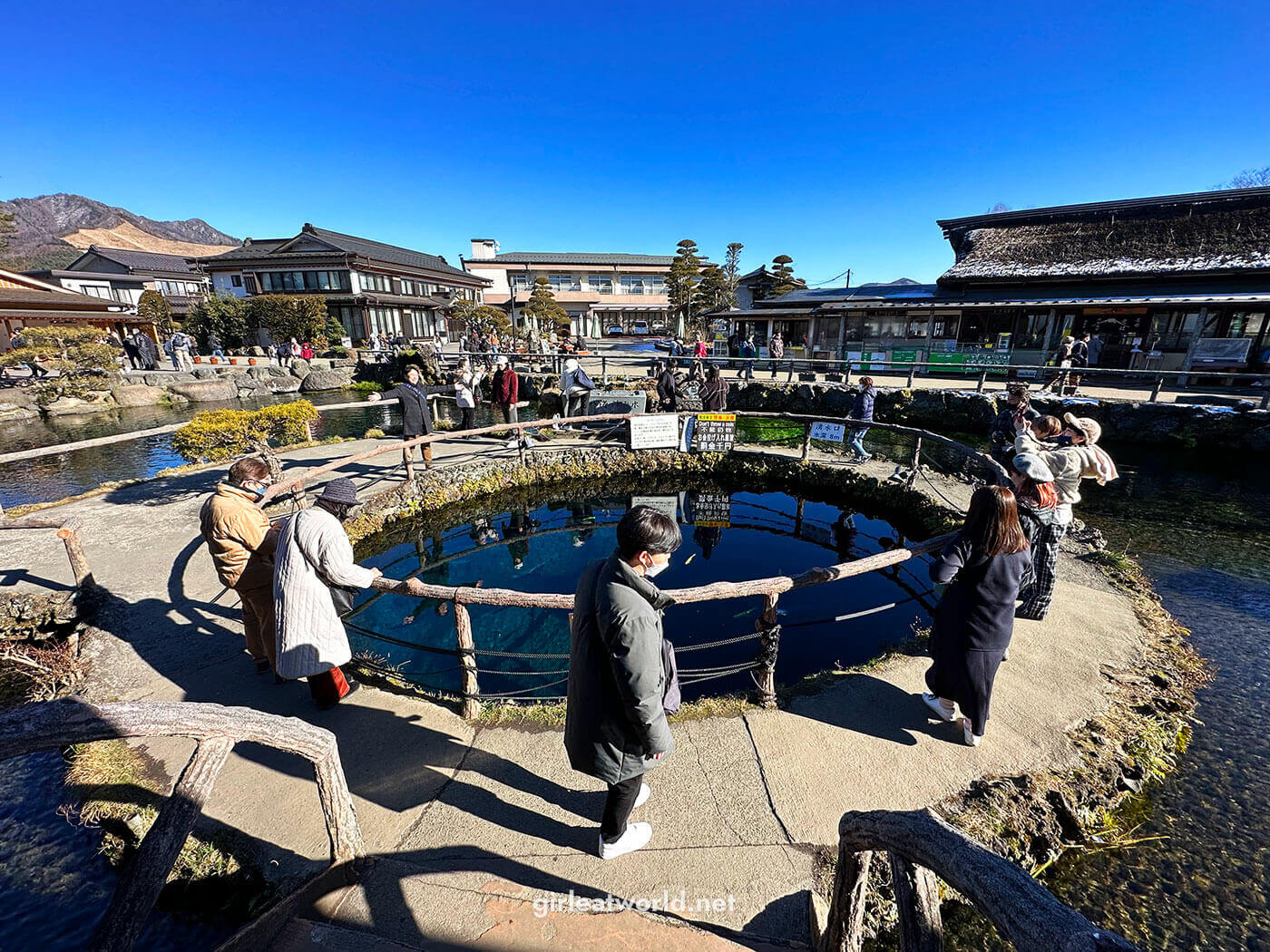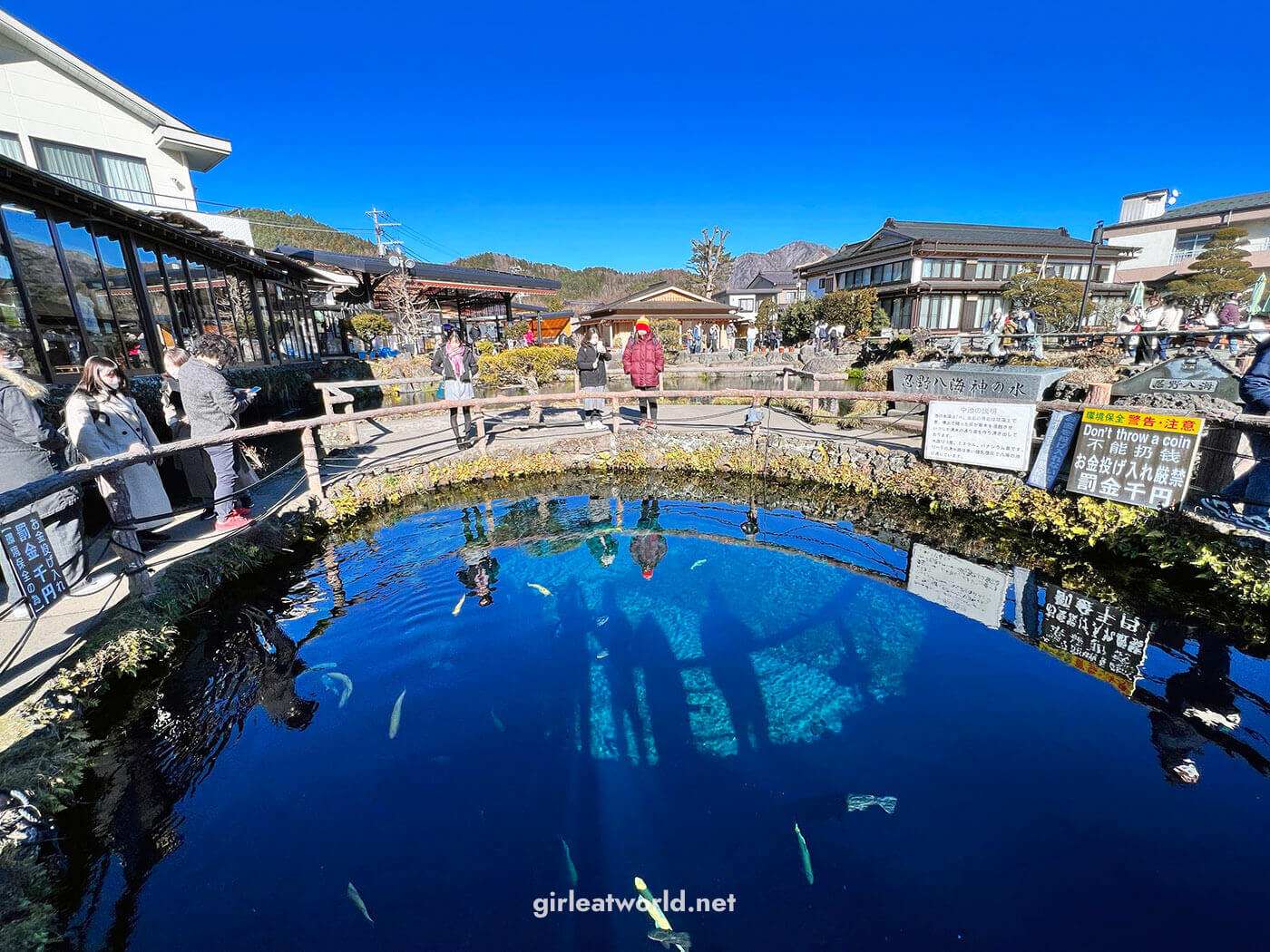 It is also believed that the ponds are connected to each other. For example, items that are lost in Okama-ike pond are sometimes found in Sokonashi-ike pond, suggesting there are underground ways for those items to travel through.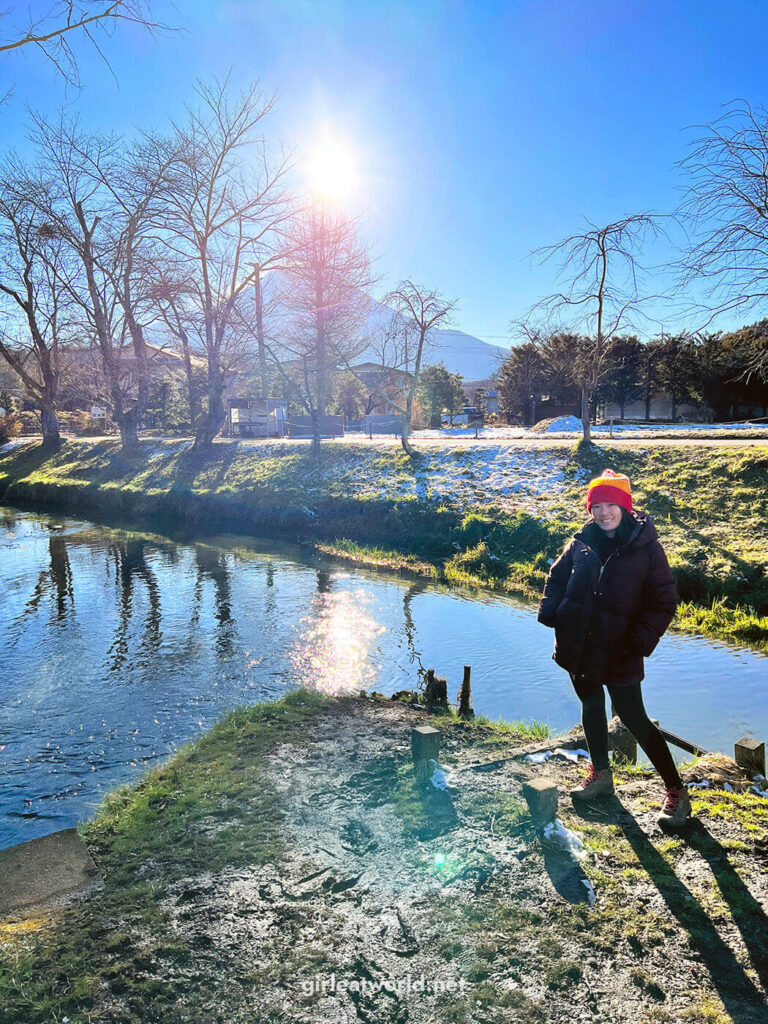 Sokonashi-ike is part of the Hannokibayashi Folklore Museum. There is a paid admission (200 yen) to enter the open-air museum, but it was minimal enough that I felt it was well worth it! You get to enter and explore a traditional Japanese home and enjoy a short tranquil walk.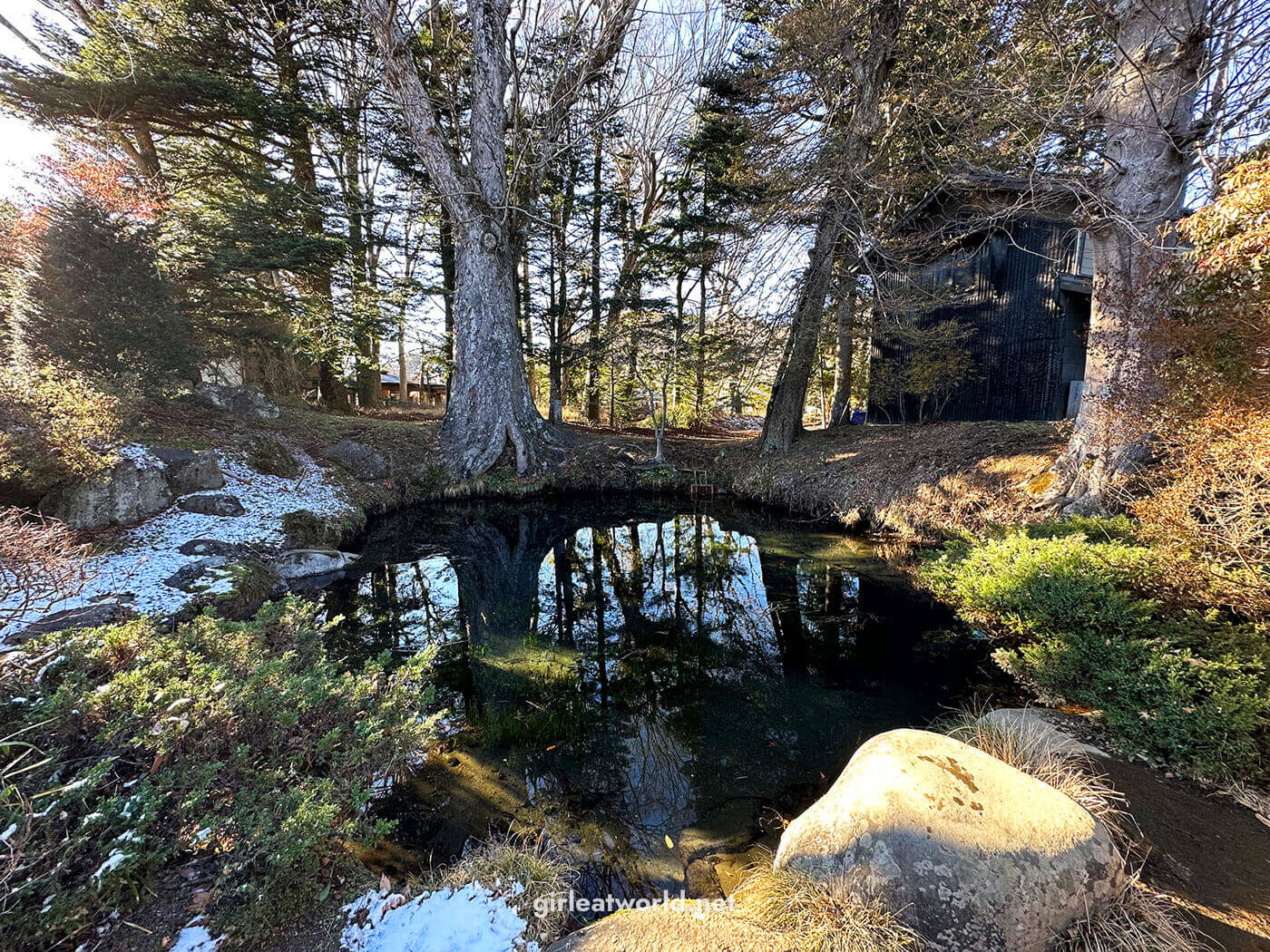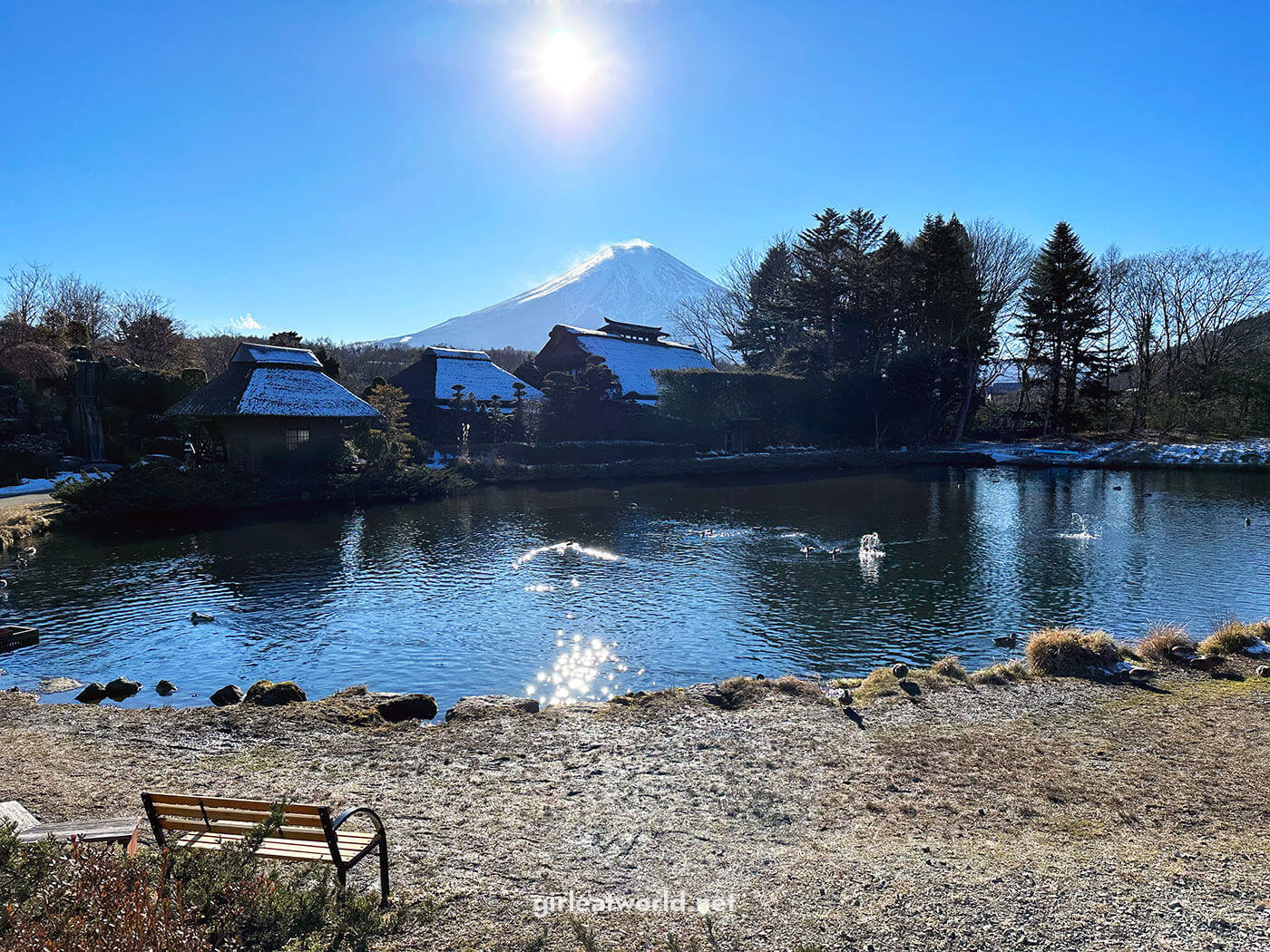 3. Kawaguchiko Ropeway
➡️ Admission Fee: 500 yen for 7-12 years old, 900 yen for adults round trip
This short but steep ropeway takes you up a hill with a nice view! At the top of the ropeway is Kawaguchiko Tenzojan Park, where you can get some snacks and take photos while enjoying the scenery. You'll be able to get a clear unblocked view of Mount Fuji as well as Lake Kawaguchi right below.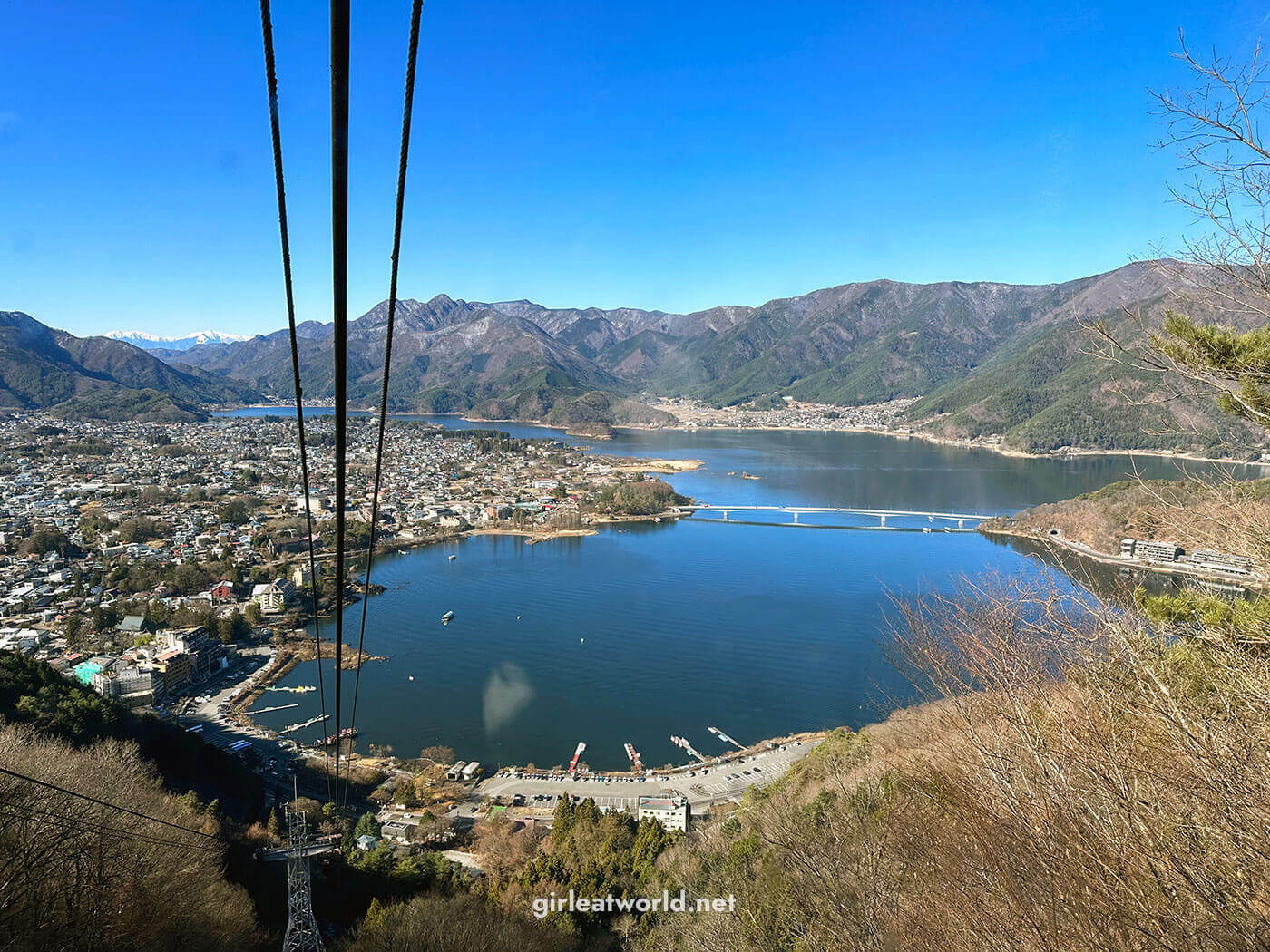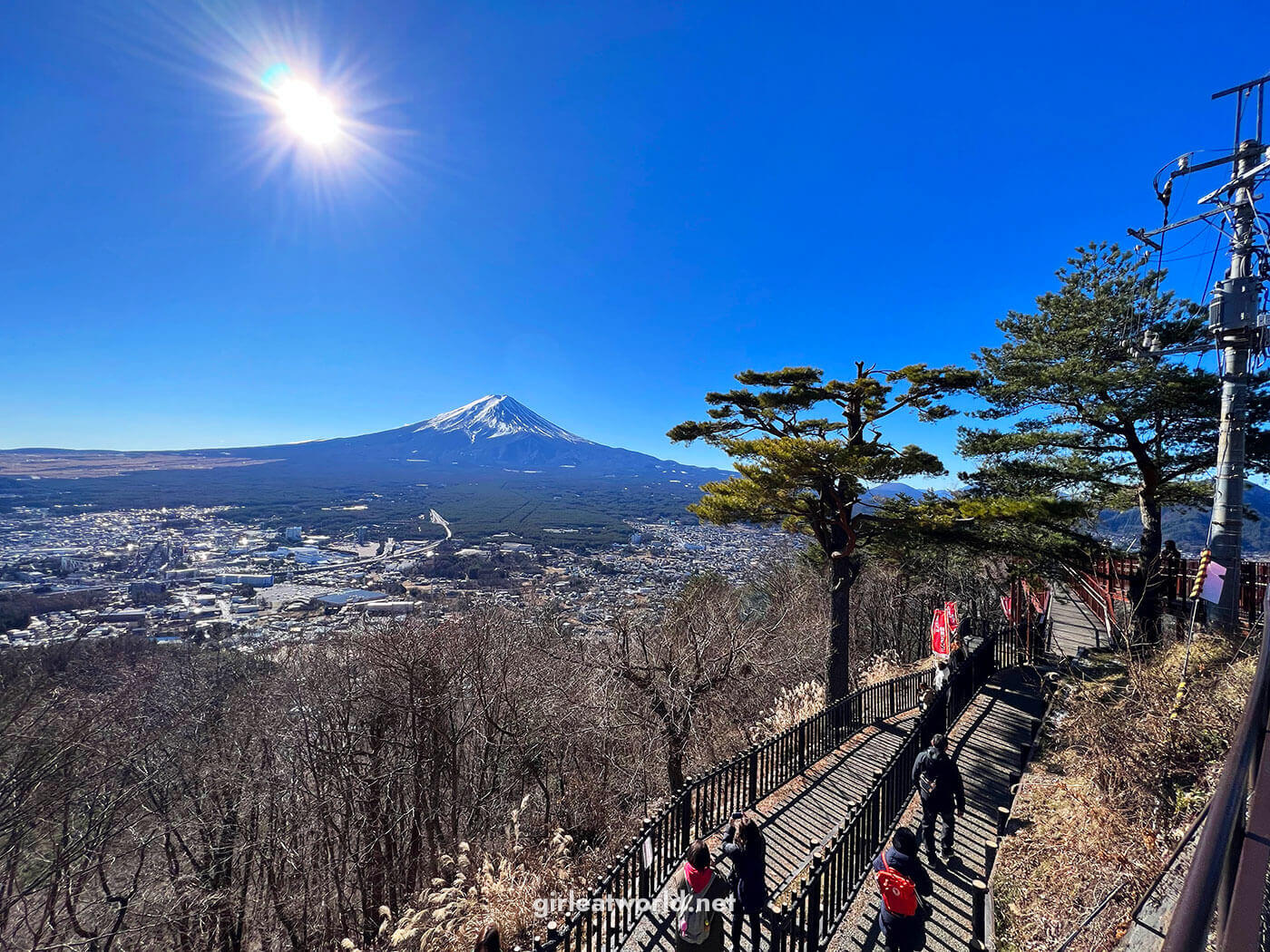 We spent some time walking around here and trying the snacks! I got the dango, which was an interesting sweet and savory combination. There is also ice cream and corn dogs. I don't remember the exact price for all, but everything was around 400-700 yen.
Going back down was pretty easy – just get on a queue on the other side! It isn't the same line that took you up before, but it looks similar.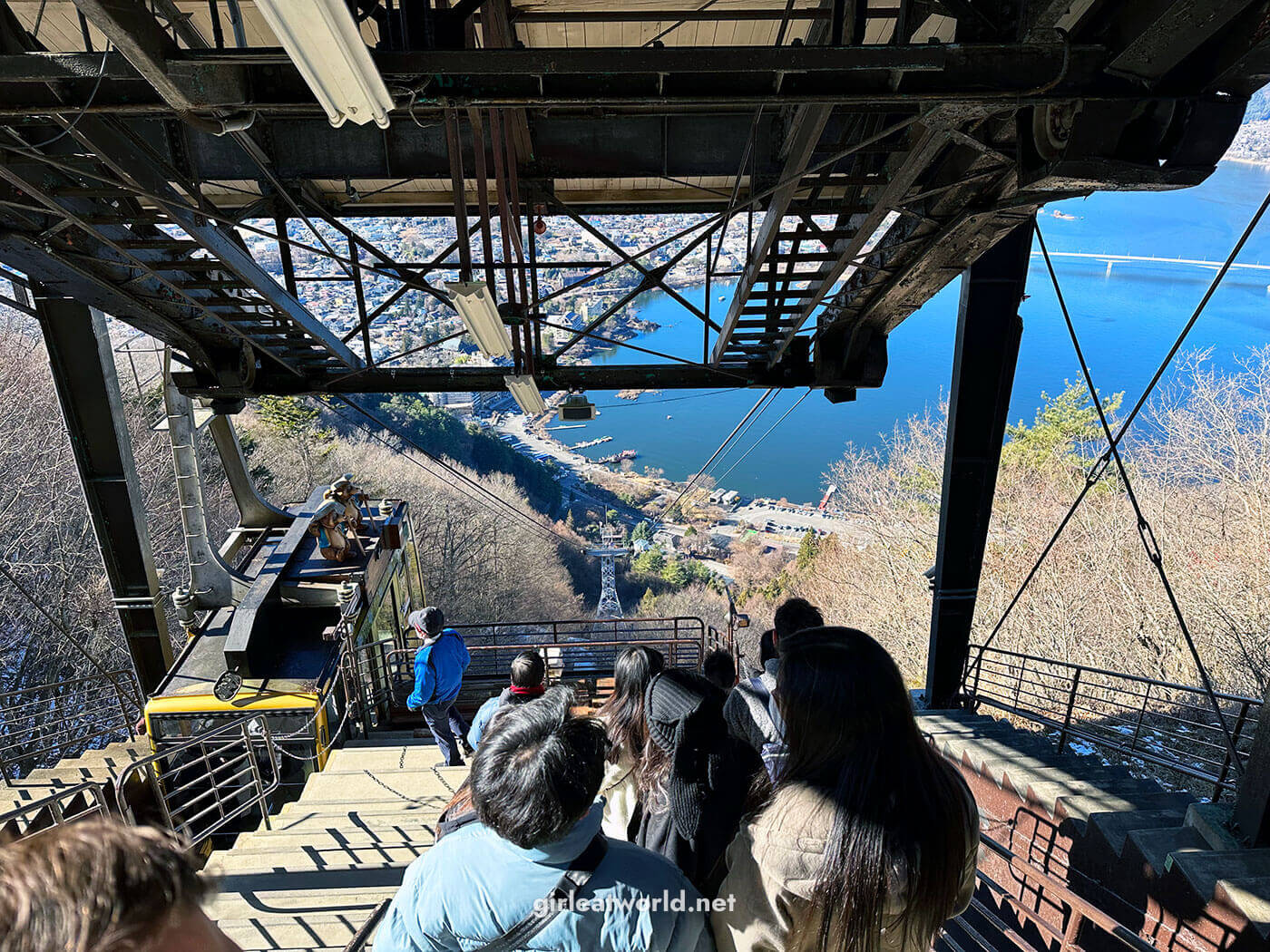 4. Kawaguchi Asama Shrine and Tenku no Torii
➡️ Admission Fee: Free!
To the north of Lake Kawaguchi, you can find Asama Shrine. Make sure to take a walk around the back of the shrine! In this temple ground, there are seven sacred giant Japanese cedar trees that are over 1,200 years old.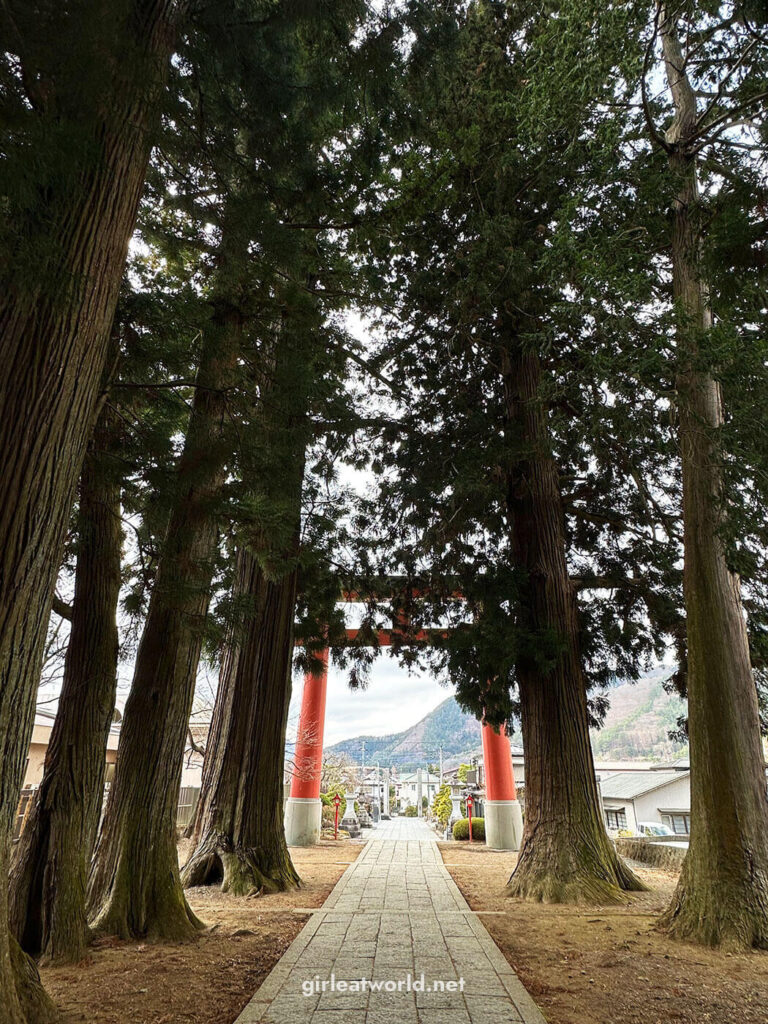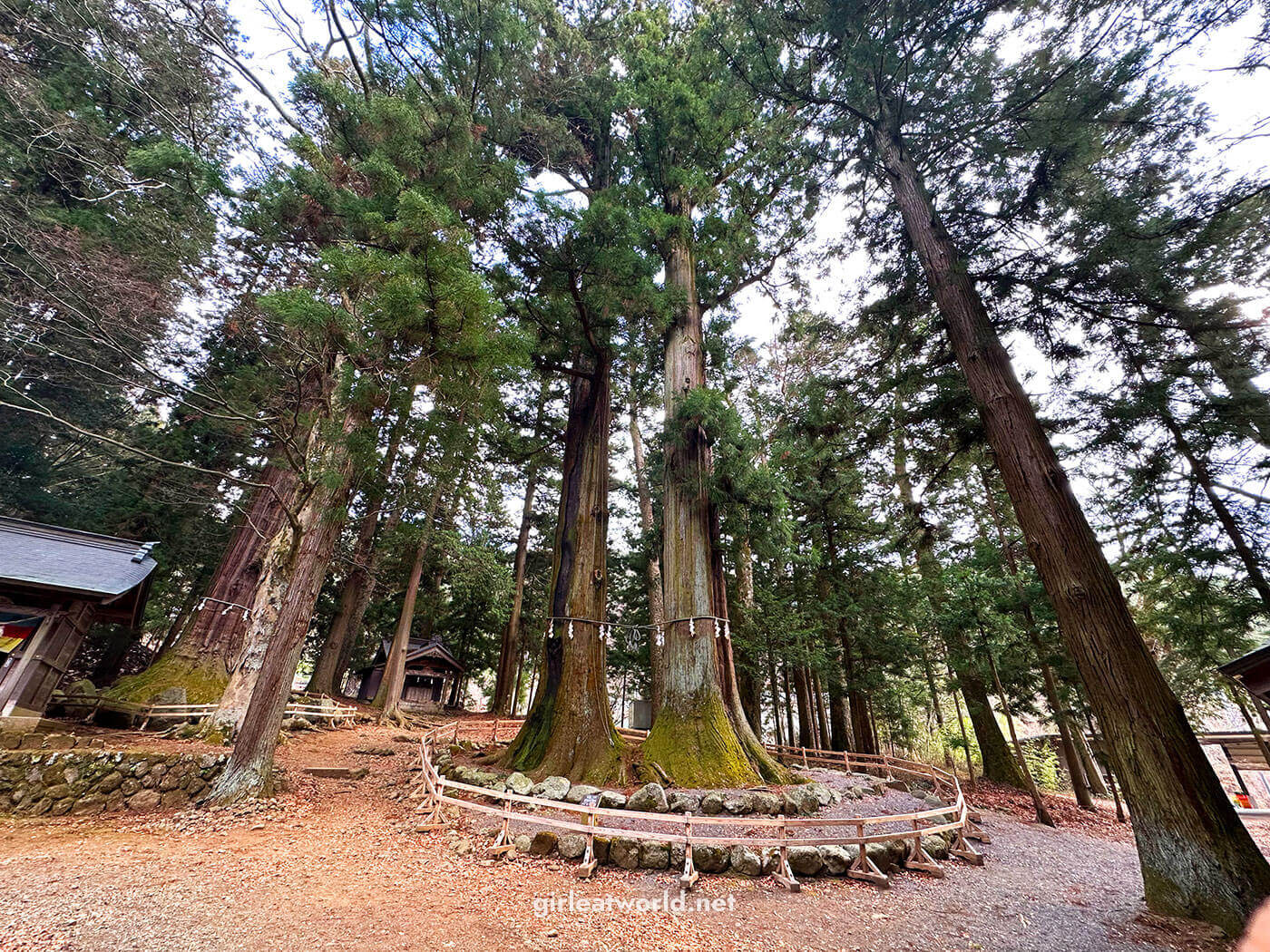 After visiting the shrine, if the weather is nice and Mount Fuji is visible, don't leave the area just yet! Continue your way to Tenku no Torii, just a short 30-minute hike up the hill behind Asama Shrine. Tenku no Torii means Torii gate in the sky, and you'll see why when you see what it looks like.
However, Tenku no Torii is definitely not an unknown place. You'll need to pay 500 yen to take this photo with a camera, and possibly line up if there are other tourists around. The photo is well worth it though!
5. Kawaguchiko Music Forest
➡️ Admission Fee: 1,000 yen for kids 6 and above, 1,800 yen for adults (but if you enter from 4 pm onward it's only 500 yen for adults and kids are free)
Kawaguchiko Music Forest is located on the northern shores of Lake Kawaguchi. The place is more like a European garden rather than a museum. One of the buildings is a music box museum.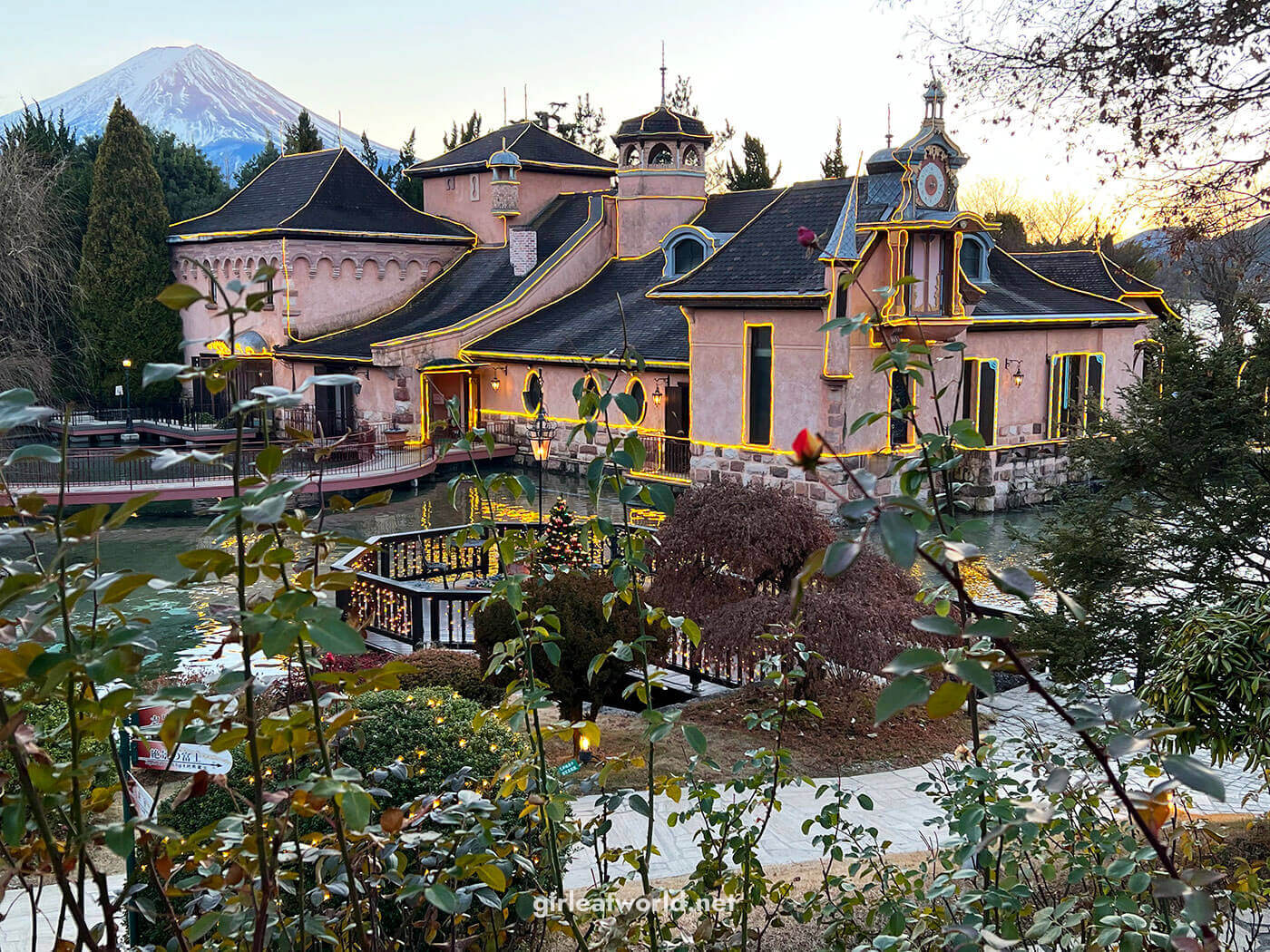 In the music box museum, there are a lot of… well, very impressive music boxes! My favorite is this grand one which I think is a replica of the hall of mirrors in Versailles. You could also ask the attendants to show you some of the inner workings of the music boxes.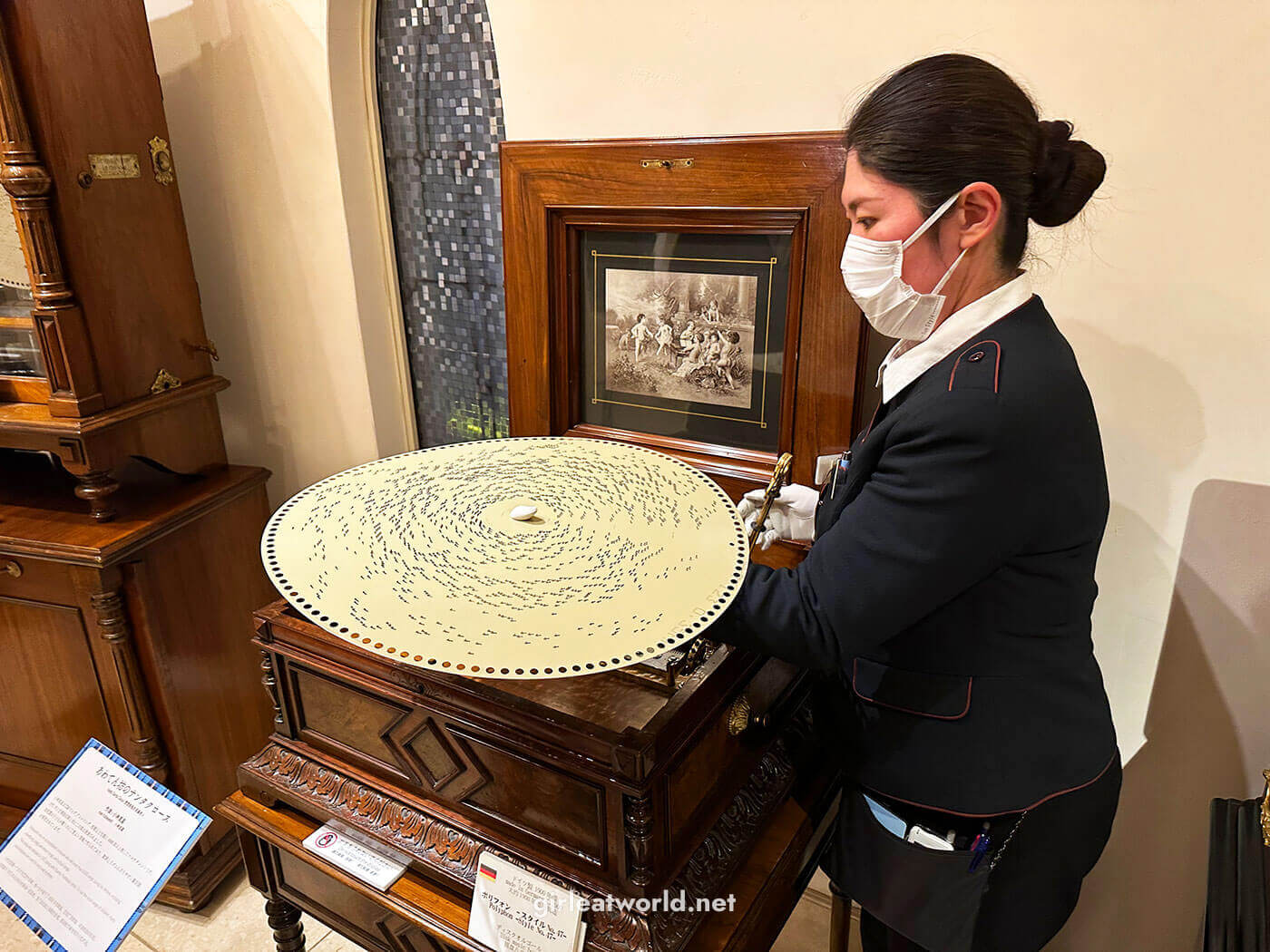 You can attend a concert and a dance organ at the music forest, so if this interests you be sure to check the schedule for that month. There is also a fountain show, which runs for 3 minutes every hour at the garden.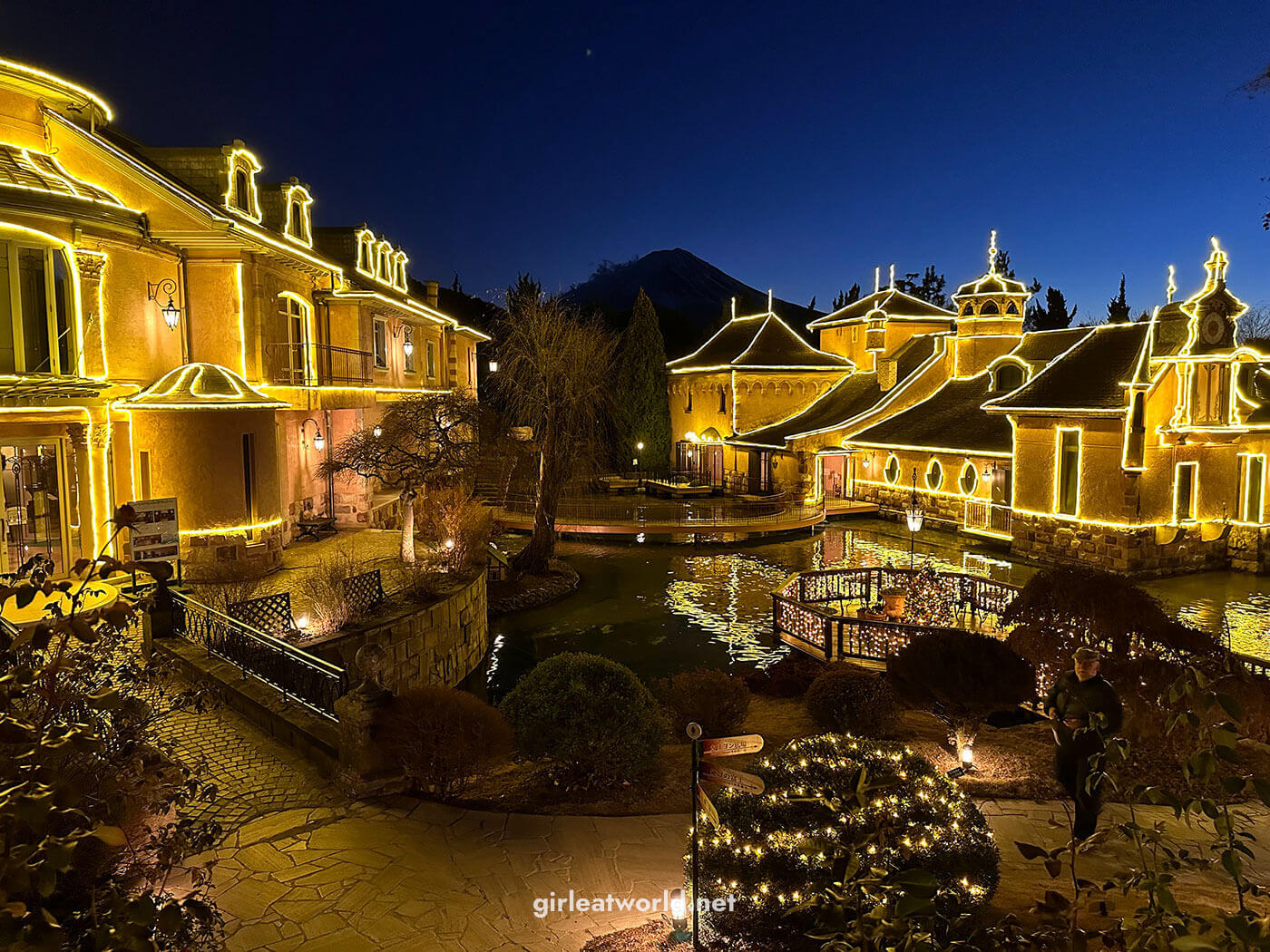 There is a small but super cute Donguri Republic store, which is a must-visit for Studio Ghibli fans. They sell merchandise from the beloved anime by Studio Ghibli.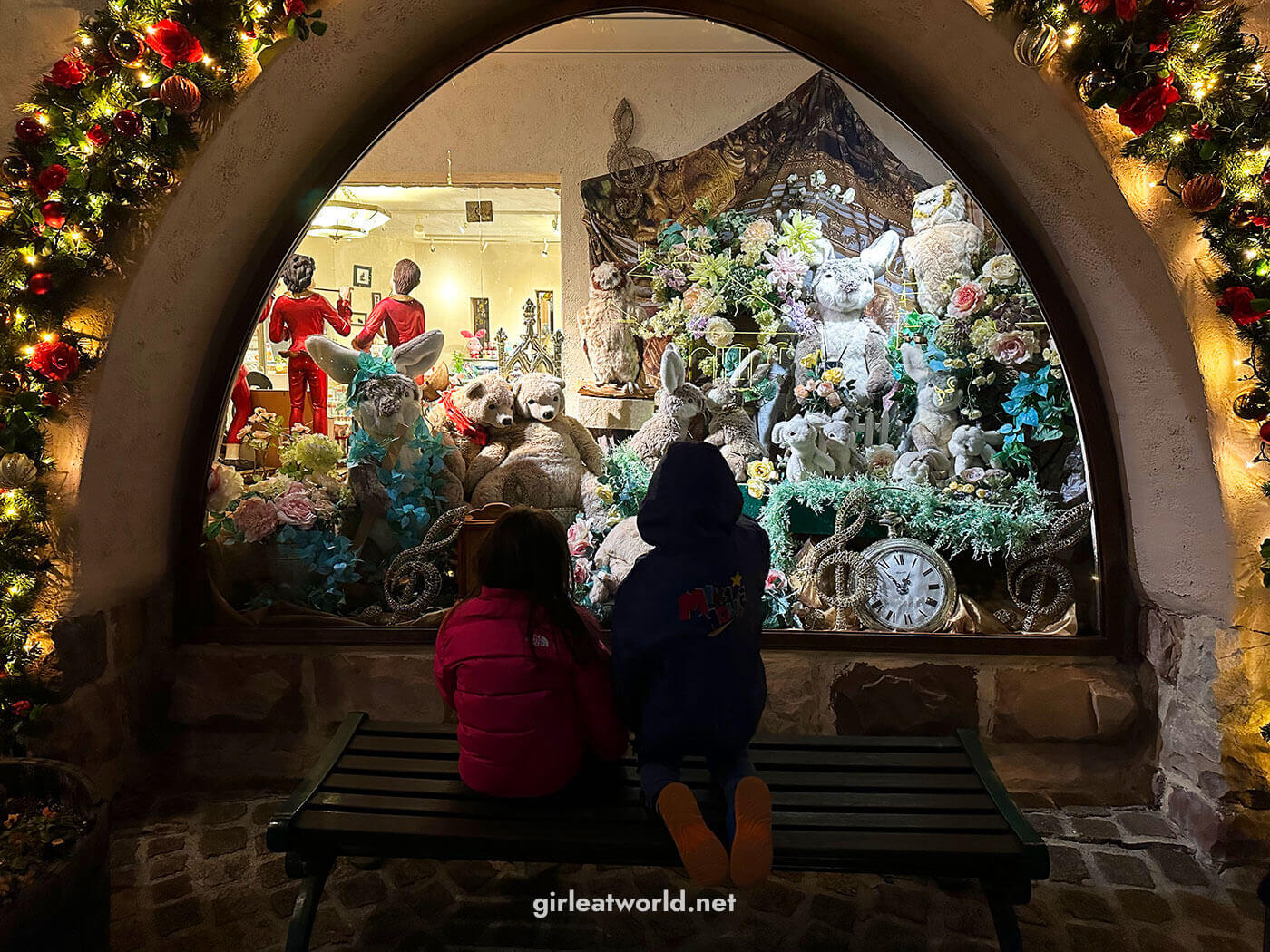 💡 Tip: Keep in mind, Kawaguchi Music Forest and most things here are closed early by 5 pm, so you'll want to be here latest by 4 pm. Tickets cost 1,500 yen but are heavily discounted if you come at 4 pm, but that wouldn't give you much time to explore.
6. Fujisan World Heritage Center
➡️ Admission Fee: Free!
This heritage center is a must-visit if you're interested to learn about Mount Fuji. It details the timeline and known eruptions of Mount Fuji, and what effect the mountain has had on the area surrounding it. This is where we learned about Funatsu Lava Tree Molds, which I will cover more about in the next point!
There is a pretty nice souvenir shop too if you're looking for gifts to bring back home.
Tip: They are closed early by 4:30-6 pm depending on the time of the year, so please check here before you go!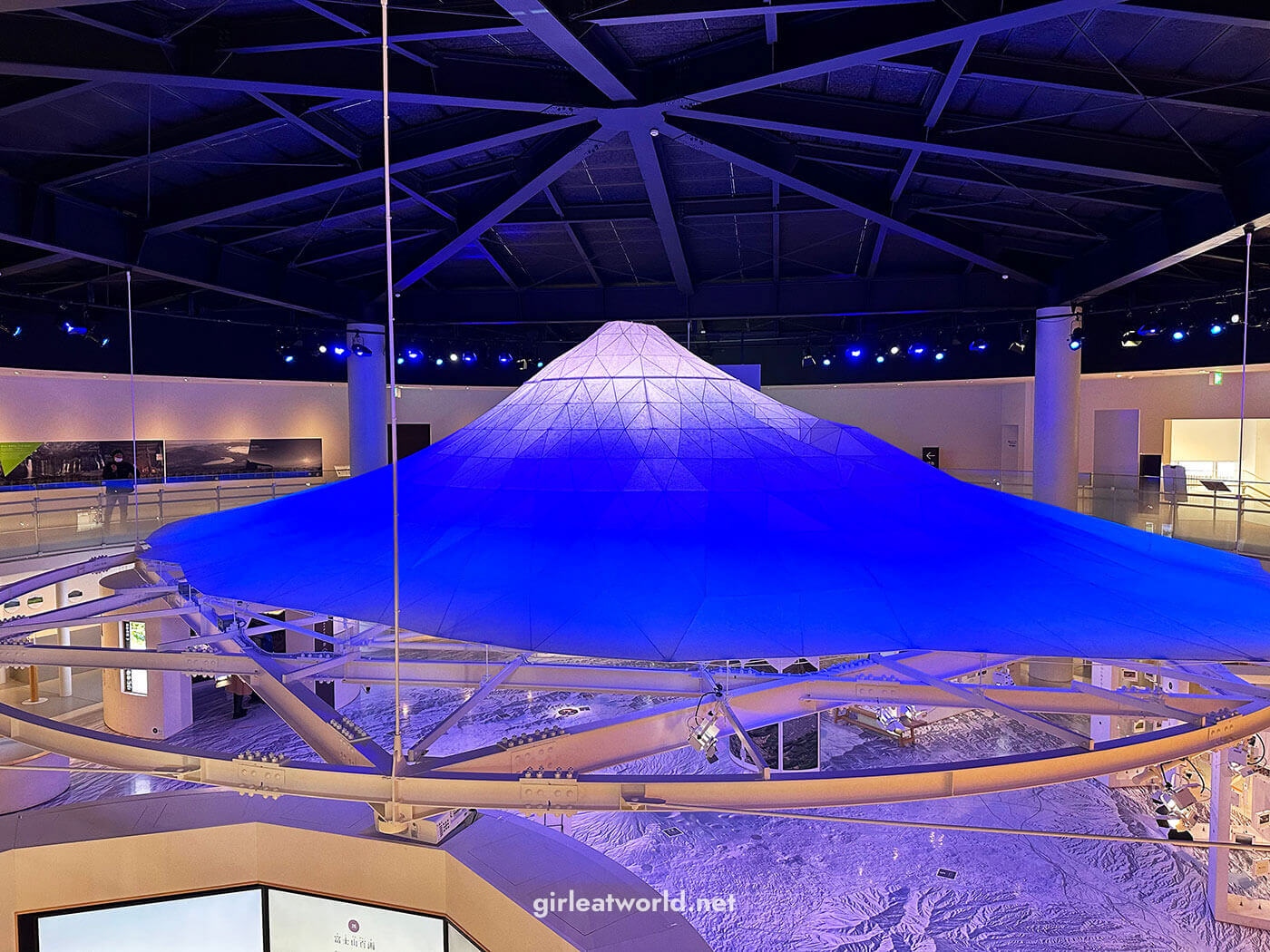 7. Funatsu Lava Tree Molds
This place is only a short way away from the Fujisan World Heritage Center. At the time of Mount Fuji eruptions, the lava that flowed out coated and burned the giant trees surrounding the mountain.
As time goes by, the lava cooled down and turned solid. The remnants of the trees eventually rot away, and all that was left are molds of the tree trunks which in turn created these cool caves and tunnels that are big enough to fit people, so it can be explored.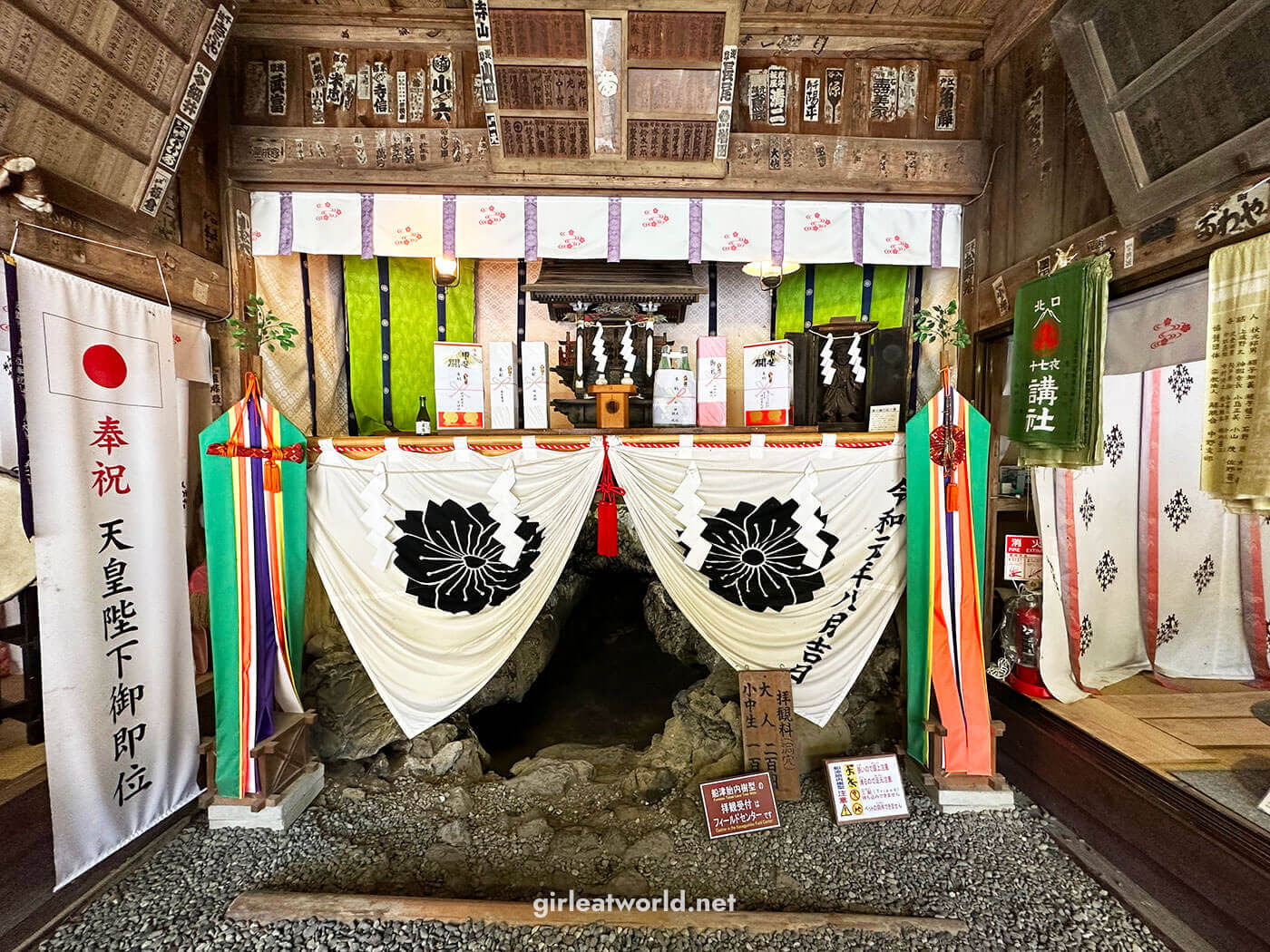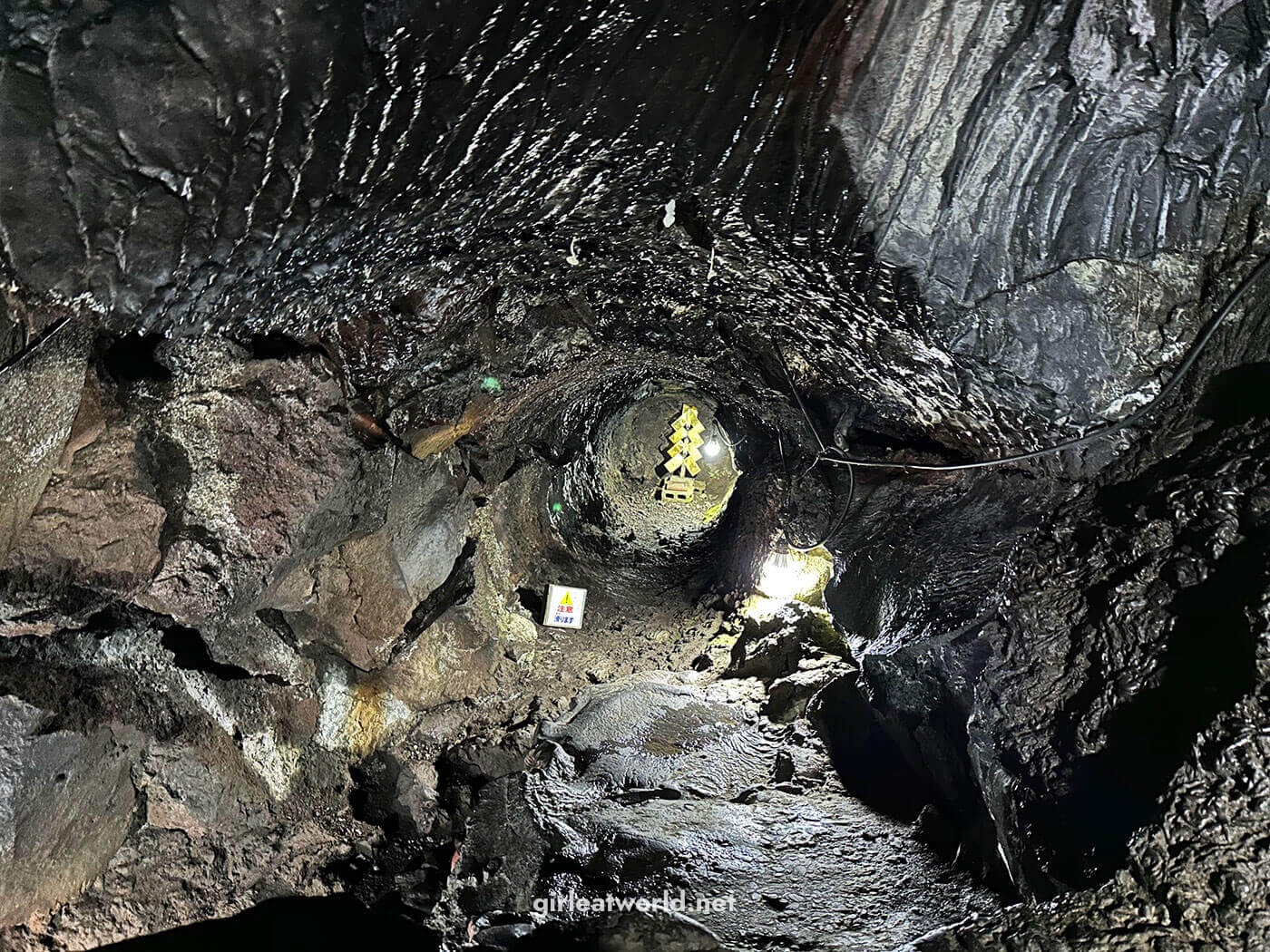 There is an entrance fee of 200 yen per person, but there is nothing stopping you from entering the molds. When I visited in winter no one was around to check if you paid the fee or not. They seem to operate on an honor system!
8. Fujiyama Twin Terrace
Fujiyama Twin Terrace is yet another way to admire the view of Mount Fuji and Lake Kawaguchi. Some said this is one of the best places to see Mount Fuji.
Fujiyama Twin Terrace is a 40-minute drive from Kawaguchiko station. They do have a free shuttle coming from nearby Fuefuki town, but it takes around 2 hours to get to the shuttle pick-up point so I don't think it's worth the trip if you're relying on public transport.
Please note that unlike other tourist places in Japan, there are no amenities around in this area, and no restaurants or shops, so make sure to bring snacks and water!
Tip: During winter, please check if Fujiyama Twin Terrace is open since the road might be closed due to icy conditions.
9. Saiko Iyashi-no-Sato Nenba (Japanese ancient village)
Iyashi-no-Sato is a small farming village that was destroyed by a landslide back in the 1960s. Now, twenty of the houses have been reconstructed and re-opened as an open-air museum. These houses are now converted into shops, galleries, and museums.
From Kawaguchiko station, you can take the green omnibus which will take 40 minutes to Iyashi-no-Sato.
Tip: Iyashi-no-Sato is closed early by 4:30 pm depending on the time of the year, so please check here before you go!
10. Fuji-Q Highland
Fuji-Q Highland is an amusement park, one of the most popular in Japan. If your child is Thomas the train fan, there is also a Thomas Land inside Fuji-Q Highland. I think it's best to visit when the weather is good since most of the park is outdoors.
➡️ Buy tickets to Fuji-Q Highland here!
Tip: Fuji-Q highland closes at 6 pm but some attractions like Thomas land closes at 4 pm. Check hours here
11. Yamanakako Hananomiyako Park
Hananomiyako Park is best to visit during spring and autumn, although they have events all year round. They are very popular for the tulip festival in spring from late April to mid-May. In August, you can see sunflowers, and in autumn you can see bright zinnias. Take a look at the flowering schedule here.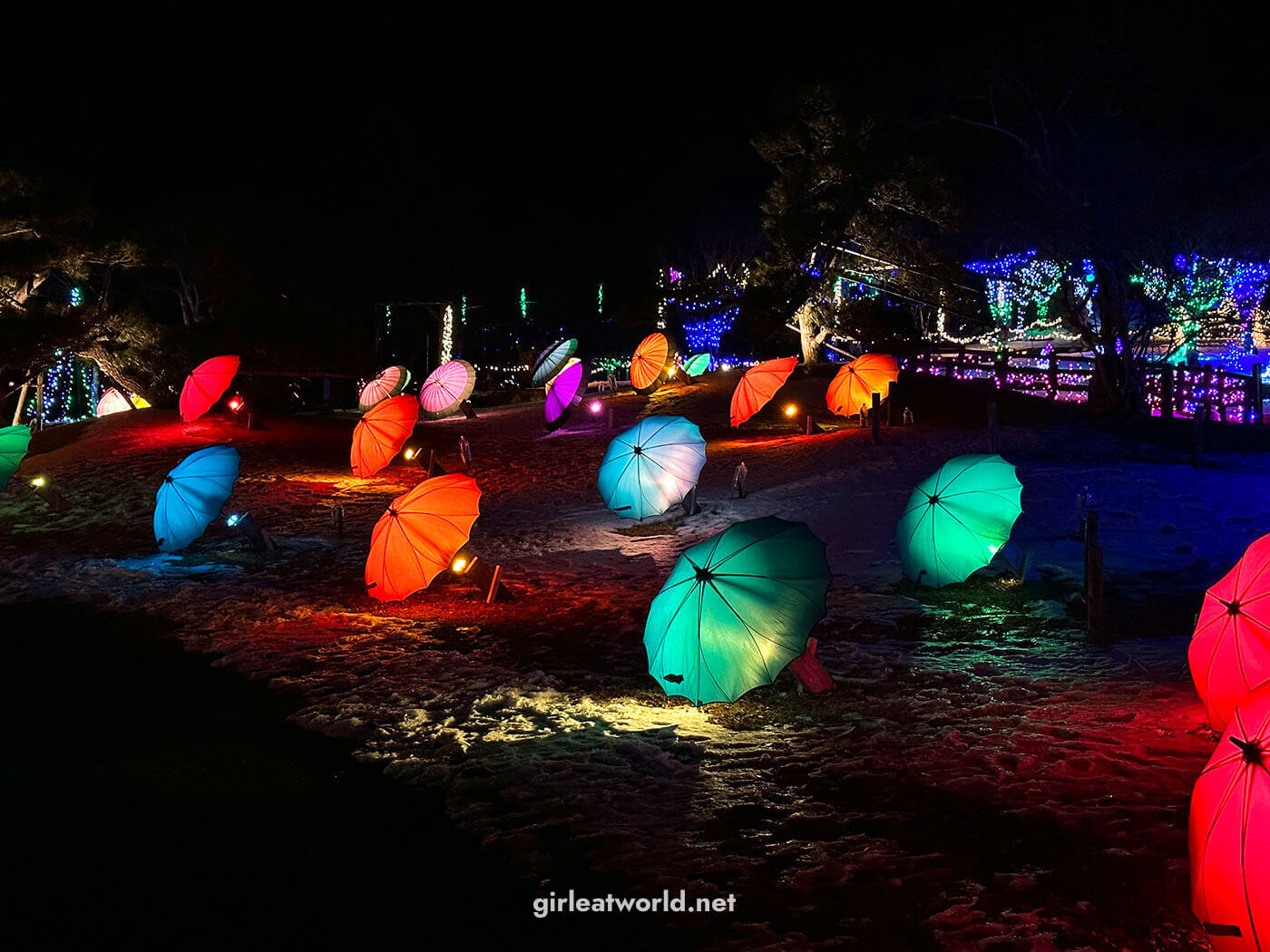 However, if you are here during winter, they hold an illumination event, which could be a worthwhile visit too. We came here after seeing the Diamond Fuji nearby, which I will cover more shortly.
12. Diamond Fuji 🗻💎 – A Mount Fuji Phenomenon
Diamond Fuji is a phenomenon that occurs when the rising or setting of the sun aligns with the peak of Mount Fuji, causing the peak to shine bright like a diamond (cue Rihanna).
This is something you can witness all year round and from many different places in Japan, but the time and place change depending on the time of the year.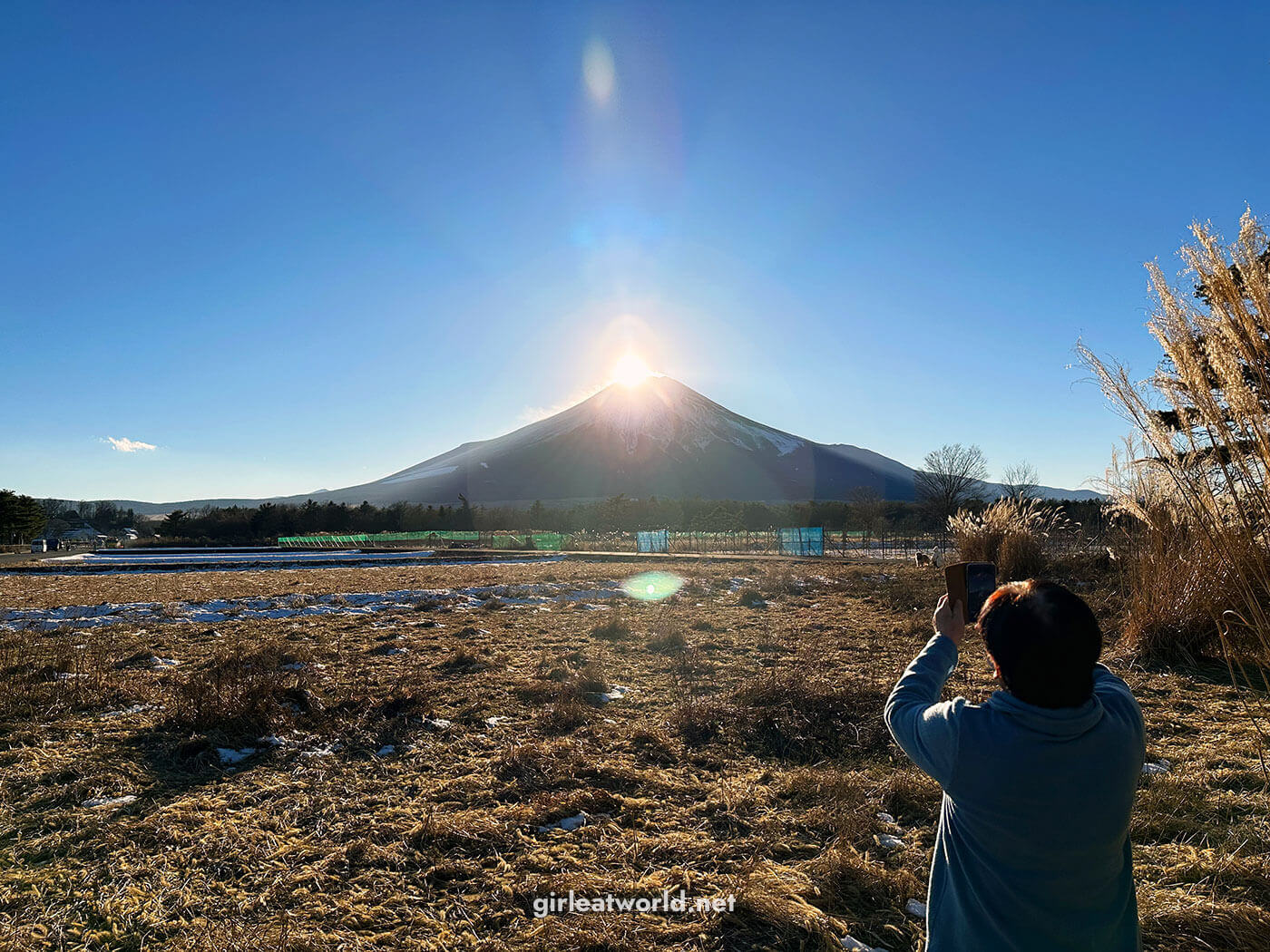 Diamond Fuji is only visible from the Fuji Five Lakes area from October to February. You can check here for the time and place (scroll down to the "For foreigners" part for the English PDF).
From the Fuji Five Lakes area, Diamond Fuji can typically be seen for sunset from Lake Yamanaka. When I went in December, we saw Lake Fuji from a spot near Hananomiyako Park at around 3:25 pm, because the sun sets very early in the winter. The Diamond Fuji also does not last very long – it's actually super short. We're talking less than a minute of when the sun actually "nests" itself on top of the peak of Mount Fuji.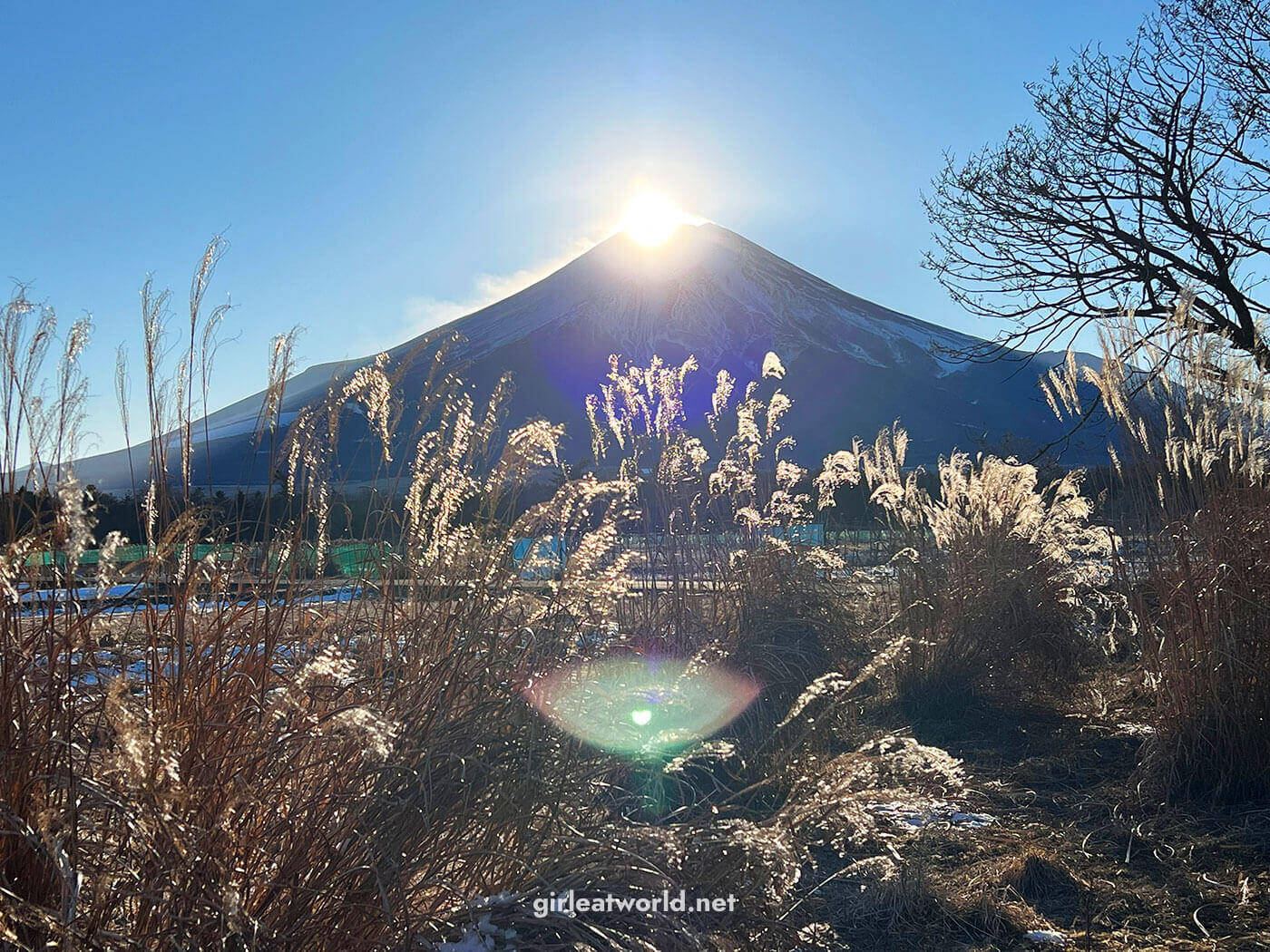 Other Mount Fuji phenomena to watch for are:
Beni-Fuji – This happens during sunrise or sunset when the sunlight turns the snow-capped Mount Fuji red.
Sakasa-Fuji – Double Fuji, which occurs when the conditions are clear and the lakes are absolutely still, which causes a mirror effect.
Pearl Fuji – When the moon rises at the peak of Mount Fuji, similar to Diamond Fuji.
13. Climb Mount Fuji
Of course, there is also the option of climbing Mount Fuji itself! However, note that Mount Fuji is closed during winter. It is only possible to climb from July 1 to August 31. It takes two days to climb Mount Fuji.
💡Tip: Find out more about climbing Mount Fuji here
14. Visit an onsen in the Fuji Five Lakes area
Onsen is a Japanese hot spring. Soaking in it is one of the most deeply-rooted traditions and a popular way to pass time and relax in Japan.
If you're a fan of Onsen, or if you just want to check out what the fuss is all about, this Fuji five lakes area is one of the best places to do it! Not only do you get to soak up and relax in the hot spring water, but you might also get to do it with an amazing view of Mount Fuji.
Onsen Guide and Etiquette: If you've never done onsen before and wondering what it is about and what to do, be sure to check my Onsen guide!
Here are the best places to do Onsen in the Fuji Five Lakes area:
Fuji Yurari Onsen – A nice onsen with a few rotenburo (outdoor open-air pools) options with a nice view of Mount Fuji! Aside from that, they also have a few different pools in the onsen. I did find them a bit underwhelming in terms of temperature, but it was still a nice onsen to visit.
Yamanakako Onsen Benifuji no Yu hot spring – They have two rotenburo with a complete view of Mount Fuji, and one of the pools is filled with yuzu fruits. Mount Fuji can also be seen from the indoor pool.
Fujiyama Onsen – Located near Fuji Q highlands. This place does not have a view of Mount Fuji, but still a nice onsen to visit. The onsen prides itself on being Japan's largest pure wooden bathroom.
The main selling point for Yurari and Benifuhi no Yu onsen is the view of Mount Fuji, so I very much recommend going there when it's still daytime and if the weather is clear.
What to eat in Fuji Five Lakes
There is plenty of good food to eat in Yamanashi prefecture. However, keep in mind many restaurants are closed between lunch and dinner – usually, lunch is served from 11:30 – 2 pm, and dinner starts from 6 – 8:30 pm. Use this information to plan your day!
1. Eat Hotou Noodles
Hotou noodles are the specialty of Yamanashi region, so you must have this dish when you're here! It is a hot pot of flat udon noodles in a miso-based broth. I can see why this is the specialty of this region – it's the absolute perfect food to have when it's cold.
Here are a few hotou places to check out near Lake Kawaguchi:
Hoto Fudou
Koushu Hotou Kosaku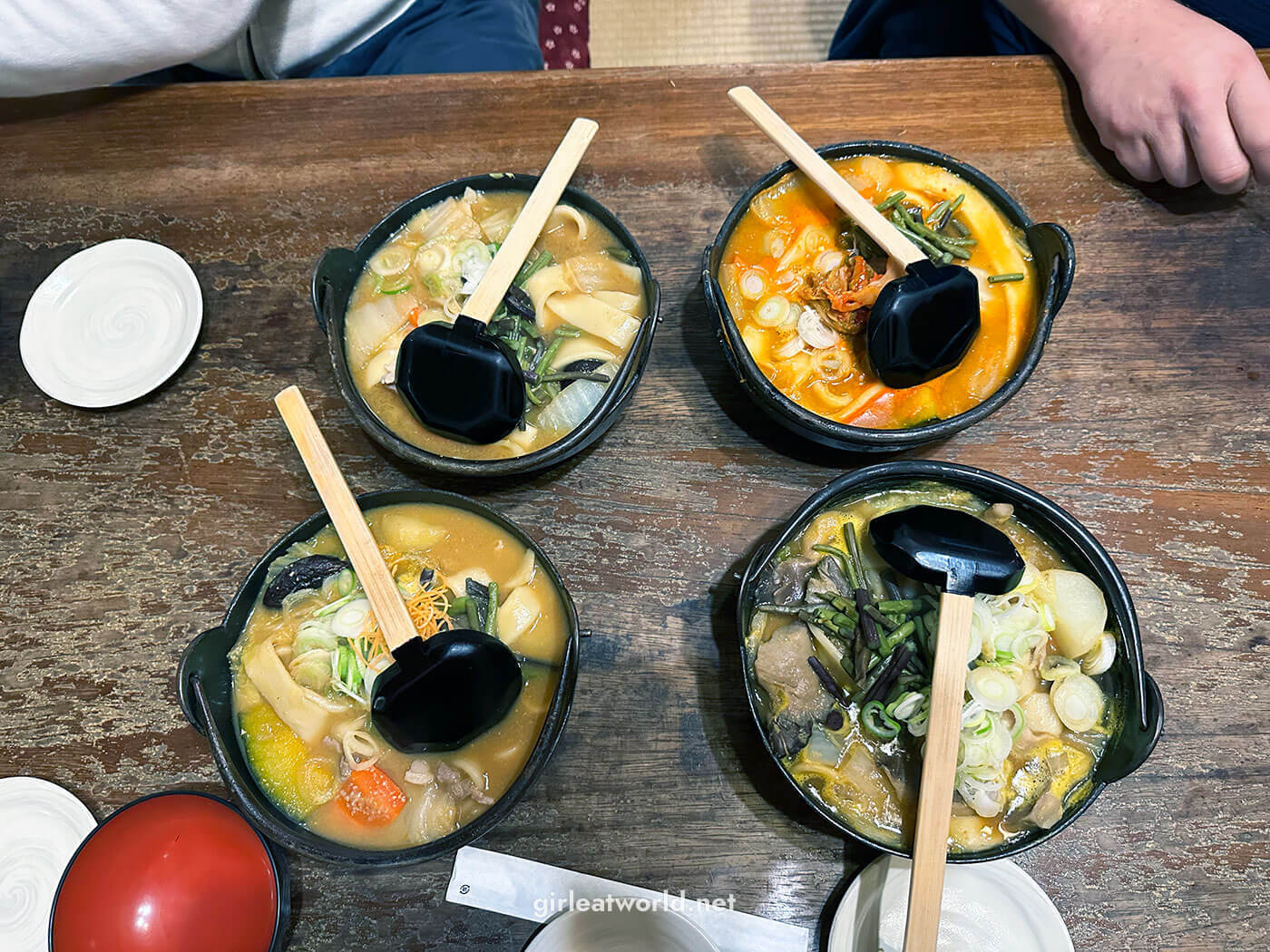 2. お好みハウス ZOO (Okononiyaki Zoo)
We stumbled upon this place when we were looking for dinner after an onsen session. We're so glad! This place serves mostly okonomiyaki, which is a type of savory pancake that is popular in Japan. Ingredients usually include cabbage, noodles and any type of topping you choose.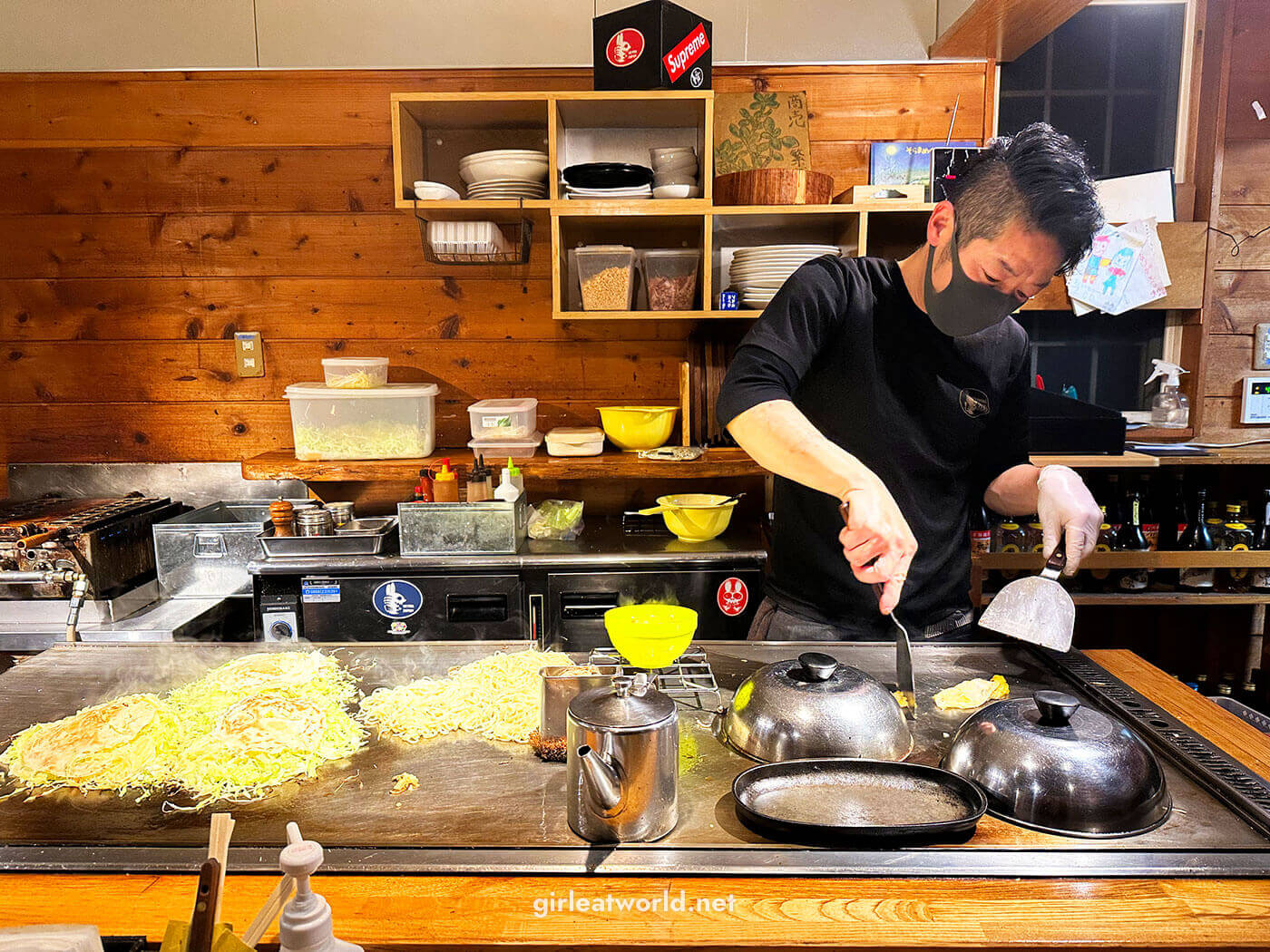 3. Setouchi
This place is a true example of amazing Japanese hospitality! We found them while looking for lunch as we were arriving near Lake Kawaguchi. It was one of the few places that were still open for lunch at 1:30 pm. The place is very small, consisting of only three tables. The menu was also quite limited, but everything they served us was great! They have an English menu, and the owner also speaks basic English.
Phew. And with that, we have reached rhe end of this post. That's my take on visiting Mount Fuji and the Fuji Five Lakes area! Please let me know if you are visiting and have any questions by leaving a comment below.