Going for a dip in an onsen is a must when you are in Japan. Onsen is a Japanese hot spring, and soaking in it is one of the most deeply-rooted traditions and a popular way to pass the time and relax in Japan.
There are 30,000 naturally occurring hot springs throughout Japan. One of the most popular onsen towns within the vicinity of Tokyo is Kusatsu.
About Kusatsu Onsen
Kusatsu is a charming little town in the Gunma prefecture of Japan. With a variety of onsens to visit, it is popular with domestic tourism.
The entire vibe of Kusatsu reminded me of Spirited Away. It is especially whimsical on cold nights since the natural hot spring would stir up thick white steam into the air. Many visitors would dress up in a Yukata (Japanese summer wear) and Geta (wooden slipper) while going to an onsen, which further adds to the magical vibe of this place.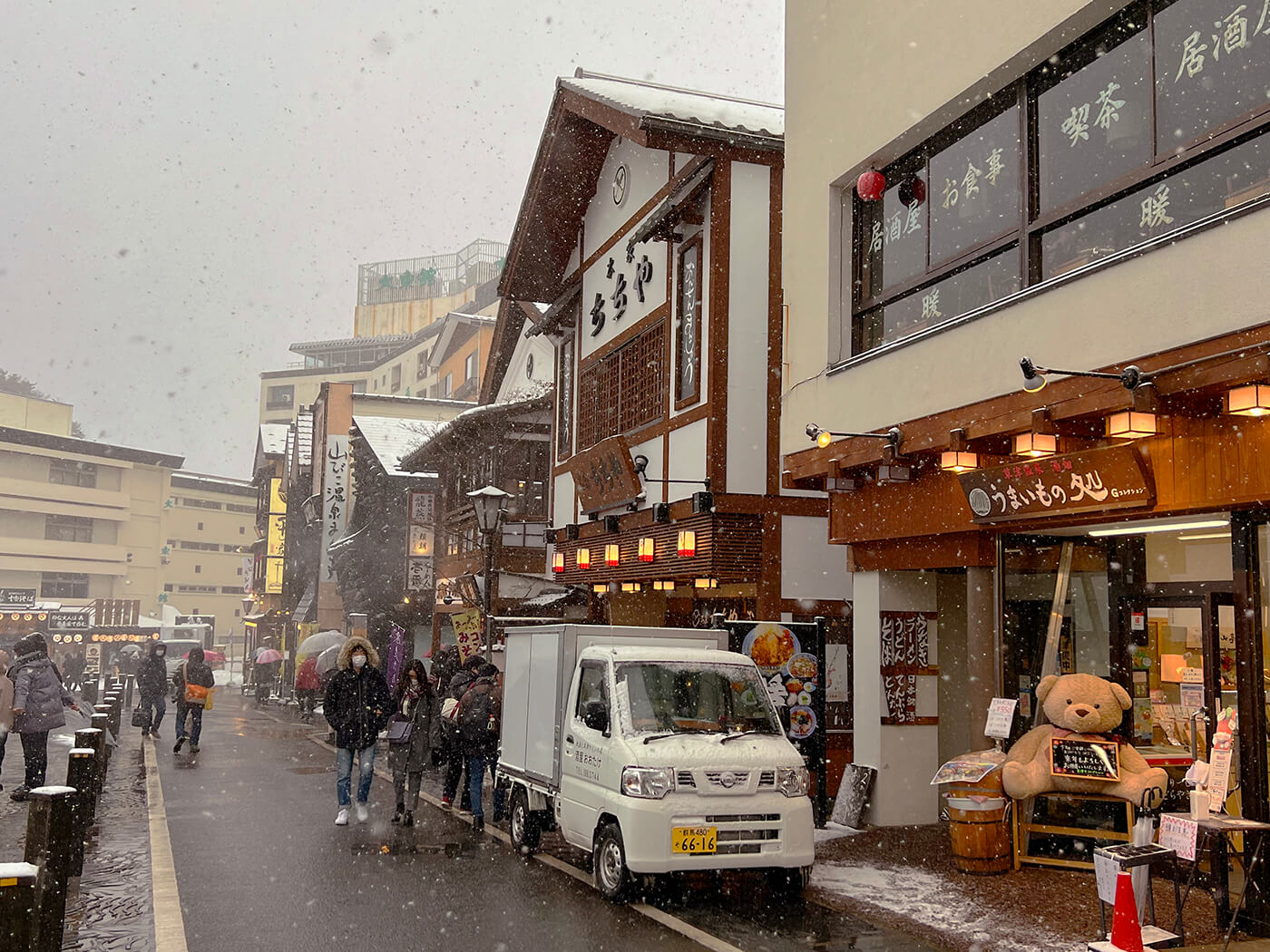 What made Kusatsu so popular among the Japanese? The hot spring water in Kusatsu is famous as it is high in acidity and bacterial power, which is believed to be a metabolism booster and beneficial for the skin.
💡 Onsen Etiquette: There are rules and etiquette to enjoy an onsen. Find out more about how to enjoy an onsen properly in Japan!
How to get to Kusatsu Onsen
There are a few ways to get to Kusatsu from Tokyo:
Rent a car and drive from Tokyo – This is the most convenient and easy option since you won't have to depend on public transport. It takes about 3 to 3.5 hours one way to get to Kusatsu from Tokyo by car. Driving in Japan requires an International Driving License. Book a car rental from Tokyo, which you can pick up from the airport or in the city:
Caution: If you are planning to drive to Kusatsu, please be aware it is located in a mountainous region. During winter, be prepared to drive in icy conditions. Make sure you have proper tires and check for road closures.
Direct Bus from Shinjuku – From Shinjuku station, you can take a direct bus to Kusatsu via a service called Joshu Yumeguri. It takes about 3 hours and 45 minutes and costs 3,510 yen (learn more)
Shinkansen via Karuizawa – From Tokyo station, take the shinkansen to Karuizawa. From Karuizawa you can catch a direct bus to Kusatsu (learn more)
💡 Karuizawa Travel Guide: If you have extra days, you might want to spend a day or two in Karuizawa! Read my Karuizawa travel guide to see what you can do there.
JR Limited Express from Ueno – From Ueno station, you can catch a limited express train to Naganohara-Kusatsuguchi station. From there, you can catch a bus to Kusatsu. (learn more)
How long should I spend in Kusatsu?
Because Kusatsu is not a very big area, I recommend visiting just for one night (stay at a ryokan!) or visiting as a day trip from Karuizawa.
Where to stay in Kusatsu Onsen
There are plenty of Ryokan (traditional Japanese accommodations) in Kusatsu. Here are a few you can consider staying:
Ryokan Tamura – If staying near the town center is your priority, then this Ryokan fits the bill. It's a cute Japanese-style inn located minutes from the town center.
Hananigen – Similar to Tamura, Hananigen is also a ryokan located within minutes of Kusatsu town center.
Kusatsu Onsen Eidaya – Slightly cheaper Ryokan as the location is a bit further away from the town center, but still within walking distance!
Get around Kusatsu Onsen
Kusatsu Onsen town is actually a small area. You can easily get around on foot, and this is the best way to explore the town. It is also possible to drive a car around, but I would not recommend this because the streets in the town are actually just a very narrow alley.
What to do in Kusatsu Onsen Town
Kusatsu is popular with domestic tourism. There are plenty of things you can do here!
1. Yubatake, Kusatsu Town Center
At the center of Kusatsu Onsen town is Yubatake, a hot spring field and the source of the resort town's hot spring water. You can definitely detect that strong sulfuric smell as soon as you get here!
At Yubatake, the hot spring water gets filtered and cooled down by being passed through these wooden structures. The water then gets distributed to the ryokan and bathhouses around town.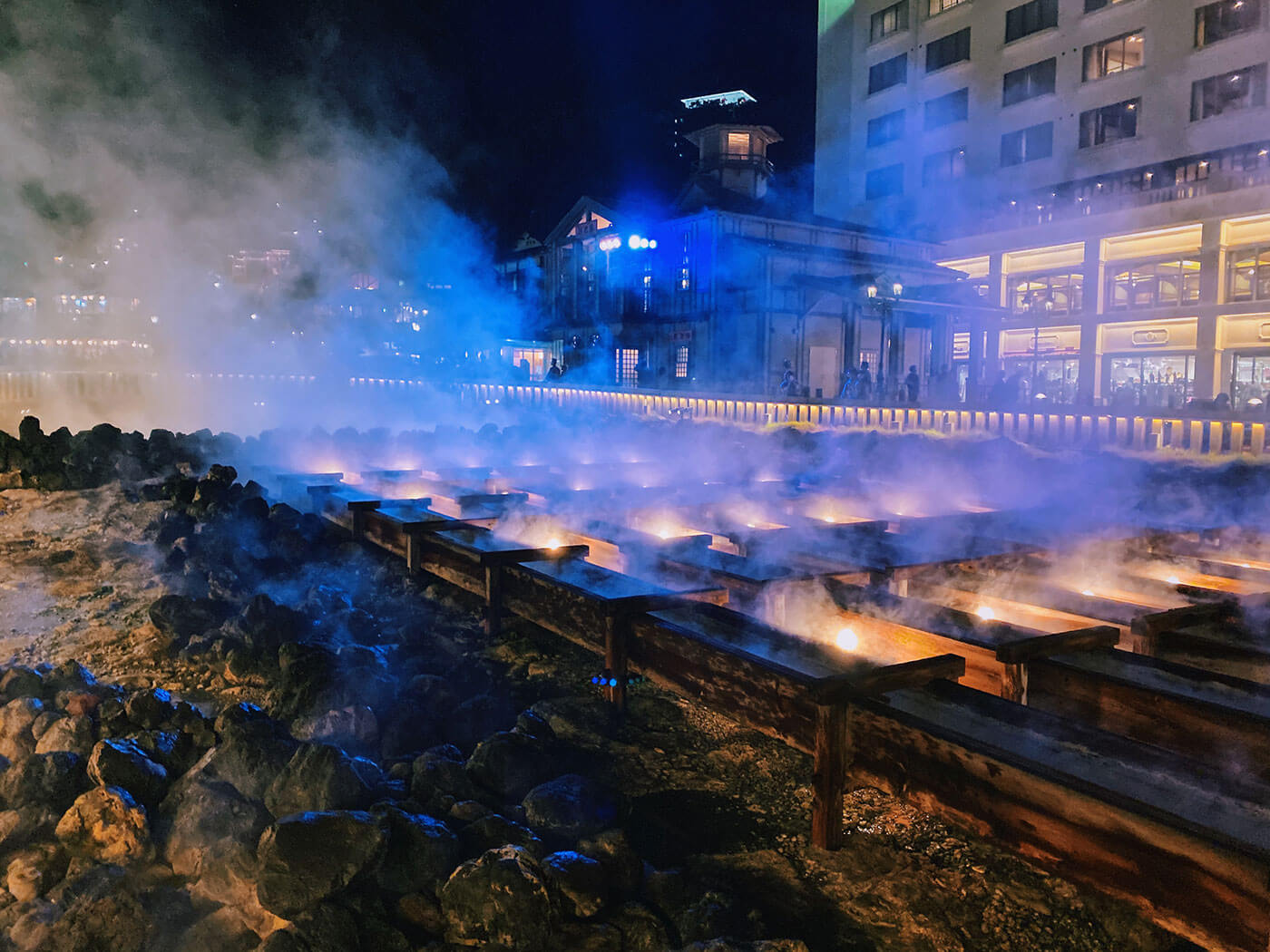 Eventually, after filtering water for some time, these wooden boxes would be filled with all the good minerals that came naturally with the hot spring water. This yellow-green-ish mineral deposit is called "Yu no Hana" (literal translation "flower of water"), which you can purchase all over the town and use later by adding it to a hot bath at home.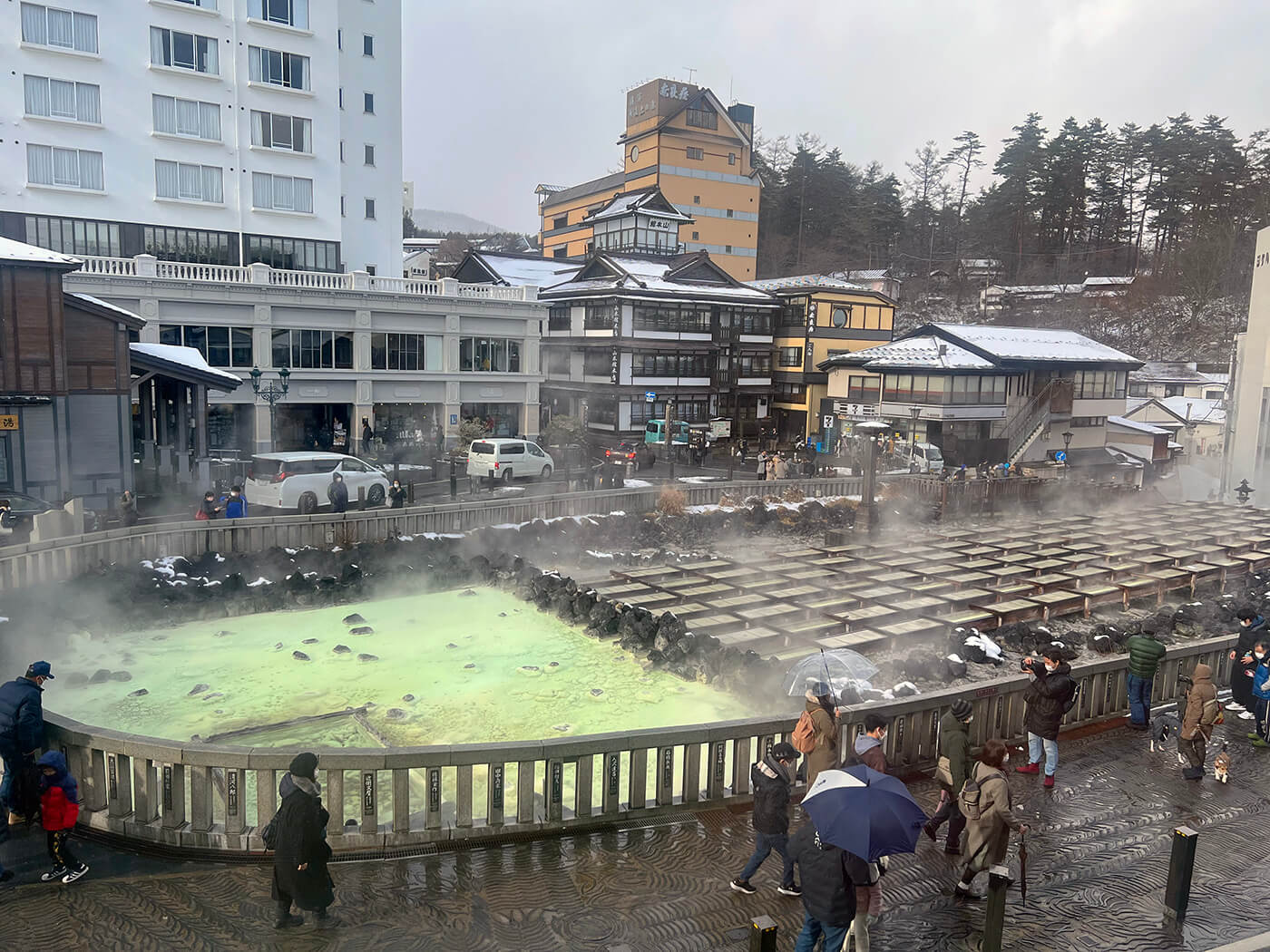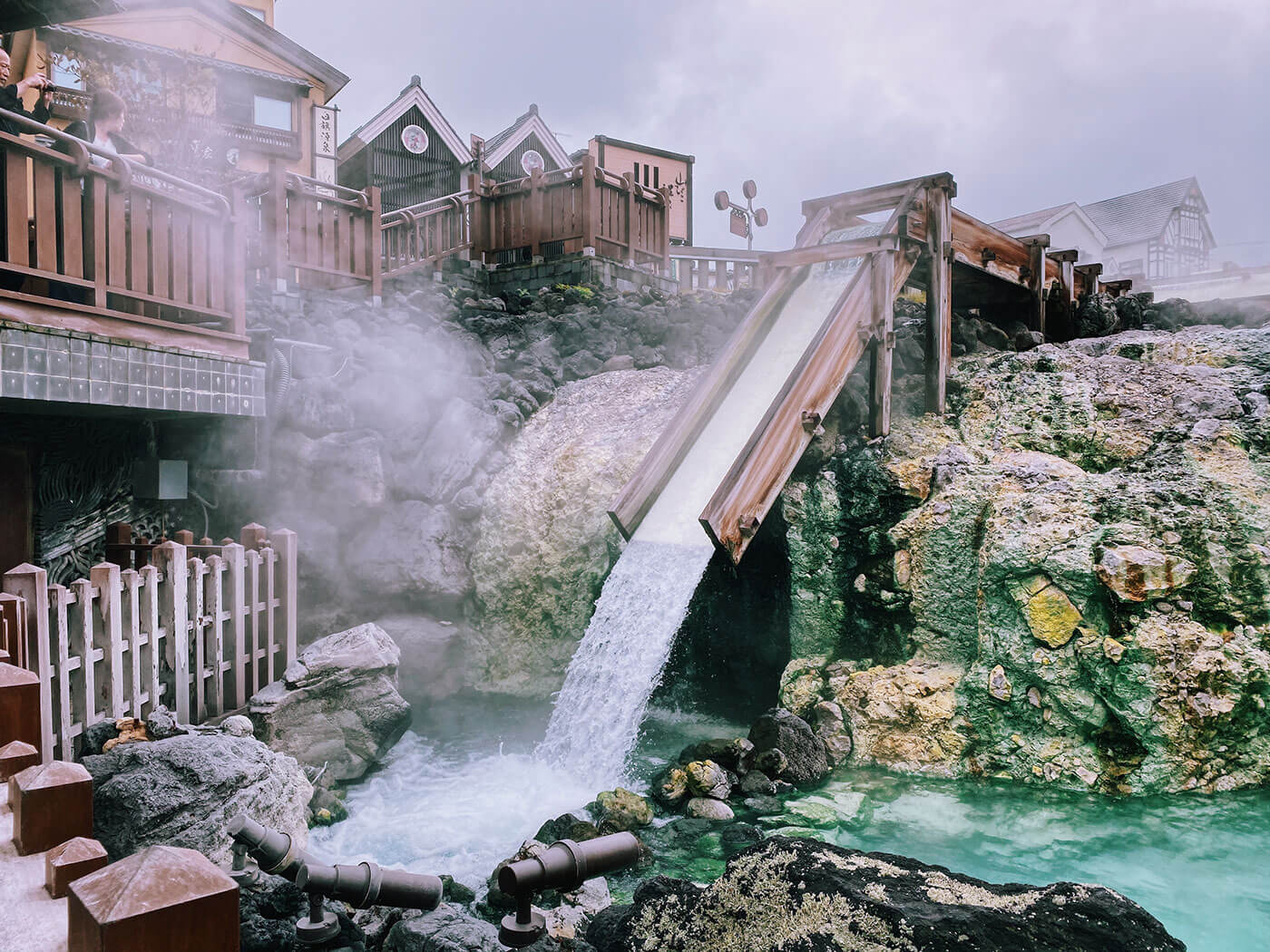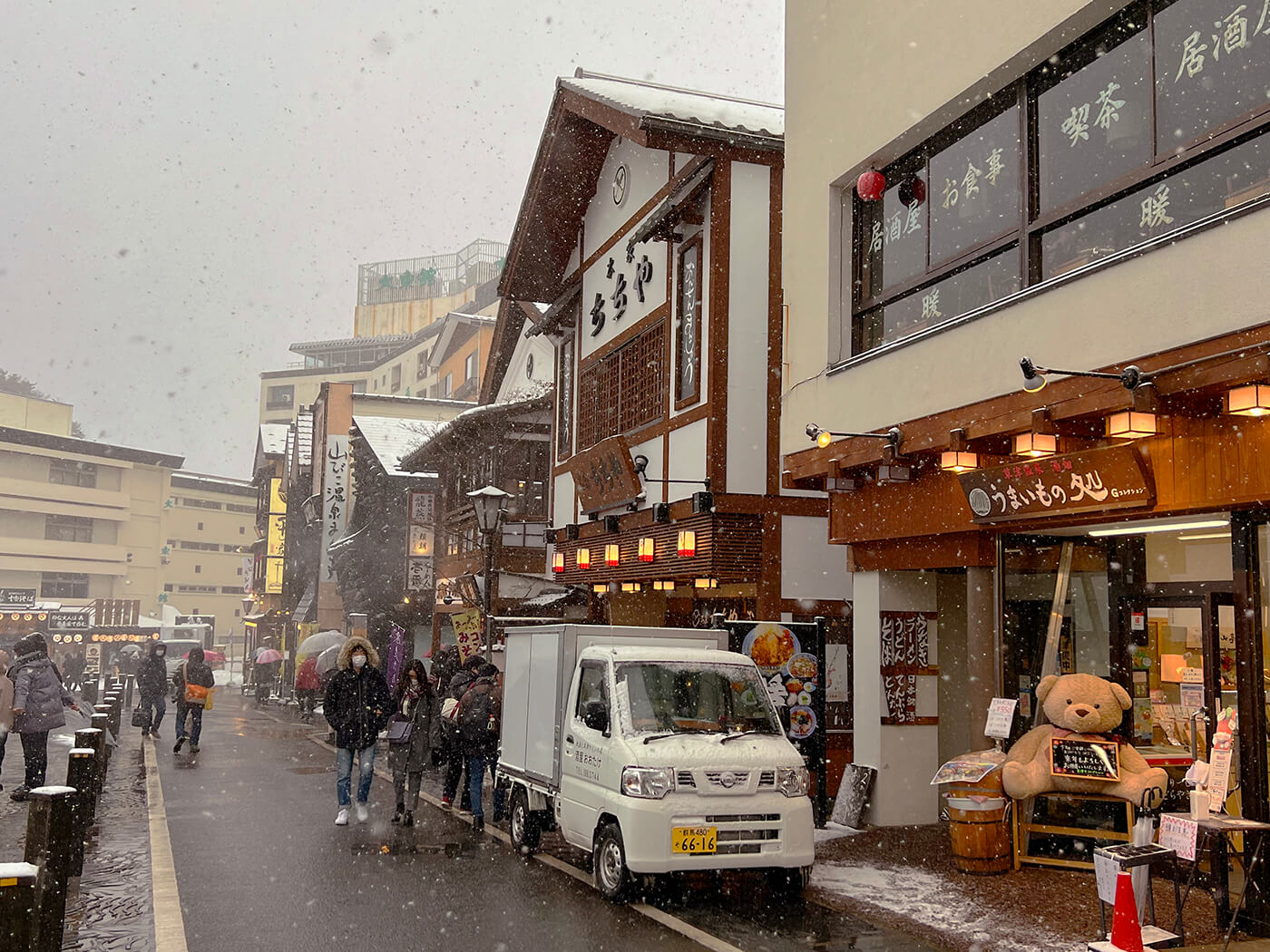 Yubatake area is nicely lit up at night with different colored lights, so I recommend visiting both at night and day!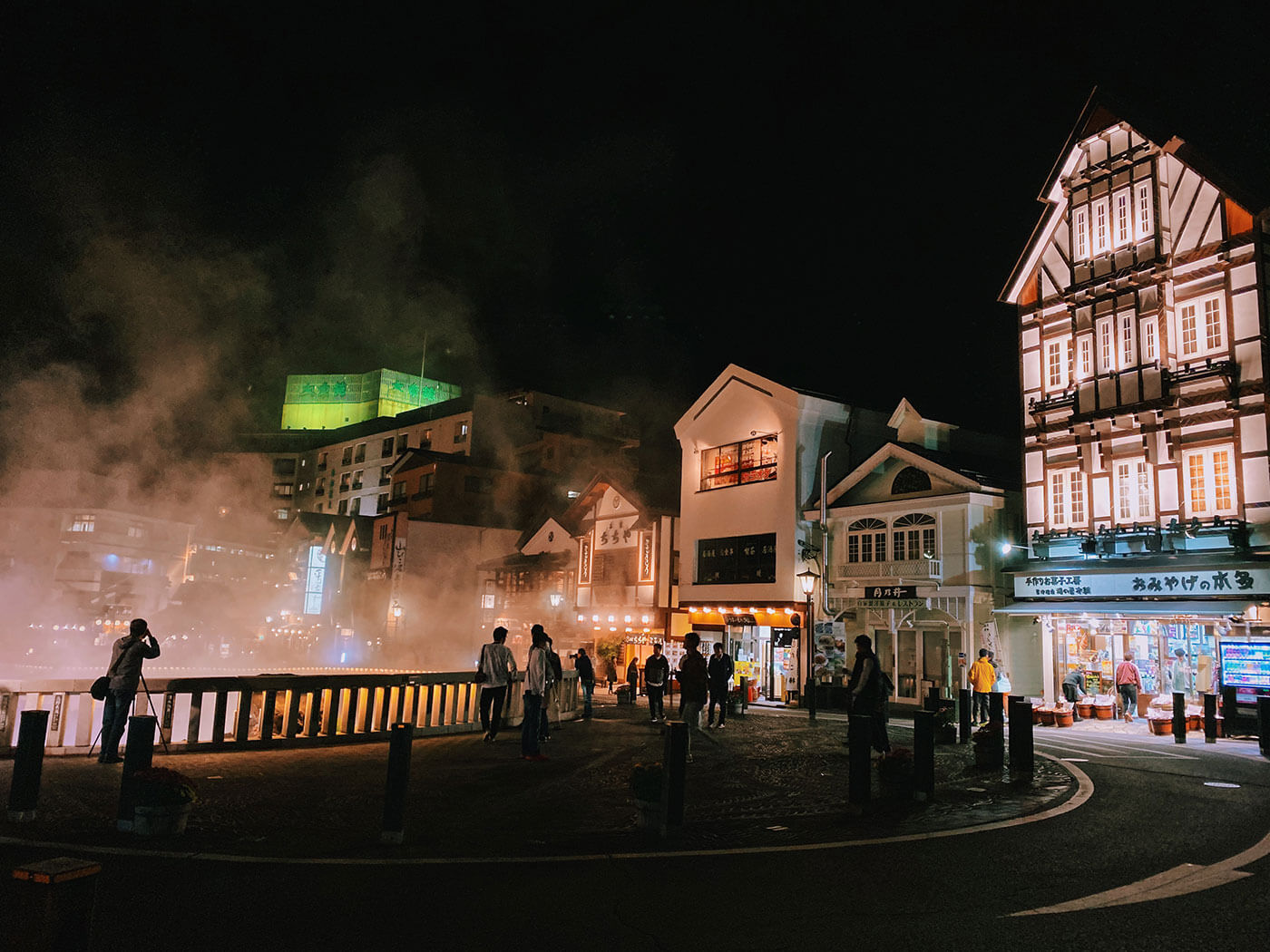 2. Ashi no Yu
All over town, you'll see small huts with shallow hot spring water and people dipping their feet into the water. This is called Ashi no Yu (literal translation "Foot's water"), and it's free of charge! Just remove your shoes, roll up your pants, and enjoy a foot bath.
And yes, the water here is the same water that gets distributed to the bathhouses so it has the same mineral benefits!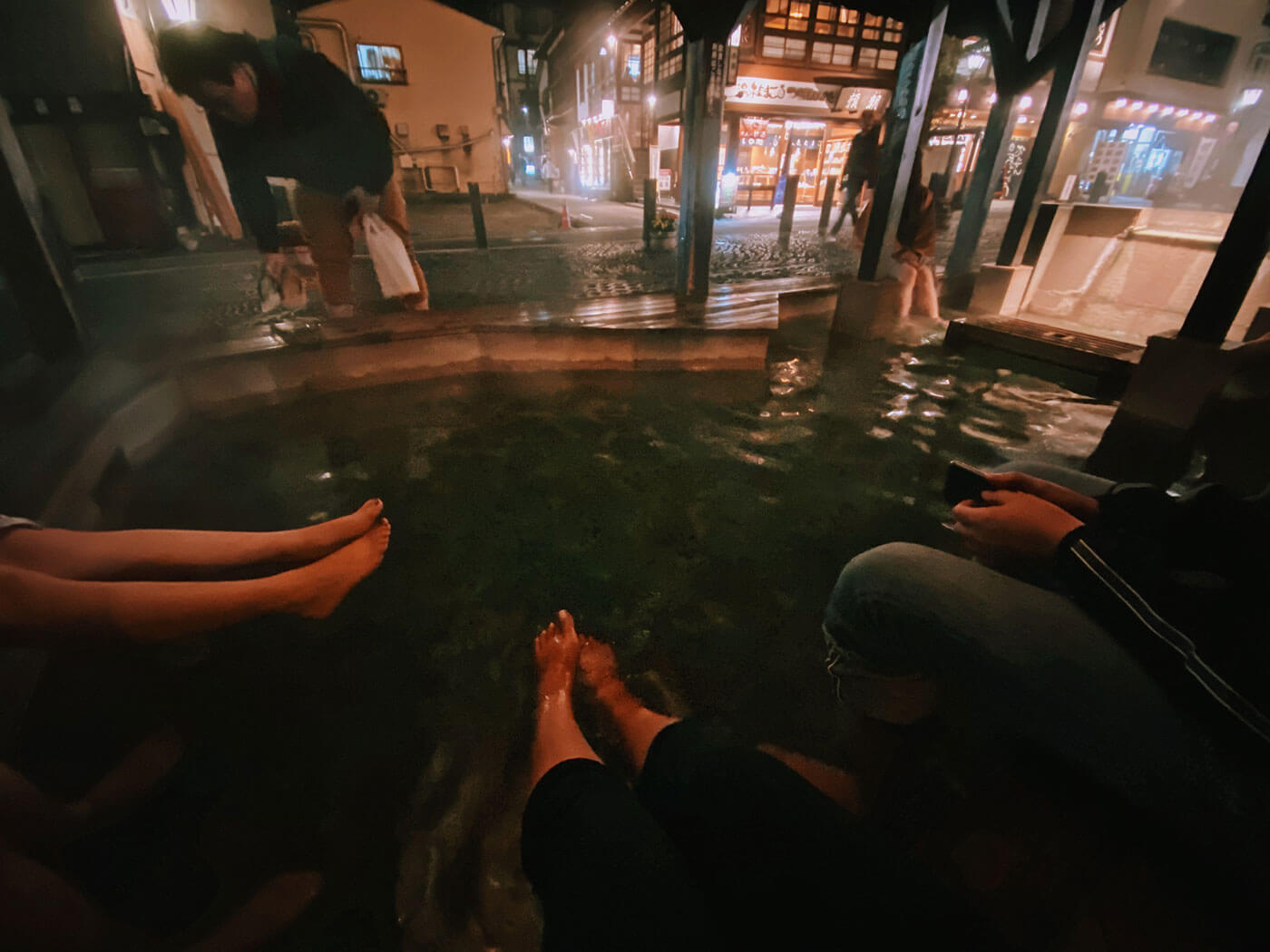 3. Netsu no Yu and Yumomi Performance
Tucked in one corner right next to Yubatake is Netsu no Yu, a place you should visit for its unique Yumomi performance (water-stirring dance).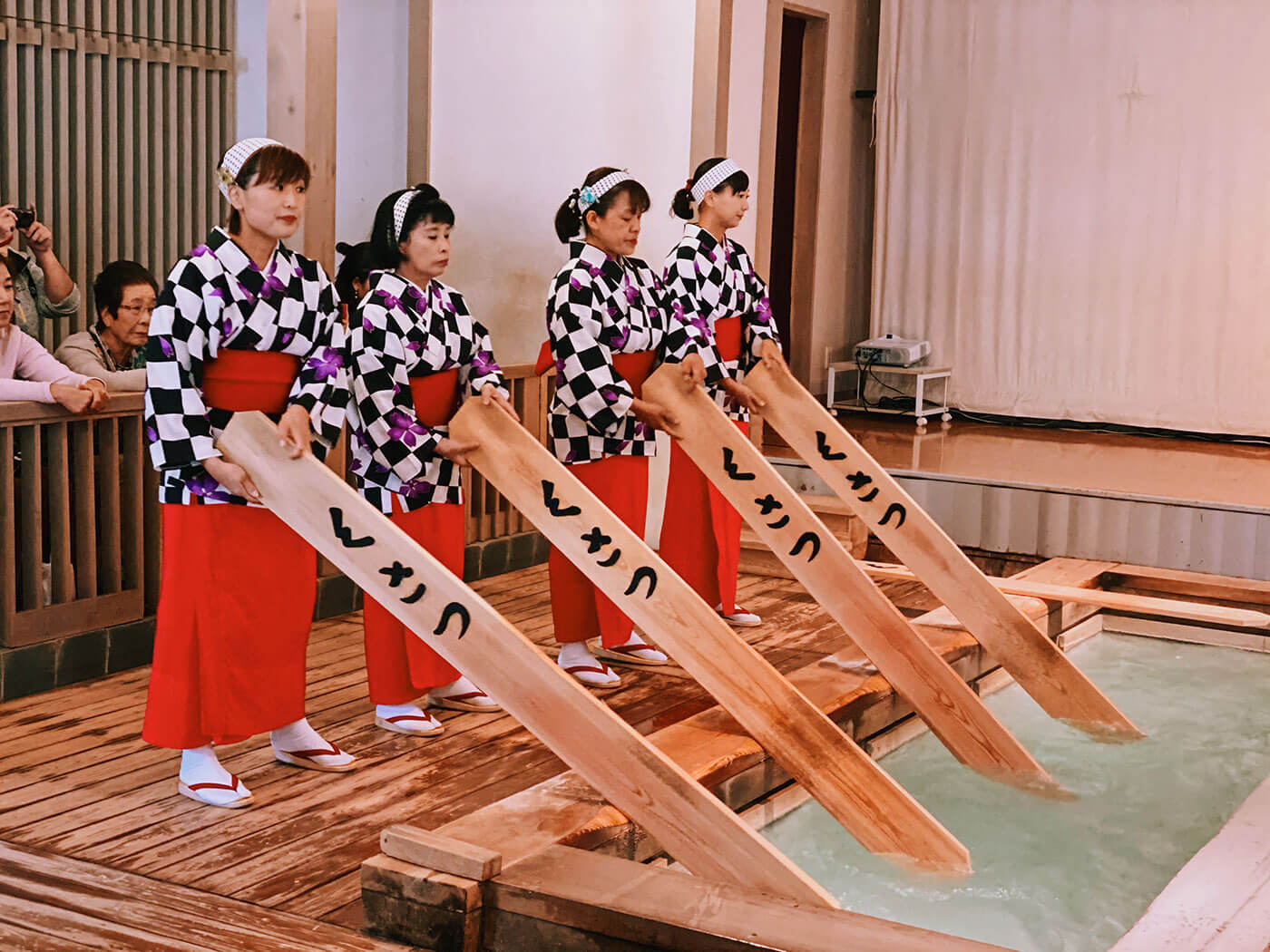 What is Yumomi? It all started with how the water that naturally comes out of the source in Kusatsu could be as high as 95C n temperature, which as you can imagine, is too hot for bathing.
Since the Edo period, a ritual is performed to manually cool down the water to a suitable temperature by stirring it with a huge wooden paddle. Eventually, this ritual evolved into a singing performance called Yumomi!
Yumomi is performed in the morning and afternoon at Netsu no Yu and costs 600 yen (check the schedule here). You can't book the tickets online, so be sure to be there before the performance time. You can also choose to participate in the dance!
4. Visit Sainokarawa Open-air Bath House
You won't be short of options for bathhouses in Kusatsu, but the most memorable one has to be Sainokarawa Rotenburo (Open-air bathhouse). It's about 15 mins walk from Yubatake, but the path there is beautiful!
First, you walk through the beautiful side streets of Kusatsu, lined with local shops selling Onsen Tamago (eggs cooked in hot onsen water) and Manju (sweet buns).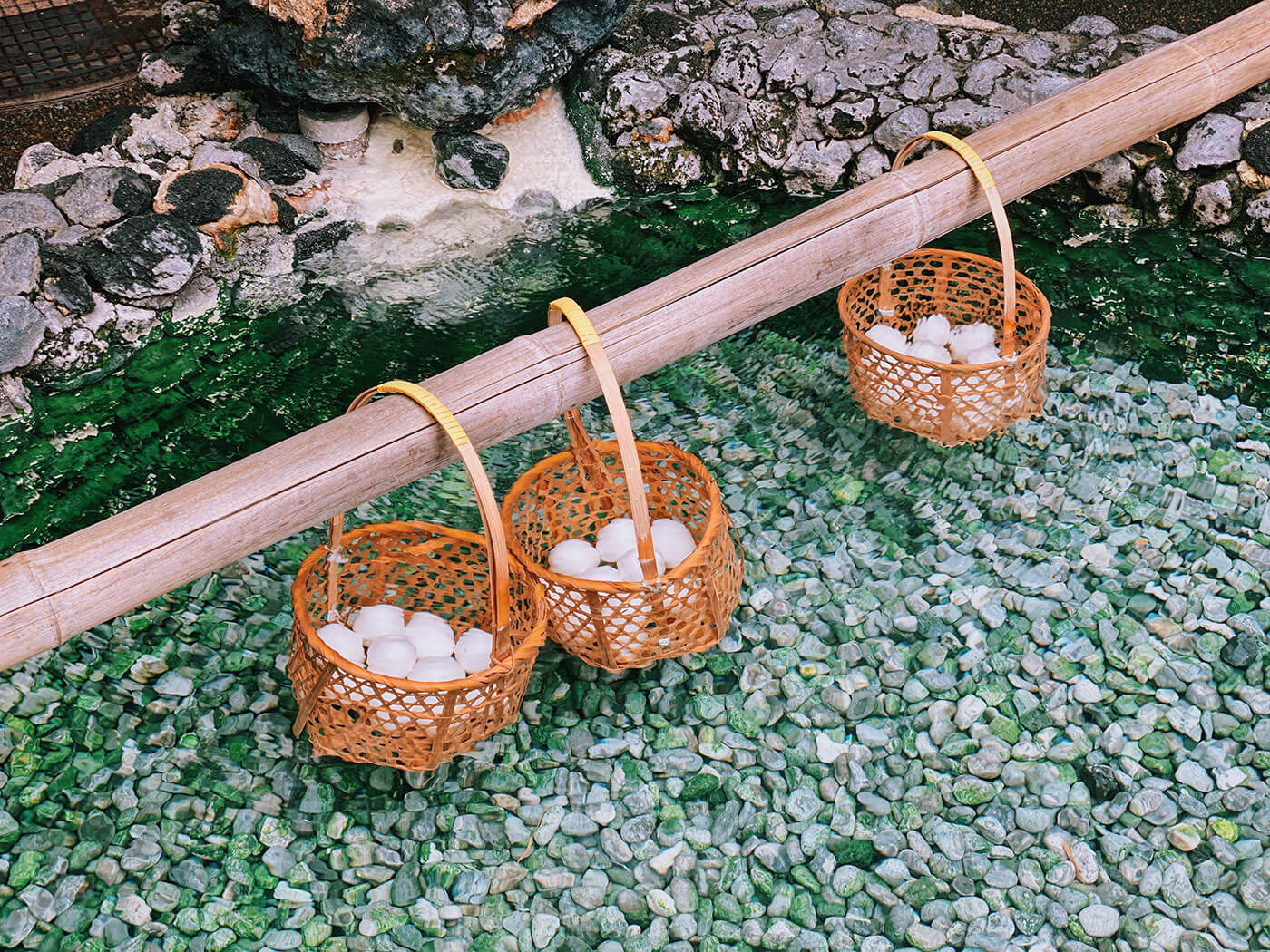 You will pass through the beautiful Sainokawara Park, a beautiful area where you can learn a little bit about the history of Kusatsu while walking on a stone path. There are also some natural pools called "the demon's pool", based on the past belief that the boiling water came from the kettle of a demon, and an Ashi no Yu at the end of the path.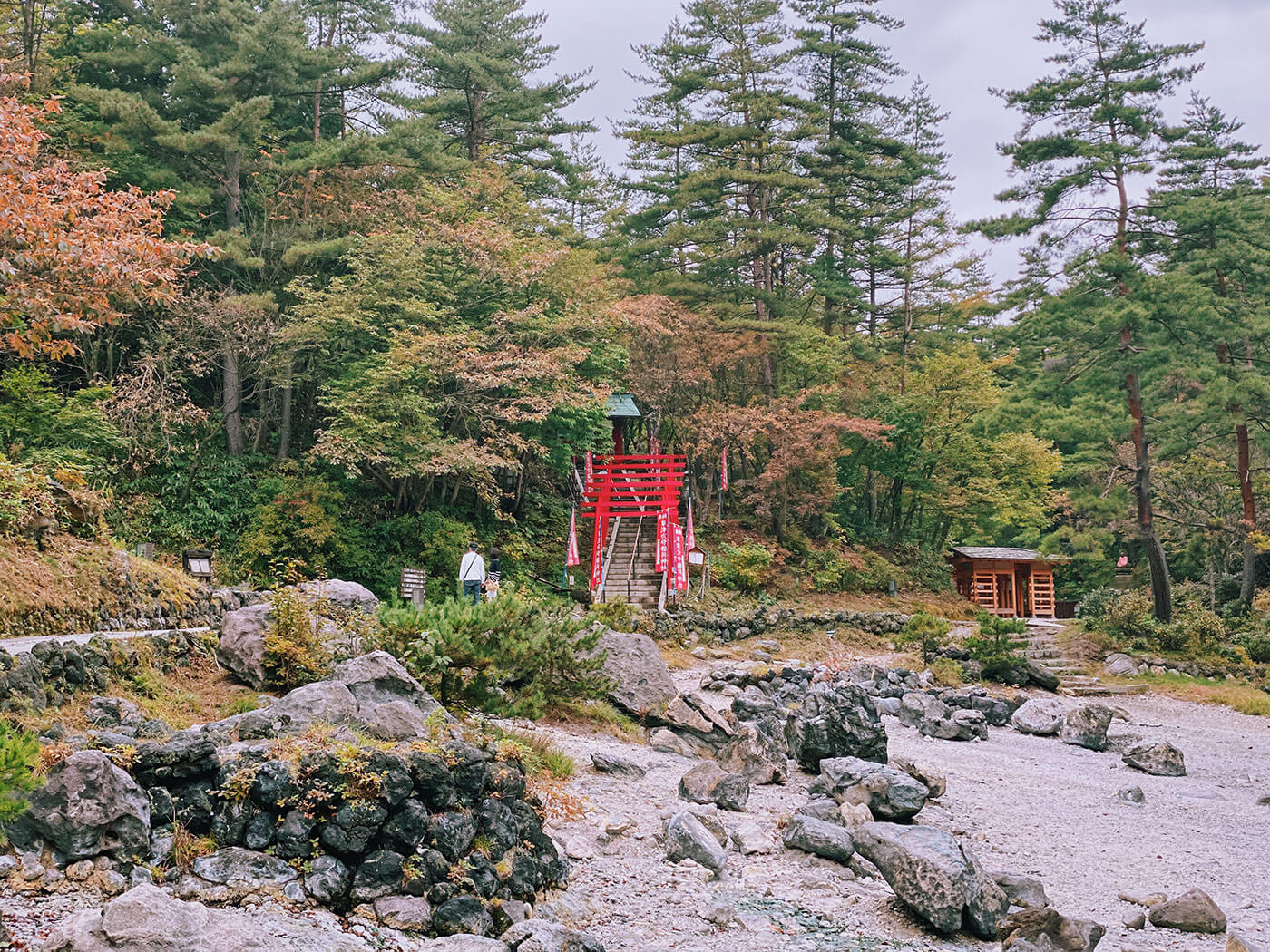 The entry fee to Sainokawara Rotenburo is 600 yen. This is the only bathhouse I've been to where they don't have a proper showering area, but there is still a small tub with a ladle that you are expected to wash up before and after entering the pool.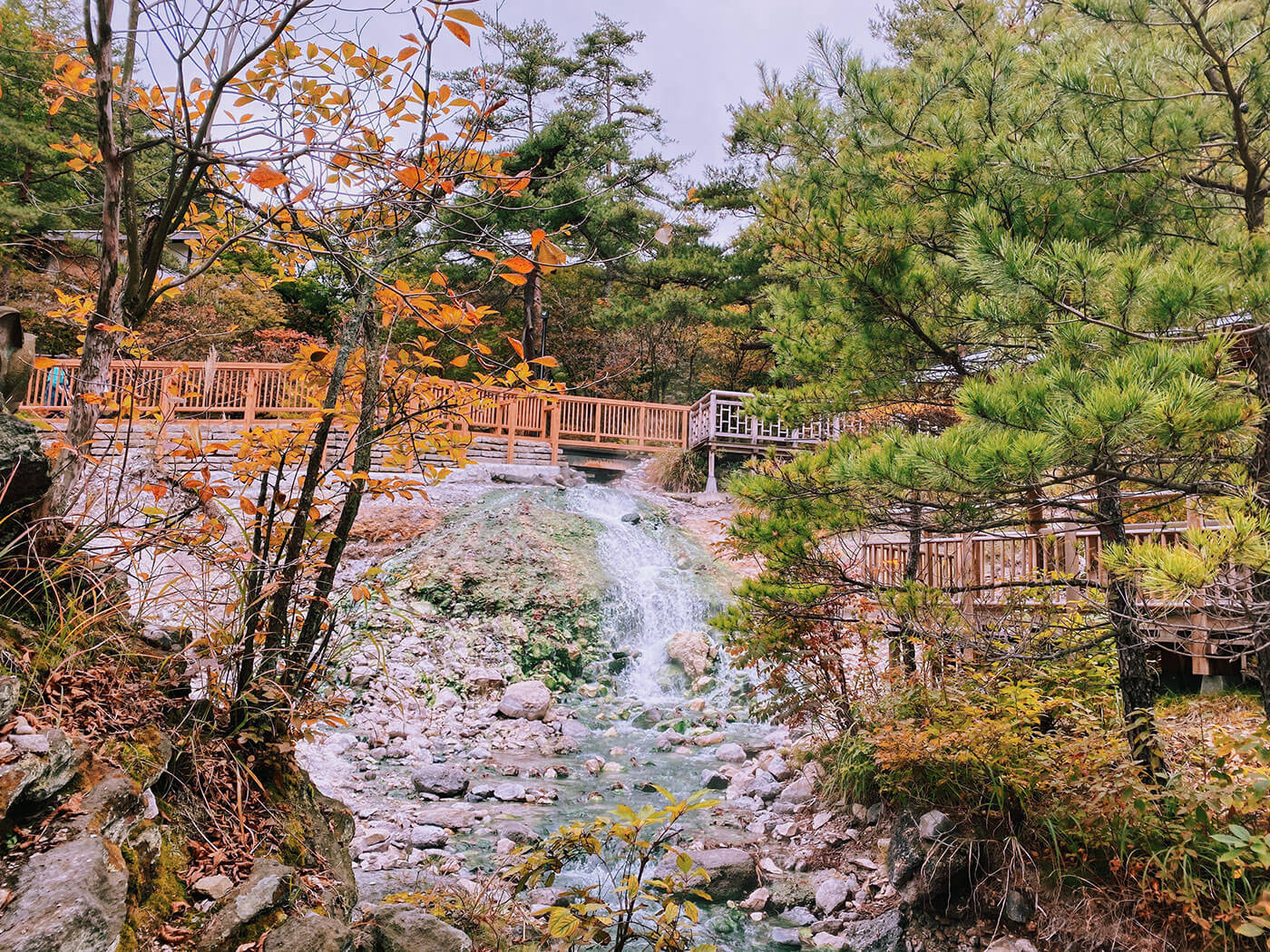 5. Ohtaki no Yu Onsen
If you prefer an indoor onsen, you can try Ohtaki no Yu. It is located fairly close to Yubatake (just a few minutes' walk). You can pay for an admission fee. At Otaki no Yu, you can try the bath in increasing temperatures – from mildest to hottest. Although most of the onsen is indoors, there is one pool that is outdoors. You can also rent a kashikiri (private onsen) for 2,000 yen per hour.
6. Visit Waterfalls near Kusatsu
If you are up for a little bit of a hike, you can try visiting Ousen Waterfall. It takes about one hour to reach from Kusatsu town. Another waterfall that is close by is Jofu Waterfall, though the trail is more difficult.
Other activities you can do from Kusatsu
If you have more time in the area and wondering what else to do, here are some recommendations you can check out.
Mount Kusatsu-Shirane – I really wanted to check out this mountain, but unfortunately, it was closed during the time I visited as it is an active volcano and there were a lot of activities observed around the mountain.
Jigokudani Snow Monkey Park – You've probably seen photos of Japanese Macaque (monkeys) taking a bath in an onsen. Jigokudani is famous for its snow monkeys who have learned to enjoy onsen as well. Though it is geographically close to Kusatsu, it still takes around 1.5 hours drive to reach due to the mountainous terrain. However, Kusatsu is one of the closest points to Jigokudani.
Karuizawa – A famous resort town just 80 minutes bus ride from Kusatsu. You can read my Karuizawa travel guide for more information.
Where and what to eat in Kusatsu
Mikuni Soba (三國家) – A soba restaurant near the center of Kusatsu. The soba is hand made in the restaurant.
Yume Hana (旬彩茶屋 夢花) – A simple restaurant serving tendon and soba set
Donguri – A Japanese-style Western restaurant
Manju at Matsumura Manju (松むら饅頭) – Manju is steamed buns filled with sweet read bean paste (azuki). They'll give you a free sample with some green tea.
Onsen Tamago – You'll be able to see plenty of onsen tamago on the path that leads to Sainokawara Park
And that's all I know about visiting Kusatsu! Please let me know in the comments before if you have any questions.