Nikko is a popular short-trip destination from Tokyo, loved by locals and tourists alike. Nikko is well-known for its natural beauty (waterfalls, hikes, and onsen) as well as its UNESCO heritage sites.
Located only 125km north of Tokyo, you can enjoy this area as a day trip or as a short 2-day trip, though some visitors opt to spend as much as 4 days and explore the outer Nikko region.
I wasn't expecting much from Nikko at first. But by the end of my trip, I was quite impressed by how historic this place really is! It has a similar vibe to Hakone but with way less crowd.
How to get to Nikko from Tokyo
By train (Tobu Railway with Nikko Pass) – Train is the cheapest way to get to Nikko if you choose to purchase Nikko Pass. You can take the Tobu Railway from Asakusa station, which is included in the price of the Nikko Pass (excluding the limited express train). Tobu Railway is not covered by JR Pass, so you still need to get this separately even if you have JR Pass. Niko Pass also covers the local transportation once you get to Nikko. There are two types of Nikko passes:
Nikko World Heritage Pass (valid for 2 days) – get this if you are planning to stay in Nikko central area only
Nikko Pass All-Area (valid for 4 days) – more expensive than the 2-day pass, but this pass covers unlimited bus rides in Nikko Central and Okunikko.
By Shinkansen (High-speed train) – If you already have the JR Pass – From Tokyo, take the JR Tohoku Shinkansen line and then switch to JR Nikko Line to Nikko Station. Then to get around Nikko, you can buy the Tobu bus pass separately or pay per ride. Take note due to the high price of a JR Pass, this option ONLY makes sense if you already have a JR pass (which you can purchase here before your trip). However, I don't recommend getting a JR Pass just for Nikko, since the Tobu Line option above is much cheaper. Read more about JR Pass in my Tokyo Guide here.
Rent a car and drive from Tokyo – If you have an international driver's license and are comfortable with driving in a foreign country, this is the most convenient and easy option since you won't have to be dependent on public transport when you get to Nikko. This is the option that I personally went with since I did not want to waste time with public transport. Book a car rental from Tokyo here, which you can pick up from the airport or in the city:
Getting around Nikko with public transportation
Once you get to Nikko, Tobu offers an extensive range of shuttle buses that covers different areas of Nikko. If you have purchased a Nikko Pass, then you don't need to worry about the bus pass as those have already been included with Nikko Pass.
However, if you didn't buy the Nikko Pass, then you can purchase the Tobu bus pass separately or pay per ride. HINT: it's almost always better to buy the Nikko pass! The price for the Tobu bus pass varies depending on the areas you want to visit, ranging from 500 yen (Nikko Central only), 2000 yen (covers up to Lake Chuzenji), and 3000 yen (covers up to Yumoto).
If you are planning to follow my blog to the T, then you'll need the 3000 yen pass since I went up all the way to Yumoto.
Recommended 2-day Nikko Itinerary
Alright! Now that you know how to get around, it's time to look at what to do around Nikko. As Nikko actually covers quite a large area, I recommend dividing up your days as follows:
Day 1: Central Nikko (Shinkyo Bridge, Nikko National Park). As soon as you get off the train station, explore Nikko Central. This will take a good half day, perfect to do in the afternoon if you're driving/taking the train to Nikko in the morning. You'll get to see all of the temples that earned Nikko its claim to the UNESCO World Heritage Centre.
Day 2: Okunikko (Lake Chuzenji, Kegon Falls, Ryuzu Falls, Yumoto). This will definitely take at least a full day, as the area you'll be covering today is massive. you'll get to see the nature part of Nikko, and they are beautiful! There also tend to be fewer visitors around this area, especially once you go past Lake Chuzenji and Kegon Falls.
How many days should I spend in Nikko?
As you can see from the itinerary above, Nikko is totally doable as a 2 days 1-night trip, which is what we did. However, keep in mind that we were driving so we didn't have to account for time spent on public transport.
If you aren't driving and want to see only the Nikko Central area, then 1-2 days is enough. But if you want to explore Okunikko then I recommend 3-4 days. I guess this is why they have a Nikko pass that will last 2 and 4 days!
When is a good time to go to Nikko?
Nikko is good to visit all year round, although August has the highest chance of rain. The best time to visit Nikko, like any other mountainous region in Japan, is during the Sakura season in Spring or during the Autumn Foliage season in Fall. It would be extra beautiful during these seasons!
I personally went in mid-May and found it to be a very comfortable visit. It wasn't too cold or hot, and I was even still able to catch glimpses of Sakura flowers as they bloom a bit later due to the colder climate in the mountains.
What to do and see in Nikko:
1. Shinkyo Bridge
This red bridge is hard to miss, as it is located between Nikko Central Town and the entrance to Nikko National Park. The name "Shinkyo" means sacred, and this bridge dates back to 1636. It is one of Japan's three finest bridges – so it's definitely worth a look.
But you can't really go on the bridge without paying a fee of 300 yen. Personally, I don't think it's worth going on the bridge itself. I think it's better to just admire from afar – take a photo of it and learn about its history, then move on to the temples.
2. Nikko National Park (Temples and Shrines)
Nikko National Park is undoubtedly the reason why many visitors ended up in Nikko. This is where all the shrines and temples are located, and yup! These are the ones that earned Nikko its claim to the UNESCO World Heritage Centre.
Expect some crowd and plan to set aside 3-4 hours here. Wear comfortable shoes – not only because there is a lot to see, but the park itself is also a huge area to cover with a lot of steps, so you'll be on your feet a lot!
Also an important point: The entrance fee to these shrines is quite expensive and adds up quickly if you want to see everything, so make sure you budget ahead for it. Unfortunately, there are no passes that can help you save money for this :/ not even the Nikko Pass. Tickets can be bought individually at the entrance of each temple/shrine, and you can use your SUICA card to buy them if you don't want to use cash.
The shrines in Nikko are divided into three areas:
Toshogu Shrine – a large and beautiful shrine with gold detail that serves as the final resting place of Tokugawa Ieyasu, one of the unifiers of Japan (2100 yen entrance fee for shrine and museum, or 1300 yen just for the shrine).
Futarasan Shrine – dedicated to the deities of Nikko's three most sacred mountains: Mount Nantai, Mount Nyoho, and Mount Taro (200 yen entrance fee)
Rinno-ji Temple – although it looks plain compared to Toshogu, Rinnoji is actually the most important temple in Nikko. It comprises the main shrine called Sanbutsudo, which houses three golden Buddha statues, and Taiyuinbyo, the mausoleum of Tokugawa Iemitsu, the last direct descendant of Tokugawa Ieyasu (300-900 yen entrance fee, depending on what you want to see. I recommend at least seeing Sanbutsudo)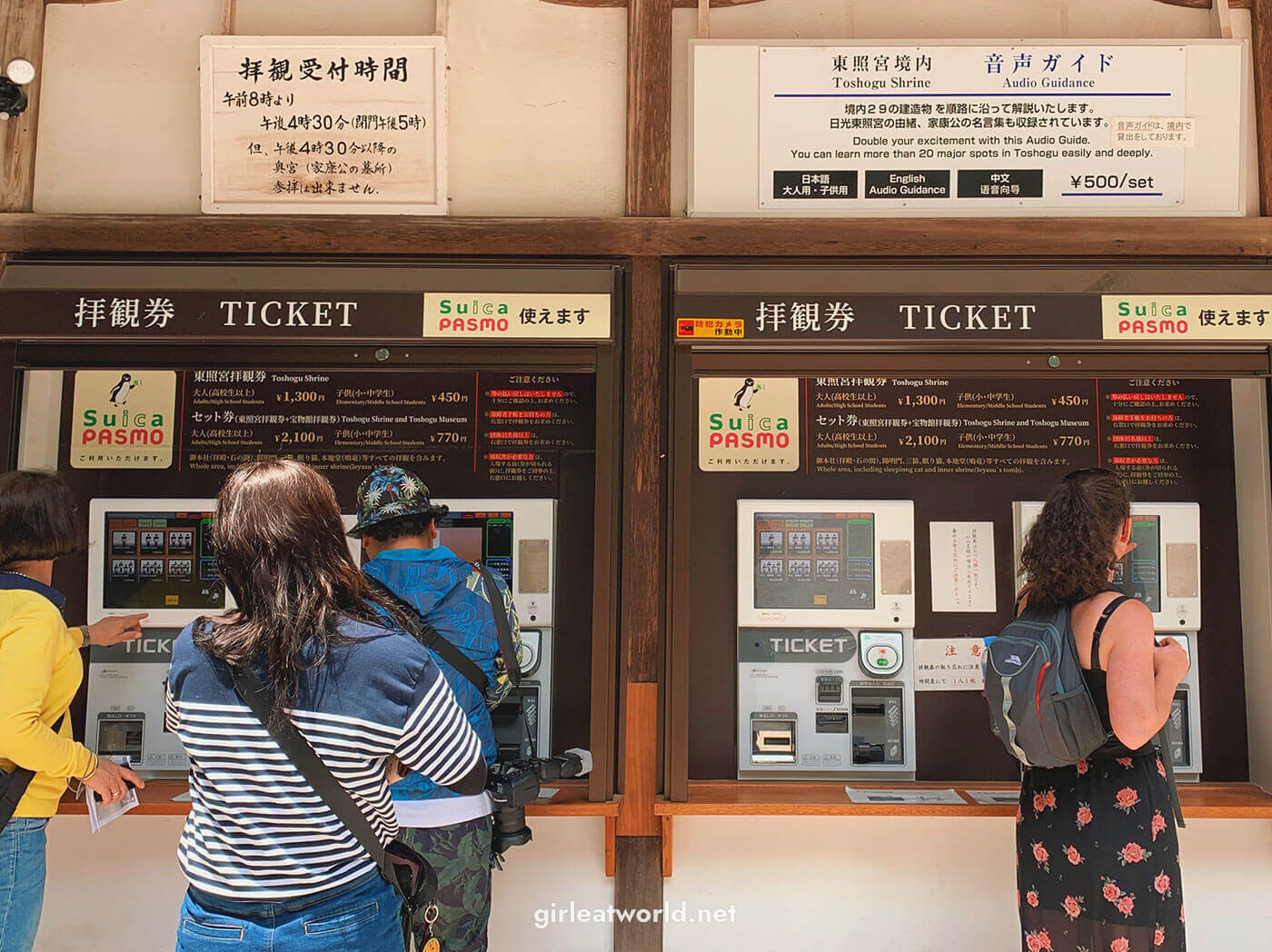 While there are many wood carvings throughout the shrine, the two that are worth noting at the Toshogu shrine are the carvings of the Three Wise Monkeys and the Sleeping Cat. These two are the most famous carvings, but they are quite small so you might miss them if you don't keep your eyes peeled! The monkeys are very close to the entrance, while the sleeping cat is inside just before the stairs that take you up to the mausoleum.
Personally, I was much more amused by this wood carving of an elephant called Sozonozo Elephant (meaning "Imagined elephant"). If you look closely… the elephant carving is a little weirdly proportioned and has textures that resemble… yes, fur. This is because at the time this carving was created, the artist had never seen an elephant in person – elephants are not native to Japan, so s/he had to rely on other people's verbal or written descriptions of one.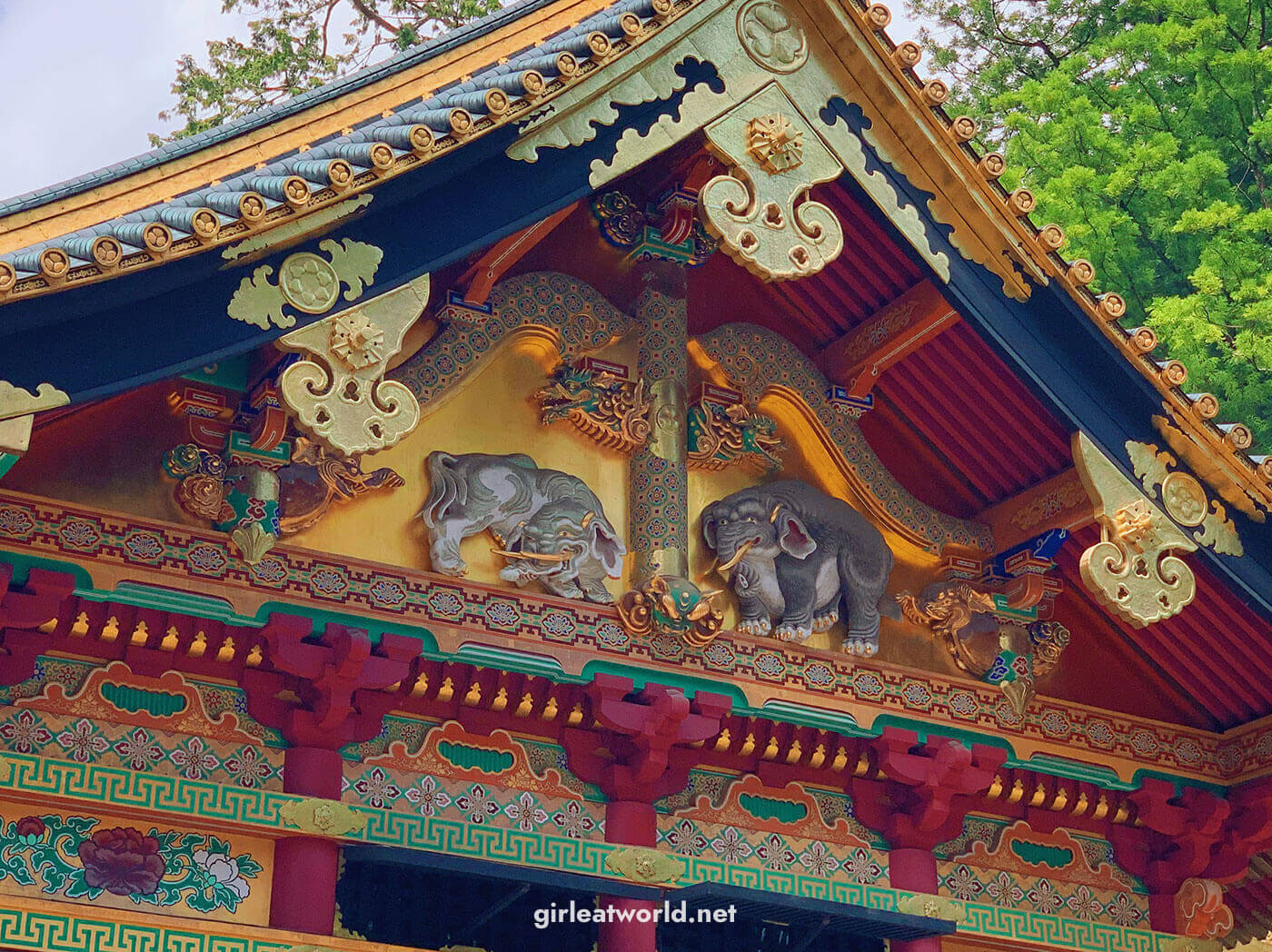 While you are walking around the temples and shrines, keep an eye out for omamori (good luck charms) too! They usually are 100-300 yen. You can't choose which charm you get (unless you pay more to buy specific ones), but whichever charm you end up getting brings you different types of luck and you can keep it inside your wallet.
The most popular one is the Toshogu shrine, while Rinno-ji and Futarasan are a lot more calm and quiet. Even though I went during a popular time, I found very few people at Rinno-ji and Futarasan.
3. Tobu World Square
If you still have some time for the day after visiting the national park and looking for things to do, then you can make your way to Tobu World Square, a quirky Japanese theme park where you can go around the world in just a few hours. If you've purchased Nikko Pass, you can enjoy a 1000 yen discount on the ticket entrance to Tobu World Square.
4. Akechidaira Ropeway
Once you get out of Nikko central area towards Okunikko, you'll start going up the mountain via one of the most zig-zaggy roads on a slope called Irohazaka. This is one of the most memorable drives for me! The zig-zags are so sharp, that you can even spot this area from google maps from its unique shape.
Once you get past Irohazaka, you'll see Akechidaira Ropeway.
This ropeway is included with the Nikko All-Area Pass. Otherwise, it's 400 yen per one-way ride or 730 yen per round trip.
5. Kegon Falls
Once you get to Okunikko, you'll see road signs prominently marked for Kegon Falls. It's no wonder because Kegon Falls is one of the most famous natural beauties to see in Nikko.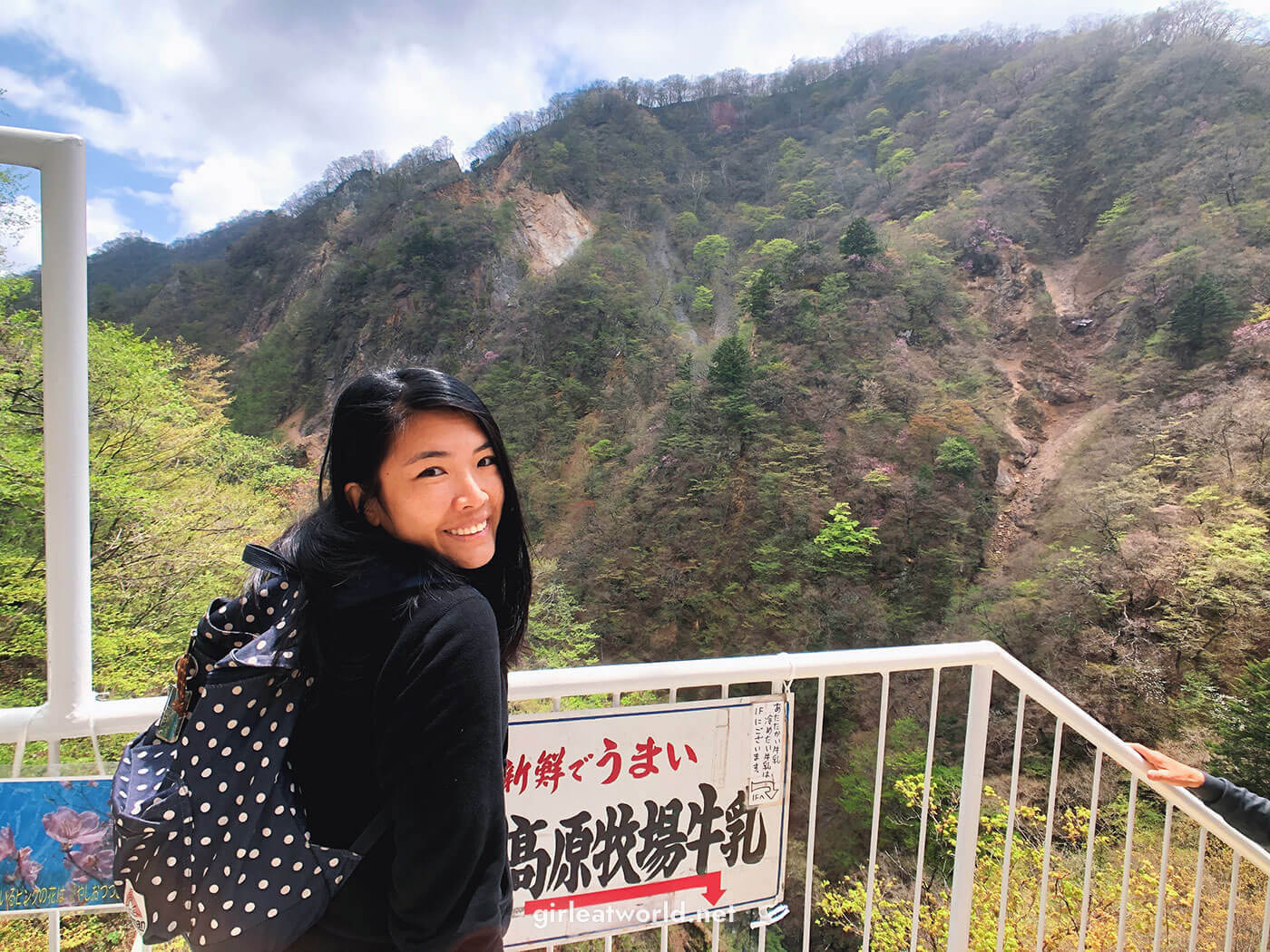 The waterfall is indeed majestic and beautiful, but I find Kegon Falls to be extremely touristy and not for those who are looking for hiking or to be closer to nature. To see the falls, you're required to take an elevator down, which costs 550 yen per person. From the elevator, you can then go to a viewing platform where you can admire Kegon Falls from afar.
6. Lake Chuzenji
For many visitors, Lake Chuzenji is one of the main attractions of Nikko. It is, after all, a very interesting lake located at the foot of Mount Nantai, a sacred volcano of Nikko. It is believed Lake Chuzenji formed 20,000 years ago due to the eruption of Mount Nantai.
While at Lake Chuzenji, you can hire a canoe and paddle around the lake, or you can hike the circumference of the lake (25km distance, so it will take you a couple of hours)
Tip: If you've purchased the Nikko All-Area Pass, a cruise on Lake Chuzenji is included so definitely utilize that!
7. Ryuzu Falls
Kegon Falls was beautiful and majestic, but personally, I enjoyed Ryuzu Falls more. It's a smaller waterfall compared to Kegon, but not only were there fewer people, it's also free to view.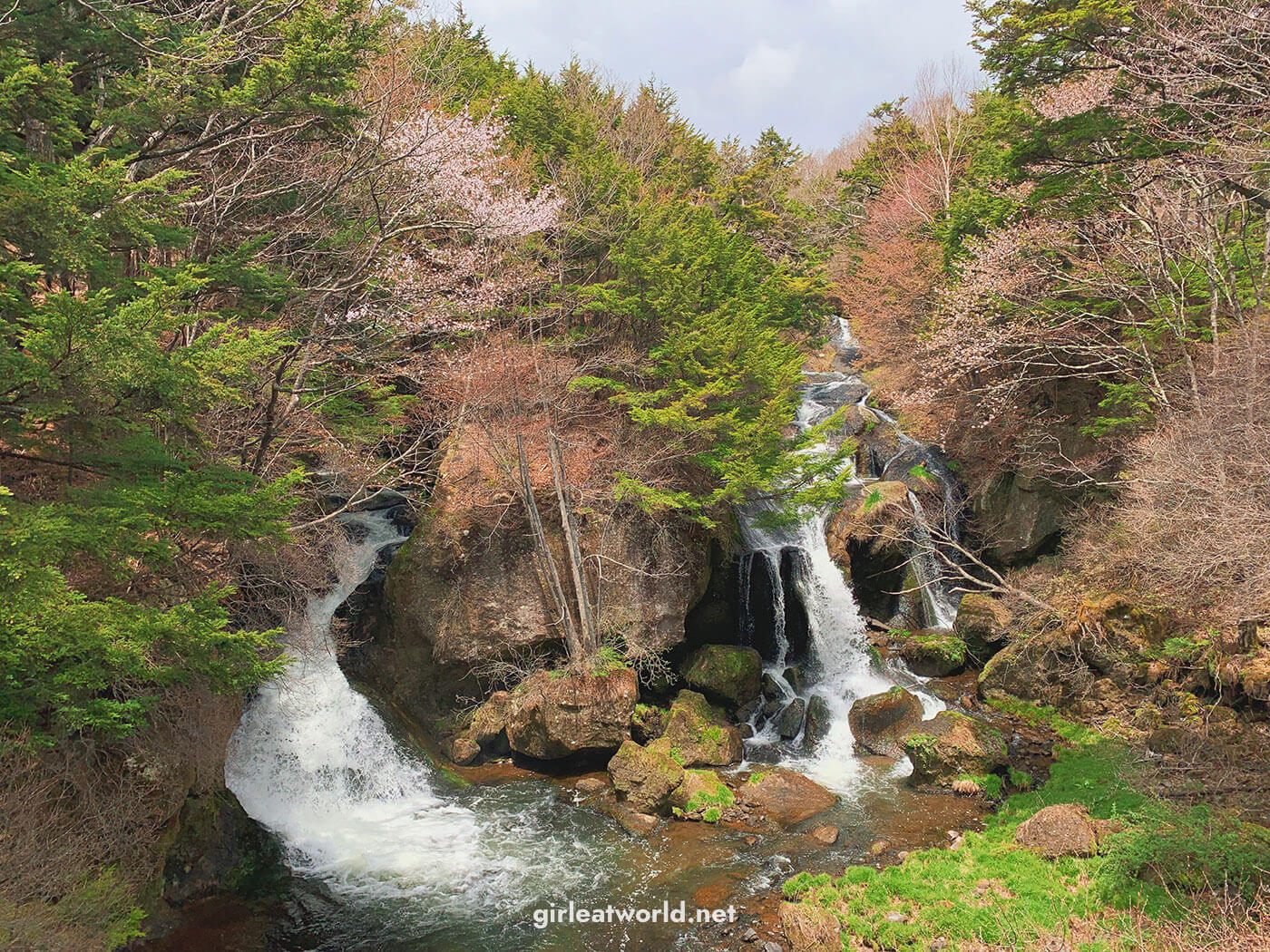 I recommend stopping here for lunch as there's also a cozy little restaurant right by the waterfall. In fact, it's probably the best way to enjoy the waterfall. You can get a seat facing the water while enjoying some delicious Japanese food. I recommend the Yuba soba here!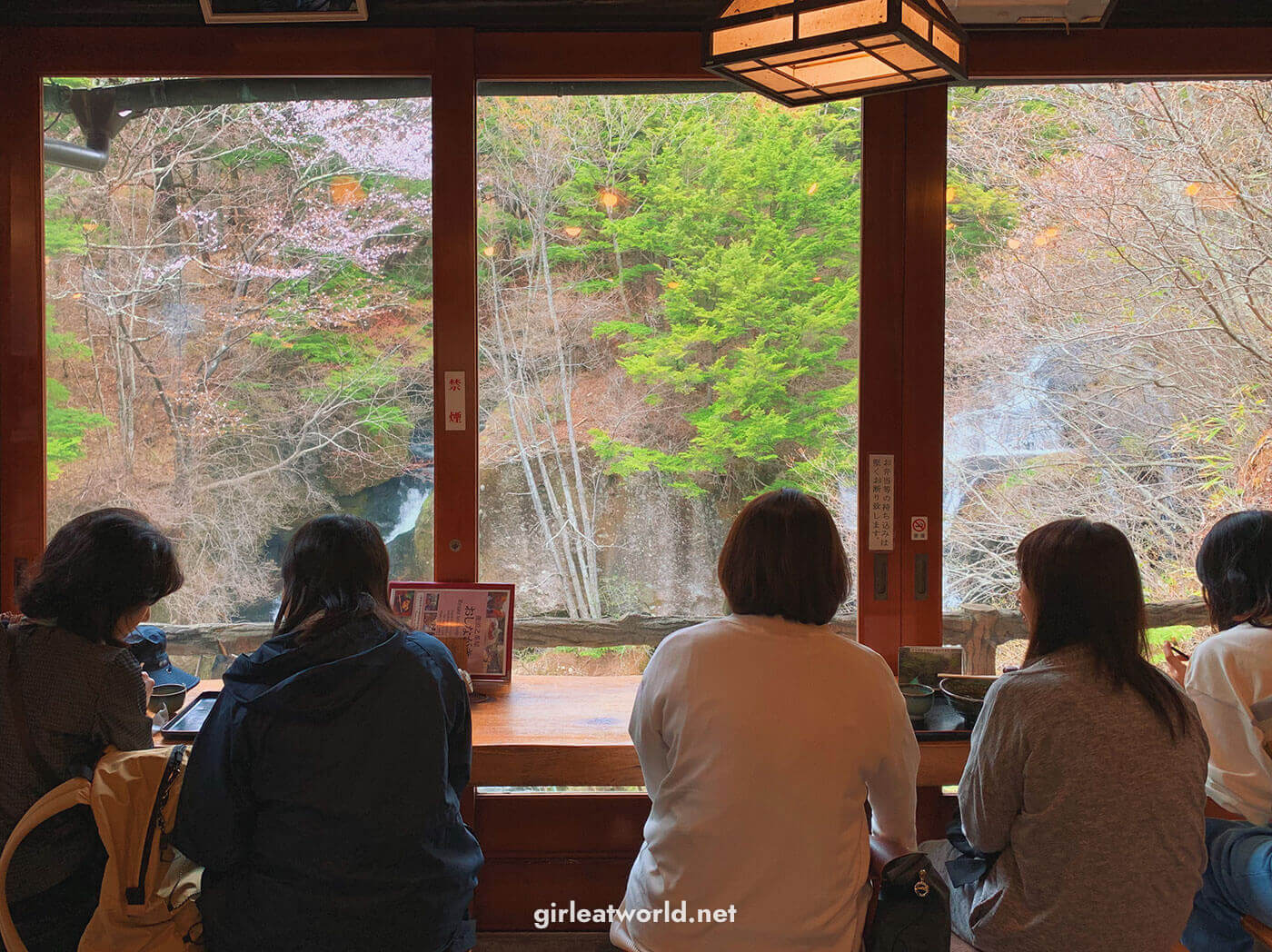 If you are interested in doing a hiking trail, then you can consider the Senjogahara Trail, which starts from Ryuzu Falls.
8. Senjogahara Marshland Hiking Trails
Senjogaharara trails are definitely the most popular trails in Nikko. It's a pretty easy walk along the marshland (there are wooden boardwalks) but it might still take 6-8 hours depending on the trail you chose.
I recommend going to a visitor center first to get an idea of where the trails are located and which ones you want to do. They'll have a map with estimated walking time in minutes, which I found very useful as opposed to distance. And as I've said before, you can start the trail from Ryuzu Falls but there are a few other entry points too, so you can customize how long or short you want your hike to be.
9. Yumoto Onsen Town
If you're an onsen (Japanese hot spring bath) enthusiast, this is definitely a must-visit. Yumoto is a VERY small and quiet resort town – the entire town can be walked in 20 minutes and we were pretty much the only ones walking around when we were there! The name "Yumoto" literally means "origin of hot water", a fitting name for this town mostly made up of Ryokan hot springs.
In Yumoto, you can visit Onsenji (a small Buddhist shrine at the source of Nikko's onsen water), Yunodaira Marsh, walk around the nearby Lake Yunoko, and enjoy a dip in a real sulfuric hot spring water at one of the Ryokans nearby.
Yunodaira Marsh is the source of Nikko's onsen water located at the edge of the town. It was first discovered by Priest Shodo-Shonin in the 8th century. Once nearby, you can see (and smell) the sulfuric hot water up close.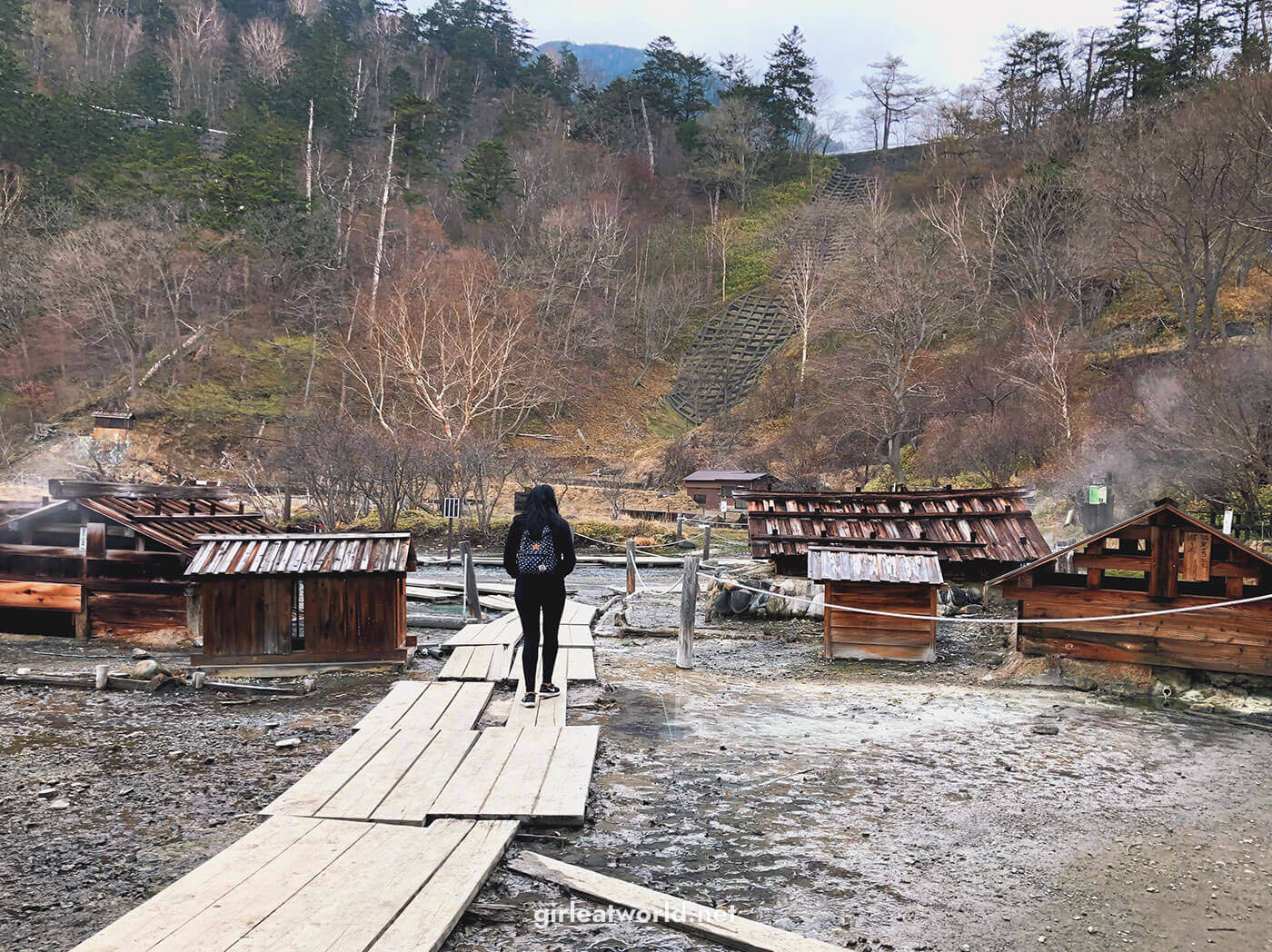 Lake Yunoko can be circled in about 1 hour of leisure walking on foot. I highly recommend this since it's a really easy walk, and very quiet too! You might see some fishermen in the lake.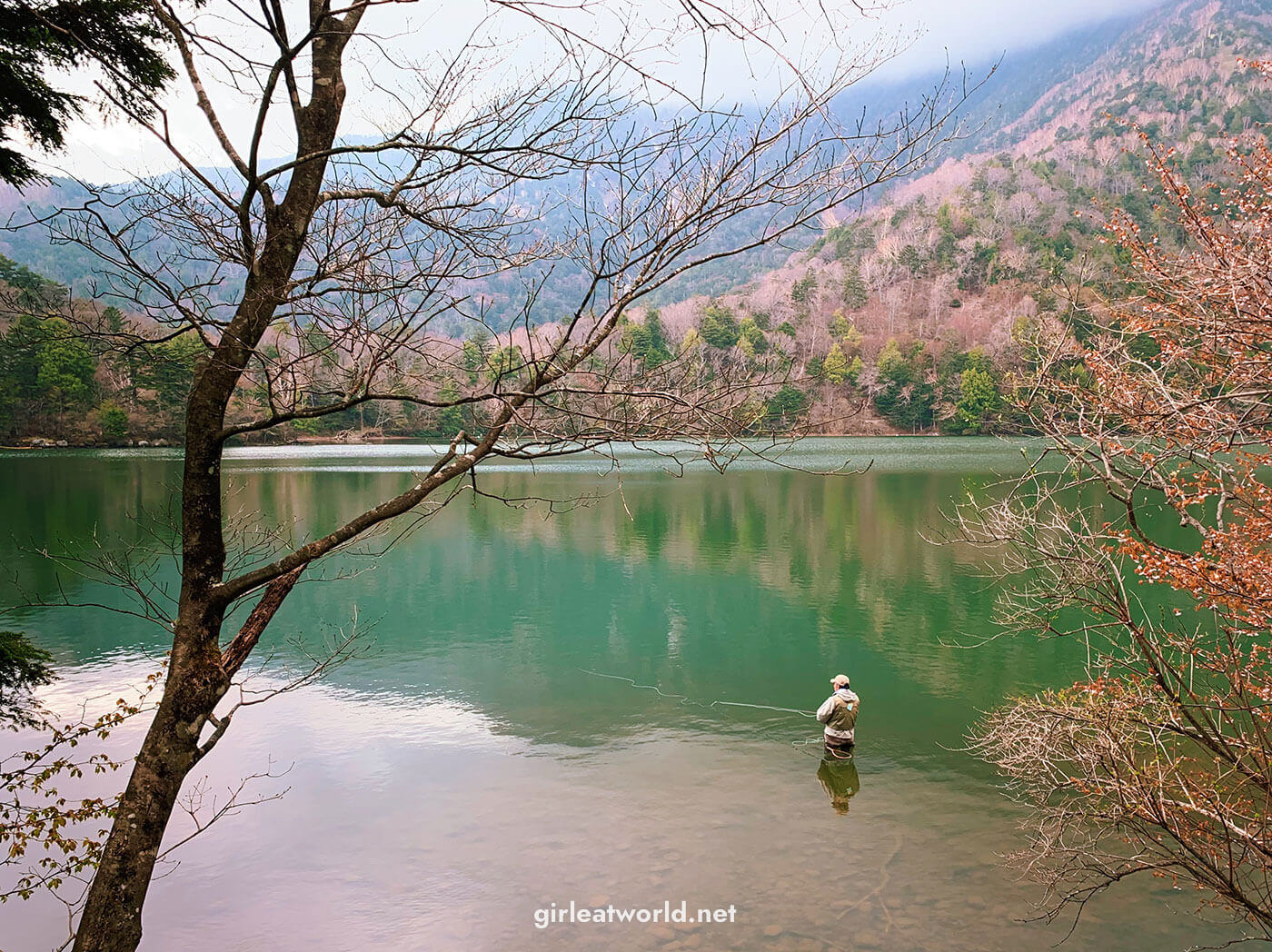 If you decide to walk around Lake Yunoko, keep your eyes open for the cute, pink-faced Japanese macaque! They can be seen hanging around the trees, personally, we saw a few of them as we were leaving the lake.
If you are interested in dipping into an onsen, you can go to Onsenji – the shrine has a small, zero amenities onsen. But if you need a towel and soap, then it's best to go to a ryokan.
The ryokan we personally went to is Okunikko Yamamizuki which offers a private onsen room so you don't have to share with others if you don't want to be naked in front of strangers (see my Guide to Onsen). Even though this Ryokan is a hotel, you don't have to stay here to enjoy the onsen.
If I remember correctly, we paid 3000-4000 yen for an hour of private onsen room, and it was so totally worth it! The water in this ryokan comes directly from the hot sulfuric water you see at Yunodaira Marsh. Sulfuric water gives multiple health benefits and is especially good for your skin.
See my Guide to Onsen section for more information on how to book a private onsen!
What to eat in Nikko
I was being a horrible food blogger… I didn't research the food portion properly when we were going to Nikko. In my defense though, I was more focused on the sights to see in Nikko of which there are plenty. But fret not, I did enjoy some local delicacies while I was there:
1. Yuba
You definitely can't miss Yuba while you're in Nikko, it's practically everywhere. If you love tofu or soybean, specifically soybean curd, you'll love Yuba. Tofu is one of my favorite food so I immediately fell in love with Yuba, a rolled-up soybean curd!
If you've had hot pot before, Yuba is very similar to the tofu skin, except it's served rolled up, and really, part of the fun in eating it (at least for me!) is to unroll them slowly. I think Yuba is a bit softer than the Chinese tofu skin though.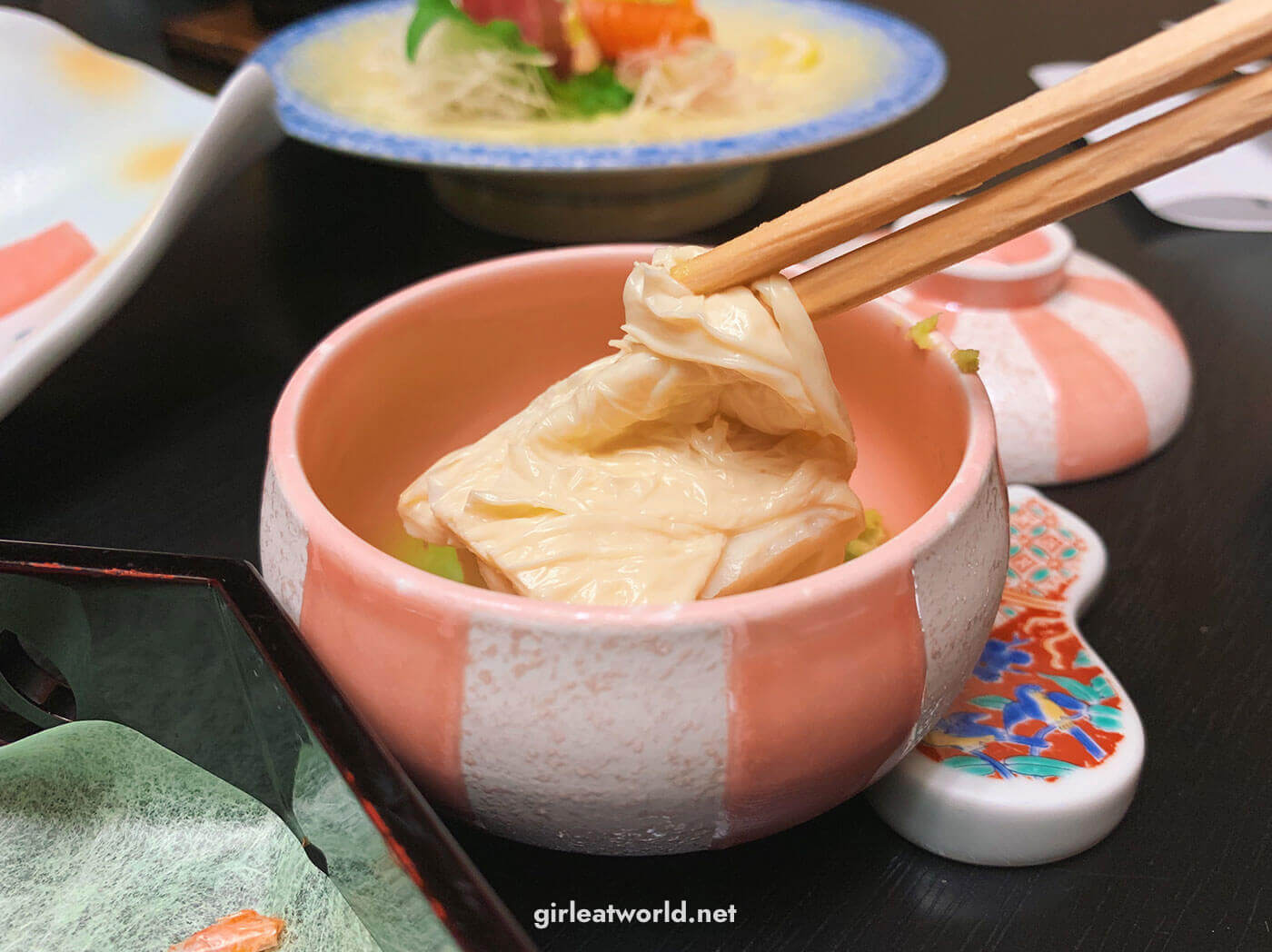 2. Taiyaki
Taiyaki is one of my favorite snacks from Japan. It's a fish-shaped cake filled with red bean paste or custard cream. It's a comforting snack especially if the weather is a bit chilly.
Taiyaki isn't really a Nikko-specific food but I find them increasingly hard to find in other areas like Tokyo unless you go to a matsuri (festival). But in Nikko National Park, you can find Taiyaki still made traditionally! This Taiyaki truck is just down the street from the entrance of Futarasan, hidden behind a restaurant.
3. Cream Soda
Personally, I'm not a huge fan of Cream Soda but I thought this was an interesting insight into Japanese culture, which tend to adopt western cuisine and give it a Japanese twist of its own. In Japan, cream soda often refers to melon-flavored soda with a scoop of vanilla ice cream! Yes, it's basically a Japanese ice cream float.
Where to stay in Nikko
If you are taking the train, you'd want to stay somewhere near the station. I highly recommend staying at a Ryokan to experience authentic Japanese hospitality!
Ryokan is a small traditional Japanese inn with an on-site onsen. The only downside is that Ryokans tend to be expensive, so I recommend only staying for one night and moving on to another hotel after.
Here are some ryokans in Nikko:
If you don't want to stay at a ryokan, there are plenty of resort hotels in Nikko too.
As for us, we stayed at Hotel Kinugawa Sunshine, an older hotel (probably built in the 80s) located about a 15-minute drive from Nikko Central. This isn't a Ryokan, but it does have a public bath area and private onsen room that you can book for an additional price.
Although it is old, the hotel is well-maintained and the rooms are spacious. It's also located in a more remote and tranquil area, so definitely, this will be a relaxing place for a getaway!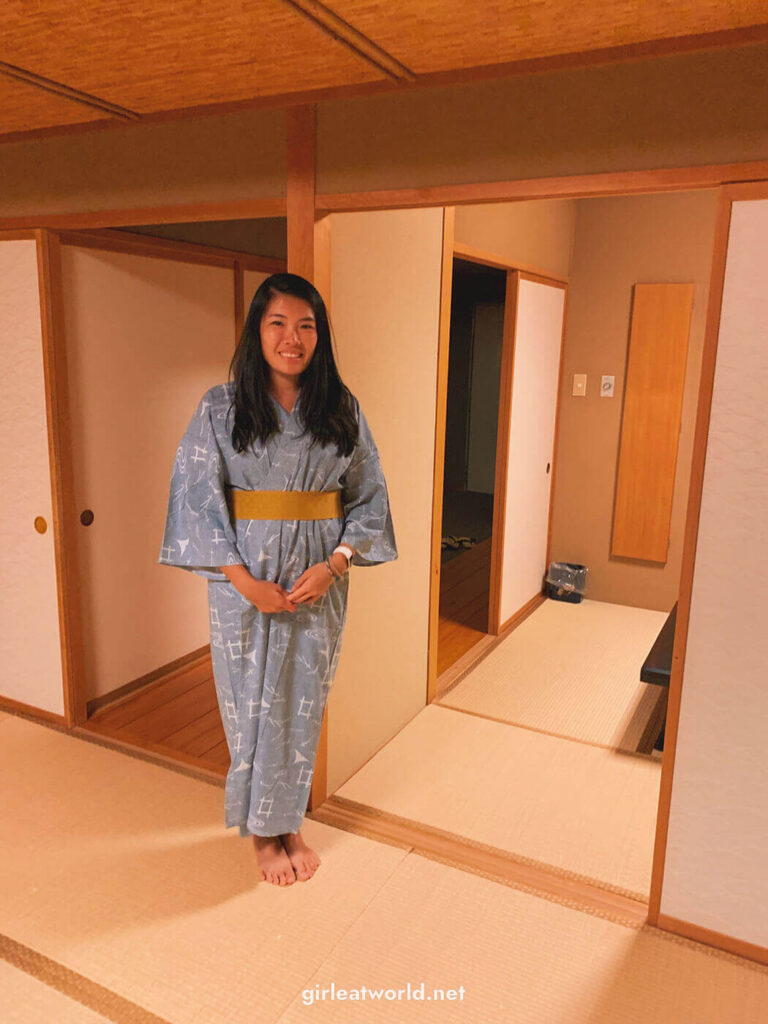 It has similar amenities as a ryokan – a Tatami room (rice-straw mat floor) with your own Yukata (a light gown normally worn in summer / hot weather), which you can wear to the bath area and around the hotel during your stay.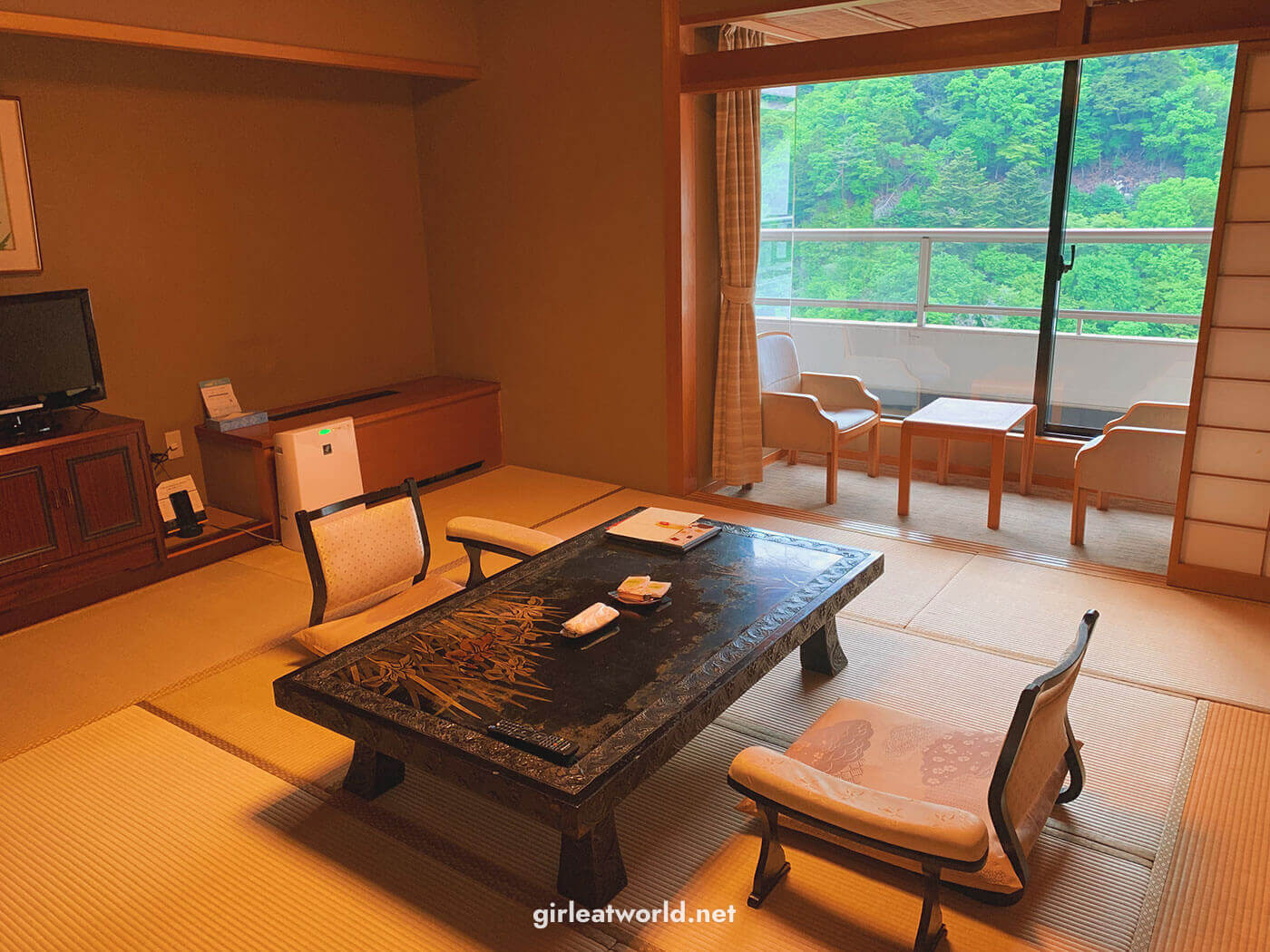 When you get into your hotel, you might be wondering… where the heck is the bed? Well, they will magically appear at night as part of the "turn down" service. Our living room originally looked like the photo above… but when we were done taking a bath in the onsen, they rolled out the futon for us!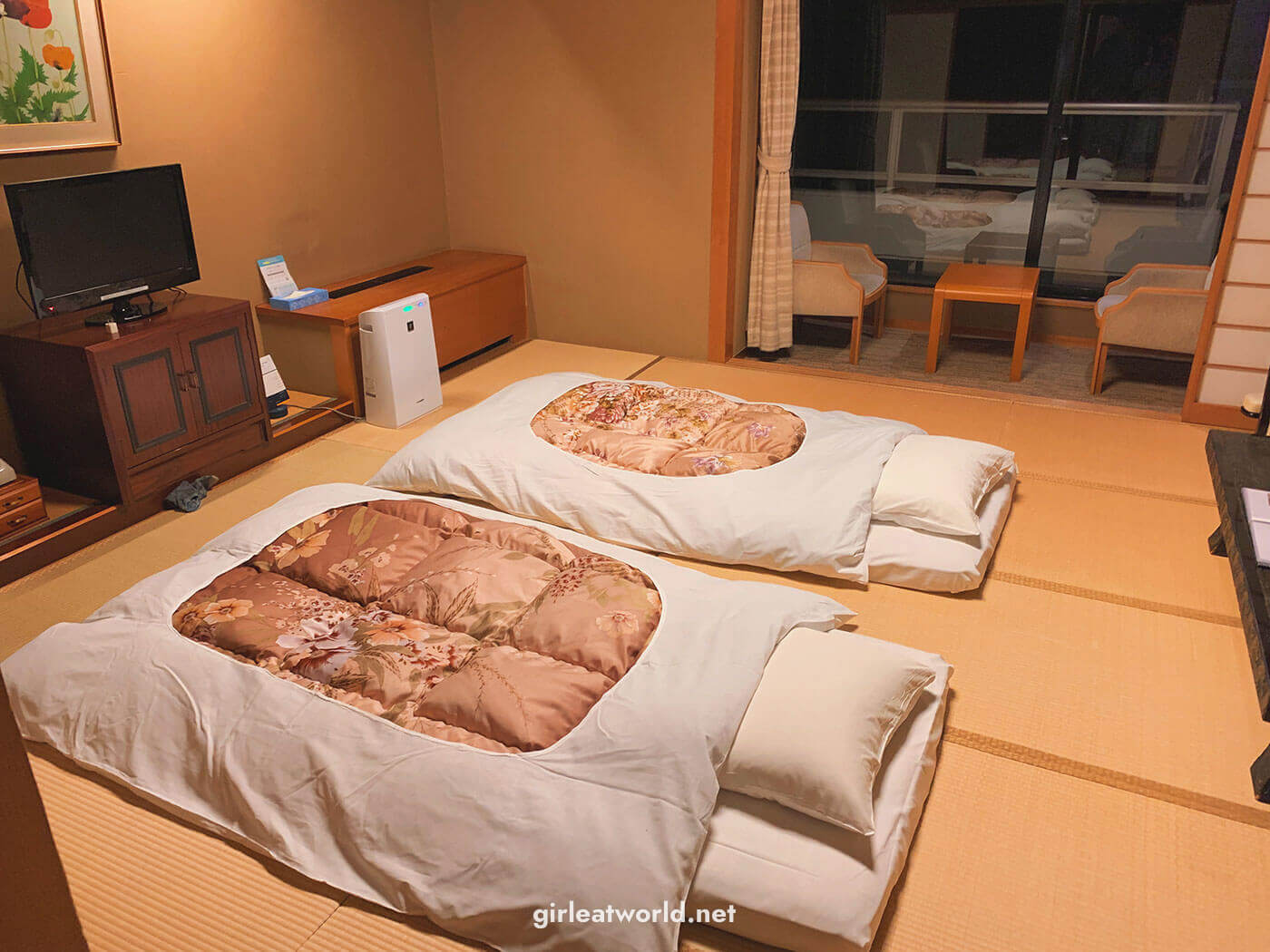 Guide to Japanese Onsen
Onsen, aka Japanese hot spring, is one of the most cherished cultures in Japan. You go to a dedicated area to bathe in this hot spring which will make you feel rejuvenated and can cure certain skin conditions.
However, as with anything in Japan, it does come with its own etiquette! For a more in-depth guide on how to visit and experience Onsen, please read my Guide to Onsen.
Kaiseki – a Traditional Multi-course Japanese Dinner
When you stay in a ryokan, it is also a custom to have a Kaiseki – a multi-course traditional Japanese dinner. You can also book this meal at an additional price. It does tend to be pricy, but you'll get an amazing elaborate meal with a taste of the famous Japanese hospitality. I think it's totally worth the price!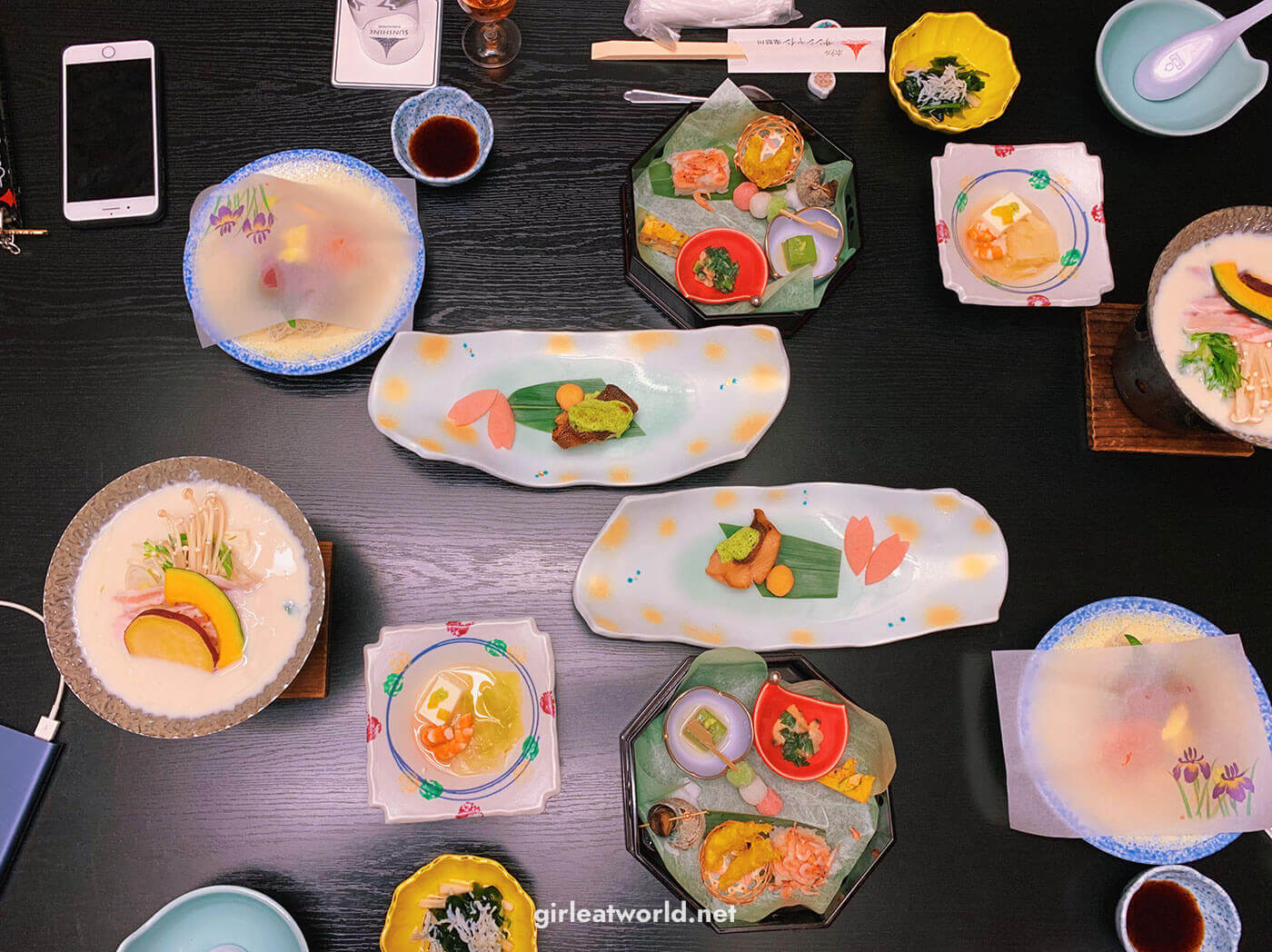 ALL RIGHT! That was a super long post on Nikko. If you have any questions, PLEASE feel free to leave a comment below and I'll reply as soon as possible.
If you are interested in a guide to Tokyo, please check out my Tokyo Itinerary and Travel guide post too!