It's lights out, and away we go! 🚦🚦🚦🚦🚦🏎️
The F1 Grand Prix season is once again upon us, and it is truly an exciting time to be in Singapore. As someone who has lived in Singapore for the past decade, I wanted to write a post specific to you F1 fans and hopefully help make your visit to the Singapore Grand Prix easy and drama-free!
I have been living in Singapore since 2009, just one year since the Singapore Grand Prix started in 2008. The Grand Prix is a huge event for Singapore, and it has been a big part of my life in Singapore… but not because I was an F1 fan – it was actually because of my job at the time.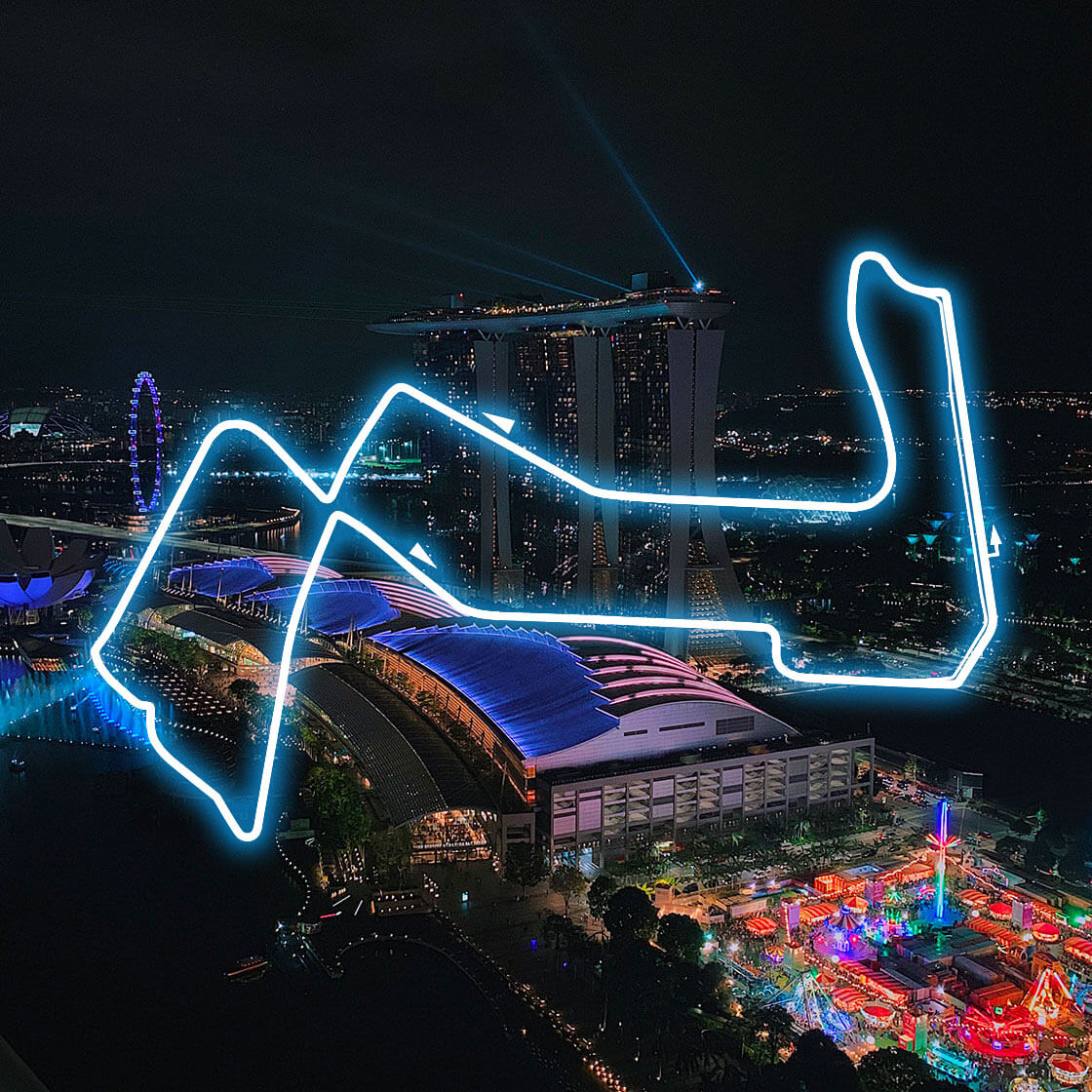 The first job I had in Singapore was a designer at a creative agency, and one of our clients was a sponsor of one of the F1 teams back then. Whenever the F1 season comes around, there would be a ton of work revolving around F1. I had to pull long hours to complete them. I had absolutely no interest in F1 back then, and I was so sick of having to create media collaterals with rookie Lewis Hamilton and Jenson Button's faces late into the night (avid F1 fans might be able to guess which client it was). When I quit that job, I had enough of F1 and completely stopped paying attention to it.
Many years later, I watched Drive to Survive during the pandemic and… I was immediately hooked. Say what you will about the series, but the fact remains that it was such a great gateway to the sport for a beginner like myself.
And yes, to my surprise, the rookie Lewis Hamilton I knew from my first job had gone on to become one of the greatest F1 drivers of all time!
Anyway, enough about myself and F1 – Let's get into the juicy stuff.
What's New since 2023? Singapore F1 Grand Prix Circuit Layout Modification
The Singapore Grand Prix is back for the 14th time at the Marina Bay Street Circuit! This year, there will be new additions to the grandstands and layout modifications to the circuit.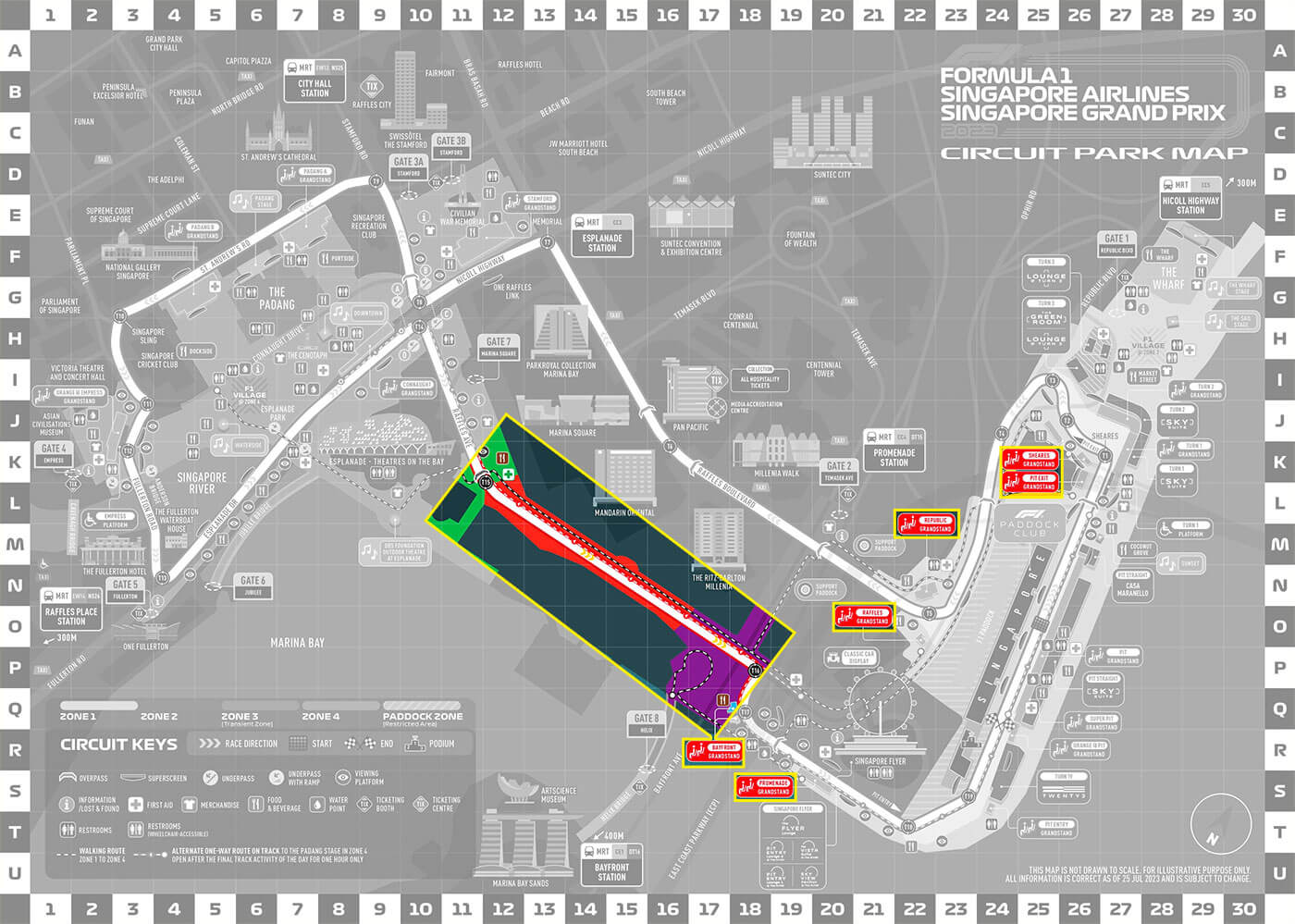 🏎️ View the original Singapore Grand Prix circuit map for 2023
The Bay Grandstand, which was previously located at Float @ Marina Bay and can accommodate 27,000 seating, has been decommissioned for renovation works in the area. It wasn't the best grandstand we had to offer anyway, with cramped seatings and I'm sure fans were happy to see it go.
Because of this, a few modifications to the circuit layout were made:
Reduced turns – The circuit lost a few turns (previously turns 16 to 19) and the entire track along Raffles Avenue became one long straight (turns 15 to 16). Shame, because I've always loved Turn 16 and 19, which sees the cars going under the grandstand into a short tunnel! But I suppose it will make for a more exciting race?
Shorter circuit length and increased laps – Lesser turns have results in a slightly shorter circuit length, and as such the number of laps will be increased from 61 to 63.
New Grandstands – To accommodate seatings that were lost from the Bay Grandstand, a few grandstands in the area were added: Republic, Raffles, Bayfront, and Promenade. Additionally Turn 3 Grandstand has been turned into hospitality lounge and replaced by Sheares and Pit Exit Grandstand.
Where to stay for the Singapore F1 weekend
Singapore is a small city-country and anywhere you stay will likely be convenient. But when it comes to the F1 Grand Prix weekend, where you stay might make or break your experience. Here are some options you can consider!
1. Hotels where the F1 drivers and team will likely stay in Singapore
Disclaimer: Driver or team sightings are not guaranteed. The F1 teams rotate where they stay every year.
If your goal is to catch a glimpse of the drivers, these hotels are known to be frequented by the F1 team during the GP weekend!
My sources for the info comes directly from the drivers' social media accounts. Some of them would post about where they are staying and I just simply collect the information.
Bonus point: All of these hotels are basically already on the F1 circuit itself – If you stay here, you won't spend much time traveling back and forth. In fact, most of the rooms will even have a view of the circuit. This explains why the teams prefer to stay at these hotels and will likely stick to it 🙂
2. Convenient hotels within walking distance of the circuit
If getting to and back from the circuit is your priority, you'll want to check out these hotels! These won't be cheap, but staying at these hotels will make your life so much easier.
Gate 1 (Nicoll Highway)
If your priority is quick access to the hospitality lounges and Turn 1 and 2 grandstands, these hotels will be great.
Andaz Singapore – Also has a bar on the rooftop on Level 39, which might have some view of the track
Gate 3A and 3B (City Hall)
If you need access to Zone 4, these hotels are ideal. Not only are they close to the gates that lead you to Zone 4, but they're also close to other amenities such as food and shopping malls.
Gate 4, 5, and 6 (Esplanade)
The Esplanade is one of the most beautiful areas in Singapore. It's very close to our central business district (where I work!). It is also easy entry to Zone 4.
Gate 2, 7, and 8 (The Promenade)
These hotels are amazing places to be during the F1 weekend in Singapore. They're RIGHT in the middle of the circuit. This means you'll be thick in the F1 excitements!
Mandarin Oriental – With the 2023 change to the circuit layout, Mandarin Oriental enjoys a view of the track on both sides of the hotel
3. Affordable hotels that are still convenient to the circuit
If the affordability of accommodation is more important to you, you'll want to stay a little further away from the F1 circuit. Singapore is a very well-connected city, so you don't really need to worry about where to stay. For ease of stay, you'll still want to stay near a train station.
For Gate 1, 2, and 8 – You'll want to aim for hotels that are close to stations in Yellow (Circle) or Blue (Downtown) Lines
For Gate 3A, 3B, 4, 5, 6, and 7 – Stay at hotels near the Red (North-South) or Green (East-West) Lines
Here are some hotel recommendations that are just a little outside of town but still close to the MRT stations with easy access to town:
I know accommodation prices in Singapore can be a little crazy, so if you don't mind sharing rooms, you can also consider dormitories or capsule hotels:
How to get to the Singapore Grand Prix
The Singapore Grand Prix is a street circuit, meaning all of the actions will be happening on a real traffic road that's normally used by its residents. Lucky for you visitors, Singapore is well known for its connectivity, and you will get to enjoy our amazing and clean public transportation!
Here are a few ways to access the Grand Prix depending on which areas you want to access:
Grandstand Access by Nearest Gates and Train Station
If you have Grandstand tickets, here are ways to get to your seat:
Grandstand
Closest Gate
Closest Train Stations
Bayfront (New!)
Gate 8

CC1

DT16

Bayfront
Connaught
Gate 7

CC3

Esplanade
Orange @ Empress
Gate 4

EW14

NS26

Raffles Place
Orange @ Pit
Gate 1

CC5

Nicoll Highway
Padang A and B
Gates 3A / 3B

EW13

NS25

City Hall
or


CC3

Esplanade
Pit Entry
Gate 1

CC5

Nicoll Highway
Pit Exit (New!)
Gate 2

CC4

DT15

Promenade
Pit
Gate 1

CC5

Nicoll Highway
Promenade
Gate 2

CC4

DT15

Promenade
Raffles (New!)
Gate 2

CC4

DT15

Promenade
Republic (New!)
Gate 2

CC4

DT15

Promenade
Sheares (New!)
Gate 2

CC4

DT15

Promenade
Stamford
Gates 3A / 3B

EW13

NS25

City Hall
or


CC3

Esplanade
Super Pit
Gate 1

CC5

Nicoll Highway
Turn 1
Gate 1

CC5

Nicoll Highway
Turn 2
Gate 1

CC5

Nicoll Highway
Gate Access by Nearest Train Station
If you have walkabout ticket, here are a list of gates and how to get to them. For Zone 4 walkabout, scroll down to the Zone 4 Access section.
Gate
Closest Train Stations
Gate 1

CC5

Nicoll Highway
Gate 2

CC4

DT15

Promenade
Gates 3A / 3B

EW13

NS25

City Hall
or


CC3

Esplanade
Gates 4, 5, 6

EW14

NS26

Raffles Place
Gate 7

CC3

Esplanade
Gate 8

CC1

DT16

Bayfront
Taxi drop-off points
I really do NOT recommend taking a taxi during the Singapore Grand Prix. It is a street circuit, meaning the public roads would be closed off and there will be traffic jams. Most taxi drivers will also want to avoid the circuit area.
If you're coming from afar and need to arrive by car, I suggest getting a taxi to an MRT (train) station and then resuming your journey to the Grand Prix via MRT.
Here are a few stations you can get dropped off at:
EW12

DT14

Bugis – The most ideal station since it has both the green line and blue line, which means you can access all of the gates directly by train. From here, it will just be 1-2 stations to the grand prix! Accessing the yellow line is also only 1 transfer away.

NS24

Dhoby Gaut – 1-2 stations away from City Hall and Raffles Place. Easy access to Gate 3A/3B, 4, 5 and 6

EW16

Outram Park – Just 2-3 stations from City Hall or Raffles Place MRT. Easy access to Gate 3A/3B, 4, 5 and 6
However, if you still want to try your luck, you could catch a taxi to the following drop-off points, which will be closer to the gates to the circuit.
Gate
Closest Drop off point
Gate 1

CC5

Nicoll Highway Station
Gate 2
Milennia Walk
Gates 3A / 3B
Swissotel Stamford Hotel
Gates 4, 5, 6
UOB Plaza
Gate 7
Milennia Walk
Gate 8
Marina Bay Sands Hotel or Casino side
Zone 4 Access
If you hold Zone 4 walkabout ticket or the Padang, Stamford, Connaught, Orange @ Empress Grandstand ticket, you will be limited to Zone 4 – which means you can only access through the following gates: Gate 3A/3B, 4, 5, 6 and 7.
Taking Public Transportation in Singapore during F1
Without a doubt, taking the train is the best way to get around during the Grand Prix weekend in Singapore. Because the Singapore Grand Prix is a street circuit, the traffic roads around the circuit will be closed. I don't recommend traveling by taxi or bus during this period of time.
On the other hand, trains will travel underground on their own tracks, making them immune to road closure and traffic jams. Known to locals as MRT (Mass Rapid Transit), it is designed to transport many people at the same time!
1. Getting an MRT and Bus Ticket
Accessing the MRT and bus in Singapore is really easy. You don't need to buy any additional tickets as long as you have a credit card that can support contactless payment. Just ensure your credit card has been enabled for foreign transactions, and you can use your credit card to tap in and out of each MRT station or bus stop directly at the machine.
You can even add these cards to your smartphone or Apple Watch and use those to go through the ticket gantry directly!
2. Public Transportation Fares
Public Transportation in Singapore is very affordable, ranging from S$0.99 to S$2.20 depending on the distance traveled. Within the F1 circuit, you'll likely be traveling only to the next station or 2-3 stations out, which will only cost you S$0.99 each way.
If you are using foreign card, there will be some fees charged for each posting of train charges. But they are very minimal, about 15 cents per posting (not per ride). Cards will only typically do daily post or once the total amount reaches $5.
3. Last Train
Access to the MRT is normally only operating up to midnight. During F1 Weekend, the last train is usually extended to 12:45 AM, but please do check again.
4. Taxi and Ride Sharing options
In Singapore, Grab and Gojek is the leading ride-sharing option. You can also download Zig by CDG, which is operated by Comfort Del Gro, the leading taxi operator in Singapore. Another alternative app would be TADA.
All of these apps will let you call a cab or ride-sharing car. The fare is on-demand, which means it could get expensive if you're calling a car from a high-demand place like the F1 circuit during Grand Prix weekend.
Food Options during the Singapore Grand Prix
1. Food Options Inside the F1 Circuit Park
Throughout the F1 Circuit Park, there will be plenty of food stands and bars where you can buy food, drinks, and alcohol.
Price-wise, the food ranges around SGD 13-20. Non-alcoholic drinks cost around SGD 4-5. A bottle of water costs SGD 3. For alcoholic drinks, it is Singapore, and we tax alcohol heavily, so it will cost you – the price range is from SGD 15 (beer and wine) to SGD 20-25 for cocktails.
In terms of food variety, the food is pretty much like a music festival food. There will be plenty of options with some sort of protein and fries or chips. I personally think the food in the F1 village was very mediocre, especially when there are so many good affordable food options in Singapore. So, I would try to eat outside of the circuit if possible.
PS: There are free water refill stations throughout the circuit, so it's worth bringing your own bottle!
If you don't fancy the food stalls, there are still restaurants and food courts in the F1 Circuit Park. You could try Makansutra Gluttons Bay, which will serve local food at a more affordable price. There are also a few restaurants in Esplanade Mall that remains open throughout the Grand Prix weekend.
2. Food Options and Amenities Near the F1 Circuit Park
The Singapore Grand Prix circuit is built in the middle of downtown Singapore. As such, there are plenty of food options around the circuit!
Note that I'm talking about food options in the area OUTSIDE of the circuit, not inside of the circuit. So plan to visit them BEFORE or AFTER the race.
Shopping Malls and Food Courts
Marina Square – Accessible from

CC3

Esplanade and

EW13

NS25

City Hall MRT station via an underground path via underground path. Sandwiched in the circuit with direct access to the hotels where F1 teams tend to stay, this mall became the unofficial F1 team and driver favorite hangouts. Fans have spotted the likes of Pierre Gasly and Lance Stroll in the days leading up to the GP!
Suntec City and Millenia Walk – Accessible from

EW13

NS25

City Hall,

CC4

DT15

Promenade,

CC3

Esplanade MRT stations via an underground path. My favorite restaurants here are Din Tai Fung, Shake Shack, and Saboten. For a more affordable option, head to the Food Republic food court in the basement of Suntec City.
Capitol Piazza – Accessible from

EW13

NS25

City Hall MRT station via an underground path. You can check out Cafe Punggol Nasi Lemak for local fare and Cafe Kitsune for coffee and Japanese pastries.
Funan – Also accessible from

EW13

NS25

City Hall MRT station via an underground path. There are plenty of good eats here. I suggest checking out Afuri ramen and Le Nu noodles. There is a food court on the lowest level of the mall for more affordable food, and all the stalls take credit cards.
One Fullerton – Close to

EW14

NS26

Raffles Place MRT Station, this is a waterfront area with trendy eateries and bars. I recommend PS Cafe, Overeasy, and Jypsy Restaurant.
Marina Bay Sands – Accessible underground via

CC1

DT16

Bayfront MRT. There are a few upscale restaurants worth checking, and there is also a food court in the basement for a more affordable option.
CHIJMES – Close to

EW13

NS25

City Hall MRT station via street access. CHIJMES is a historic church converted to a trendy hangout place. New Ubin Seafood is a great place for a big group and Senor Taco has decent food.
Local Food
Lau Pa Sat – A local food court close to

DT18

Telok Ayer MRT station or

EW14

NS26

Raffles Place MRT. Locals will tell you this place is expensive, but it's really not! It's only a few dollars more than other local food courts and worth it for the convenience. My favorite here is the Char Kway Teow stall in the middle, or Thunder Tea Rice which is herbal Hakka rice bowl.
Old Airport Road – Close to

CC8

Dakota MRT on the yellow line, and it is where you can get authentic cheap Singaporean hawker food.
Amoy Street Food Center – Close to

EW15

Tanjong Pagar MRT and

DT18

Telok Ayer MRT station. Best visited on a weekday lunch as this food court caters to the office crowd!
Restaurants and Bars with a view of the track
If you fancy a drink with a view of the race, you could try your luck with these places. However, I must caveat that these locations are aware of their F1 advantage and would likely be closed for F1 events during practice and the race itself.
Smoke & Mirrors on the 6th floor of the National Gallery Museum – They have a perfect view of the track in front of the Padang Grandstand
Altro Zafferano on 43rd floor of Ocean Financial Centre – Great view of the straights on Esplanade Drive.
PS Cafe at One Fullerton – the outdoor seating might have a glimpse of Turn 13.
Ce La Vi at Marina Bay Sands – You might be able to catch some glimpses of the Esplanade drive portion of the track and Turns 18 and 19.
LeVel 33 on the 33rd floor of Marina Bay Financial Centre – You might be able to catch some glimpses of the Esplanade drive straights.
Singapore Grand Prix Survival Tips
While the Singapore Grand Prix is a well-managed event, there are still some benefits to being a local and knowing the tips and tricks around the F1 circuit! Here are some of my tips:
Keep yourself hydrated – Please don't forget to drink water throughout the day. Singapore is a very humid country, and you'll soon feel the effect of the heat and humidity. This year alone, I saw two tourists succumb to dehydration and had to be carried to first aid.
Bring your own reusable water bottle – Related to the point above, there are plenty of water refill stations throughout the circuit.
Bring a portable fan – This was a game-changer for me. I brought a portable fan that could be hung around my neck, and it saved me from sweating so much in the heat! Especially when we were in our seat and there was barely any air flow.
Check the weather for the day – Singapore has a microclimate situation and most weather forecasts won't be accurate, but you can rely on the 2-hour nowcast provided by NEA which is sectioned to different areas of Singaporez They also have rain radar, which will help you decide if you need to bring ponchos or umbrellas.
Make use of the amenities at Esplanade Mall – The thorny building you see near Zone 4 is the Esplanade Theater, and it is attached to a mall area called Esplanade Mall. The mall is located within Zone 4, but not many people know about it unless you're going from Zone 1 to 4 or vice versa. Within this mall, you'll find better options for food, a 7/11 convenience store for quick snacks and beverages. The best part? There are a REAL toilets here, not the porta potty you've been seeing throughout the F1 Circuit Park! And outside the toilet, you might see a water refill station as well.
There is an express line if you arrive without any bags – Much like going to a big festival, your bags will be checked upon entry. There is also a random body check. Arriving without bags means you get to join an express line and skip the bag check. While the queue to get in was not bad (in a typical Singapore efficiency fashion), it could still get long if you plan to arrive close to the race time, or at the beginning of a popular entertainment act. The downside of this is that you'll need to buy water inside the circuit, and there is always a queue for beverages.
There is a long walk from Zone 1 to Zone 4 – If you hold a Zone 1 ticket and want to see the performance in Zone 4, budget at least 45 minutes to get to Zone 4. I was late to get to Zone 4 for an act I really wanted to see on the first day of the Grand Prix. On the second day, the overpass was so backed up that we gave up trying to get to Zone 4. On the last day though, they'll open up the track for walking so we were able to get to Zone 4 within 30 minutes.
Re-entry is allowed, but you need to scan out your QR code on the way out – Singapore Grand Prix uses digital tickets, so you no longer get a lanyard to enter the F1 Circuit Park. Instead, you'll get a QR code for each day of the Grand Prix, and the QR code will not work again if it has been scanned once for entry. However, if you want to re-enter, you can scan out your QR code and then you can use it again to re-enter the park.
Trophy ceremony – If you hold a Zone 1 ticket, you can get into the track to view the trophy ceremony. The track will be opened to the ticket holders shortly after the driver interviews. There is an entry point into the track next to Turn 1 platform.
Which Singapore Grand Prix Tickets should I get?
If you're only attending the musical acts, then you definitely should get the Zone 4 walkabout ticket. However, if you're a real fan of the race, you'll definitely want to spend a few hundred more to secure a seat at the grandstands.
There are a total of 17 Grandstands around the Singapore Grand Prix circuit. Which one is the best? Here are my opinions:
Turn 1 Grandstand (Zone 1) – This was my ticket for the 2023 race. I was very pleased with our choice! We were seated in A7 section Row 9, and couldn't be happier with our seats. We couldn't see the pit lane, but we could see the first 3 turns clearly. Section A6 would be a great choice as well.
Turn 2 Grandstand (Zone 1) – This grandstand is highly coveted because provides a full view of the pit lane and the first 2 turns of the Singapore Grand Prix. I recommend getting a seat in the A3 and A4 section.
Stamford Grandstand (Zone 4) – A much less pricier option than the Zone 4 tickets, but still potentially action-packed. The Stamford Grandstand is located near Turn 7, and there has been some takeover action here in the past. It is also very close to Padang, so if you're here for the musical act as well, then this is a great choice.
Things to Do Near the F1 Circuit
Since the race happens at night and you are already in the area, why not use the daytime to explore Singapore? And with our extensive public transport system, these activities are easy to reach from the F1 Circuit.
Take a look at attractions near the F1 circuit area:
1. Gardens By The Bay
To get to Gardens by the Bay, take the train to CC1 DT16 Bayfront MRT.
A visit to the Gardens By The Bay requires at least three hours to properly walk around the area and visit the Floral Fantasy, Flower Dome, and Cloud Forest.
Buy tickets to Gardens By the Bay here
I also recommend catching the Garden Rhapsody on one of the nights – you'll see the Super Tree in all its glory, with a matching musical number! They do the show every night at 7:45 PM and 8:45 PM.
Check Garden Rhapsody Schedule here for the most up-to-date schedule.
2. The Merlion Statue
To see the Merlion statue, you'll want to go to EW14 NS26 Raffles Place and walk to Fullerton Hotel. From the hotel, you can take the underground access to One Fullerton, where the Merlion statue will be just right outside!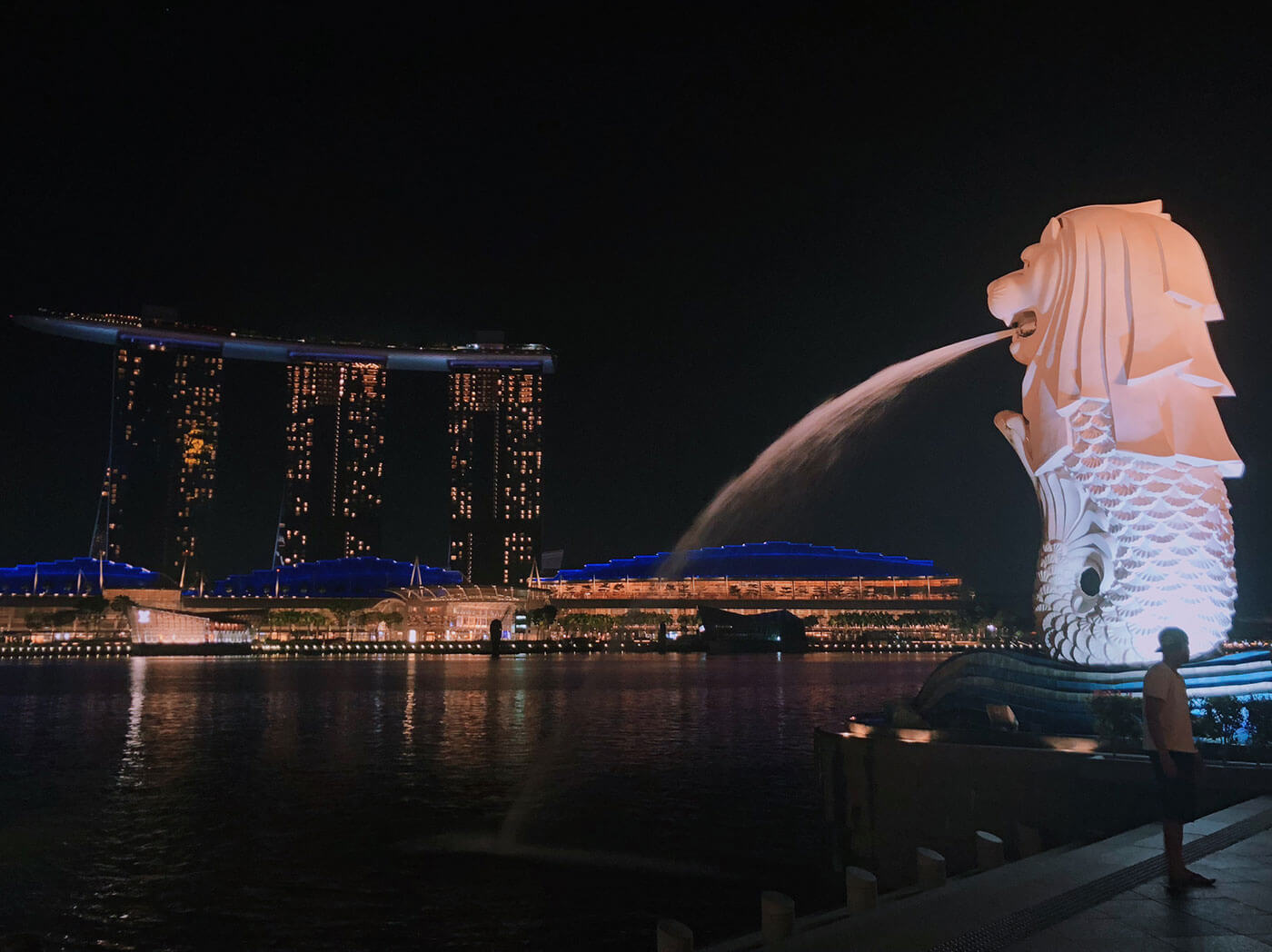 3. Marina Bay Sands
To get to Marina Bay Sands, locally known as MBS, take the CC1 DT16 Bayfront MRT.
Opened in 2010, this hotel has become one of the most recognizable landmarks in Singapore.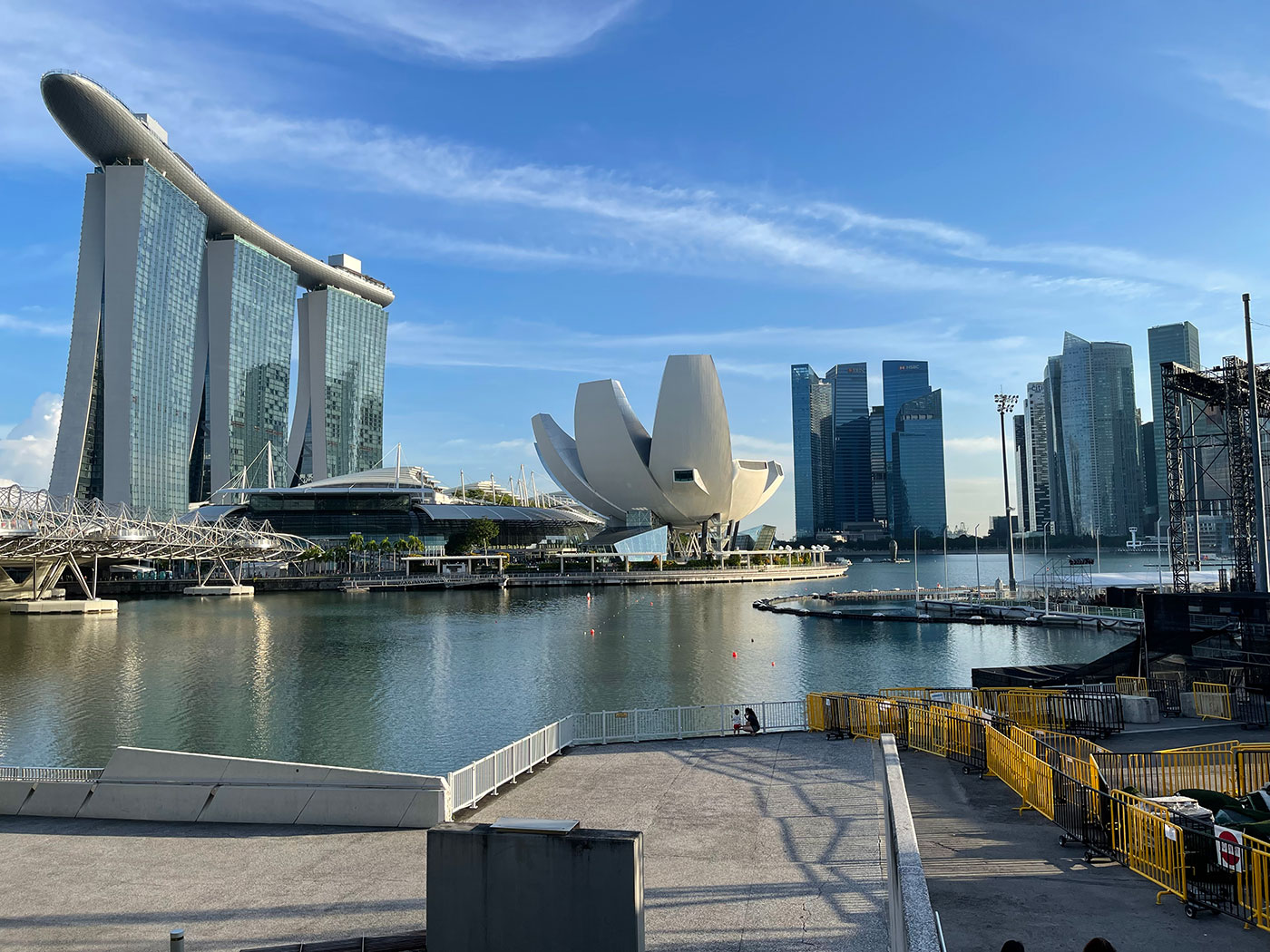 I recommend visiting the following at Marina Bay Sands:
Marina Bay Sands Sky Park – You'll get a nice view of the city, including the circuit from the sky park
ArtScience Museum – One of their permanent exhibits is interactive pieces by the famous teamLAB from Japan
4. Cycle around the Marina Bay area
You can start by grabbing a bike share near Marina Bay Sands and have a ride around the Marina Bay Area. Download the Anywheel app to rent the green bikes or the HelloRide app for the blue bikes.
You can start from the Marina Bay Sands area and make your way down to Gardens By The Bay, Marina Barrage, and Bay East Garden.
PS: Valtteri Bottas was spotted cycling this route the night before the Singapore Grand Prix in 2022. That's where I got the idea to include this activity!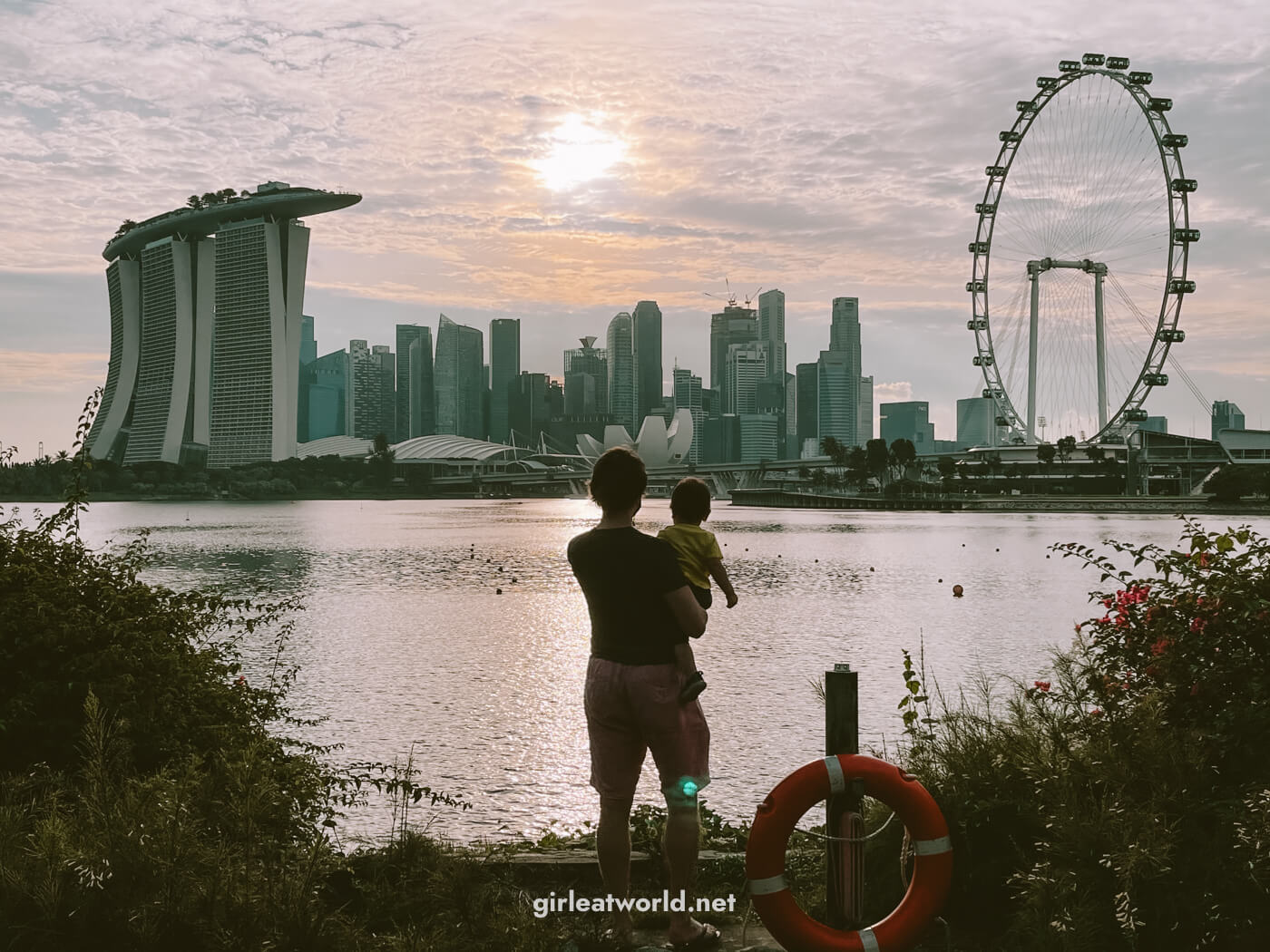 5. Visit Asian Civilisations Museum and National Gallery Museum
These two museums are basically on the F1 track. The National Gallery Museum faces the long straight across the Padang area, while the Asian Civilisations Museum is just next to Orange@Empress Grandstand.
Buy the tickets here:
7. Explore Chinatown
The Chinatown area in Singapore is just a stone-throw away from the F1 circuit, and it's a great way to spend half a day. I recommend taking the MRT to DT18 Telok Ayer MRT station.
We'll start from Telok Ayer Street, literally translated to "Bay Water" in Malay (which by the way, is one of the four national languages of Singapore). Why the name? Because this area was literally the coastal line of Singapore before the country began reclaiming lands in the late 1880s. Back when it was still a coastal line, boats would line up and wait for freshwater here before hauling them up to Ann Siang Hill.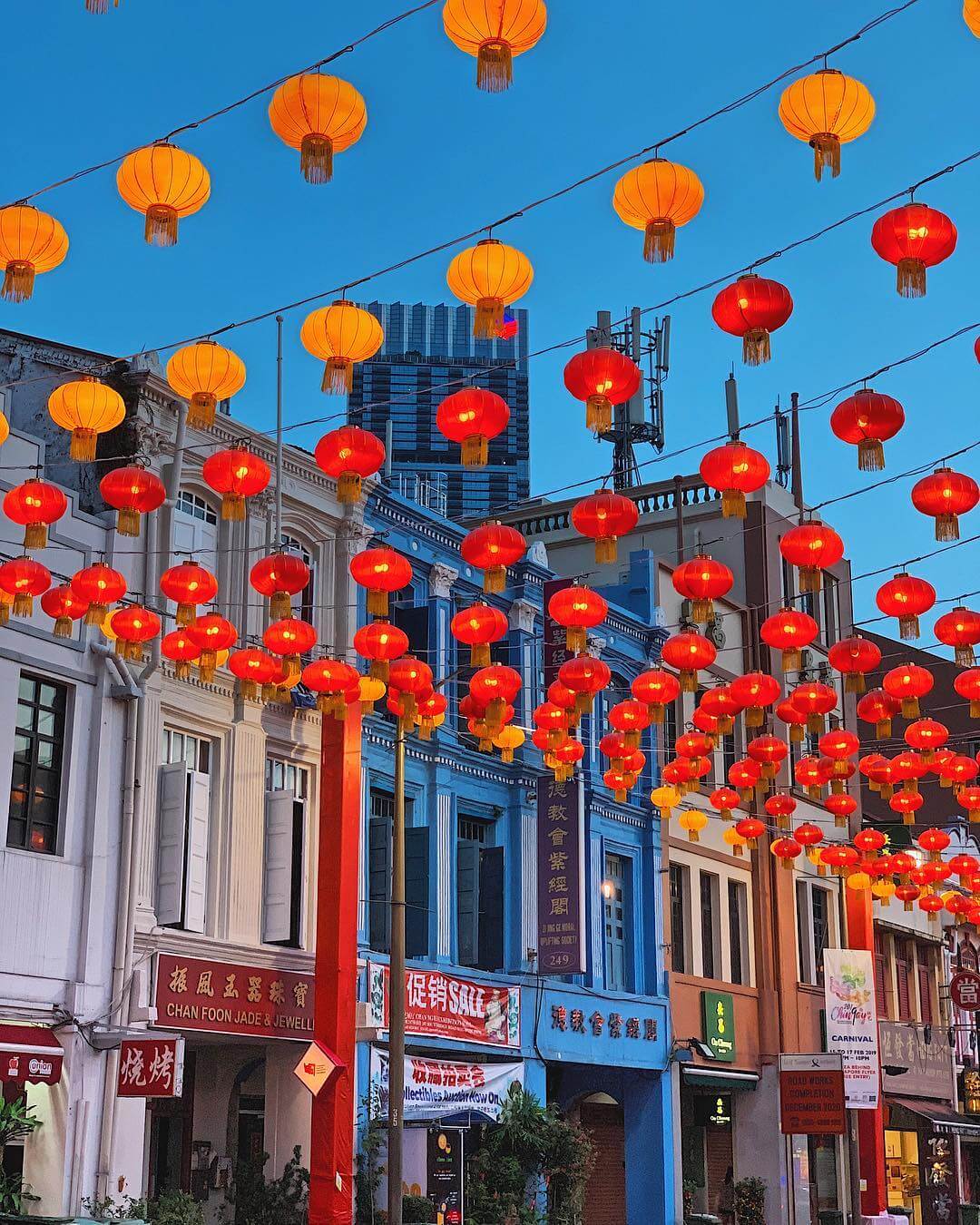 On Telok Ayer Street, you can find Thian Hock Keng temple, the oldest Hokkien temple in the country. While exploring the temple, take note of the beautiful tiles in and around the temple. These are the beautiful Peranakan tiles. Later on, in Chinatown, I recommend stopping by Peranakan Tile shop to see the various tile designs.
From Telok Ayer, you can walk north to Ann Siang Hill and find the well I was talking about earlier. Make your way to Chinatown Central, where you'll find Sri Mariamman Hindu Temple, Buddha Tooth Relic Temple, and of course, the Peranakan Tile shop I mentioned before.
The Chinatown area, as the name indicates, was the settlement area for Chinese immigrants who came to Singapore in the 1800s. Nowadays, it's a bustling area filled with shops, restaurants, and night markets.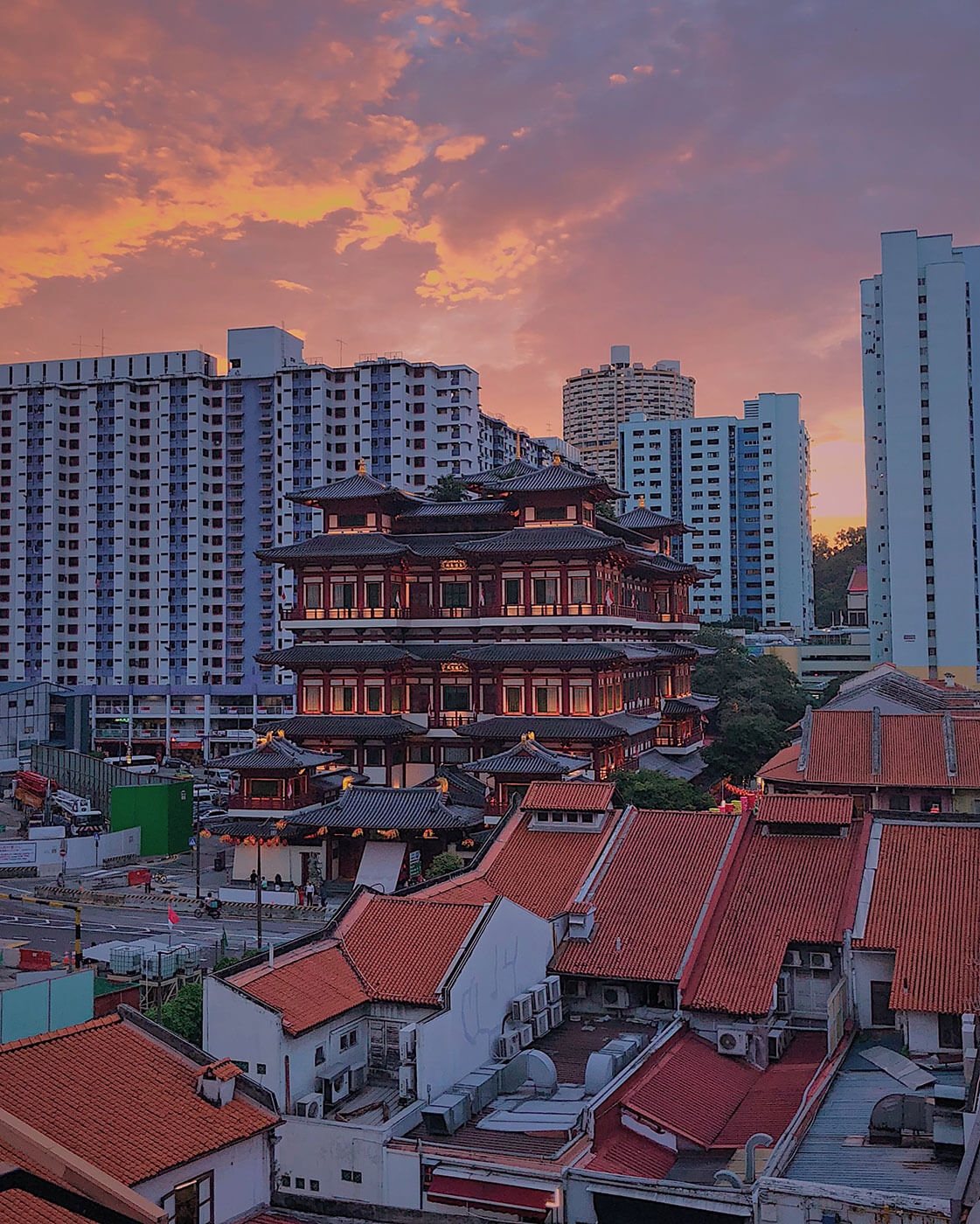 Continue your way to Kreta Ayer Road and Keong Saik Road. Kreta Ayer simply means "water cart" in Malay, and similar to Telok Ayer, it was named so due to its past history involving fresh water being carried by oxen carts. Keong Saik Road, on the other hand, is an area that was once a prominent red light district but has now turned into a hip area filled with bars and boutique hotels, housed in colorful preserved shophouses.
Nearby Keong Saik Road is the EW16 Outram Park MRT, which you can take back to the F1 circuit area.
8. Botanic Gardens
Not near the circuit, but can be easily reached from the blue line at the CC19 DT9 Botanic Gardens MRT.
It's great for a morning stroll if you happen to be awake early. The gardens are free, but there is a paid section called National Orchid Gardens which houses 1000 orchid species.
And that's all I know about visiting Singapore for F1. I hope that was useful for you, and as always please feel free to leave a comment below
Until next time! 🏎️ 🏁