Taipei is heaven for foodies. There is so much good food available around the clock and all over the city.
When I first visited Taipei seven years ago, I was a newbie traveler. I didn't do much research and relied on whatever food I happened to find, or friends to take me around. It has always killed me to realize how much food I missed out on! So when I finally had the chance to go back, and I went back to Taipei multiple times after that, I redeemed myself by going on a Taipei food marathon each time I'm in the city.
Read on to find out which food I ate and enjoyed in Taipei, so you won't miss out as I did on my first visit.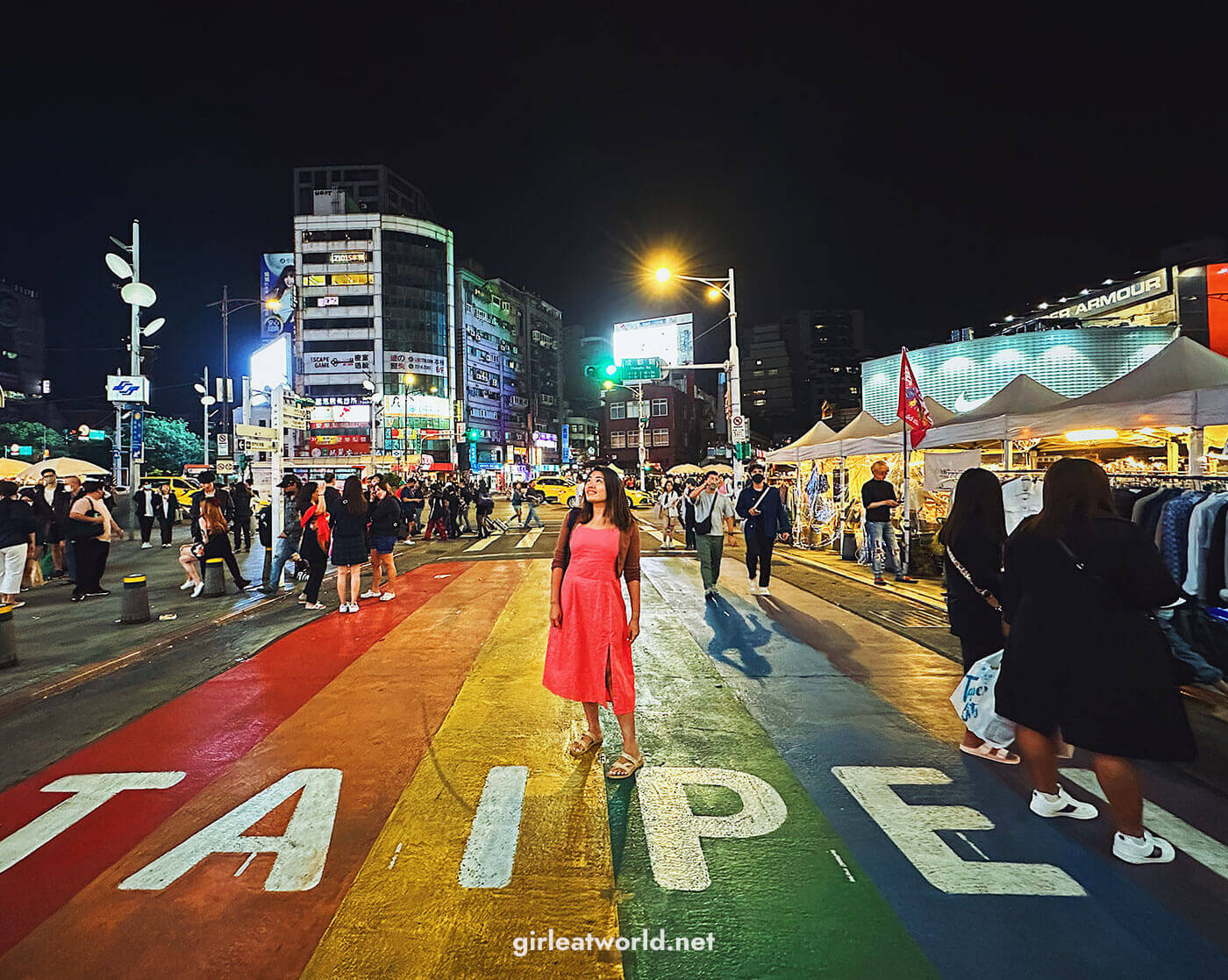 General Travel Tips on Visiting Taipei
Taipei is a very safe and tourist-friendly city. Here are some quick tips that would make your trip even easier.
Buy a prepaid SIM Card – I cannot stress how important it is to have an internet connection during your visit to Taiwan, especially if you don't speak the language.
Buy an EasyCard – EasyCard is the transport card used across Taiwan. It works on the local trains as well as buses. You'll definitely want to get the card so that you can use public transport easily while you're in Taiwan.
Download Google Maps and the traditional Chinese language pack from Google Translate – This is my tip for pretty much every destination. Pre-download Google Maps so that you can use it when you don't have the internet on your phone. Taiwan uses traditional Chinese, so download the traditional Chinese language pack from Google Translate!
💡 Tip: This is just a summarized version of my travel tips for Taipei. For the full version, head over to my Taipei travel guide!
What to eat in Taipei
Alright, now that we've got the practical stuff out of the way – on to the fun stuff: good local Taiwanese food in Taipei!
Here are the 10 Must Eat Taipei Food:
1. Braised Beef Noodle Soup (Niu Rou Mian 牛肉麵)
I was introduced to Taiwanese cuisine when I moved to Singapore. There is a stall I frequent at Food Republic (a food court in Singapore) called Formosa Delights, which specializes in… well, Taiwanese food. Throughout the years of coming here, I've become fond of their beef noodles, especially with the "Dao Xiao" style – I'll elaborate more on what this means later!
So while I was in Taipei, it was a no-brainer that I had to go look for the authentic version of Taiwanese beef noodles. I went to Yong Kang Beef Noodle as it has been lauded as one of the city's best beef noodles! This is kinda silly of me, but I decided to go on a Sunday afternoon, shortly before 1 PM, when they were probably at the busiest. Sure enough, when I arrived there was already a line of 30 people ahead of us. It was very intimidating. But thankfully they are very efficient and the line moved fast. We waited only about 10-12 minutes for a table for two.
I ordered the small dark-broth spicy noodles, which is the typical Taiwanese style, for myself while my boyfriend ordered the small clear broth noodles, both of which are actually not very "small". I think most people would be happy with the small portion especially if you plan to walk around Taipei and eat more after this. You can also get some side of stir-fried vegetable dishes, which you have to order separately from the booth next to the entrance – this will get added to your bill later.
So remember how I said I would elaborate on what "dao xiao" means? "Dao Xiao" means knife-cut, and this refers to the way the noodles are cooked – by literally hand-shaving a huge block of dough straight into a boiling pot of broth. It results in uneven cuts of noodles which is chewy and thicker in the middle and thin on the edges. Love it! PS: You could also order the noodles "Dao Xiao" style at Yong Kang but I totally forgot while I was there!
I loved both noodles at Yong Kang. The beef chunks are so tender and just fall apart on the first bite. The soup broth is made from tomatoes and dark soy sauce so it tasted slightly sweet, but very savory thanks to the beef chunks. And although they said it's spicy, honestly it's not THAT spicy. I personally prefer the dark broth style as the broth is more flavorful. If you want to taste more of the beef chunks then you'd want to try the clear broth version.
Thanks to my friend Jasmine Chen for recommending this one!
Where to eat Beef Noodle in Taipei:
Yong Kang Beef Noodles (永康牛肉麺館)
Liao Jia Beef Noodle Restaurant (廖家牛肉麵)
Liu Shandong Beef Noodles (劉山東牛肉麵)
Lin Dong Fang (林東芳牛肉麵)
Chun Shui Tang – Yes they are more known for Bubble Tea, but their braised beef noodle is also good!
In addition to the above, many beef noodle restaurants/stalls have received the Michelin Bib Gourmand title. You can see the list here.
2. Scallion and Daikon (Radish) Pancake
One of my fondest memories from my first visit to Taipei in 2011 is getting a freshly fried scallion pancake from a street stall in Ximending. It was one of the modern stalls, so they had a bunch of toppings you could add to your pancake – I added egg, cheese, and ham. The pancake was really delicious, especially during cold winter!
It wasn't until later that I learned that authentic pancakes are not supposed to have that many toppings, maybe just the option to add eggs. Fast forward to last weekend, I was on a bus to Shida night market with my friend Kyle – except I wasn't sure if we were on the right bus. We had problems communicating with the bus driver and even though I showed him the location on the map, he didn't confirm whether the bus was going in that direction.
While I was busy racking my brain on how to get out of this situation, with the bus speeding and us holding on to dear life so that we wouldn't fall, a kind lady behind me started talking to us (in perfect English) and asked where we were going. She told us that we are on the correct bus, but since she knew we were visiting, she asked if we would like to get off one stop earlier and come with her to get some scallion pancakes that are popular with the locals – it took me about 0.2 seconds to agree and follow her.
When we got to the place, which I found out from Google Maps is called Wenzhou Street Daikon Pancake, there was already a long queue forming. The total wait time was about 15-20 minutes, but it was definitely worth every second. Most people in the queue were locals who would buy multiple pancakes to bring home to their families.
While we were waiting in the queue, Anne, the lady who helped us, told me about Daikon (radish) pancakes. I've never tried this so I decided to get two pancakes – one normal scallion pancake with eggs and one daikon (radish) pancake. They'll set you back about NT$35 each.
The scallion pancake was wonderful – perfectly chewy on the inside but crispy on the outside. The daikon pancake was also very interesting, it was much thicker than the scallion pancake and most of the filling is fresh daikon wrapped in a crispy deep-fried batter, which creates a contrasting texture as you bite into the pancake. I personally prefer the daikon pancake more than the scallion one.
And that's the story of how I followed a stranger on a bus in Taipei. My friend and I still joke about how easy it would be to kidnap me – just promise me some food and I'll gladly follow any strangers! 😀
PS: I'm happy to report that I went back to this place in 2023 and their pancakes are still as good as I remember them!
Where to find Scallion and Radish Pancakes in Taipei:
Wenzhou Street Daikon Pancake (温州街蘿蔔絲餅達人)
Tian Jin Onion Pancake
Any of the Night Markets in Taipei
3. Authentic Taiwanese Breakfast
The traditional Taiwanese breakfast basically consists of loads of carbs, eggs, and soy milk. Dip a youtiao (dough fritters) into a warm bowl of soy milk, and get yourself a roll or two of the omelet cake.
I went to Yong He Soy Milk King near Da'an MRT which opens past breakfast except on Sundays. First of all, I must thank my friend Yi-Wei for sending me here, as well as for telling me exactly what to order. There was no English menu and I would have been pretty lost.
So, I'm paying it forward by telling YOU what to get! Order a portion each of 甜豆浆 (Tian Dou Jian – Sweet Soy Milk), 蛋饼 (Dan Bing – Omelette Cake),油条 (You Tiao – Fritters), 葱油饼 (Cong You Bing – Scallion Pancakes). This should be good to share between two people. If you want, you can also order 小籠包 (Xiao Long Bao – the beloved soup dumpling).
The cashier could speak basic English, but showing the items written in traditional Chinese characters and showing him these on my phone definitely made the ordering process MUCH easier.
Where to eat:
Yong He Soy Milk King (永和豆漿大王)
Fu Hang Dou Jiang (阜杭豆漿)
Shin Taipei Dou Jiang (新台北豆漿)
Ji Di Dou Jiang (及第豆漿) – Their specialty is Yilan-style egg pancake, which is thicker and chewier.
4. Hot Pot
Hot Pot is a universal meal in Asia – you can find variations of hot pot in China, Japan, Thailand, and Vietnam. Hot Pot is usually best enjoyed with a group, where a boiling pot of soup is shared in the middle of the table along with a variety of raw ingredients (meat, vegetable, tofu, dumplings, and seafood). Usually, you choose two types of soup as a group but each individual can choose what they want to put into the pot.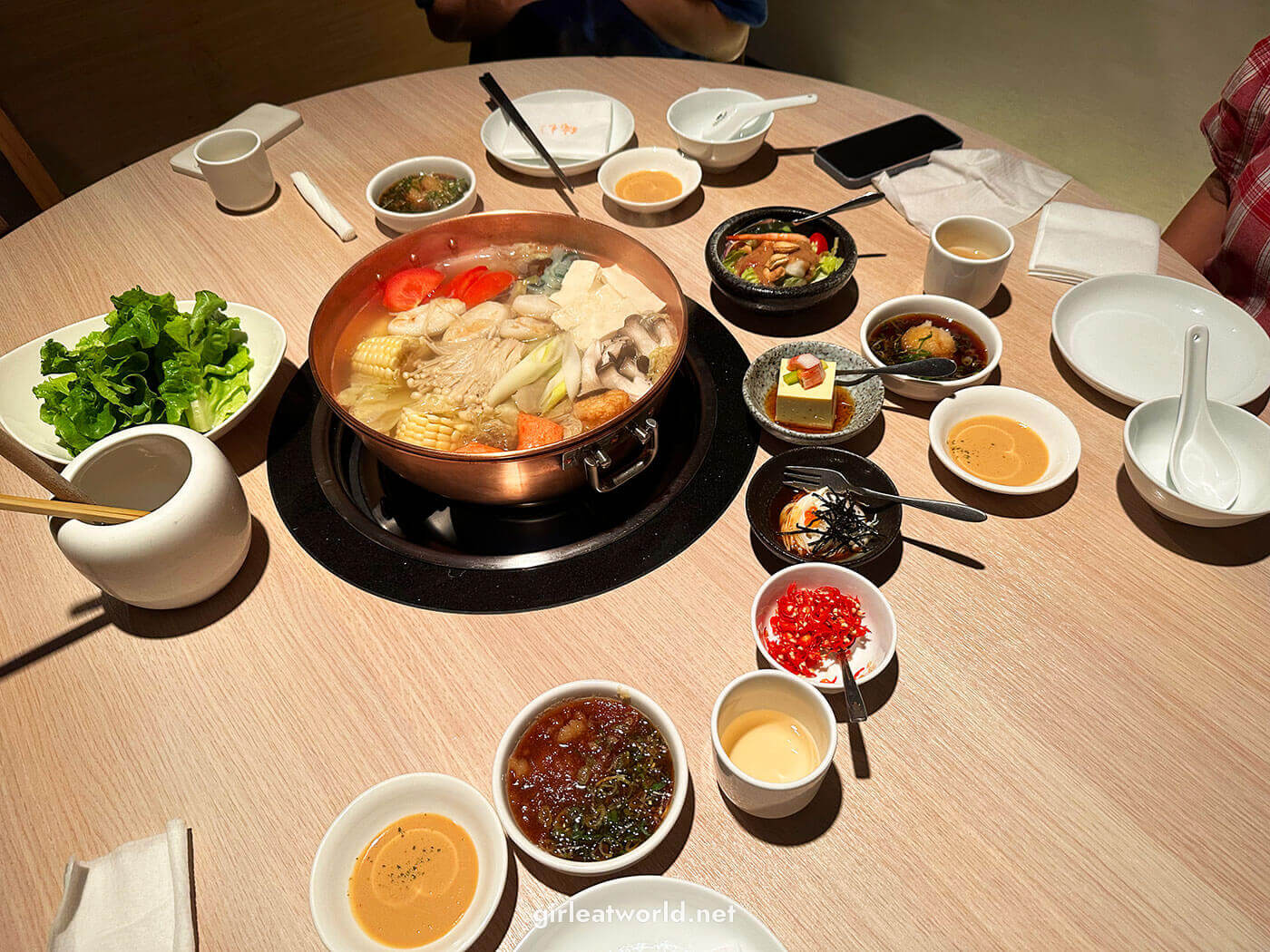 In Taiwan, Hot Pot is also a popular choice for a group meal and it is often eaten with a DIY dipping sauce, which you can make your own personal sauce by combining different sauces and/or egg yolk.
We had a hot pot at Tai Ho Dien on our first night in Taipei seven years ago. We enjoyed the meal very much, especially because we went during winter, and the hot pot is perfect to have during cold months.
I've also visited Orange Shabu, and while they're more Japanese than Taiwanese, it was one of the best hot pot experiences I've ever had so I feel compelled to share it here!
Where to eat Hot Pot in Taipei:
Tai Ho Dien (太和殿)
Orange Shabu (Multiple branches in Taipei)
Chien Tu Hot Pot (Multiple branches in Taipei)
Ding Wang Spicy Hot Pot (鼎王麻辣鍋)
5. Pork Pepper Bun (Hu Jiao Bing 胡椒餅)
Take note, this might just be my favorite item among the entire list of food to eat in Taipei. MUST try. I found the famous Fuzhou Pork Pepper Bun at Raohe Night Market, where the bun is baked en-masse by sticking the dough, filled with peppery minced pork, to the sides of a large cylindrical oven.
This process oddly reminds me of the method used to cook Zarb underground barbecue in Jordan.
The result is a very tender, juicy, and very peppery pork bun. I'm a huge fan of pepper, so needless to say I was sold from the first bite. Fuzhou Pepper Buns is the very first stall you see if you enter Raohe Market from the North East side, next to Songshan Temple.
Hat tip to my friends Yi-sheng and Michael Paravati for this recommendation!
Where to find Pork Pepper Bun in Taipei:
Fuzhou Pepper Buns (福州世祖胡椒饼) at Raohe Night Market
6. Braised Pork Rice (Lu Rou Fan 滷肉飯)
Lu Rou Fan is another Taiwanese cuisine that keeps coming up on my recommendation list.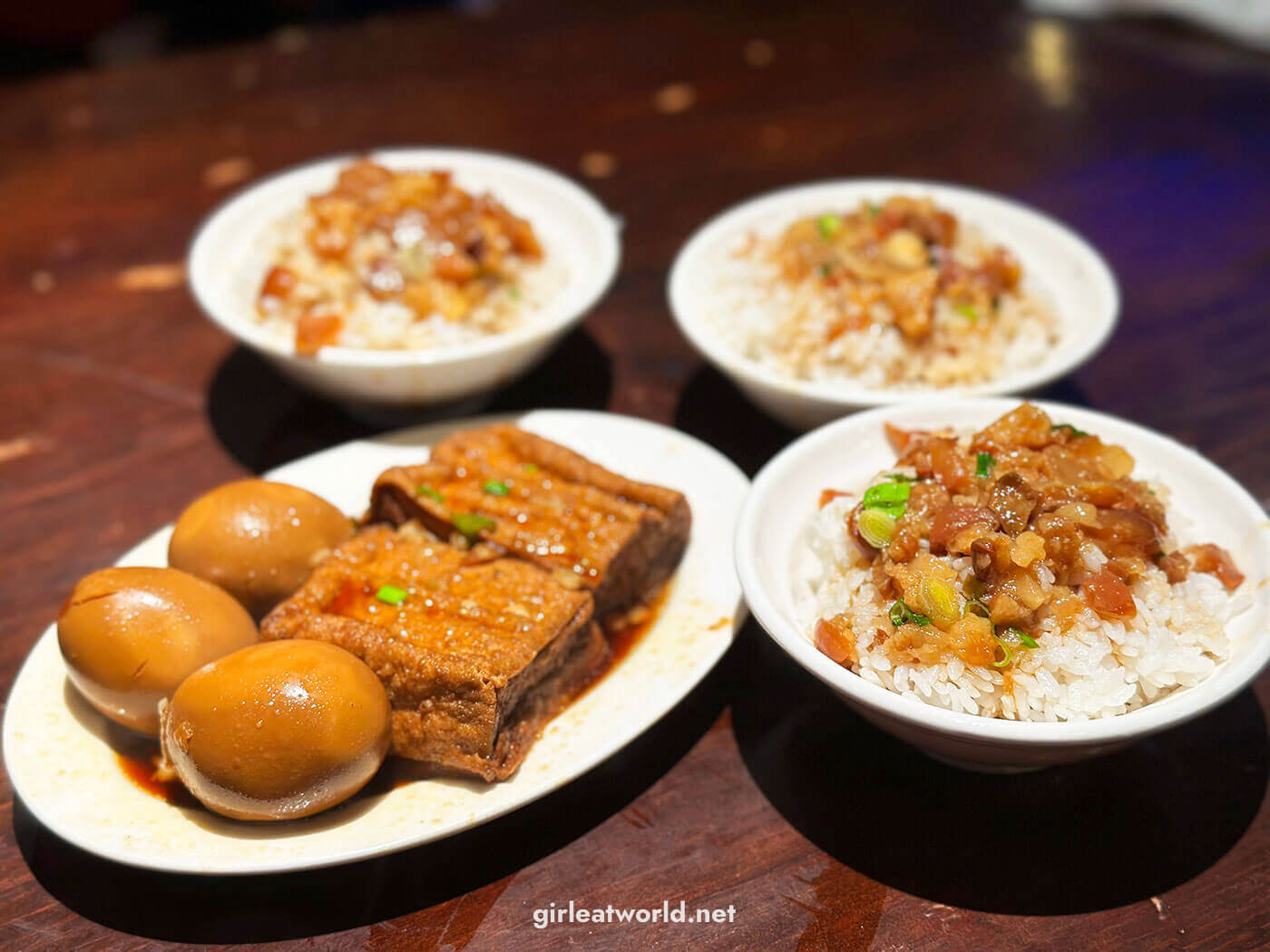 Lu Rou Fan is a very simple but comforting dish, consisting of small cubes of braised pork marinated in thick, dark gravy sauce, served over piping hot steamed rice. When you get your bowl of Lu Rou Fan, you can mix the meat gravy sauce into your rice – I found this to be the best way to enjoy the dish.
That taste of the sauce and fresh scallions coating over each grain of rice was the definition of comfort food. It kinda reminds me of Mapo Tofu in terms of comfort level, but they taste completely different.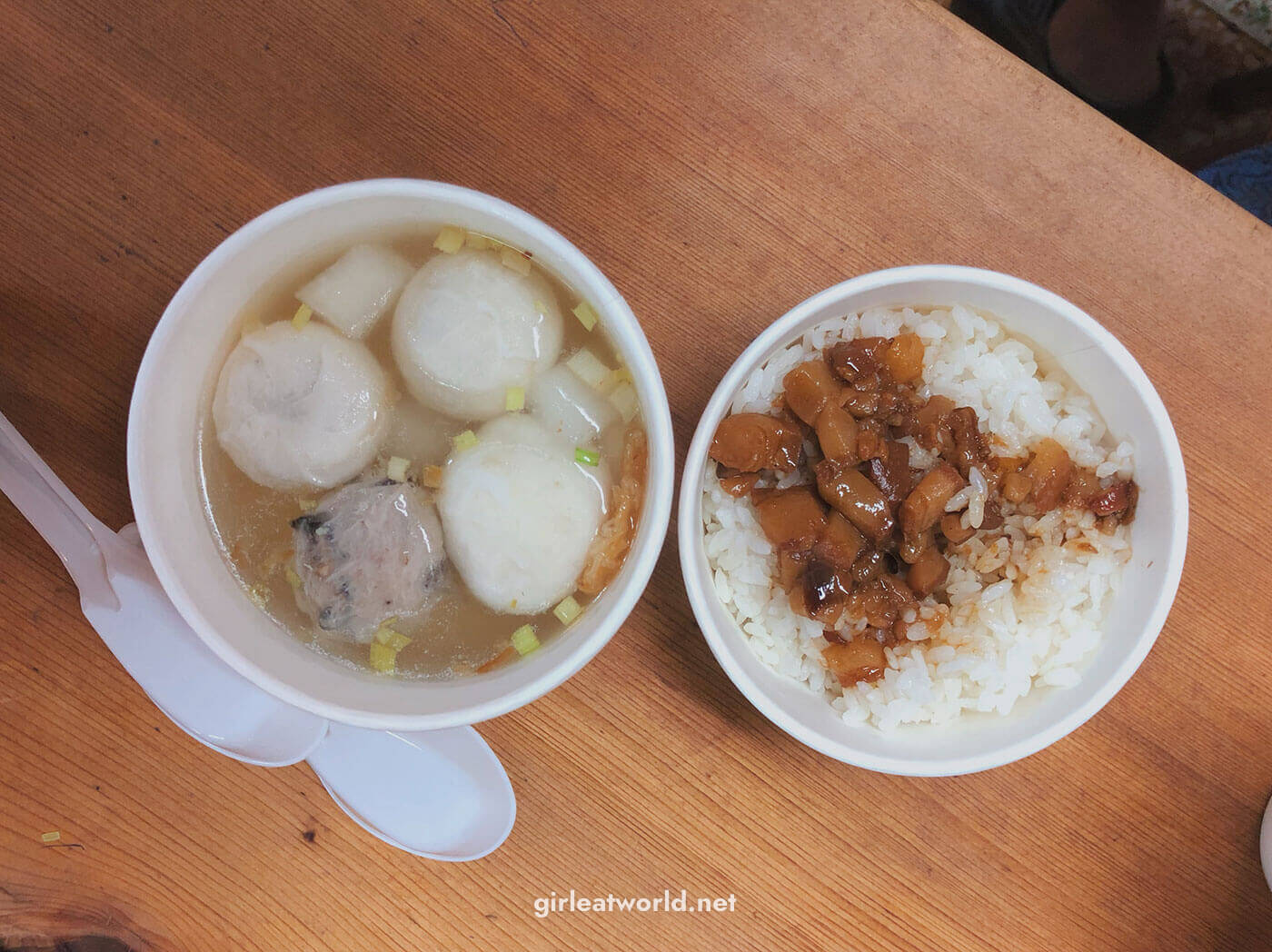 Some say Lu Rou Fan is probably the most well-loved Taiwanese dish, tied with beef noodles, and I can totally see why! You can also order braised boiled eggs and braised tofu to complete the experience.
Where to find Braised Pork Rice in Taipei:
Jin Feng Lu Rou Fan (金峰魯肉飯)
Huang Ji Braised Pork Rice (黃記魯肉飯)
Fu Ba Wang Zhu Jiao (富霸王豬腳)
Formosa Chang
7. Taiwanese Fried Chicken
In recent years, street food in Taiwan has also become synonymous with Fried Chicken, thanks to its prevalence in the night markets, which is an important part of Taiwanese culture.
The Fried Chicken you can find in the night markets usually consists of bite-sized chicken coated in potato starch with salt, pepper, garlic, and basil leaves. You can then add some chili to it as you like. It's basically Taiwan's take on popcorn chicken, but because they usually use potato starch instead of simple, this result is a more tender coating around the chicken pieces.
My friend Yi-Wei (again) messaged me because he watched my Instagram stories and saw that I was at the Shida market. He recommended Shi Yun Fried Chicken, and that message came at perfect timing because I was actually standing right in front of the stall, wondering what to get! So I quickly placed my order for their most popular item – salt pepper chicken.
This place is actually a Yong Tau Foo type of place, where you can mark items to orders for items on a pink sheet of paper, or grab a basket and place ingredients you see on the stand into the basket, and they'll fry it up for you. I was already eating non-stop that day so I just ordered the fried chicken – which was wonderfully juicy and very strong on the garlic side.
Thanks, Yi-Wei! I might have had bad breath for the rest of the night but it was worth it 😛
In more recent years, Taiwan has also become known for its deep-fried chicken cutlets, which were introduced by Hot Star XXL Fried Chicken and became popular due to their massive portion. Basically, fried chicken has earned its status as the most popular street snack in Taiwan.
Where to find Fried Chicken in Taipei:
Shi Yun Fried Chicken (師園鹽酥雞) in Shida Night Market (Facebook)
Monga Fried Chicken in Ximending
Shilin Night Market
8. Bubble Tea / Pearl Milk Tea
When I was living in Los Angeles in the early 2000s, Bubble Tea (aka "Boba") had somehow gained popularity and became the hottest thing in the city. I remember my Taiwanese friends told me that Boba is not anything new to them – in fact, the concept of Bubble Tea was invented in the 1980s in Taiwan.
The original bubble tea was simply just black tea mixed with milk and tapioca balls, but since it became popular, it has sprouted new variations which include fruit-flavored juice (such as passion fruit, strawberry, mango, lychee, etc) and ice-blended base. In recent years, it has also become a trend to be able to pick the level of sugars so you can feel slightly better when you are sipping on your milk tea drink. However, I personally think the traditional pearl milk tea with full sugar is still the best thing to get!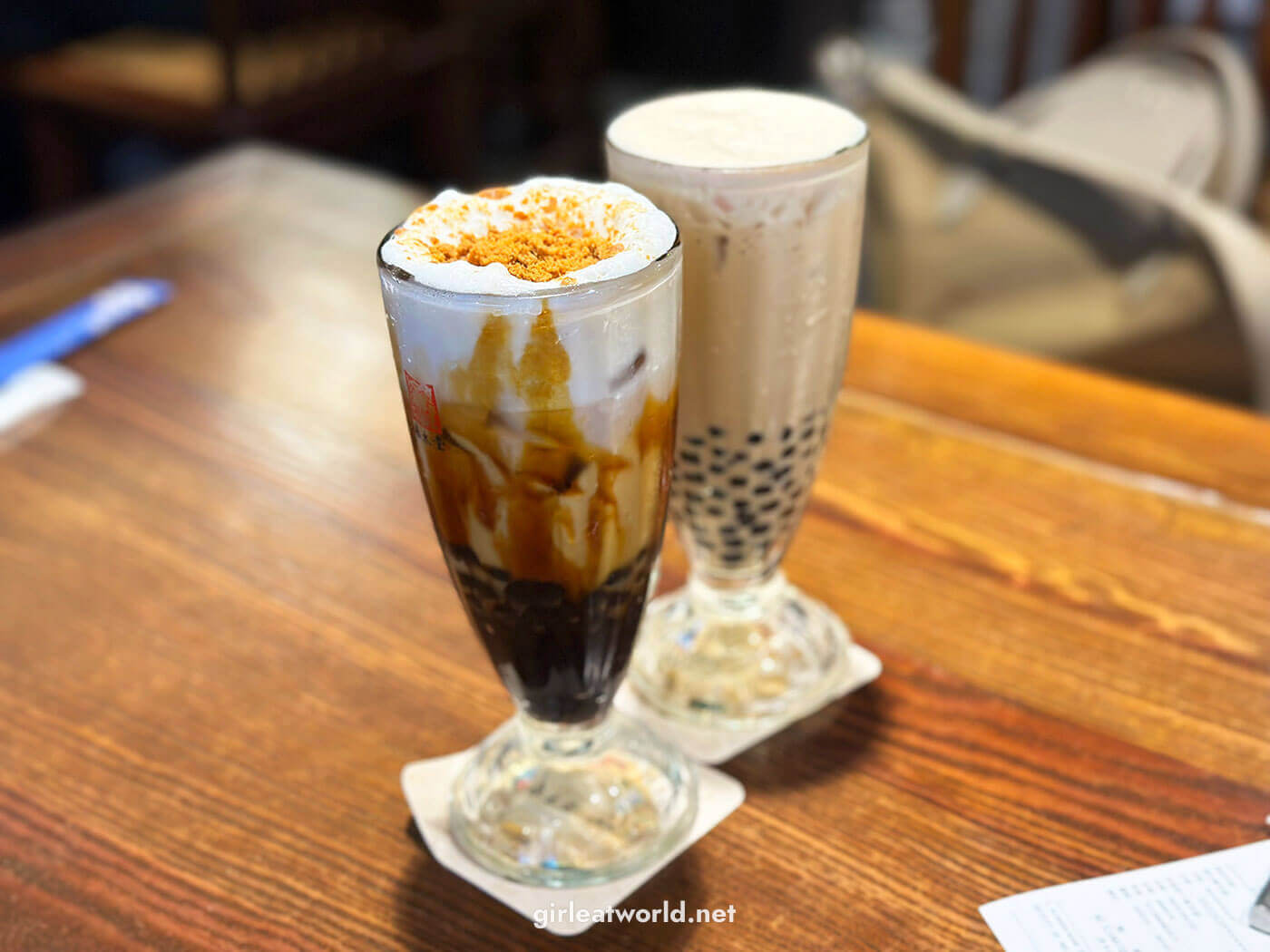 Where to find Bubble Tea in Taipei:
Chun Shui Tang (春山茶水舖) – Known as the inventor of Bubble tea
Chen San Ding Bubble Tea (陳三鼎黑糖粉圓鮮奶 專賣店)
9. Pineapple Cake
I suppose Pineapple cake is not something you actually eat while you are in Taipei – instead, it's something often brought back as a souvenir.
Why Pineapple cake? Pineapples became a critical component of Taiwan's economy during the Japanese era, during which the Japanese imported a wide variety of pineapples and established numerous processing plants. When the export demand diminished, local bakeries did not let the pineapples go to waste and used them as jams inside pastries, which resulted in the Taiwanese Pineapple Cakes as we know them today.
There are many popular places to get your pineapple cakes from, with one of the names I kept hearing being Chia Te. I did not have enough time to go to the store but I happened to come across Amo Bakery at Taipei Main Station, which is the station you take the airport express from if you're flying out from Taoyuan Airport.
I bought a dozen to share with my roommates and office friends. Many of them told me this was one of the best pineapple cakes they've had! So if you are taking the airport express from Taipei, I recommend saving your time and just getting your pineapple cakes from Amo Bakery. They are near locker 307 in the Taipei Main Station.
However, if you are still keen on buying the most famous one (Chia Te) but don't want to visit the store in Taipei, you can still order Chia Te Pineapple Tart and pick it up at the airport when you fly out.
Where to get Pineapple Cake in Taipei:
Amo Bakery at Taipei Main Station
Chia Te Bakery (佳德鳳梨酥) (also available at Taipei Airport)
SunnyHills Pineapple Cake
10. Pork Intestine & Oyster Noodle
During my time in Taiwan, I mostly employed the eat-first-google-later method. So when we found out that our accommodation was only a 5-minute walk from Ay Chung Flour Rice Noodle, which was recommended by friends and blogs, I quickly dragged my friend there without much research.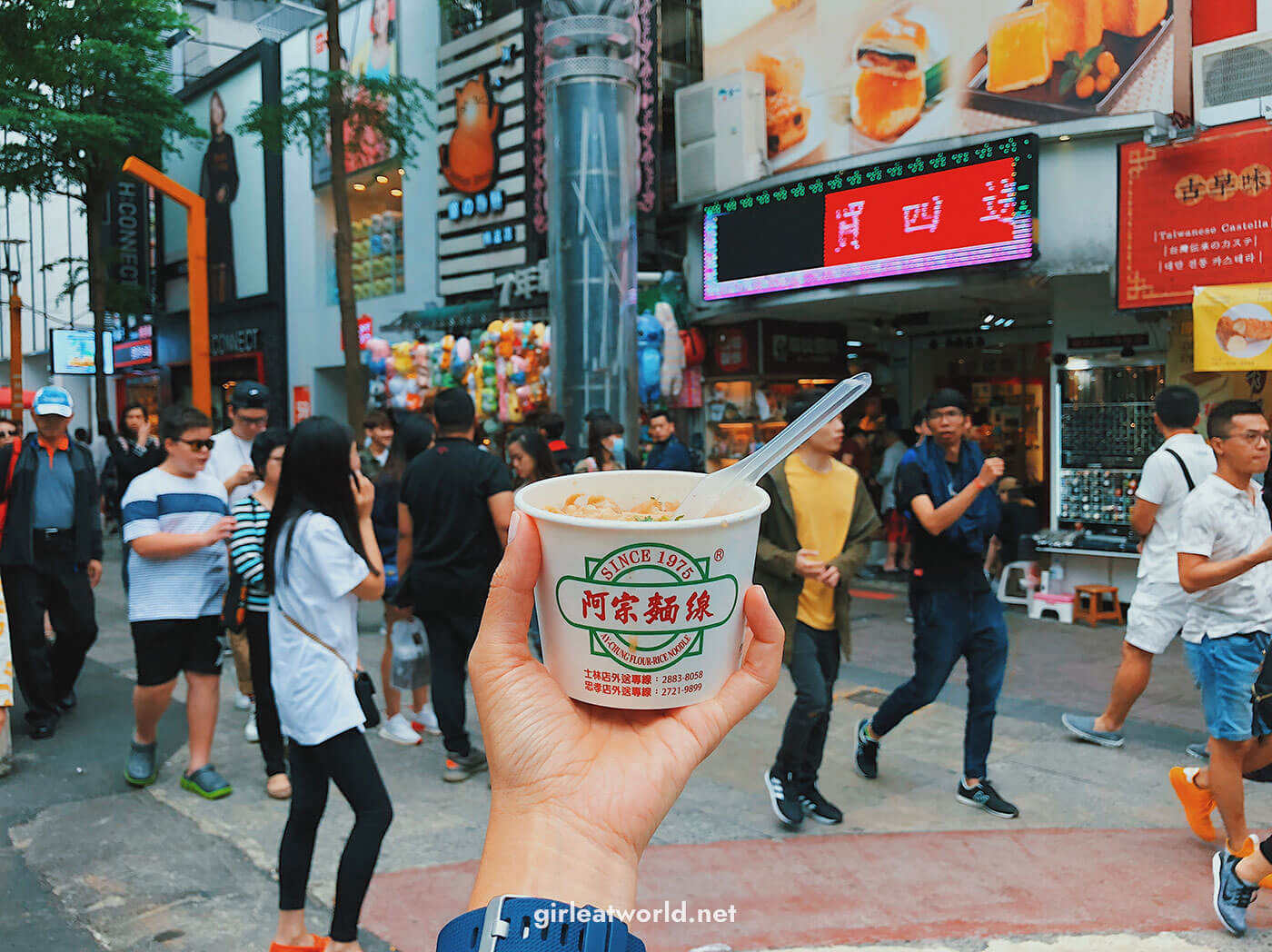 The shop is located in Ximending a popular shopping area in Taipei. Once you get to the vicinity, the shop was easy to find. Just look for a large crowd slurping noodles out of paper bowls on the street. Ay Chung is not a sit-down restaurant after all, and they only have one thing on their menu – the noodles! You go up to the store and place your order (Small or large) then immediately queue up to the left of the cashier to receive your noodles. The process is highly optimized and very fast so you'll receive your order and before you know it, you'll be joining the rest of the crowd slurping on your bowl in the middle of Ximending.
The noodles were really soft and slippery so you do need to use a proper soup spoon, or else it will be very challenging to eat. The soup was more like gravy, the consistency was rather thick but still slurp-able. I loved this type of noodle so I enjoyed my bowl very much. I had no idea what was in the noodles, but we knew they contained some sort of innards and seafood. Later on, during the "Google-later" phase of the day, our suspicions were confirmed – they were indeed pork intestines and oyster sauce.
Where to eat Vermicelli Noodle in Taipei:
Ay Chung Flour-Rice Noodle (阿宗麵線)
Chen Ji Intestine & Oyster Taiwanese Vermicelli (陳記專業蚵仔麵線)
Quick Guide to Visiting Taipei Food Markets
Taiwan Night markets are, to put it in one word, AMAZING! They are the ultimate definition of what a night market should be: bustling atmosphere, great shopping, and most importantly: a large variety of street food with an affordable price tag.
Okay, now, the popular night in Taipei food markets are:
Shilin Night Market – Shilin needs no introduction. This is Taiwan's biggest and most popular night market. For most tourists, this is the ultimate night market since it has both: food and shopping!
Shida Night Market – I would say Shida is more about fashion than food. I was told this is where Taiwanese students go to find cheap yet fashionable and good-quality clothes. Most of the styles I found were inspired by Korean fashion, which is all the rage across Asia these days. I found some cute earrings for a reasonable price here. That said, you can still find solid food options at Shida too, such as Shi yun fried chicken and Hsu Ji Shen Jiang Bao.
Raohe Night Market – Raohe spans across a narrow street called Raohe street. While the two rows of temporary stalls in the middle of the street consist mostly of snacky street food and drinks, you can find some night market goodies in the shophouses that line up the street. This night market is extremely popular so expect it to be very crowded over the weekend. My favorite here is the Fuzhou pepper bun.
Ningxia Night Market – In comparison to the other night markets, Ningxia is very small. However I think they're great to visit, especially if you are trying to avoid crowds. They still have at least one stall of each famous night market meals. My favorite here is the peanut ice cream stall.
Nanjichang Night Market – I have not been to Nanjichang, but I expect it to be similar to Ningxia market where its slightly smaller.
Except for Nanjichang, I have been to all of the above markets. Shida and Ningxia is probably my favorite, simply because I get overwhelmed easily and Shilin and Raohe was too big and too crowded for me with way too many options. However, Ningxia and Shida might be too quiet if you're looking for a bustling night market vibe.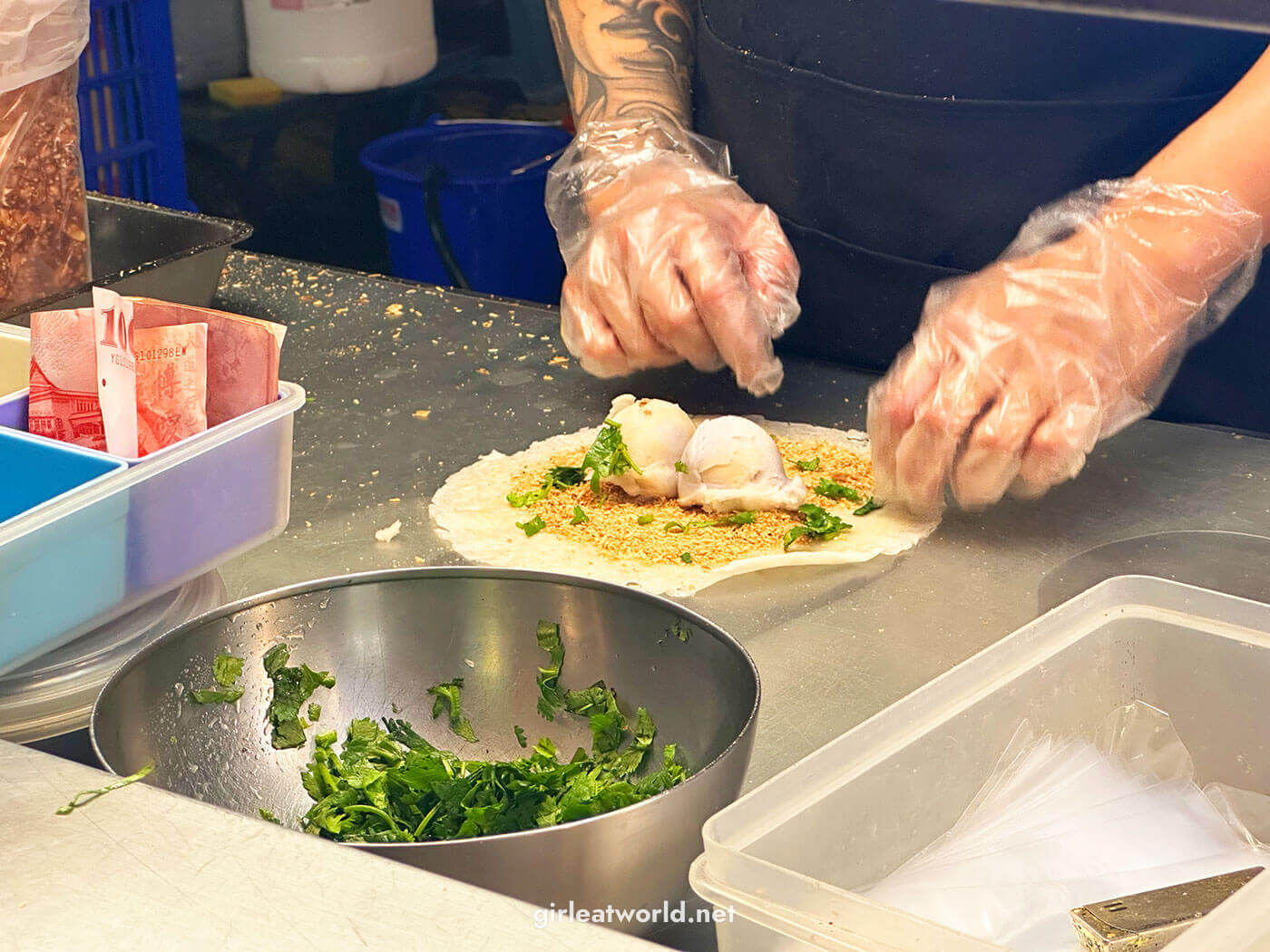 What you should eat in Taipei Food Markets
And because night markets can be overwhelming, here are the items I recommend to try at the night market. There's a bit of overlap with some food items I've covered above, but I'll also add some stuff that I didn't cover before.
Taiwanese Fried Chicken – see above
Pork Pepper Bun – MUST get! My favorite thing in Taiwan! see above
Scallion Pancake – see above
Roast Beef with Pink Salt – I kept seeing this in all the night markets I went to in Taipei – they are cubes of beef, freshly torched to perfection with each order. You can get other toppings but I personally loved the Himalayan pink salt!
Shengjiang Bao – Originating from Shanghai, this pan-fried dumpling is also a common feature in Taiwan's night market.
Soy Beancurd (Tofu) Pudding – This is a favorite dessert in Asia. It's a very silky pudding made from soybean (so basically Tofu) with syrup and any other toppings you might want. The most common one I've seen is the almond-flavored ones, but in Taiwan, they are also served with small tapioca balls like the ones from bubble tea!
Papaya Milk – I know this sounds weird, but I tried it and loved it! You can also get a carton of this at any convenience store if you didn't catch them at the night market.
Don't want to go by yourself? Try these Street Food Tours with an English-speaking Guide
If the prospect of braving the night market on your own doesn't sound appealing, you might want to consider booking one of these night market tours! They are more expensive than going on your own, but the tours do come with an English-speaking guide.
I do find it better when a local take you around since they are able to explain and provide the back story of the delicious food you are eating.
Other Notable Food Experiences and Restaurants in Taipei
Are you STILL looking for more food after all that? OK, fine, you might just be my worthy adversary when it comes to eating. Here are a few more places you can hit up if you're still hungry!
1. Addiction Aquatic Development (上引水產) – Taipei Fish Market
I call this Tsukiji 2.0! Why? Because this is the place where you can get the freshest seafood in Taipei, but the market is more like a really huge, nicely decorated restaurant. Also, it's half the price of what I would have expected. We ordered 4 sets of sushi platters, miso soups, and a dozen of oysters but the bill came out to be only NT$1,000 (US$33) per person. That's MUCH cheaper than it would be in Singapore.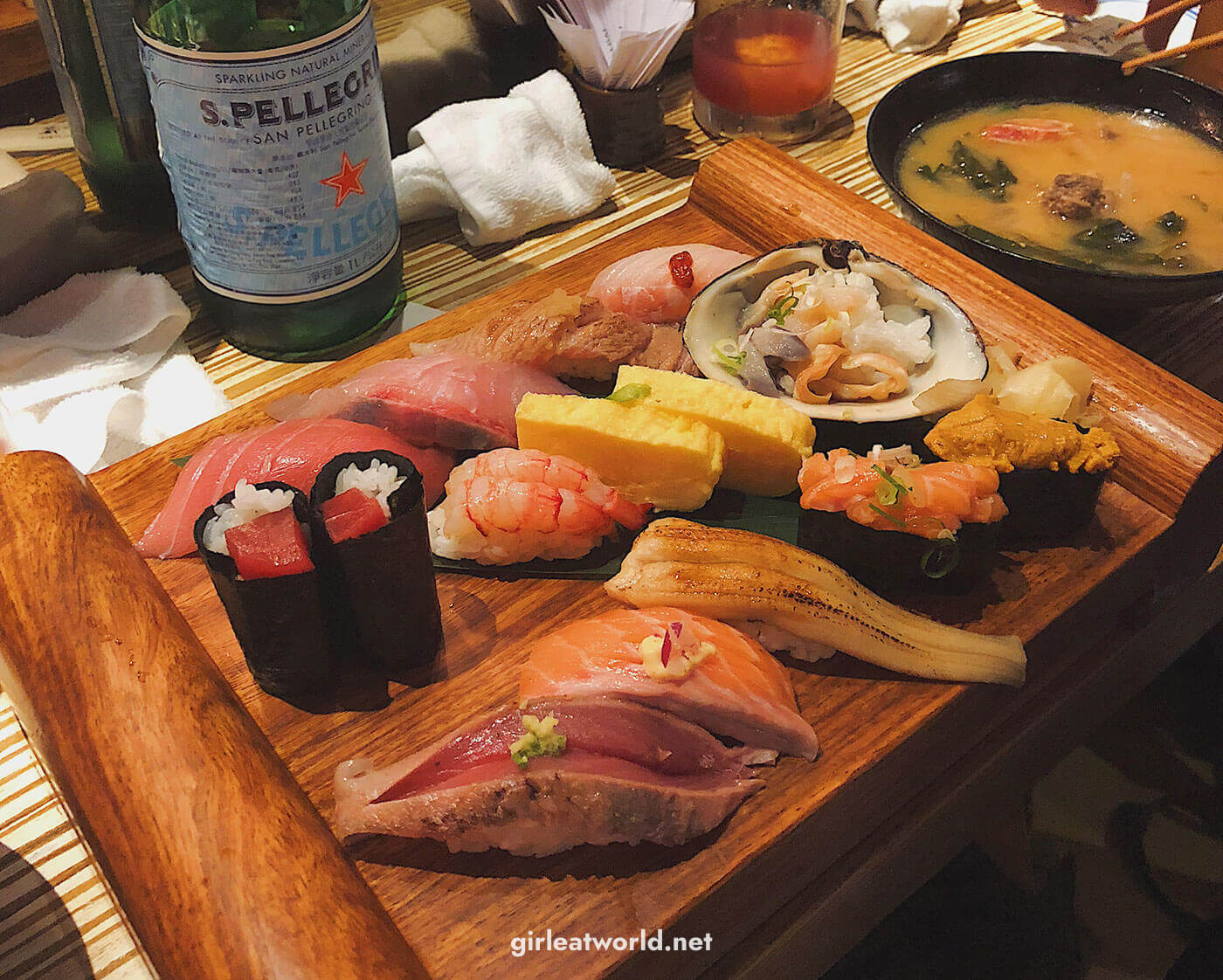 2. Xiao Long Bao (小籠包) at Din Tai Fung
I did not go to Din Tai Fung (DTF) in Taipei since there are plenty of DTF restaurants in Singapore and I eat there almost every week – it even made the list of favorite restaurants in Singapore. However, if you've never tried Xiao Long Bao (aka the soup dumpling, aka XLB) and have no plans to go to Shanghai any time soon (where XLB is originally from) you definitely must go to DTF in Taipei!
The original Din Tai Fung restaurant is on Xinyi Road, very close to Yong Kang area. You'll most likely have to queue up, but if it's anything like the Singapore experience they've got it all down with digital queue numbers and everything.
3. Huashan 1914 Creative Park
This was one of my favorite places in Taipei! Huashan 1914 is a block full of shops with local brands, cute cafes, and trendy restaurants. It's a great place to spend an afternoon chilling with a cup of coffee and winding down. I bought a few cute succulents planter from one of the shops for a reasonable price too!
Need more help with your trip to Taipei?
I've written an extensive travel guide for Taipei. You'll find detailed recommendations on where to eat, what to do in Taipei, where to stay, and things to do.
➡️ Read my Taipei travel guide here!
Phew, that was an extra long post. I told you it was going to be a food marathon trip 😛 Let me know below if you find this post useful or not, and if you have questions or suggestions to add. Until next time!