If you are planning a trip to Jakarta or Bali, most likely you will need to get a Visa on Arrival when you arrive at the airport. This means yet another admin work you need to do upon arrival.
You'll be glad to know, that starting November 2022 you can apply for Visa on arrival online before you physically arrive in Indonesia! This could potentially save you some time from having to line up to pay for Visa on arrival at the airport.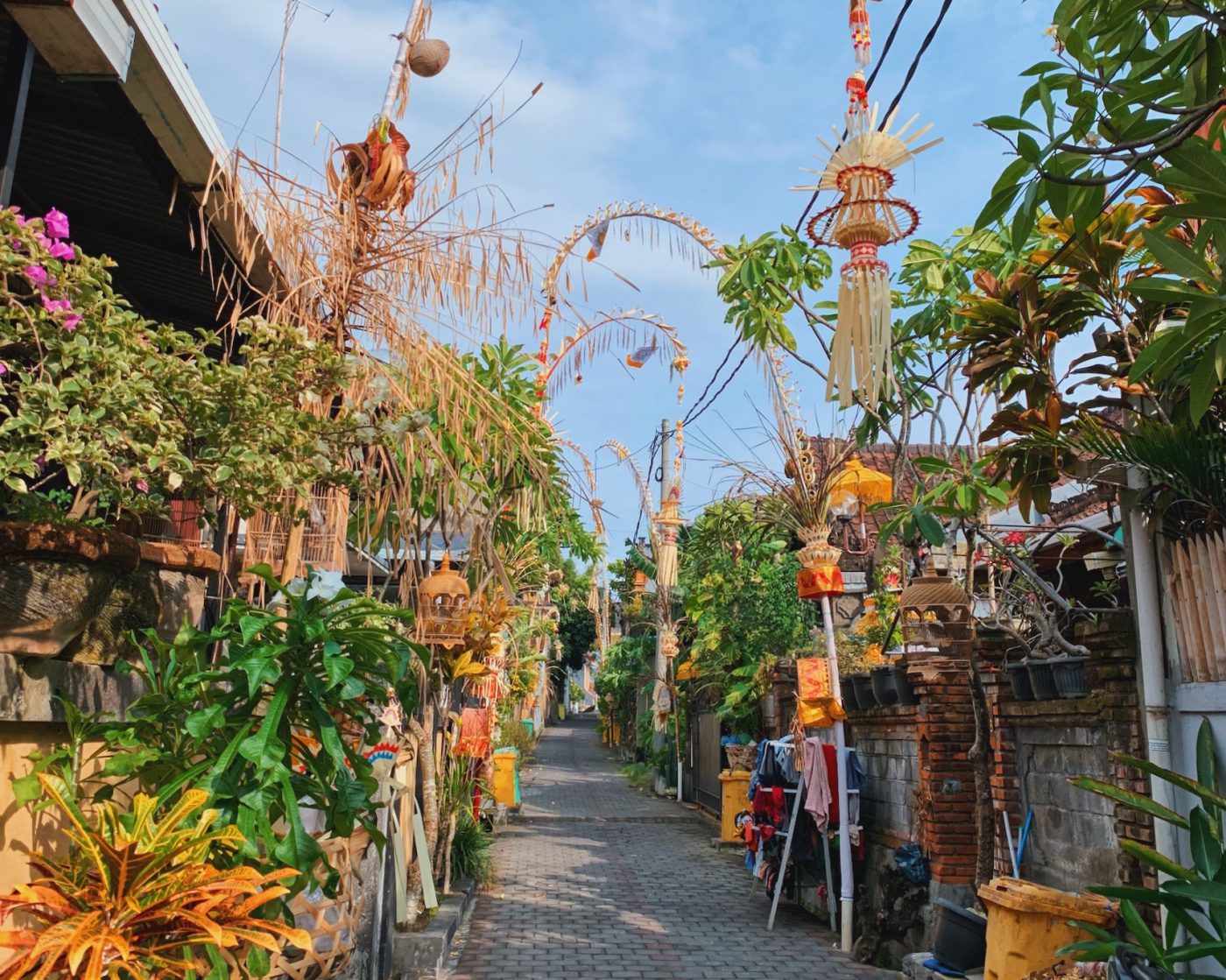 In this post, I'll detail how to apply for this electronic Visa on Arrival through the official website made by the Indonesian government. Don't trust any other website when they say they'll get you electronic VoA! They're likely a third-party website that will charge you extra, or worse, steal your identity.
Do I need Visa on Arrival (VoA) to enter Indonesia?
Most likely, yes.
Unless you hold a passport from a South East Asia country (which is part of ASEAN), you will need Visa on Arrival (VoA) to enter Indonesia. This means you'll have to pay Rp 500,000 for a visa each time you enter Indonesia. As the name suggested, the visa can be obtained on arrival at the airport.
➡️ Check the list of countries eligible to apply for Indonesia VoA here.
What is Indonesia e-VoA?
e-VoA is short for electronic visa on arrival. It is a process that will let you apply for Visa on Arrival (Visa B213) electronically online, even before your arrival at the airport in Indonesia. This will save you time as you won't need to line up again to obtain and pay for VoA once you reach the airport in Indonesia.
VoA will grant you 30 days of stay in Indonesia which can be extended once for another 30 days. One benefit if you have e-VoA, is that the extension can be done online through the MOLINA website.
Do I qualify for Indonesia e-VoA?
If you hold a passport from these countries, you can apply for e-VoA. You also need a passport with at least 6 months of validity.
Where can I apply for Indonesia e-VoA? (Beware of scammers!)
Apply through MOLINA. This is the OFFICIAL, ONE AND ONLY, DIRECT website of the Indonesian government immigration.
Don't use any other link! There are some third-party agents out there posing as the official website, but they'll just scam you by charging you more, or worse, they might steal your identity.
You should only be paying Rp 519,500 for your e-VoA. This consists of Rp 500,000 for the e-VOA plus a 3% credit card fee of Rp 19,500.
How can I apply for Indonesia e-VoA?
If you qualify for e-VoA and want to get it before your arrival in Indonesia, here is what you need to do:
1. Go to the MOLINA website
First and foremost, go to the MOLINA website. Again, this is the OFFICIAL link from the Indonesian government. Don't use any other link!
Make sure you use an email you have access to – the visa will be sent to your email as a PDF.
You don't need to sign up for an account to complete an application, but I highly suggest signing up for an account at MOLINA.
Signing up for an account could benefit you in many ways:
If you anticipate that you'll be coming back to Indonesia, you don't have to keep providing your details each time you need a visa to Indonesia. You'll be able to re-use the same MOLINA account for your future trips to Indonesia!
Signing up for an account seems to circumvent some of the payment issues some users are facing. You can see this in the comments section of this post.
If you made a mistake on your application (except for passport number), you might be able to fix your details if you registered for an account.
When applying for the visa online, have the following documents ready. You will need to provide them during application:
A photo of the applicant – which needs to be in a 4:6 ratio and at least 400×600 pixels in size
A scan of the applicant's passport biodata – I just took a photo of the passport biodata and it worked fine!
When uploading your passport, the system will attempt to fill in the details for you. Make sure to double-check the data filled in, ESPECIALLY the passport number, as it is possible the system will make an error. You might need to pay for another visa when you arrive if the details used are not correct.
Parents take note! If you sign up for a MOLINA account, you will need separate accounts for each person, even for infants and kids. You cannot apply for your kids under your account. Hopefully, they'll make this process easier in the future.
2. Apply for your visa on arrival
In MOLINA, if you are not creating an account, simply go through the visa wizard and select the type of visa you want.
If you registered for an account, log in to your MOLINA account with the credentials you've set in Step 1. Then, create an application for a visa on arrival by clicking on "Application" on the main navigation and then the "+ Add" button.
Save your MOLINA account credential – You'll need to do this for each separate trip you'll be making to Indonesia if you decide to apply for e-VOA for those trips. So, remember your username and password!
Fill out the form that comes after, indicating your mode of transport and arrival. You'll also need to provide an address where you'll be staying. We were staying at multiple hotels in Indonesia, but I've just provided the first hotel and it went through fine.
3. Providing your accommodation address
Great news, the visa application form has been updated, and providing your accommodation address has become much easier than before. All you have to do is provide the 5-digit postal code of your accommodation in Indonesia, and the rest of the fields will be automatically filled in.
However, it is still possible that the postal code provided by the hotel or by searching through Google is not correct. If you get an error that says the postal code cannot be found, you can try confirming the correct postal code with your accommodation. Or, you can try finding the correct postal code here by breaking down the address.
Solving the "Data Postal Code not found" error when applying for Indonesia e-VoA
Sometimes, inputting the postal code provided by your hotel leads to an error. How do you solve this error?
Thankfully there is a website that holds a database of Indonesian postal codes, and they provide the correct information.
For example, I am going to Telunas Private Island in the Riau islands of Indonesia. The address that was provided to me by Google was: Baloi Persero, Jalan Anggrek Luar No.23, Sugie, Moro, Karimun Regency, Riau Islands 29442, Indonesia. When I input "29442" as the postal code into the visa application form, I get the dreaded "Data Postal Code not found" error.
So let's break down the address:
"Sugie" is the district
"Moro" is the village
"Karimun Regency" is the city
"Riau Islands" is the province
I went to the website and start by searching for "Riau Island". I clicked on the link for "Riau Islands" on the far right column under province. This takes me to a page with all postal codes for cities under Riau islands. From there, I simply clicked on "Karimun" which is the city that I'm going to. Next, I clicked on "Sugie", which is the district where Telunas Private Island is located, and I get the postal code "29663"
When I put this into the visa form, it works! I was able to proceed to get the visa.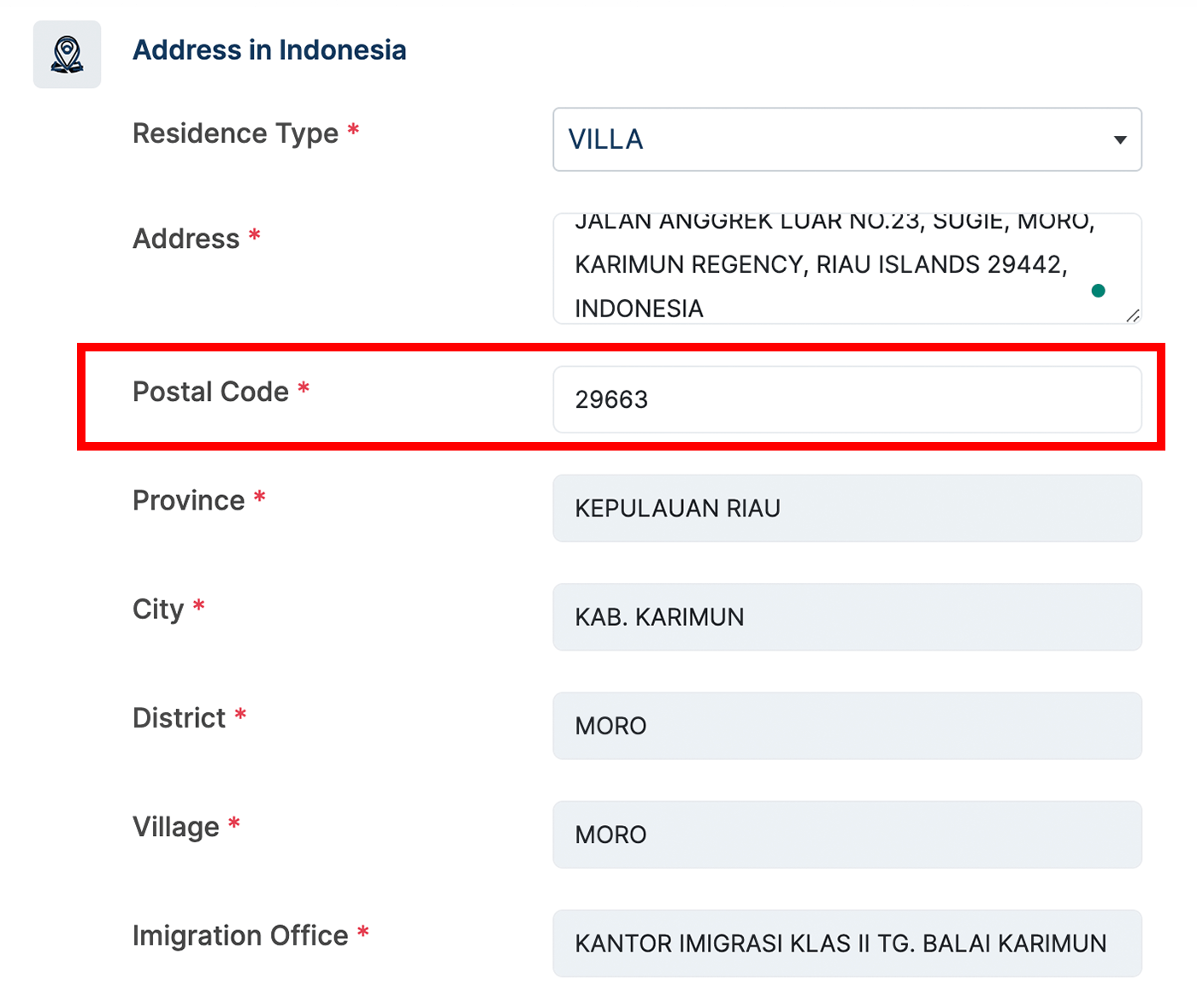 4. Make visa fee payment by credit card
After the application has been created, you'll need to make the visa fee payment by credit card, and it's important to note the credit card needs to be 3DS (3D Secure) enabled.
To make a payment, go back to the "Application" tab, then click on the transaction number of the application you've just created.
Once you are inside the transaction, scroll down to "Payment Information", click on the "Make a payment" button, and provide your credit card number on the next page.
Again, make sure that your card has a 3DS or "3D Secure System" and that it is open to international transactions.
The cost for e-VOA is Rp 519,500. Due to the credit card processing fee (3.9%), it is slightly more expensive than paying with cash on arrival (which is only Rp 500,000). However, if you ask me, the cost is worth it! And really, Rp 19,500 translates to less than $2.
It might take some time for the payment to be complete and that's normal. Once the payment is successful, remember to DOWNLOAD the receipt or print the payment success page, just in case your visa did not get issued.
Some people have commented that they aren't able to pay for their e-VoA using their credit card because it keeps getting rejected. If this keeps happening, try calling your bank as it is very likely the rejection happens on the bank's side. They may not be allowing international transactions. If it still doesn't work, you can consider using Wise debit card or virtual card to make the payment.
5. Receive your e-VoA PDF in your email or download your e-VoA
Once your payment has been confirmed, you'll receive your e-VoA via email, or you can go back to the Application page again and download your e-VoA PDF from there.
Keep a soft copy of your e-VoA somewhere that you can access if you need to. You can also print it out. Though in my case, they never asked to see a printout of my e-VoA document.
And that's all really!
6. But there is more! Customs declaration
Aside from your visa, you can also do your customs declaration online. I highly recommend doing this before you arrive in Indonesia, since this is not an optional thing – you'll be asked to complete the same online form when you arrive.
Just make sure you complete this before boarding your flight to Indonesia and keep a screenshot of the QR code that you get after completion. You'll be asked to scan this QR code upon arrival at the airport in Indonesia before you can exit the airport.
How early should I apply for Indonesia e-VoA?
The e-VoA is only valid for 60 days, so don't apply too early! I applied one day before my arrival and thankfully everything went smoothly. I got my e-VoA PDF in my email within minutes.
What if I made a mistake on my e-VoA application?
If you had signed up for an account at MOLINA and applied for your e-VoA through the account, you might be able to still edit some information on your MOLINA profile by editing your profile in the account, and it will be reflected on the e-VOA PDF. You just have to re-download the PDF from your MOLINA account.
If this did not work, you can try sending an email to [email protected] and ask for assistance.
In my case, I accidentally specified the wrong gender and I was worried it would cause issues on arrival. Thankfully I was able to just edit my MOLINA profile to flip the gender. When I re-downloaded the e-VOA PDF from my MOLINA account, it reflected the correct updated gender.
Extending your Indonesia e-VoA
An e-VoA is valid for a stay of up to 30 days and can be extended once for another 30 days.
I haven't had to extend my visa myself, so I can't vouch for the experience. However, when I checked my past visas on my MOLINA account, I was able to see an option to extend my visa, provided it is still valid.

If you did not create an account when you applied for your e-VoA, I am not sure what that experience would look like.
My experience with e-VoA for trips to Indonesia
I have used e-VoA twice so far. I went to Bali in November 2022, a few weeks after the e-VoA system was rolled out, and then to Jakarta in March 2023.
Applying for e-VoA in my experience was… slightly frustrating on my first trip. There was a glitch and I was not able to load the payment link. However, I waited an hour, and the link magically worked. I was able to access the payment link and make payment even after the countdown has expired. I received the e-VoA PDF shortly after. On my consequent trips, everything went smoothly and I got my e-VoA within minutes of applying online.
Upon arrival at Ngurah Rai Airport in Bali, I was so grateful I took the time to apply for the e-VoA. There was a long line for a Visa on Arrival, while there was practically nobody at the immigration line. It took us less than 5 minutes to clear immigration. In the Jakarta Airport, however, there was no line for a visa on arrival when I arrived on a Friday afternoon, so I guess I didn't really need to apply online for it.
And that's all I know about Indonesia's electronic visa on arrival. I hope it helps 🙂