This past October, I went on my twice-yearly pilgrimage to Tokyo. I was determined to see something new this time. My husband suggested to do a road trip out Nagano, so I did a quick research and realized it's the perfect choice for my criteria! I wanted to visit a place outside Tokyo and I also wanted to be in nature, which I can't really find back home in Singapore. Nagano ticks both of those boxes perfectly.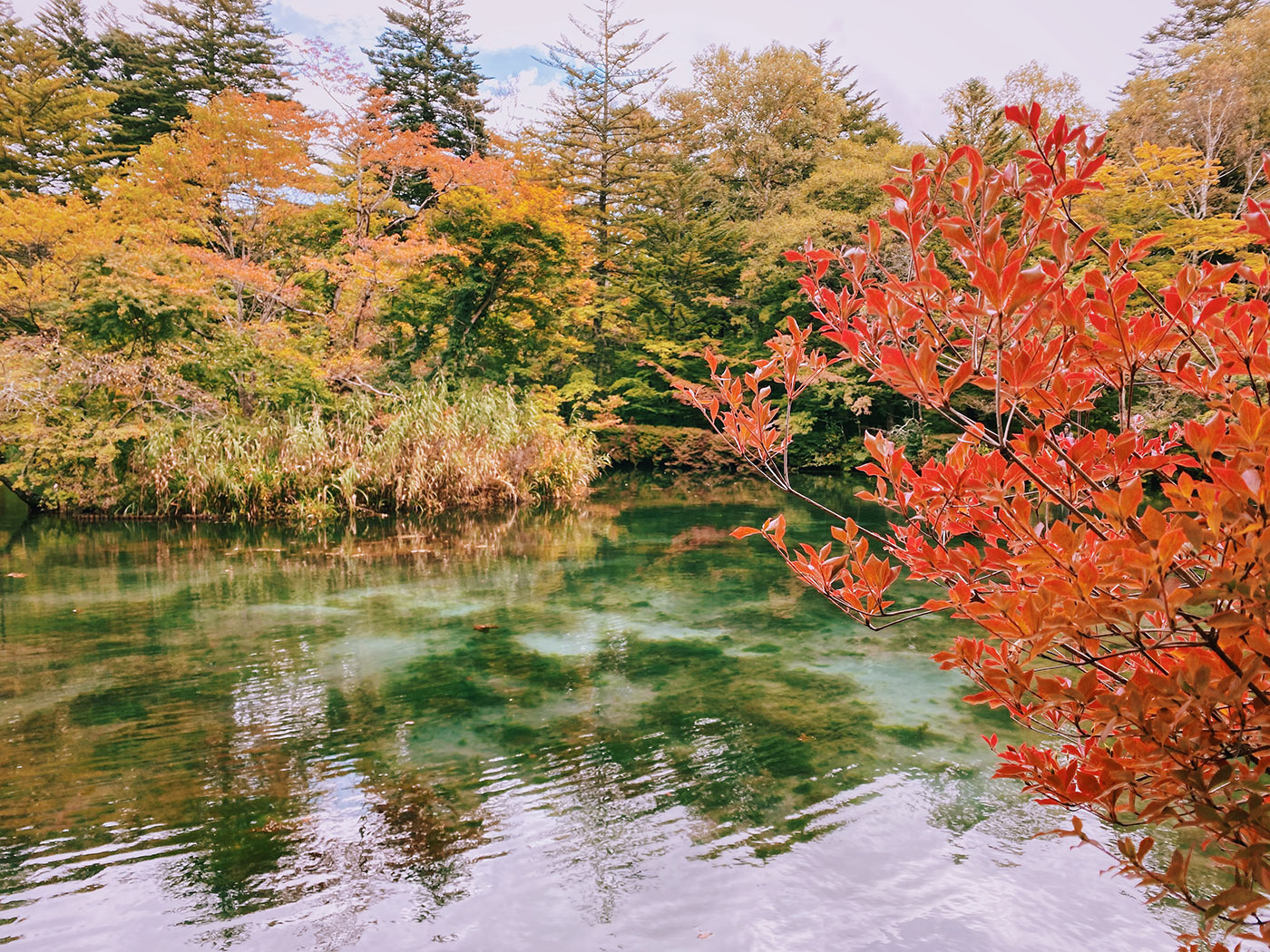 My 5-day Nagano Prefecture Itinerary
Here is my five-day itinerary when I went to Nagano. I think it's a great itinerary as it combines both city exploration and nature! You can easily stretch this to more days too if you have more time than I did. I'll include other places worthy of visiting that I didn't get to go to.
How to get around Nagano prefecture
Self Driving – Nagano prefecture is a large area to explore. If you have an international driver's license and are comfortable with driving in a foreign country, this is the most convenient and flexible option since you won't have to be dependent on public transport. You can book a car rental from Tokyo here, which you can pick up from the airport or the city:
By Train – If you can't / don't want to drive, then getting a JR Pass is still a great option. You can use the unlimited JR Pass, or if you're only planning to visit Nagano then you can opt for the cheaper 5-day JR East Nagano pass, which will cover most of the itineraries below. Keep in mind JR Pass MUST be bought from outside of Japan, so get this before your trip!
The price of Unlimited JR Pass has increased by 70% since 1 Oct 2023. Even though you'll see many recommendations for buying a JR Pass to save some costs, it could be outdated. Since the price hike, it has become harder to justify the cost of the JR Pass, however regional passes like the JR West Kansai Pass might still be worth it. I am working on updating my blog post to reflect this change.
Tips for Roadtripping in Nagano Prefecture
Nagano prefecture is a mountainous area. If you are self-driving, make sure you know how to drive in the mountains. And, if you're visiting in the winter, please be prepared to drive in icy conditions.
It's worth noting most restaurants seem to close rather early here (8-8:30 pm) so make sure you're well-fed by then unless you don't mind eating at an Izakaya or meals from the Konbini (convenience store), which is really not that bad.
What to eat in Nagano Prefecture
1. Soba Noodles
Due to the mountainous terrain of Nagano prefecture, it is difficult to successfully grow rice. Instead, soba (buckwheat) became the main produce of Nagano.
The most popular form of buckwheat is, of course, Soba noodles! I'm sure most of us are already familiar with this noodle – but in Nagano, you definitely can't miss it. It's served in almost every traditional restaurant. You can have Soba noodles in a hot soup or served cold with a broth on the side, and with various toppings.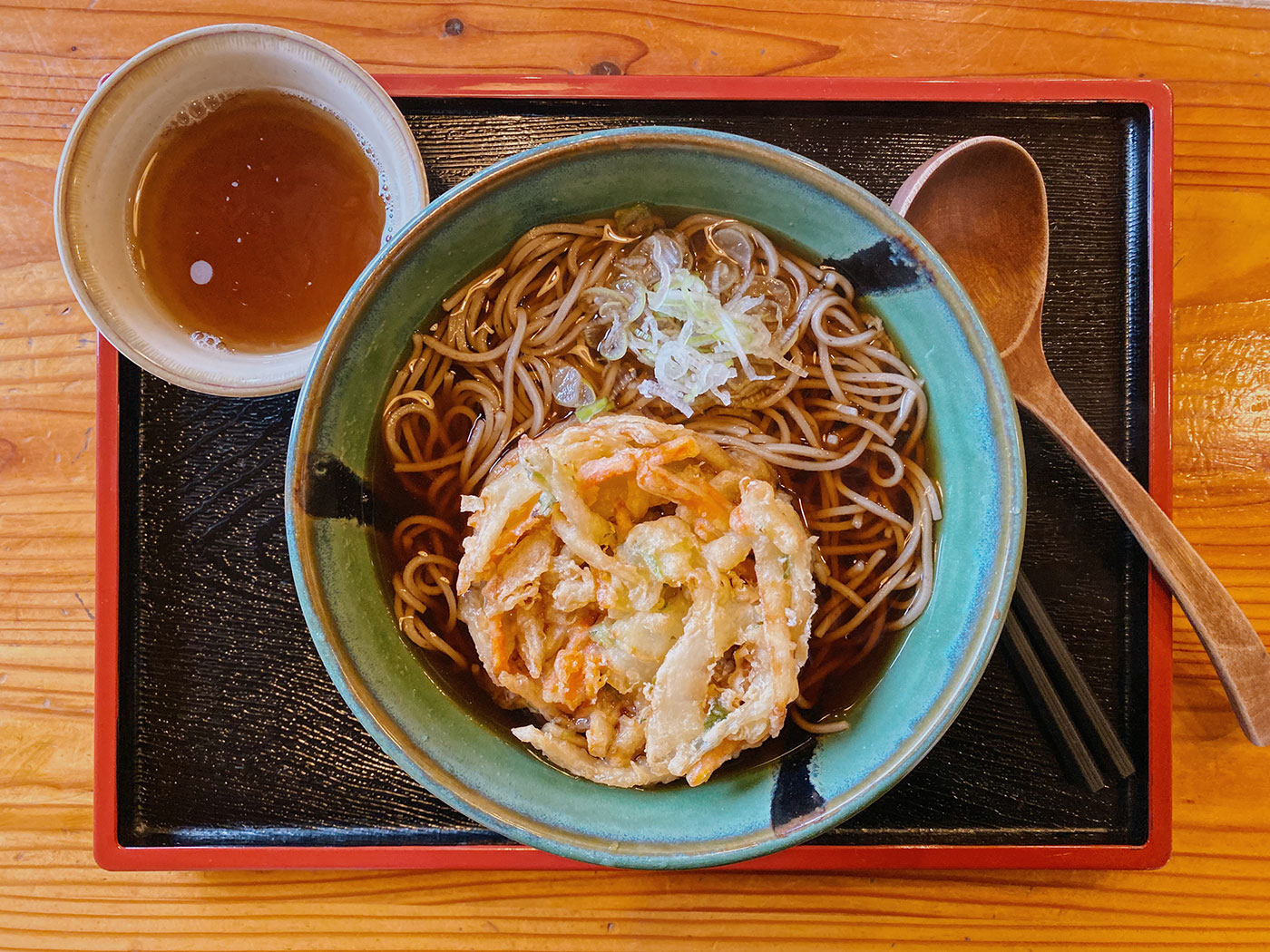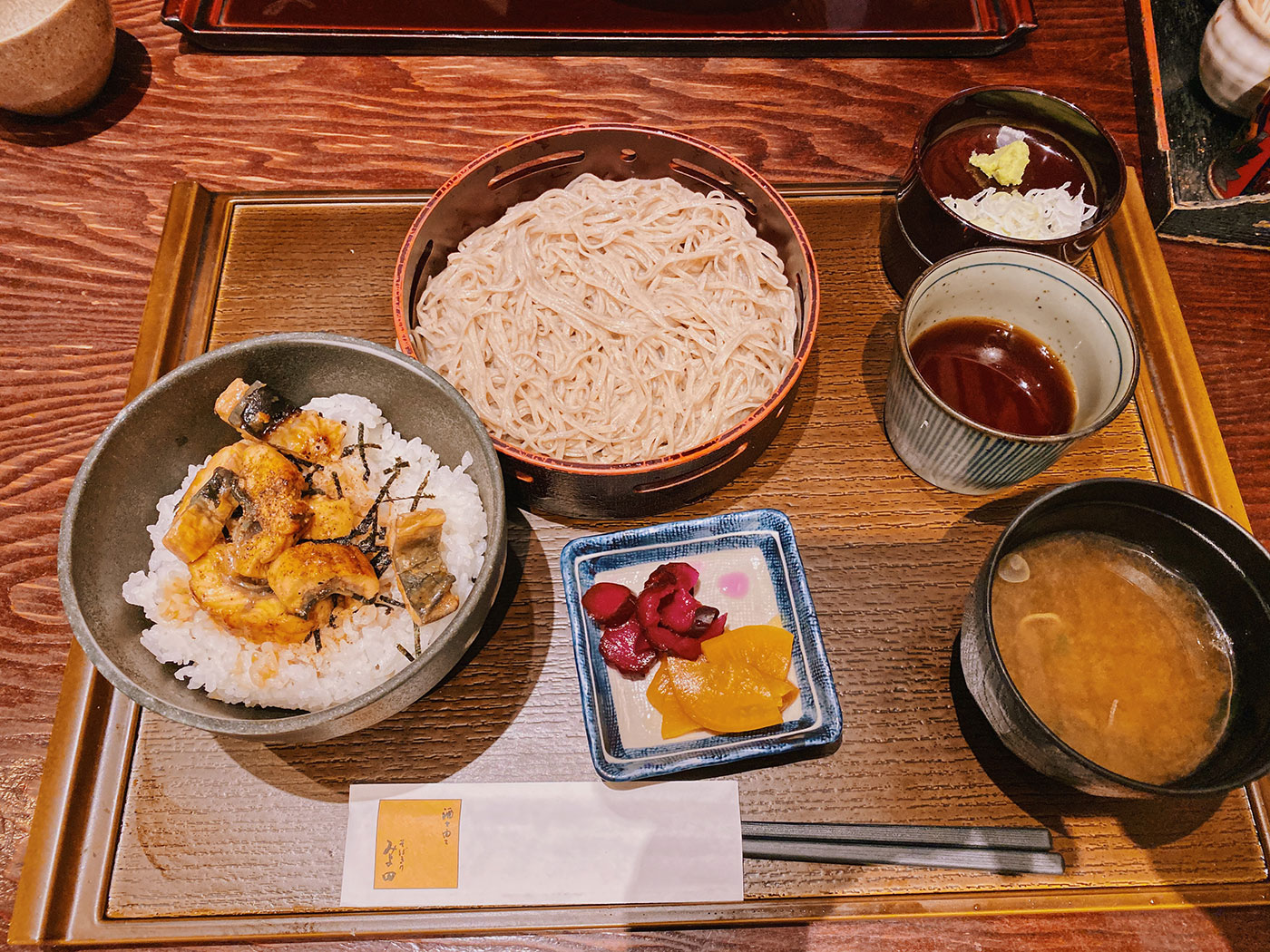 2. Oyaki (Savory or Sweet Dumpling)
Oyaki is a Japanese savory dumpling, traditionally stuffed with roasted local vegetables. Oyaki is super popular and widely available in Nagano. Like Soba noodles, It's a great representation of the prefecture – Oyaki skin is made from buckwheat flour. I tried one near Matsumoto Castle which had leek, mushrooms, and potatoes. Apples and other fruits are also commonly used to make the sweet version!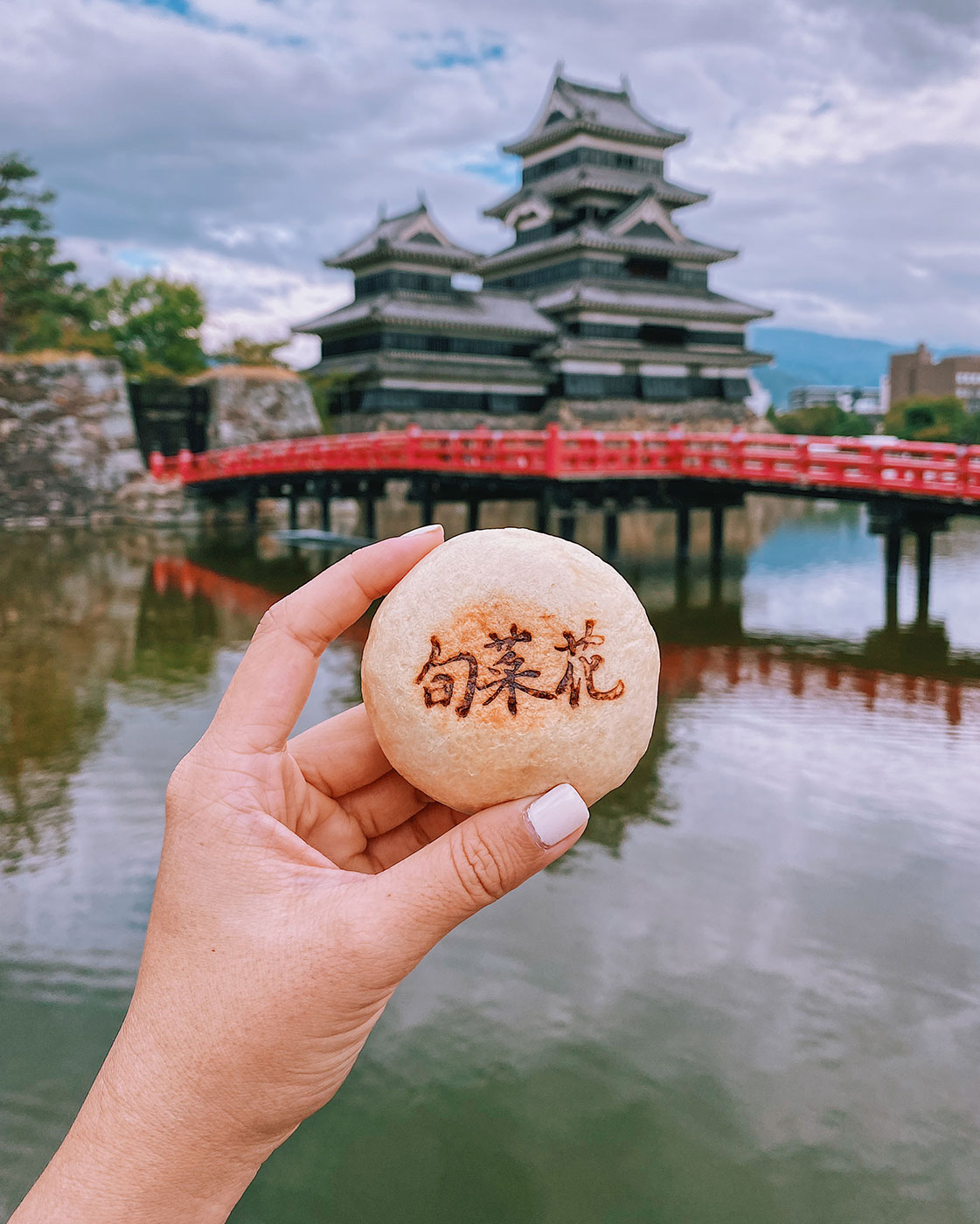 And now without further ado, here's what you can expect from each stop in my Nagano Itinerary:
Day 1: Karuizawa
Our first stop is a small town called Karuizawa. Although small, Karuizawa is hardly unknown to Japanese people. And especially to people from Tokyo, Karuizawa is known as an idyllic mountain town and an escape from the summer heat.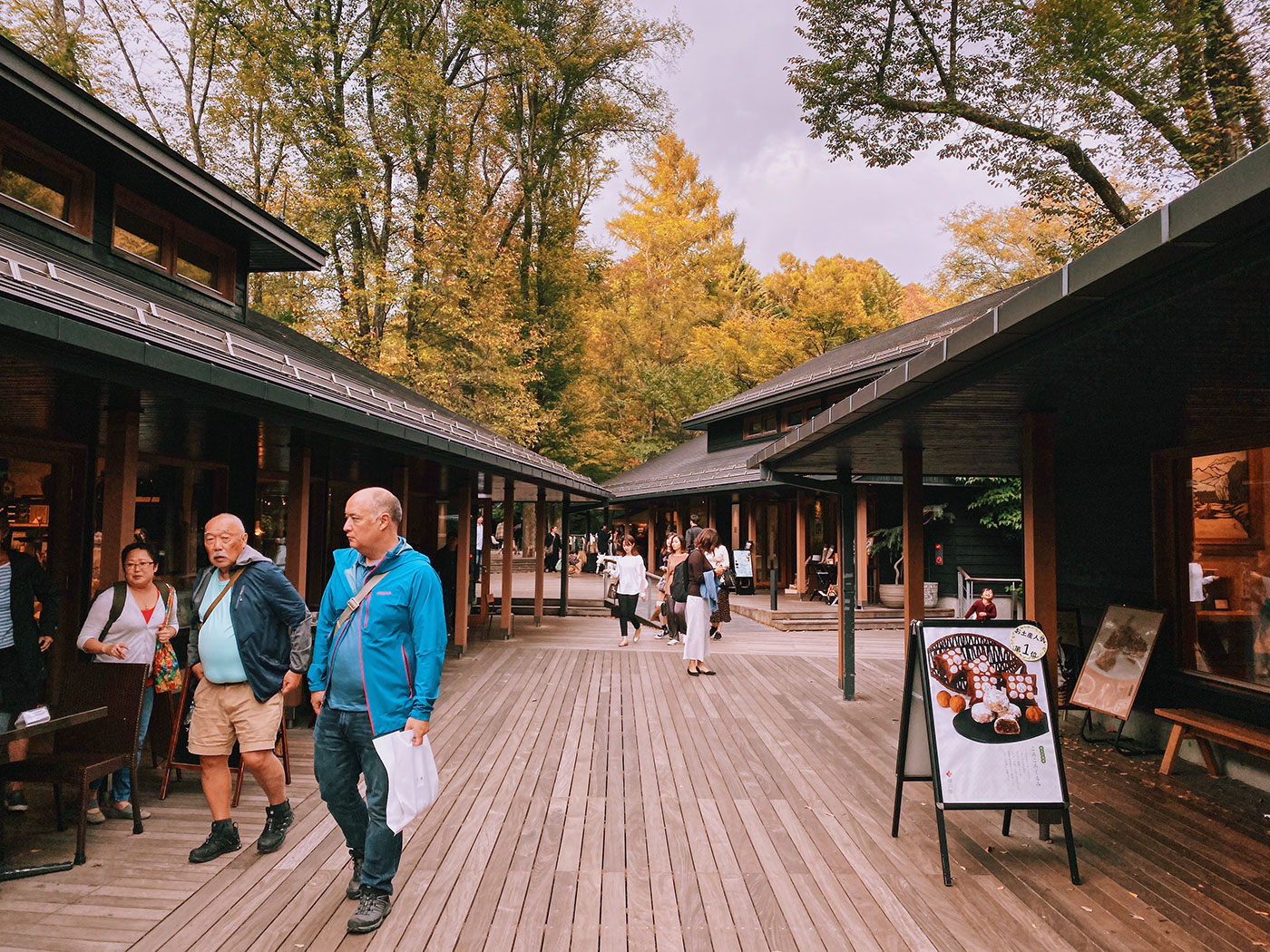 So what makes Karuizawa a worthy stop? Well, Karuizawa is the perfect mountain town that has everything: nature, hiking, good food, and shopping. I've written a separate blog post on Karuizawa which will tell you all about this town.
Tip! Find out more about what to do, where to stay, and what to eat in Karuizawa: Read my blog post on Karuizawa here
Where to eat in Karuizawa
Cheesecake from Izumiya Saku at Harunire Terrace
Sonmin-Shokudo at Hoshino Onsen
Kumobatei next to Kumoba Pond
SASA Japanese Cuisine – famous as the curry shop of one of the Terrace House participant
Hamy's
Where to stay in Karuizawa
Karuizawa Pension Sato is where we stayed in Karuizawa. It's a super cute 2-story house, located deep inside the foresty streets of Karuizawa, where you can pick rooms with either shared bathroom or private bathroom ensuite. Their price is the most affordable I could find in Karuizawa.
Hotel Wellies – a cute british style cabin hotel located in the resort area of Karuizawa
APA Hotel Karuizawa Ekimae – If convenience is what you're after, this hotel is only 2 mins walk from the station with easy access to Karuizawa tourist spots.
Day 2: Matsumoto
From Karuizawa, we drove approximately 2 hours to Matsumoto. Honestly, the only reason why we made a stop here is because it is the closest point to Kamikochi, which is next on our itinerary.
1. Matsumoto Castle & Matsumoto City Museum
Matsumoto Castle is difficult to avoid when you are in Matsumoto. It's definitely a must-do. Unlike the rest of the castles in Japan, Matsumoto Castle is unique due to its black exterior, which has earned its nickname "Crow Castle". It is said the cost of the maintenance for this castle is high due to the material and man hours needed to keep up the black paint exterior.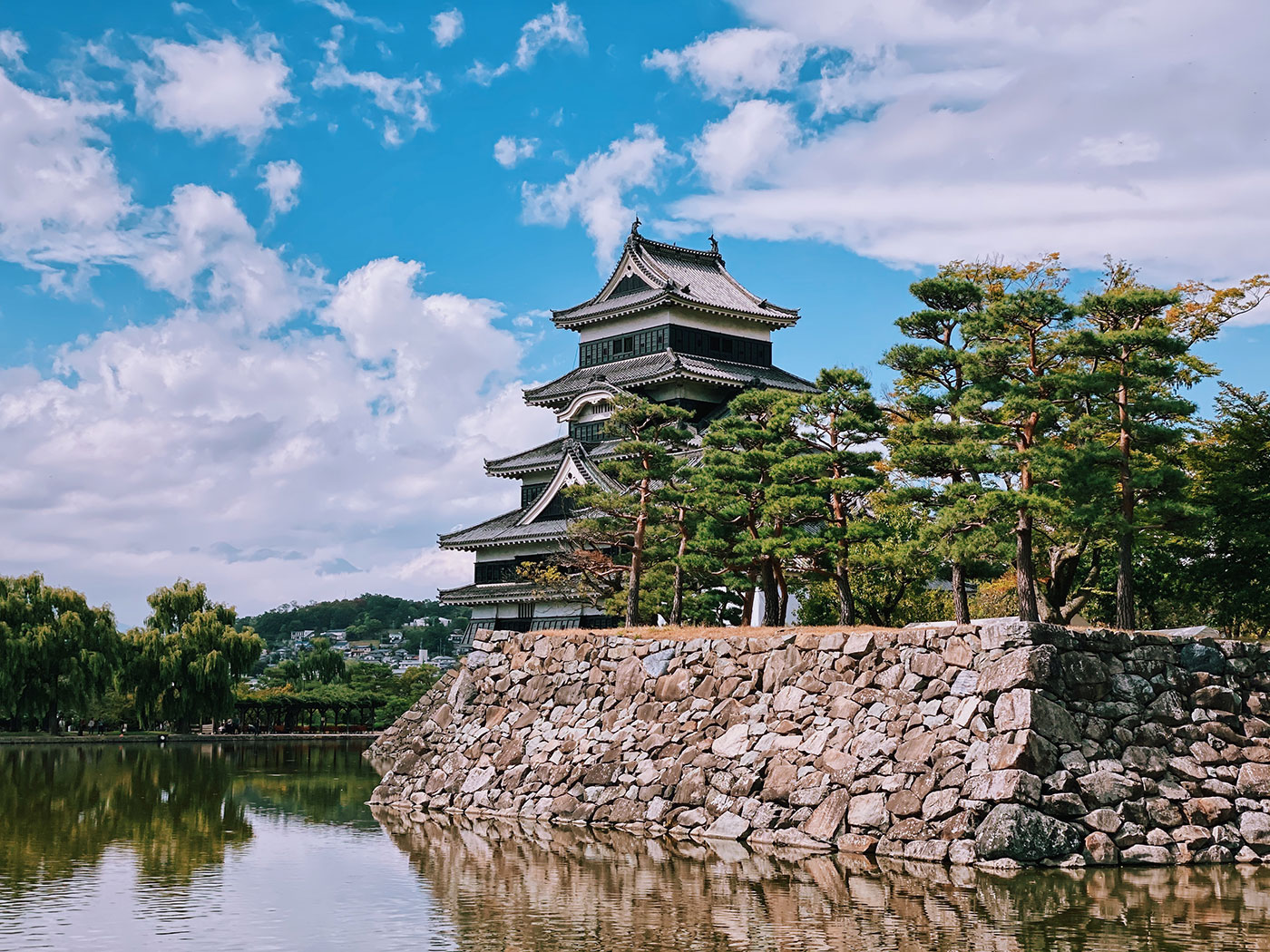 At the castle, you can opt to go inside and explore all 5 floors which I totally recommend. The castle gets more and more narrow as you reach the top and the stairs get steeper, but you get a nice view at the top where you can really see how this area is surrounded by mountains.
Next to the entrance to the castle is the city museum, which you can explore after the castle.
2. Matsumoto City Museum of Art
Matsumoto City Museum of Art is a must-stop if you're a fan of the works of Yayoi Kusama, arguably one of Japan's most famous contemporary artists who was born and raised in Matsumoto. Heck, even if you have no idea who Yayoi Kusama is, I still think the permanent exhibition is worth a visit! It only costs 400 yen to enter and you can go through it in less than an hour. Keep in mind the museum is closed on Mondays.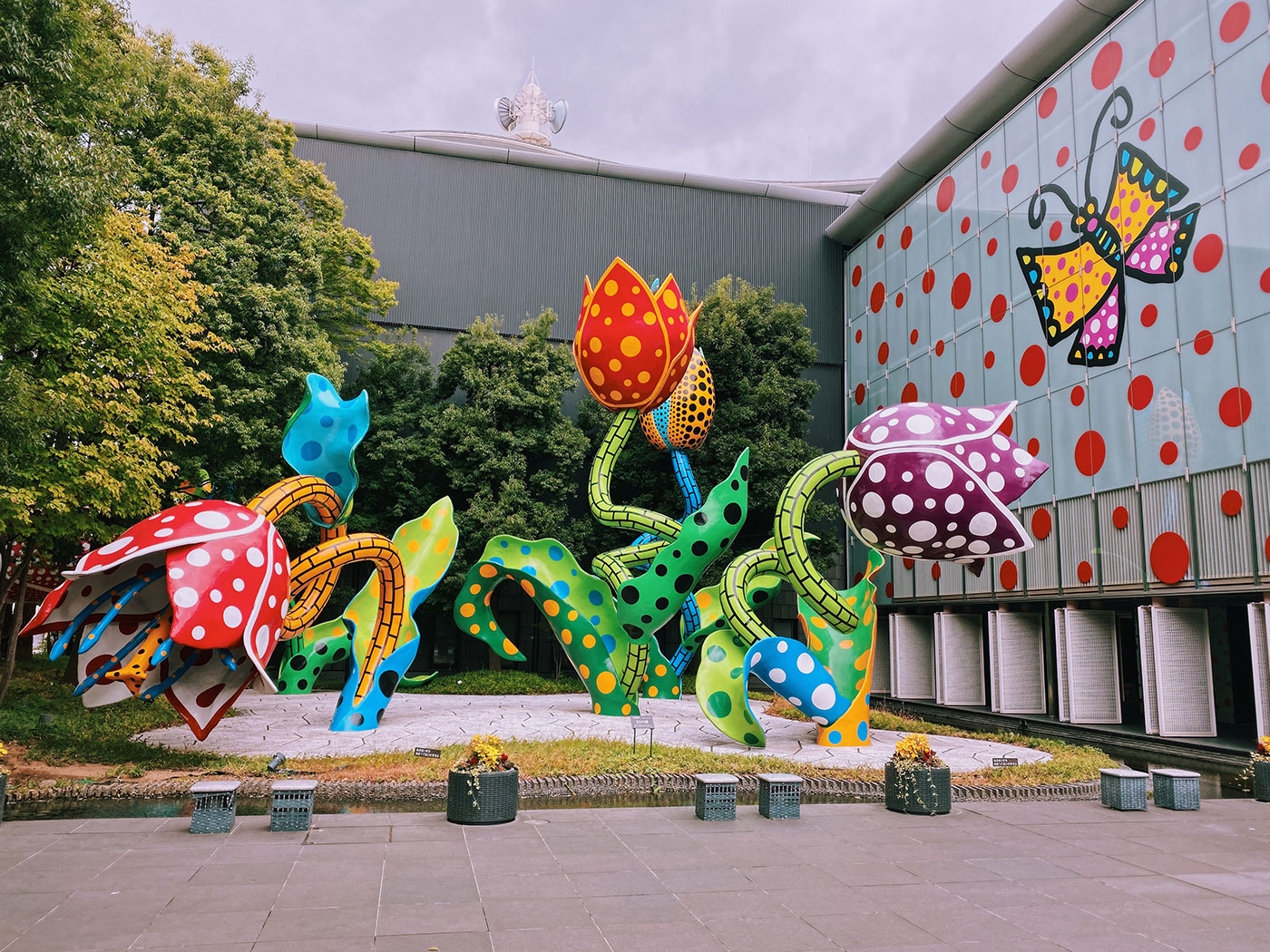 In this museum, you can see permanent collection of her works. While you won't see the famous "Infinity Mirrored Rooms" (which has gone viral thanks to Instagram and commanded hours of queue at The Broad in Los Angeles) you'll get to see many of her early works and an insight into her quirky mind.
3. Former Kaichi School
Kaichi School was one of the first schools in Japan. If you are interested in seeing how schooling was done, I suggest visiting this place. However, if you are out of time you can give it a miss.
4. Nawate Dori
Nawate Dori is a shopping strip where the style of the shops is preserved to look like how it would back when Matsumoto was a castle town. You can find souvenir shops, vintage goods shops, and most importantly, please stop by Furusato for a delicious treat of Taiyaki!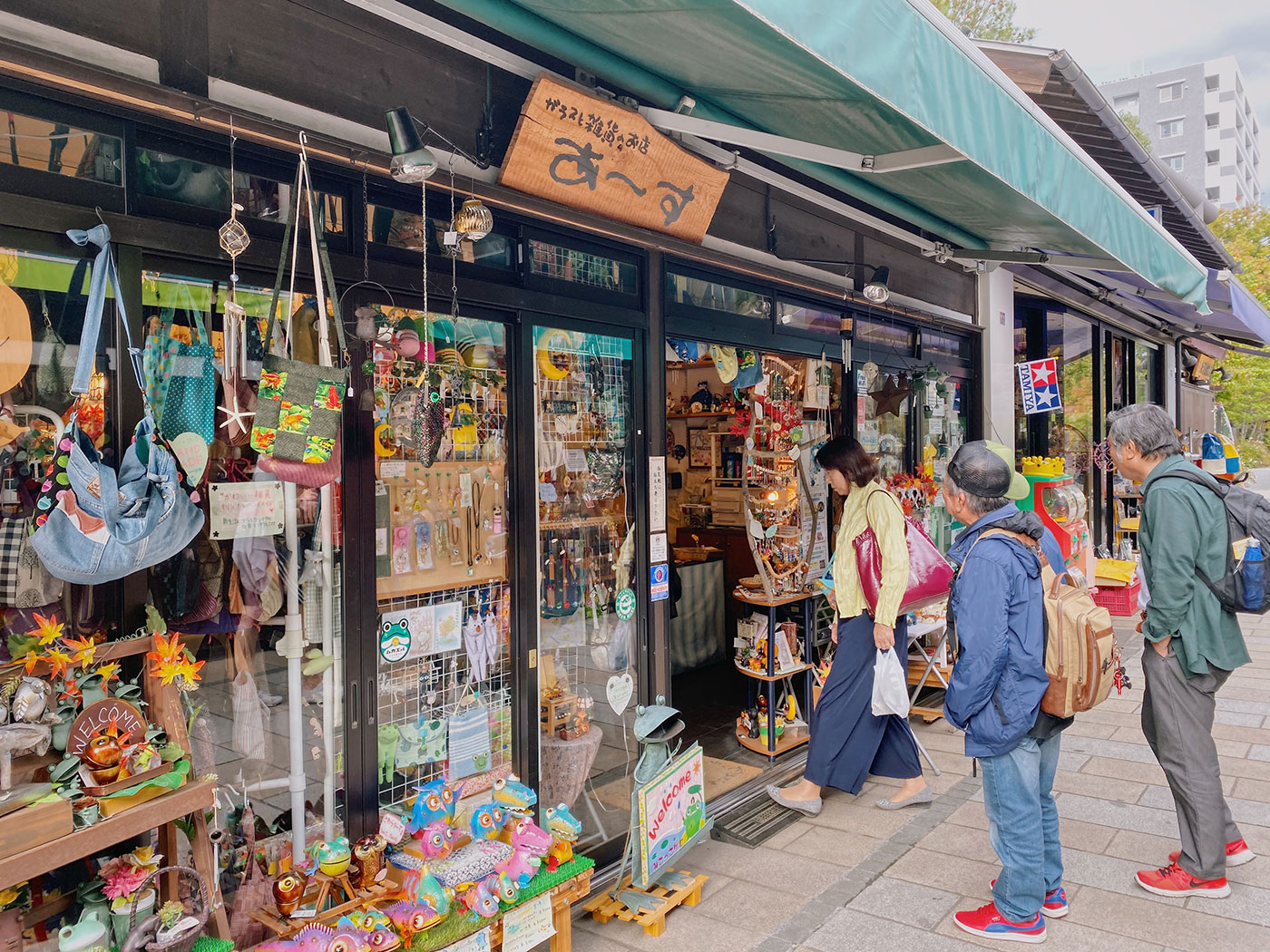 5. Asama Onsen
What is Nagano without a daily visit to the onsen? Okay, fine, maybe it's not normal to go to Onsen every day, but we made a point to try an Onsen in each of the places we stopped by. Asama Onsen is out of the way from the city, so you don't have to stop by here if you've done / planning to do onsen elsewhere (Kusatsu might have been the better choice).
Anyway, compared to Hoshino Onsen from Karuizawa, Asama Onsen is much more simple. Their price is very simple too – more than half of Hoshino at 600 yen per adult. Inside, you can find one cold pool, one hot pool, and one outdoor pool. I suggest trying the hot/cold bathing method – first, take a shower and then dip yourself into the hot pool. Once you feel that your body temperature is high enough, go to the cold pool and dip yourself. Then go back to the hot pool. It sounds crazy, but I've been told this builds immunity!
Where and where to eat in Matsumoto
Miyota Soba
Matsumoto Fried Chicken at Matsumoto Karaage Center
Furusato Taiyaki at Nawate-dori
Where to stay in Matsumoto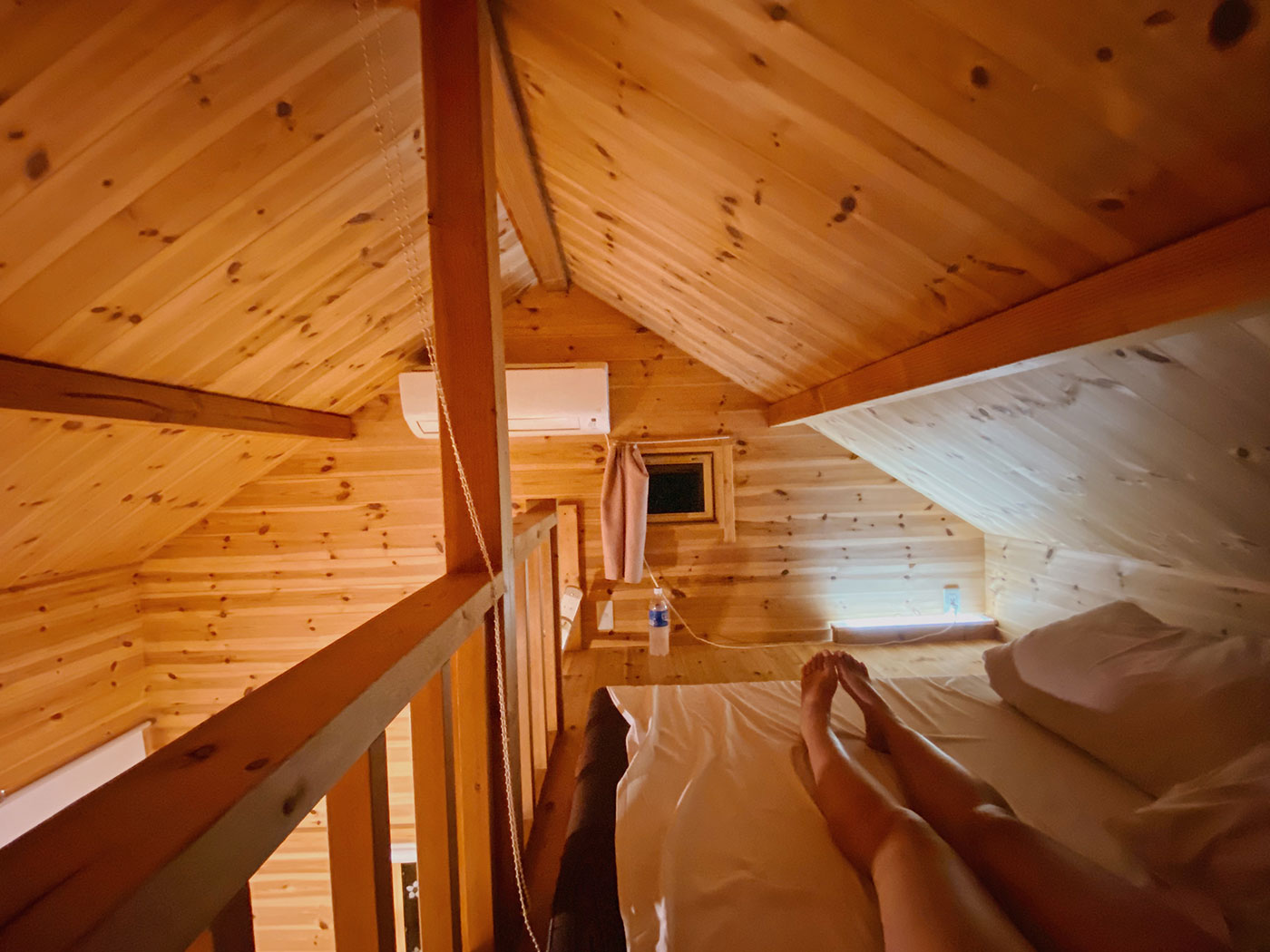 We stayed at L-BASE Fuchian Mura, and got one of their mountain lodge/holiday home. It's a super small yet cozy wooden lodge with a bed located on the second floor. I posted this on Instagram and got so many requests to reveal the location, so here you go! L-BASE isn't located in the city itself though, so it might be a bit inconvenient if you aren't driving – but it's still within walking distance to one of the train stations.
Premier Hotel Cabin Matsumoto – If you need to stay close to the train station, this hotel is a great choice. It's close to the Matsumoto castle and city center.
Dormy Inn Matsumoto – Also a great option for staying near the city center.
Day 3: Kamikochi
Kamikochi is part of the Chubu Sangaku National Park, also known as the Northern Japanese Alps. It has also been referred to as the "Japanese Yosemite Valley", due to the similarity of the terrains found in Kamikochi.
I gotta admit – this entire itinerary was built around our plan to hike in Kamikochi! I saw one photo of Kappabashi (below) and I was sold.
As there is a lot to say about this place, I've written a separate guide on hiking in Kamikochi. This includes what to expect and places to stay, as well as day trip options if you're not in the mood to hike.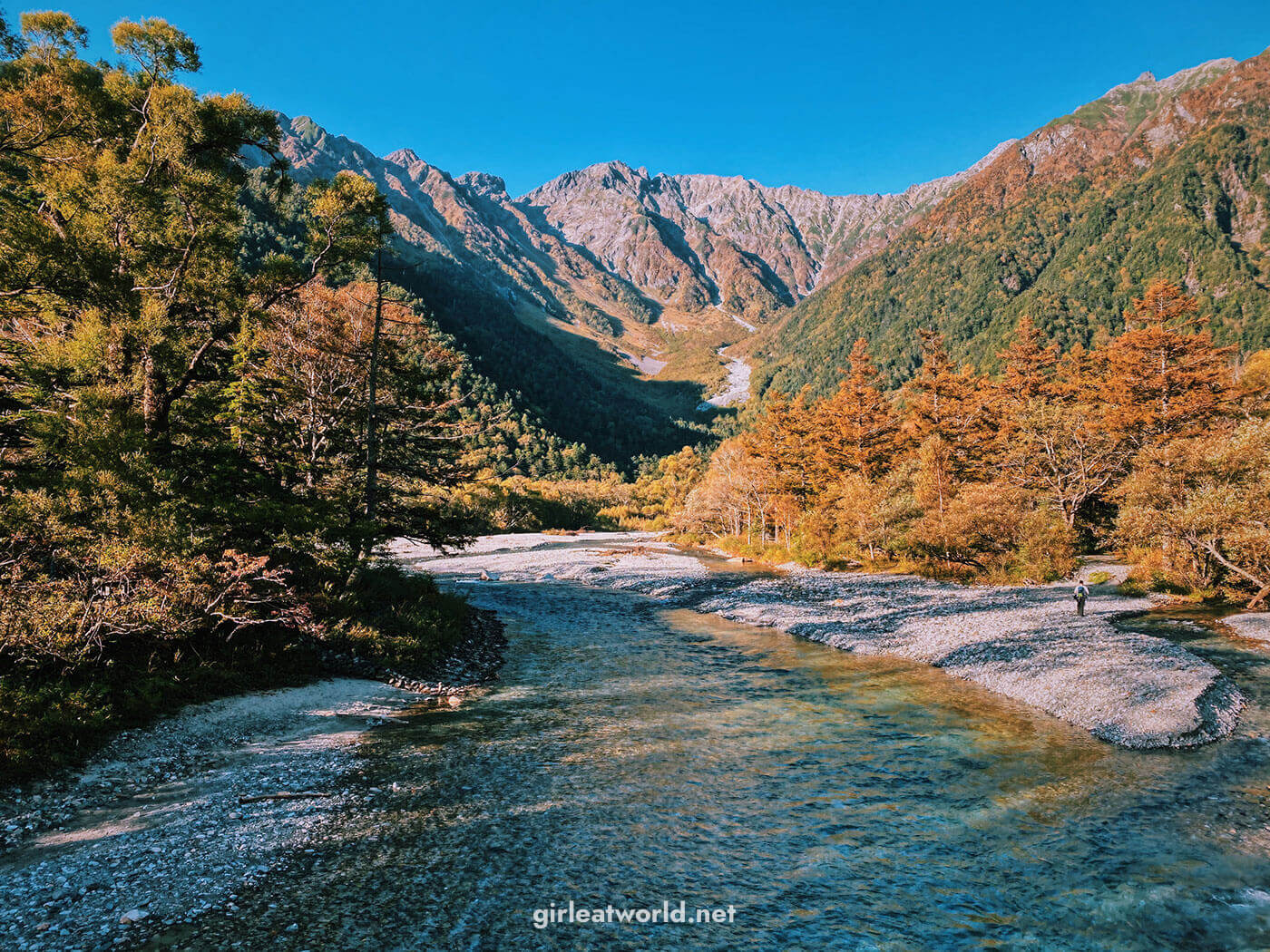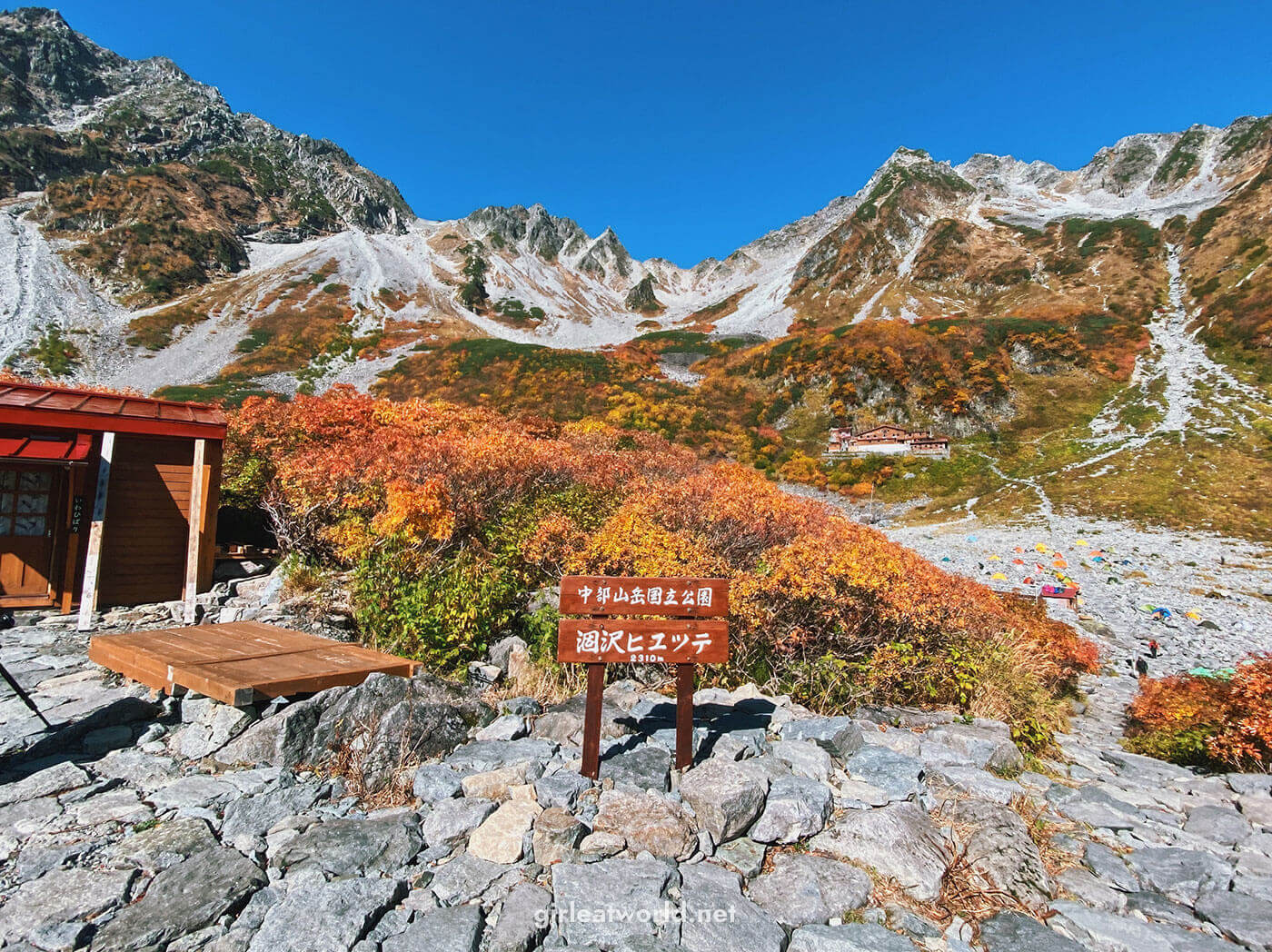 Keep in mind though, Kamikochi is only open from April 15 – November 15. You need to check their official website at kamikochi.org for exact dates, as it may change on a yearly basis. The park closes down for winter and you cannot visit, so it's best to skip if you're here during the winter months.
Day 4: Omachi – Lake Kisaki & Kurobe Dam
I designated this day as our rest day after the insane 10 hours hike / walk we did in Kamikochi, but we still ended up walking around plenty!
1. Lake Kisaki & Kizakiko Camping Ground
If you did the same hike as we did and stayed in Kamikochi, then you have the option to go straight to Lake Kisaki once you've left Kamikochi. It's about 2 hours drive from Kamikochi.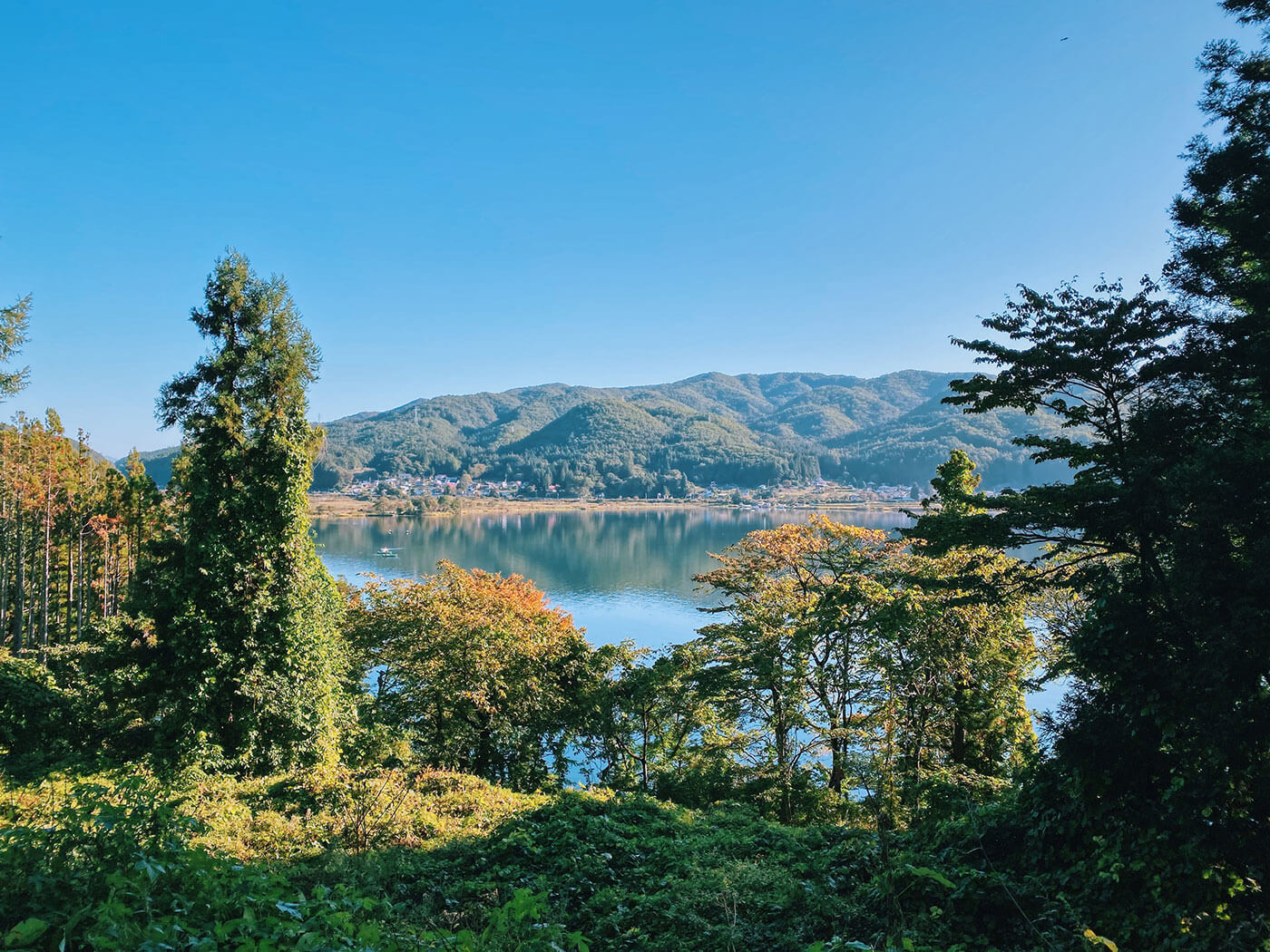 Lake Kisaki is a fairly small lake – walking the perimeter of this lake takes about an hour, and it's mostly lined by holiday houses and farms. There isn't much to do here, but relax. That's the main reason why we came here! To stay at one of the lake side lodge and rest after our Kamikochi trek.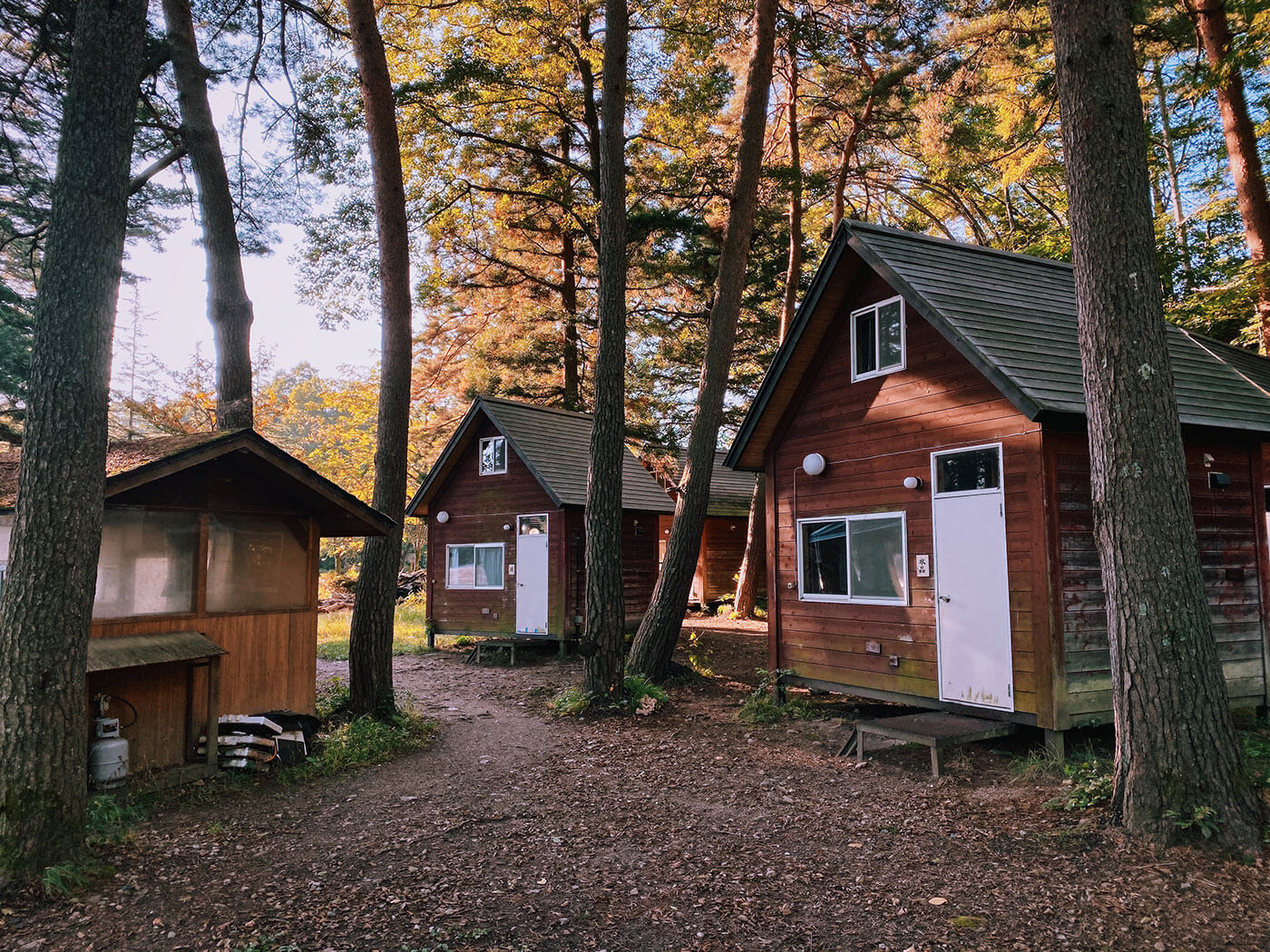 If you feel like going to an onsen, there's (of course) one nearby the camping ground called Yupuru. This one is the most basic out of all the onsen I've visited so far, with only one indoor pool and a washing area. It costs 700 yen per adult to enter.
2. Kurobe Dam
Kurobe Dam is one of the marvel of Japanese engineering, built in the post-WWII era to resolve drought and power shortage in the area. It is the tallest dam in Japan at 186m high, completed in 1963 after an arduous 7 years of construction which claimed the lives of 171 workers.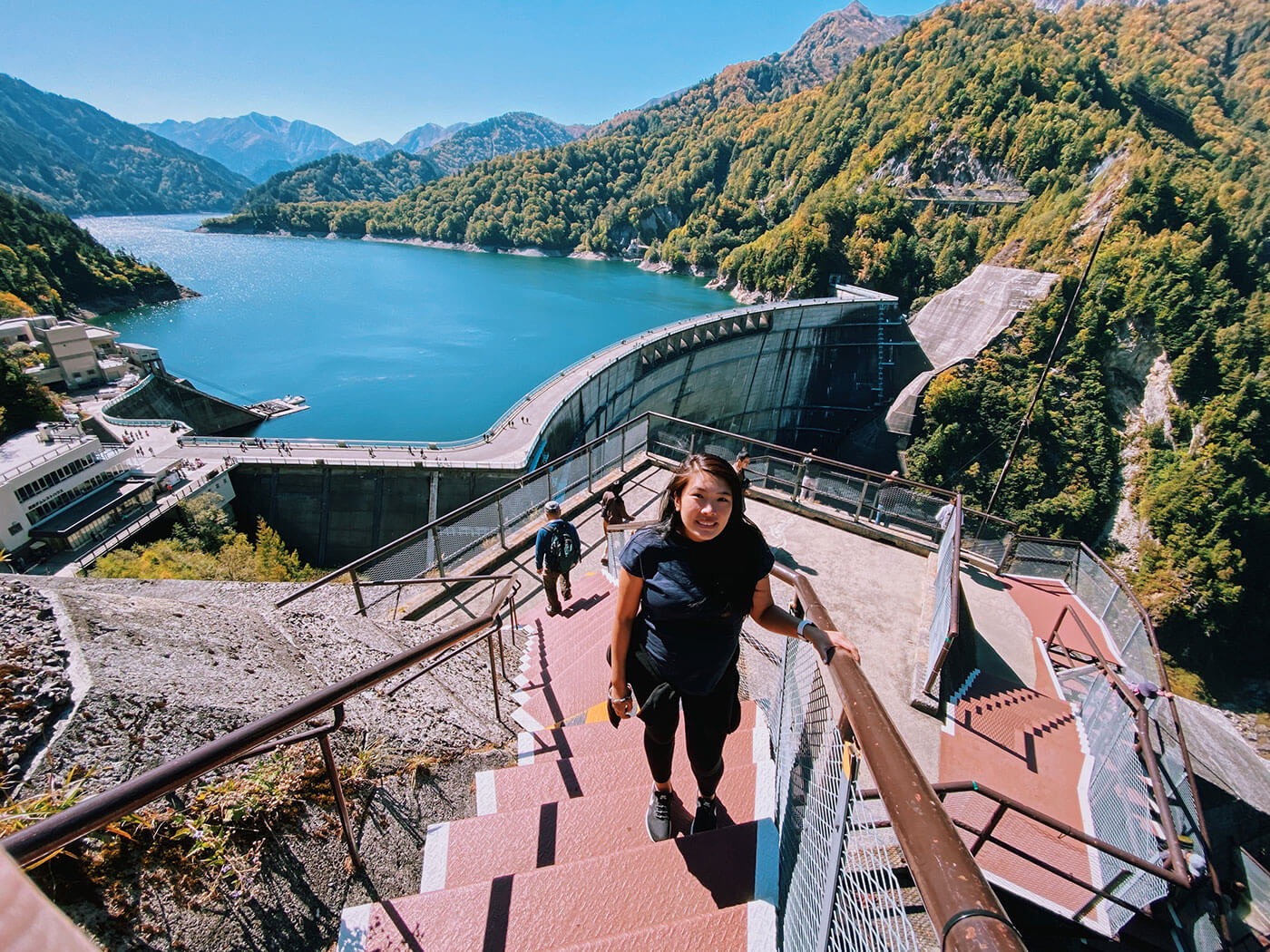 Kurobe Dam station is only about 30 minutes drive from Lake Kisaki. From the station, you need to take one of their electric buses through Kanden Tunnel to continue your way up to the dam itself. You get to pass through the famed "fracture zone" which made the construction of this dam so difficult. The temperature in this tunnel is very cold regarding the outside temperature – it always remains around 10C.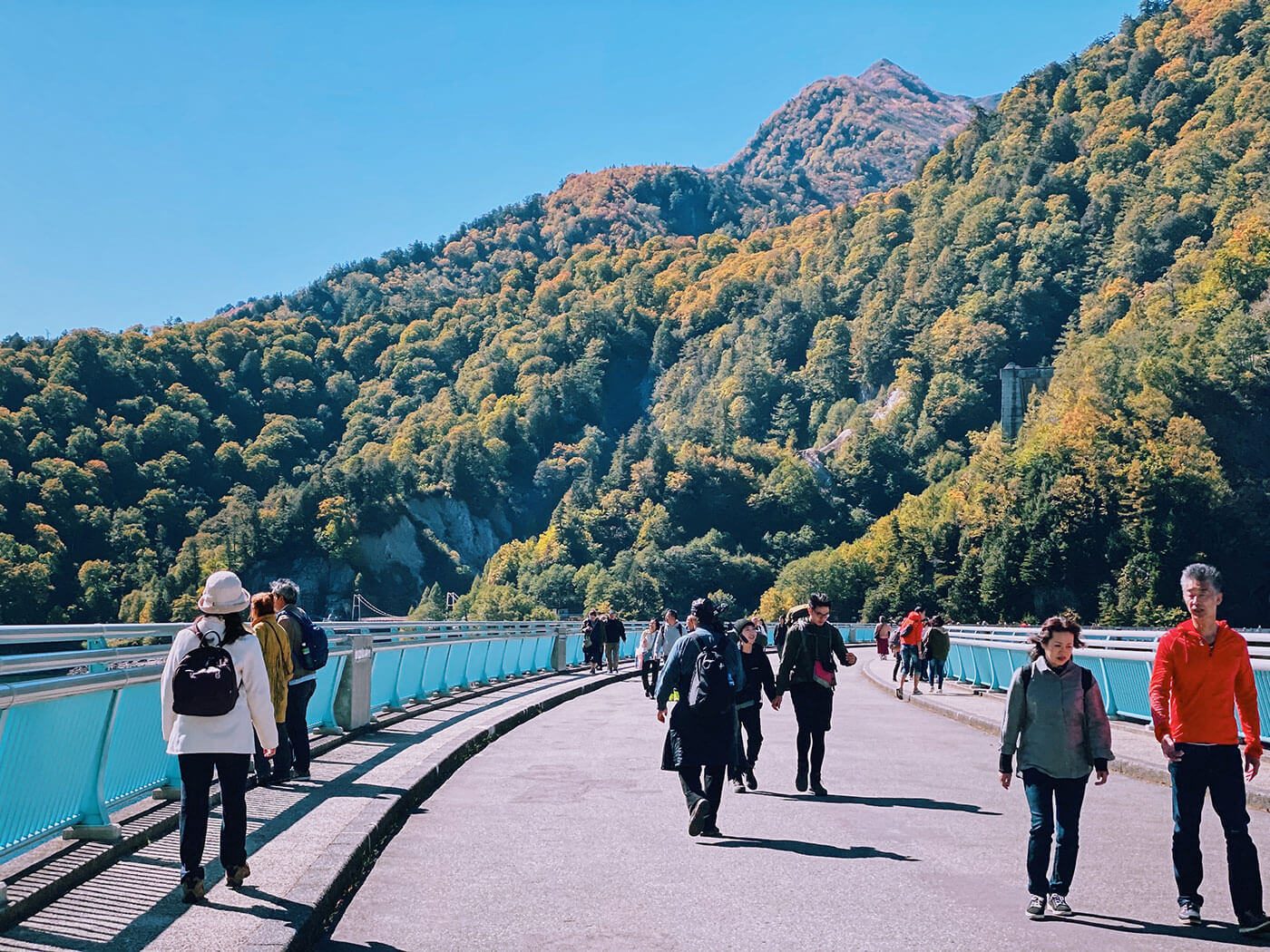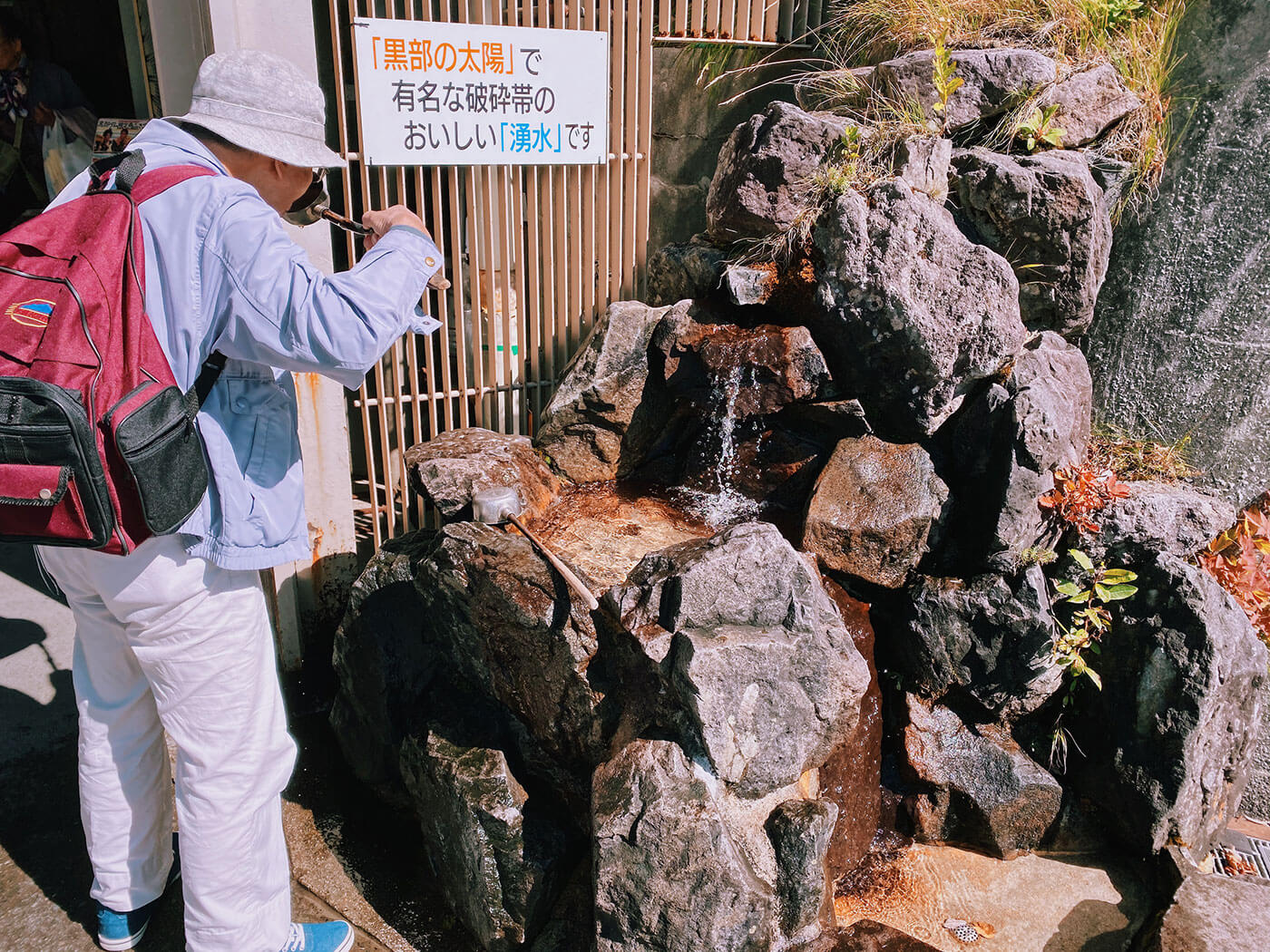 If you happen to be here on a beautiful day, a visit to the dam is totally worth it. It's also part of the Japanese Alpine hiking route (the Tateyama Kurobe Alpine Route to be exact), so you might see hikers in their gear and bear bells walking across the dam!
What and where to eat
Kurobe Dam Curry – This dish is technically just a Japanese curry dish, which is already delicious on its own, what makes the dish an Omachi specialty is the way it's served. The Japanese white rice is moulded to the shape of Kurobe Dam, and the sauce is green (from Spinach) to represent the color of the water in Kurobe dam. Two pieces of nuggets are also served to represent the boats that you can take during certain months in Kurobe Dam. You can have this dish at the Kurobe Dam restaurant or at Yupuru onsen restaurant near Lake Kisaki.
Where to stay
Kizakiko Camping Ground – We booked a lake-side bungalow at this camping ground. It was not cheap by any means (8000 yen a night!), especially for how simple the bungalow is, but the location couldn't be better. It's literally by the lakeside! The only issue is that booking needs to be done in Japanese.
Hotel Yume-no-yu – A ryokan with a private bathroom and its own onsen in the vicinity.
Nanakuraso – This ryokan is located conveniently in Omachi town.
Day 5: Kusatsu
Kusatsu is such a charming little town. The entire vibe of the city reminds me of Spirited Away, and it's made extra whimsical on cold nights since the natural hot spring would occasionally stir up steam into the air. Many visitors would dress up in a Yukata (Japanese summer wear) and Geta (wooden slipper) while going to an onsen.
Read more: If you're visiting Kusatsu, take the time to read my Kusatsu travel guide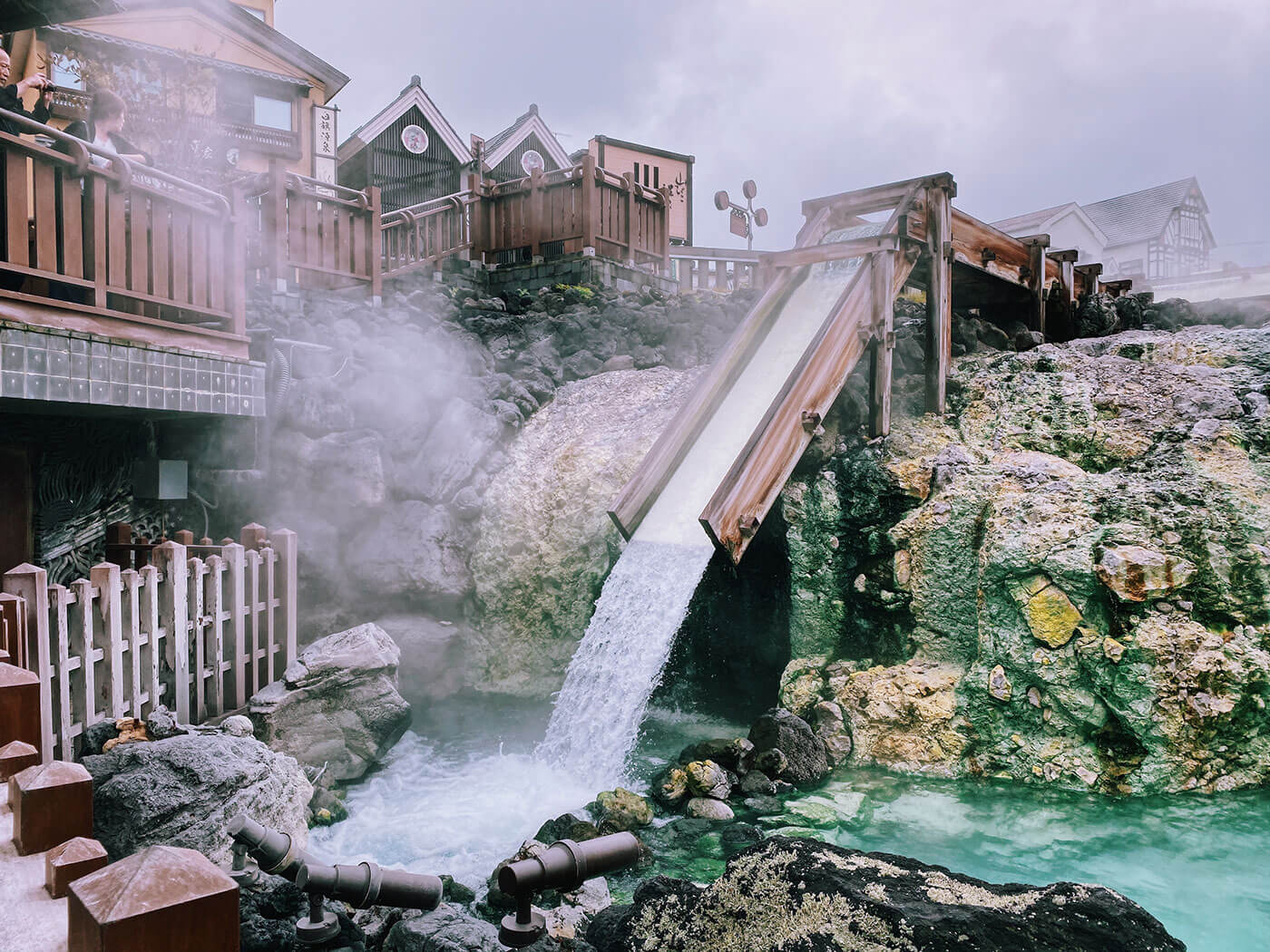 Where to stay in Kusatsu
Ryokan Tamura – If staying near the town center is your priority, then this Ryokan fits the bill. It's a cute Japanese-style inn located minutes from the town center.
Hananigen – Similar to Tamura, Hananigen is also a ryokan located within minutes of Kusatsu town center.
Kusatsu Onsen Eidaya – Slightly cheaper ryokan as the location is a bit further away from the town center, but still within walking distance!
What else you can see in Nagano Prefecture
If you have more time in Nagano and wondering what else to do, here are some recommendations you can check out.
Jigokudani Monkey Park – You've probably seen photos of Japanese Macaque (monkeys) taking a bath in an onsen.
Mount Kusatsu-Shirane – I really wanted to check out this mountain, but unfortunately, it was closed during the time I visited as it is an active volcano and there were a lot of activities observed around the mountain.
Nagano City – Nagano City is the capital of Nagano prefecture. Most famous for hosting the 1998 Winter Olympics, you can still see the remnants of Olympics architecture around town.
Hakuba – Most famous as a ski resort, Hakuba is best visited during winter.
So that's all my itinerary for Nagano prefecture! After leaving Kusatsu, we drove straight back to Tokyo.
A little trivia: I was actually there right on the day before Typhoon Hagibis was set to hit the center of Tokyo. It was rated as the biggest Typhoon of the year, and we could already see the weather being affected by the incoming typhoon – it started to rain, whereas the previous days were clear sunny days. It was also my first time hunkering down for a typhoon. Thankfully for us, the typhoon did not cause too much damage in Tokyo itself. However, we heard Nagano prefecture was flooded and we were lucky to have gotten out just in time.
As usual, feel free to leave comments if you have any questions! I will always reply 🙂