I am a frequent visitor to Tokyo, having visited the city at least once every year for the past 8 years. I thought I knew the city fairly well. But, since my toddler came into the picture, I have had the opportunity of seeing the city in a completely different light and I realized there is so much more to the city to discover!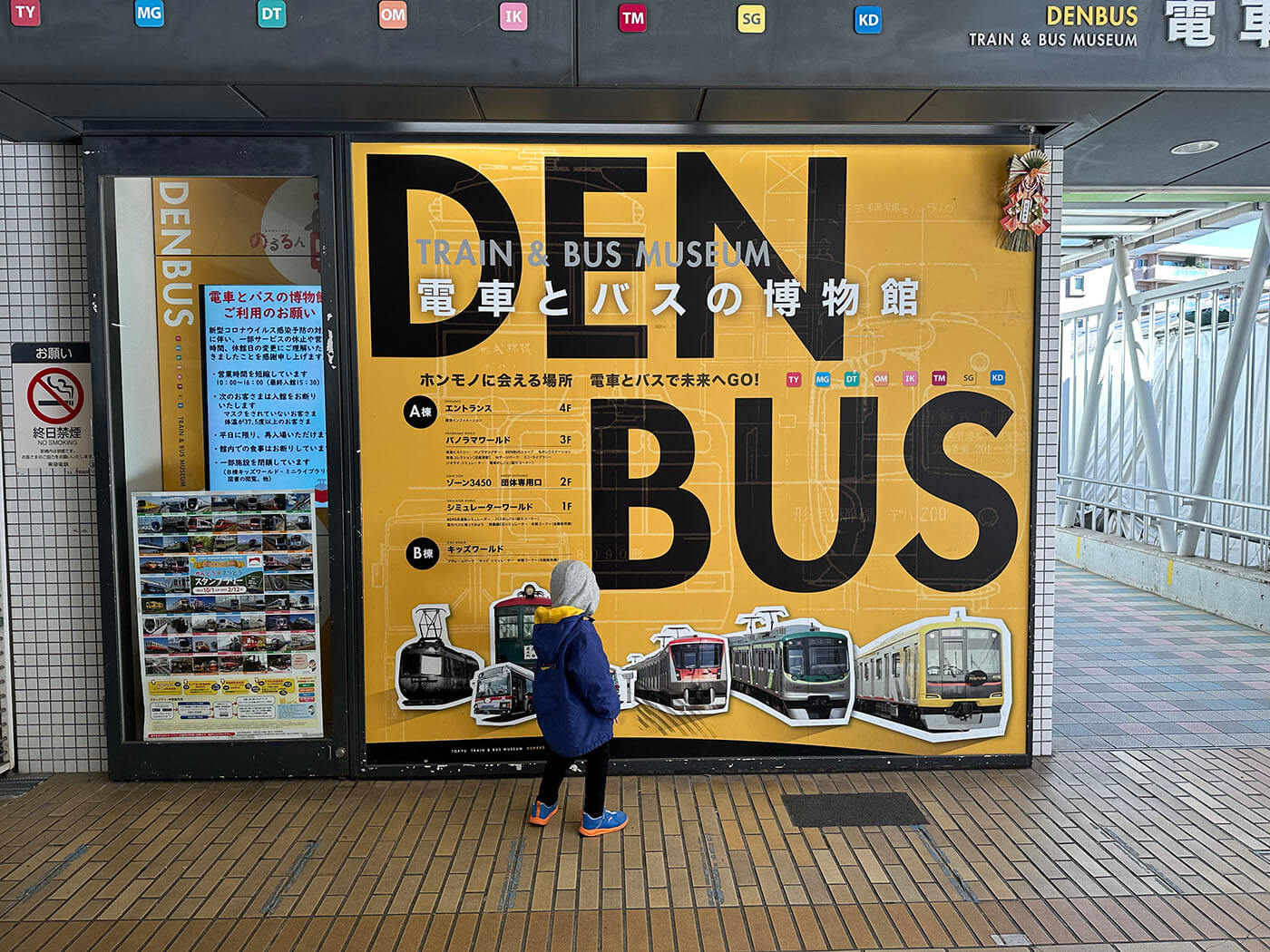 ➡️ First-timers Guide to Tokyo: If this is your first time traveling to Tokyo, I highly recommend reading my first-timers guide to Tokyo, where I dish out everything I know about this wonderful city.
As a first-time mother myself, I know how anxiety-inducing it can be when planning your travels with kids in tow. In this post, I will share with you what it's like traveling with kids in Tokyo, and activities you can do with your little ones!
Tips for traveling with children in Tokyo
Japan, including Tokyo, is a safe country and thus very easy to travel in. Here are a few more tips to make your travel even easier:
Trash – It's a well-known fact that there is rarely any trash bin available in Tokyo. If you want to throw your trash, either visit a public bathroom or bring your trash home with you. This makes changing diapers on the go a little bit of a challenge, but you'll be glad to know that almost every train station in Tokyo will have a clean toilet with a trash bin inside!
Toilets – Yup, in Tokyo, there's almost always a toilet at every train station. And not just that, all the toilets I visited were clean, and have an extra large private toilet (with its own entrance and everything) that has a diaper-changing table! And since the pandemic, almost every toilet I visited was equipped with sanitizing liquid to wipe down seats, in case you are squeamish about letting your toddler use a public bathroom
Consider getting the Tokyo Pass to save money – There are lots of things to visit and do in Tokyo with kids, which means you'll spend money on those activities. Getting a travel pass could ease the pain! To make it easier for you to decide whether to get the pass or not, I'll put a note on each attraction that I mention below that could use the Tokyo pass.
Arriving in Tokyo with children
When going through the arrival procedure with kids, you'll want to make the process as simple and fast as possible. Here are some things you can do ahead of time to make it simpler:
1. Complete your immigration documents before your arrival in Japan
Use Visit Japan Web to complete your immigration and customs procedures before your arrival in Japan. This will help make the arrival procedure easier for everyone. Visit Japan Web will generate QR codes that the officers can simply scan when visitors arrive at the airport. And yes, you'll be glad to know that kids under 18 years old can be included in their parent's accounts.
Visit Japan Web: Read the details about Visit Japan Web here
2. Arriving at the airport in Japan
Regardless of whether you're traveling to Tokyo with or without children, I would always advise you to fly to Haneda Airport (HND). It will save you both money and time because Haneda is so much closer to the city than Narita. In fact, Haneda is pretty much already in the city. Narita, on the other hand, is about 40-90 minutes away from Tokyo. You need to board an express train to Tokyo.
If you are arriving in Haneda with kids and luggage, you might want to book a Private Transfer from and to HND to save the hassle of having to navigate public transport while lugging both your kids and the luggage.
Getting around Tokyo with children
1. Taking the public transport
Public transport, more specifically the local train, is the most convenient and cost-effective way to get around Tokyo. Here is how you can use them safely with your children!
IC Card – To take any public transport in Japan, you'll need an IC (Integrated Circuit) Card. If you have a smartphone, traveling on public transport is even easier because you can just use a virtual IC card, where your phone acts as your IC card and you can use it to tap in and out of the station.
Tip! 💡 If this is your first time visiting Tokyo, I highly recommend reading my guide to public transportation in Tokyo to get familiar with how it works.
Fares – Children aged 5 and below do not need to pay for public trains in Tokyo. However, 6 to 12-year-olds have to pay for a child fare, which is 50% of adult fare. You can buy children's IC cards at any train station, though you'll be asked to provide proof of age so make sure to bring their passports. If they are above 12, they are considered adults and must pay the adult fare.
Timing – Trains in Tokyo is notorious for congestion during peak hour. As such, I would highly, HIGHLY recommend avoiding traveling on the train with small children before 10 a.m. on weekdays, and between 6-8 p.m. on weeknights, especially if you're still bringing them in strollers.
Elevator access for strollers – There's elevator access at train stations in Tokyo! In some of the older stations, this might translate to a roundabout way of getting in and out of the station, but for the most part, it is easy enough.
Social norms in public transport in Tokyo – Unfortunately in Tokyo, there are no social expectations to give up seats for kids or elderly, or even pregnant women. Some trains would have "priority" carriage where you may be able to get a seat. In my experience though, I still sometimes couldn't get a seat in those carriages.
2. Taking a Taxi in Tokyo
While taxi is not the most cost-effective way of exploring Tokyo, there might be times you need to use them, especially when traveling with kids. But if you're just taking it for a short ride, the fares are actually reasonable when divided among the number of people taking the taxi. Car seats are not required for small children traveling in a taxi in Tokyo.
Taxis should be easy enough to find in Tokyo. Look out for taxi stands outside of the train station, or you can try flagging down a taxi on a major road if their sign is red (indicating they are vacant and open for passengers). Make sure the license plate is green, which means it is an officially licensed taxi.
Things to do in Tokyo with kids
There are plenty of activities, museums, and exhibits for kids to enjoy in Tokyo. If you are interested in any of the activities below, I recommend buying the tickets online because they tend to be cheaper than buying at the door.
1. Tokyo Toy Museum
Good for: Infants and Toddlers from 0-2 years, and kids up to 8 years old
Tokyo Toy Museum is not your ordinary museum. Built on a former elementary school, the museum houses toys in what used to be a classroom.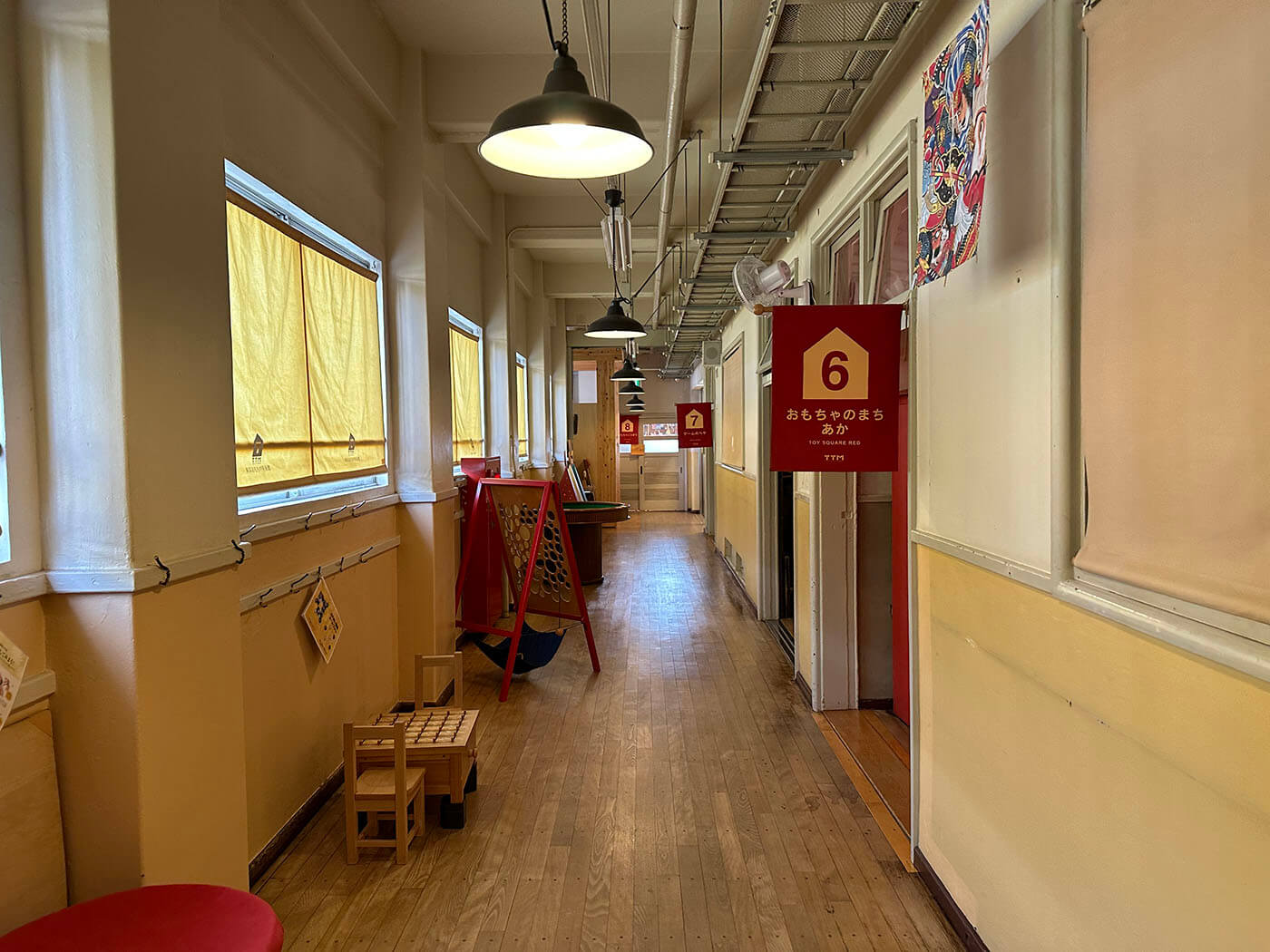 Even though the name implies otherwise, this place is more of a playground for kids and less of a museum. While there are aspects of the place that could be considered a museum (they do have some toys displayed inside glass shelves), for the most part, this place is great for kids as it allows them to experience many different toys.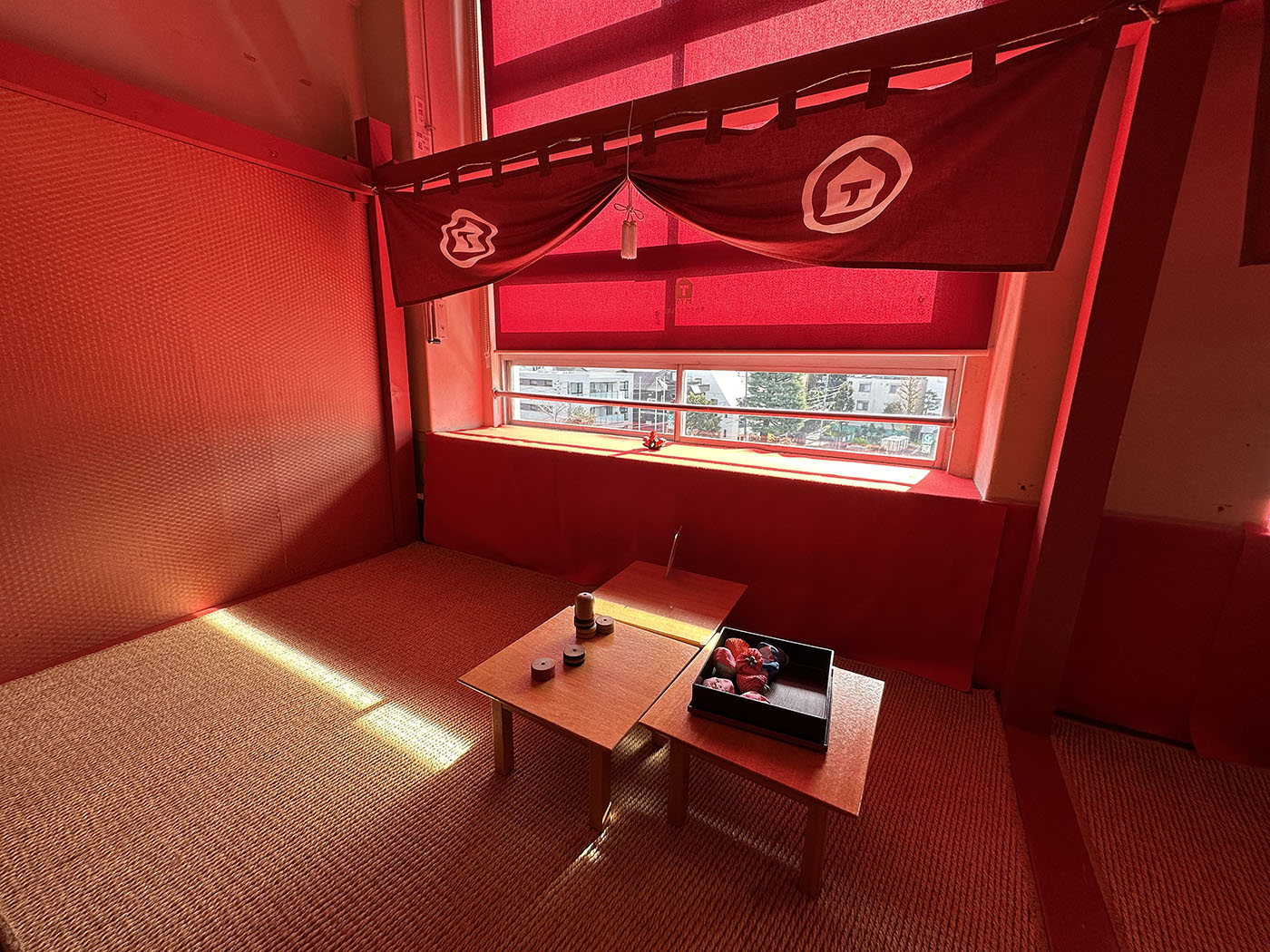 There are 5 toy rooms. One of the toy rooms is called "The Good Room", which houses toys that are shortlisted for the GOOD TOY award every year. You can take a peek at the toys here.
Upstairs, there are two rooms called Red and Yellow Room with more toys. My toddler loved The Good Room, and I myself had a ton of fun playing with some of the toys.
Aside from the toy rooms, there is also a wooden play area for toddlers and a separate play area for infants/babies.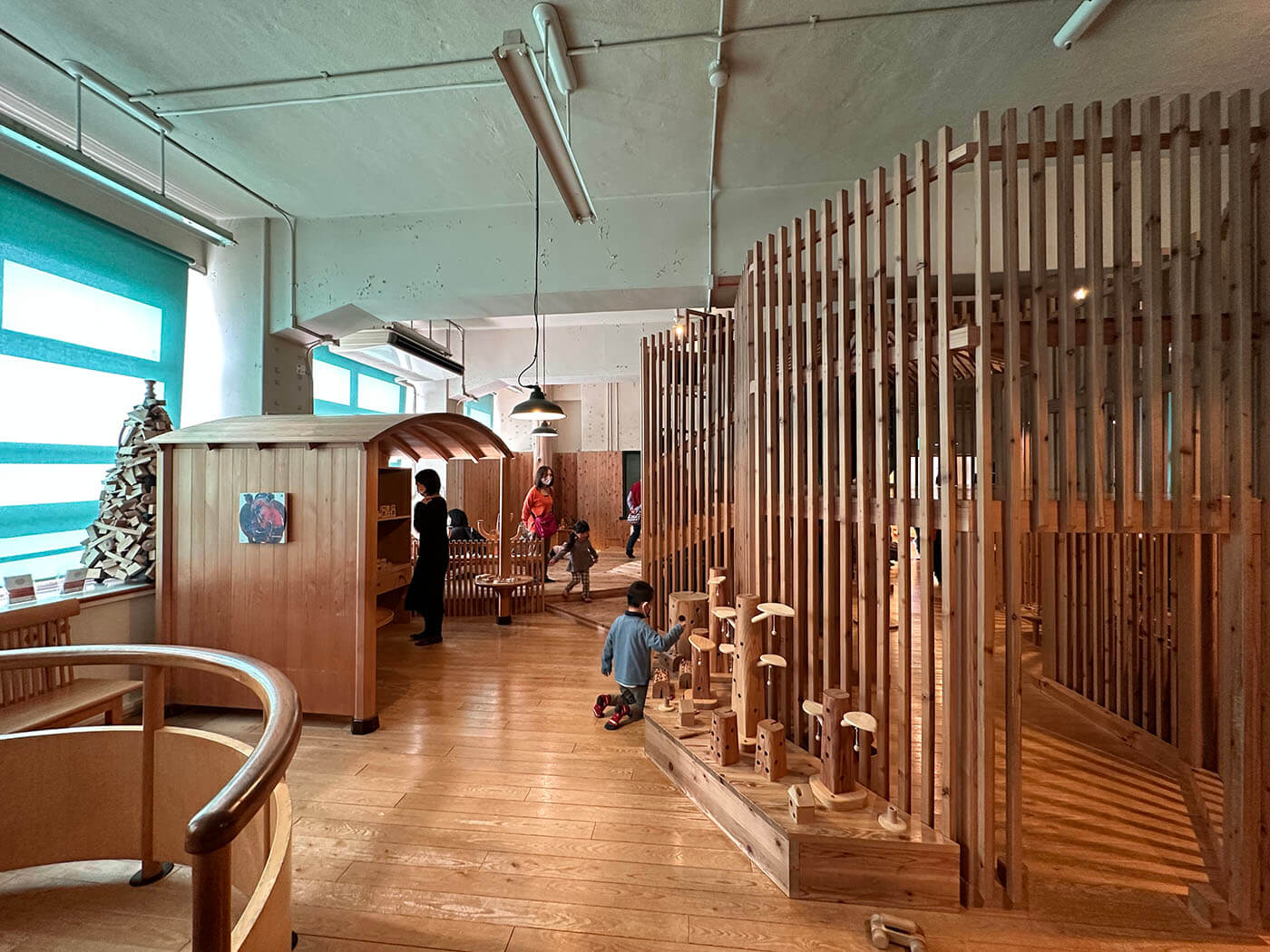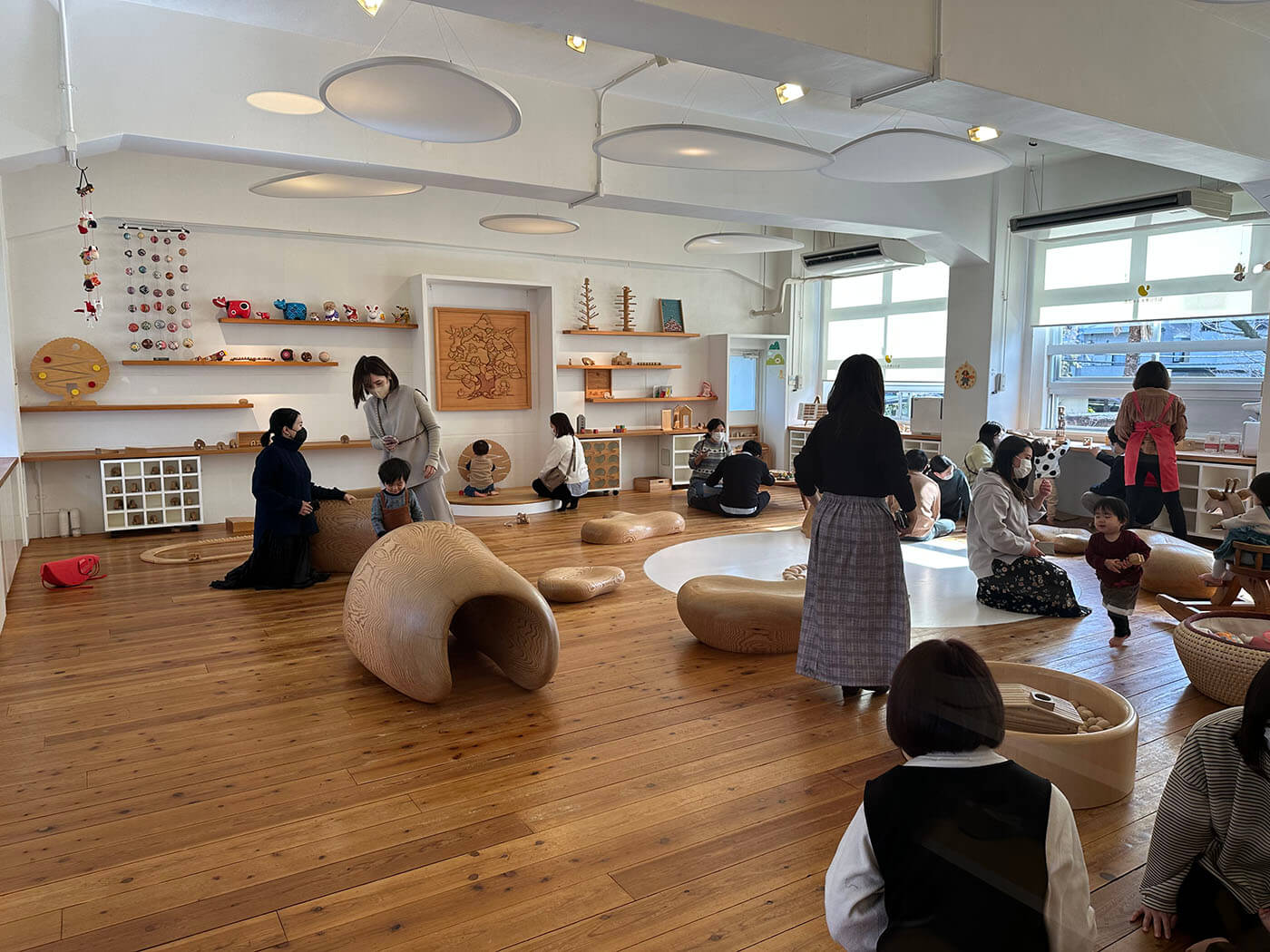 It's not a big place but my 3-year-old really enjoyed it. Within minutes after leaving the museum, he told me "Mama, I want to go to the toy museum again!"
Admission Info
Tickets: 1100 yen for adults and 800 yen for kids
Hours: 10 am – 4 pm, closed on Thursdays
Location: Click here for the map
2. Fire Museum by Tokyo Fire Department
Good for: All ages! I had fun here as an adult as well.
Just a 4-minute walk from the Toy Museum is the Fire Museum run by the Tokyo Fire Department. This museum has 4 floors, with the top few floors filled with a history of fire fighting in Tokyo, which has been a big issue since the Edo period due to earthquakes and the fact that most buildings in Tokyo were wooden.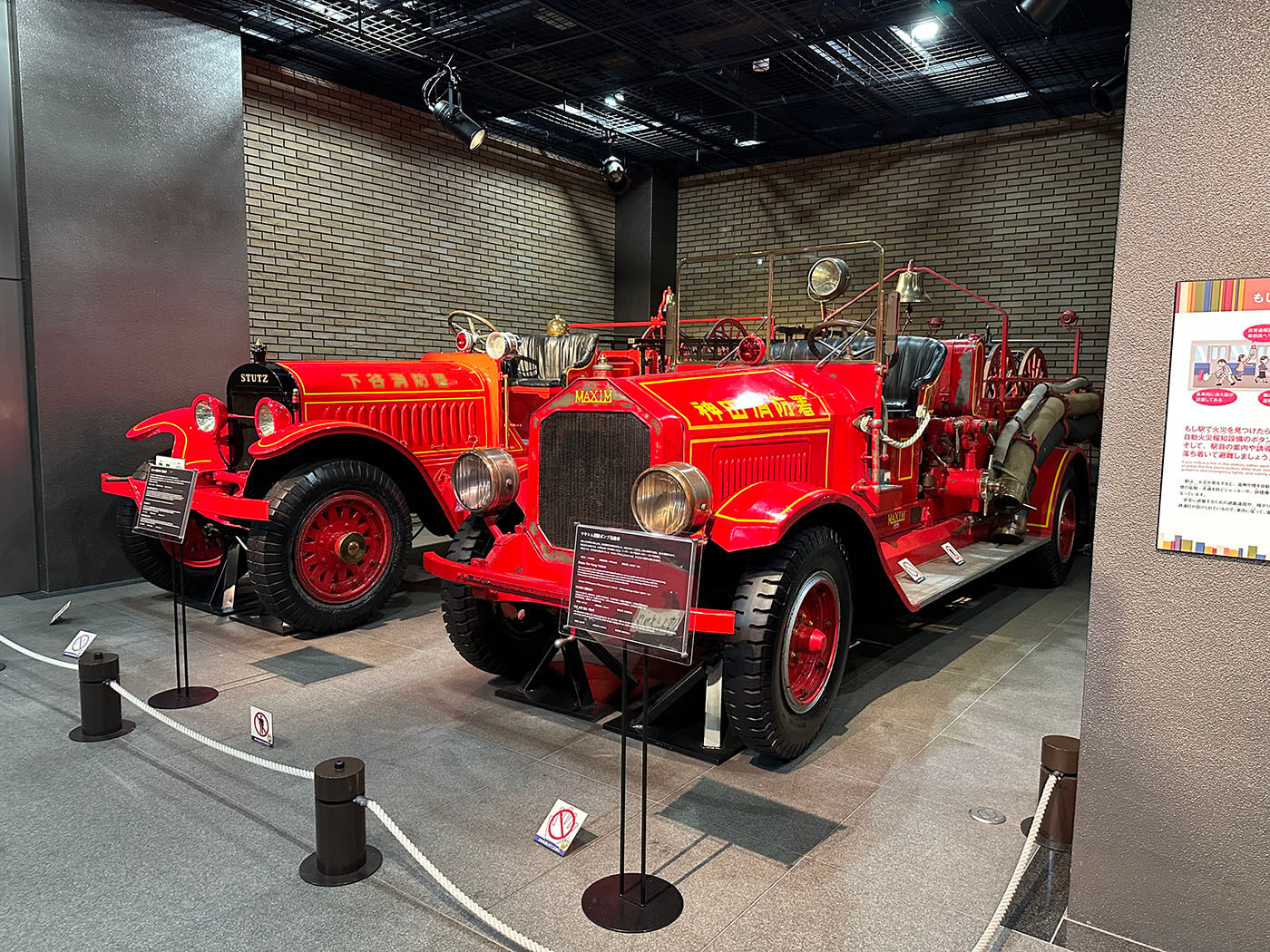 But this museum is great for kids for many reasons! On the top floor, there is a helicopter that kids can ride on, and on the lower floors, you can see all kinds of fire trucks that have been used in Tokyo throughout time.
The best part is that this museum is free of charge! I was not expecting it to be free given all the things you can see here, so it was a nice surprise.
Admission Info
3. Train and Bus Museum by Tokyu Corporation
Good for: Kids from 2 – 8 years old. There is no area for babies to play in.
This museum is a little out of Tokyo, but it was such a big hit with my toddler. He loves it so much, we went three times within one month! Located right at the exit of Miyazakidai station, it isn't too difficult to get to – just takes some time depending on where you stay in Tokyo.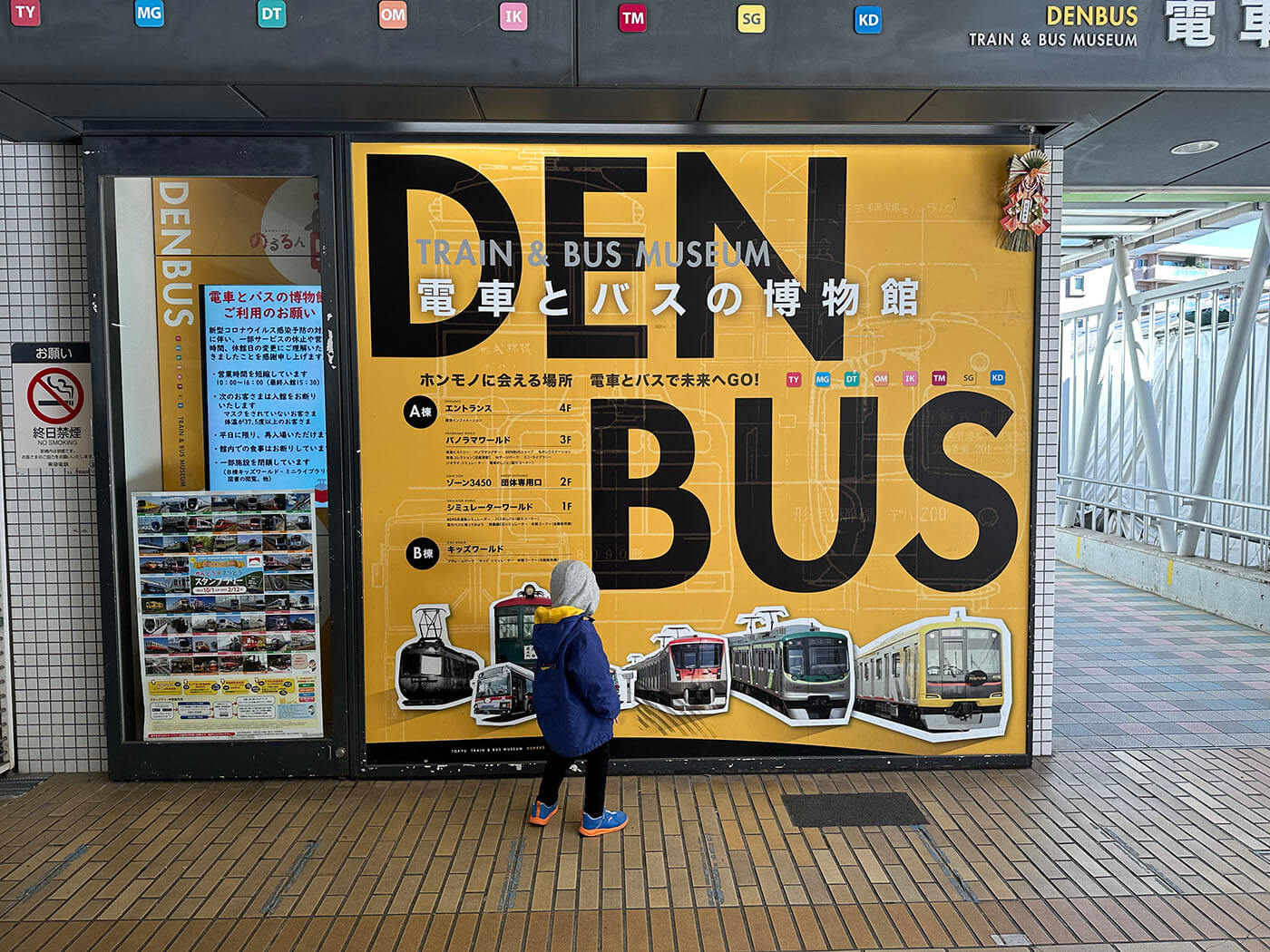 The museum consists of two floors. On the upper floor (the one you first visit past the ticket gantry), you can see lots of train models. This was my toddler's favorite part. He could watch the train go around and around for hours. You can also control the train models!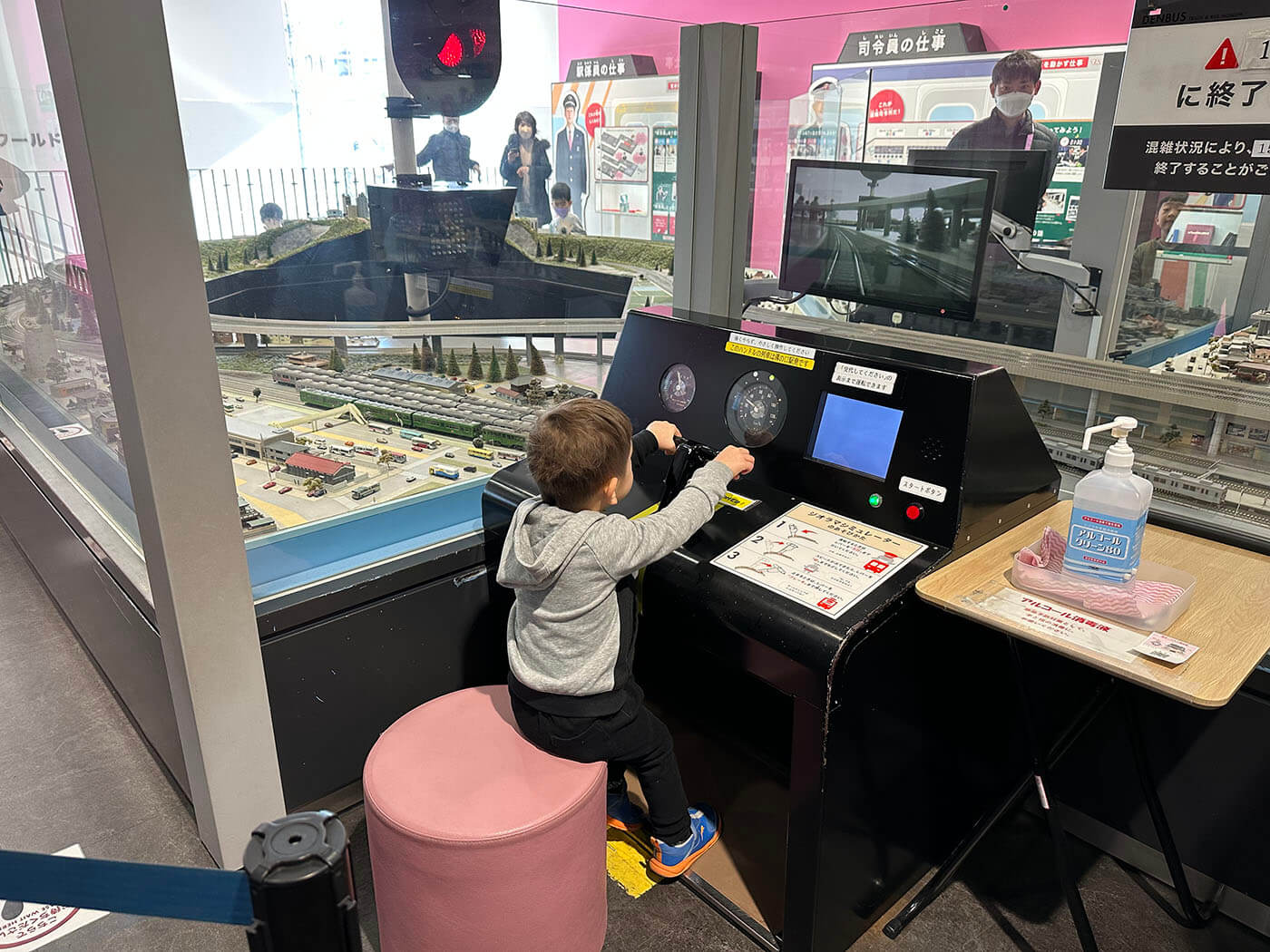 The lower floor has real-life buses and trains that kids can explore. There are games they can play, where they pretend to drive the bus.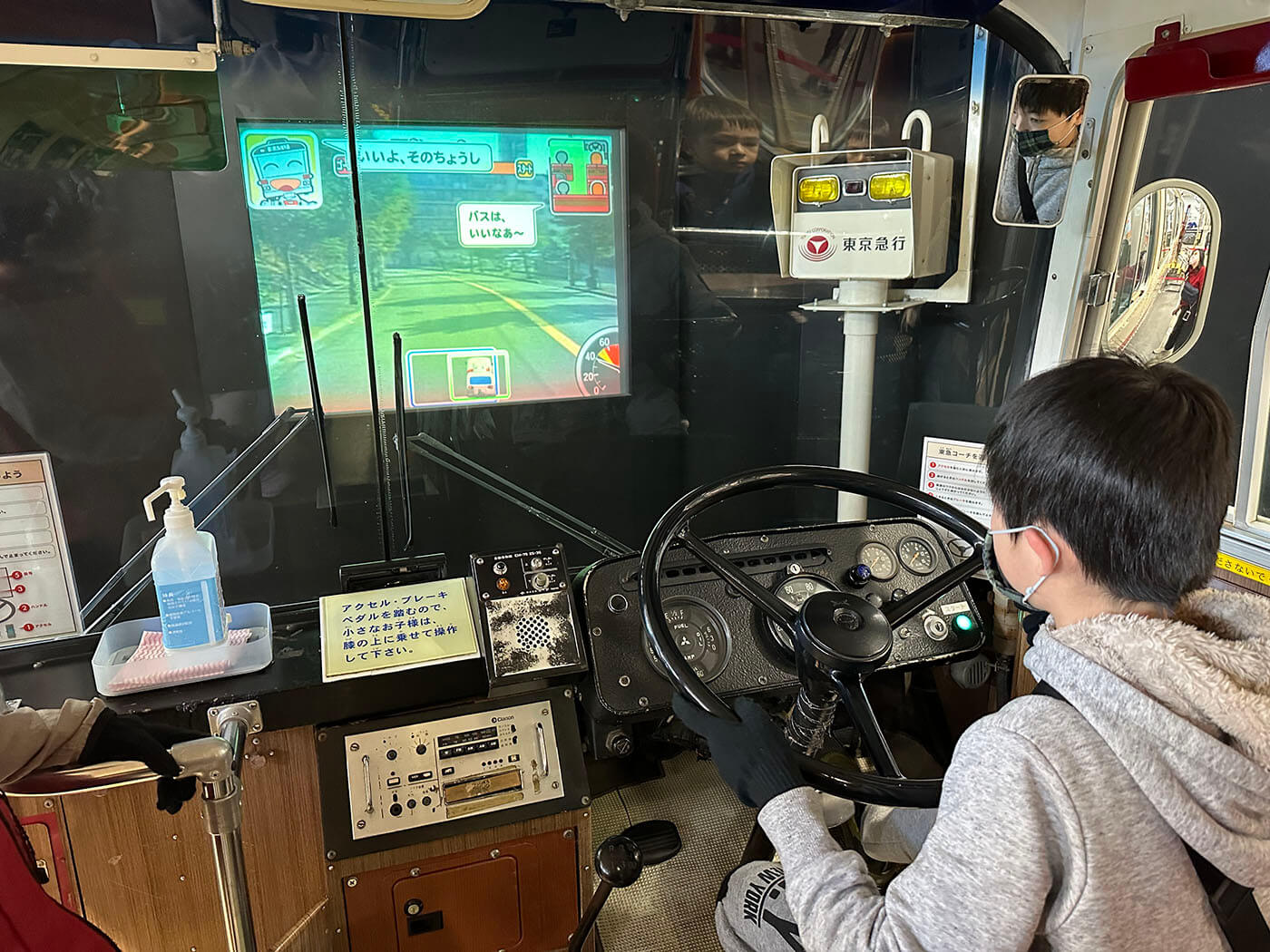 Admission Info
4. Tokyo Science Museum
Good for: Kids from 2 to 12 years old, but to be honest I had fun here as well as an adult…
Tokyo Science Museum consists of five floors of interactive exhibits. Many of the exhibits were in Japanese, but that didn't stop my toddler from having fun! Our favorite room is the one on the top floor, where kids can use physics concepts to move a large metal ball.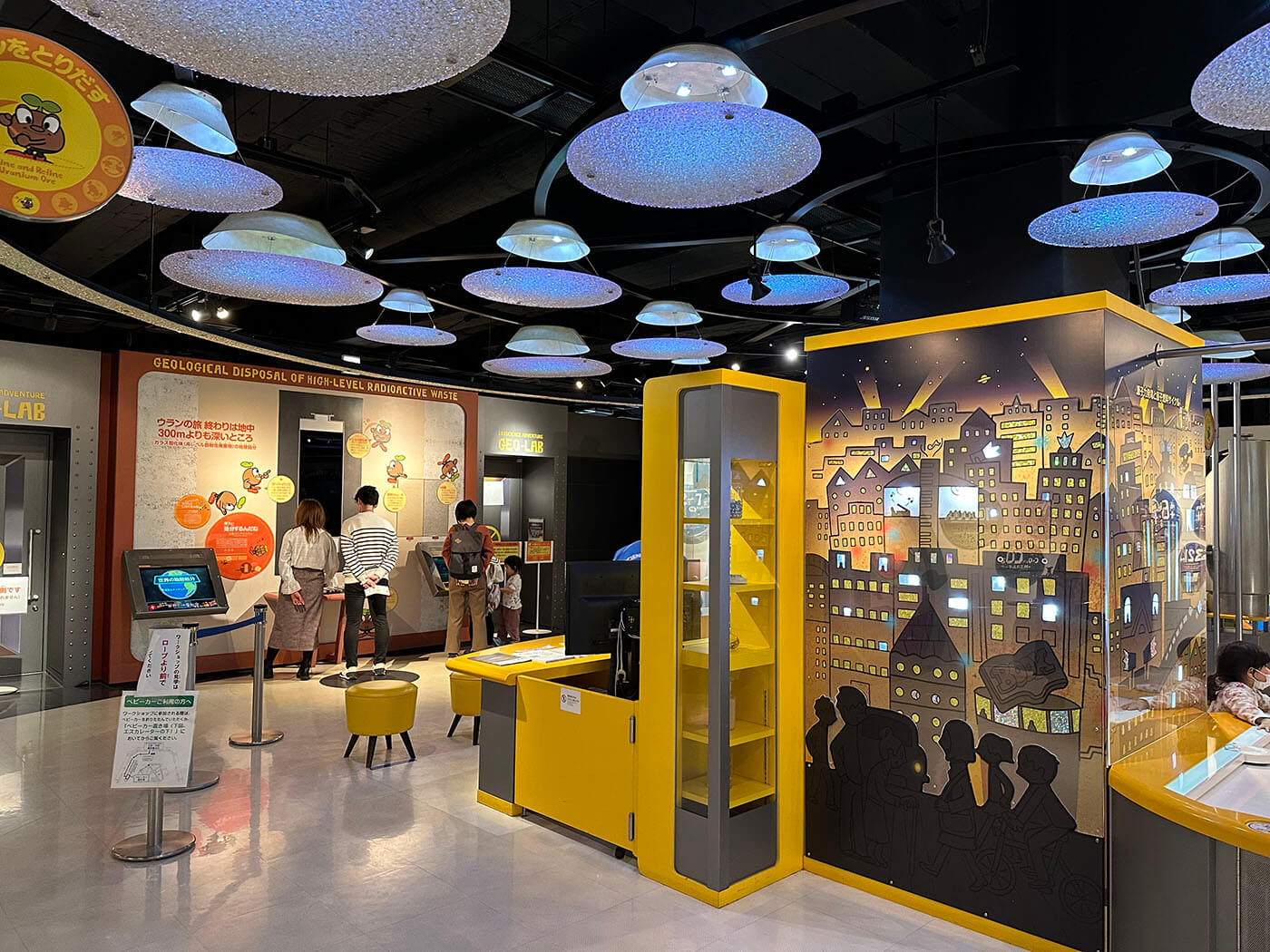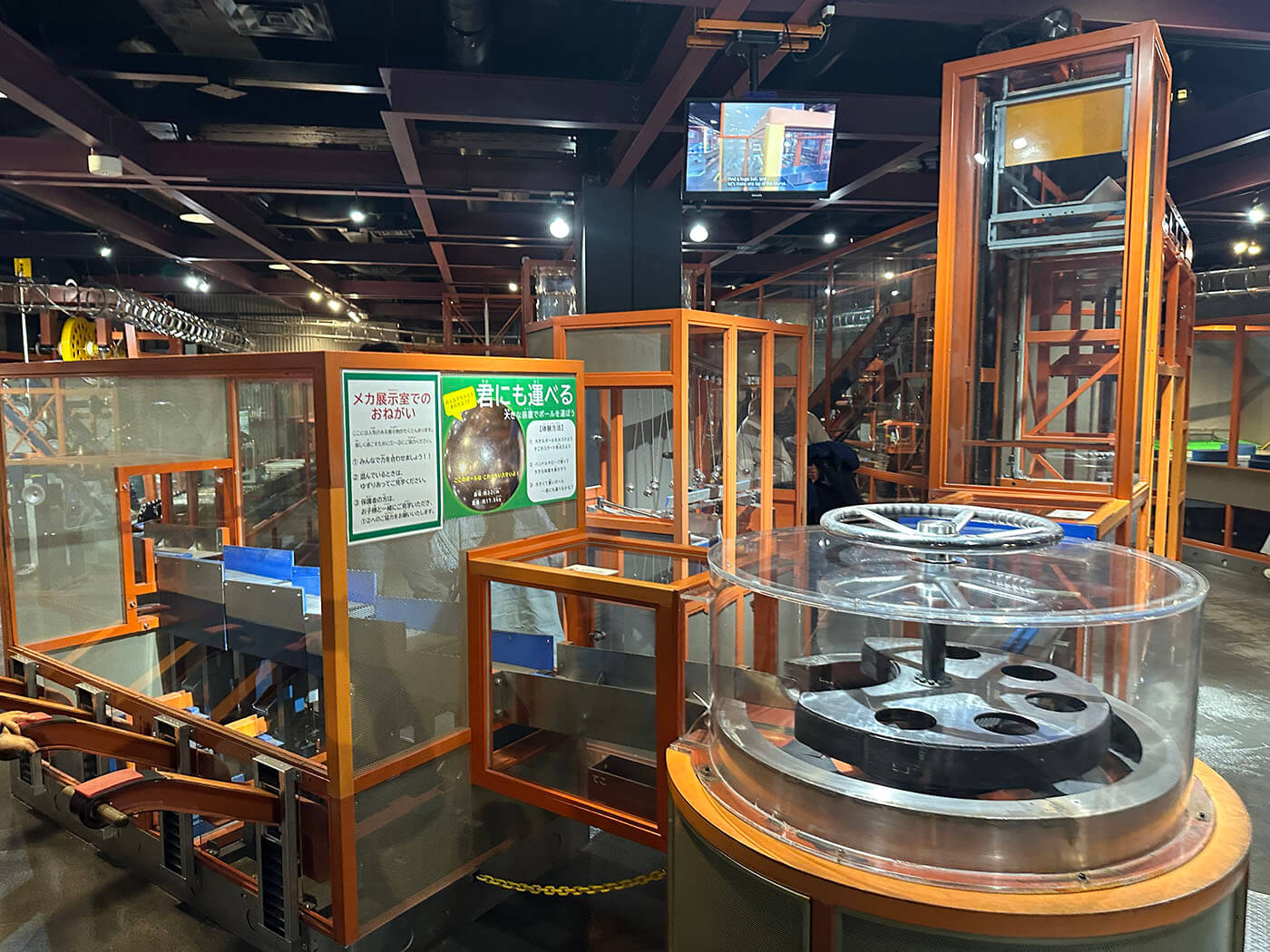 Admission Info
Tickets: 950 yen for adults, 400 yen for children over 4 years old, and free for children below 4 years old
Hours: 10 am – 4:00 pm, Closed on Wednesdays and some holidays
Location: Click here for the map
5. teamLab PLANETS
Good for: All ages, even adults!
Tokyo Pass: teamLab Planets is one of the attractions included in Tokyo Pass! You might be able to save some money if you get the Tokyo Pass.
First and foremost, this exhibit is slated to go on renovation at the end of 2023, so check if the exhibit is still open before you go.
We have a permanent teamLab exhibit in Singapore, but teamLab PLANETS is different. For one, you are required to take off your shoes and socks and go completely barefoot. Lockers are provided, and the first exhibit requires you to go through water so everyone's foot is clean. Towels are provided too of course!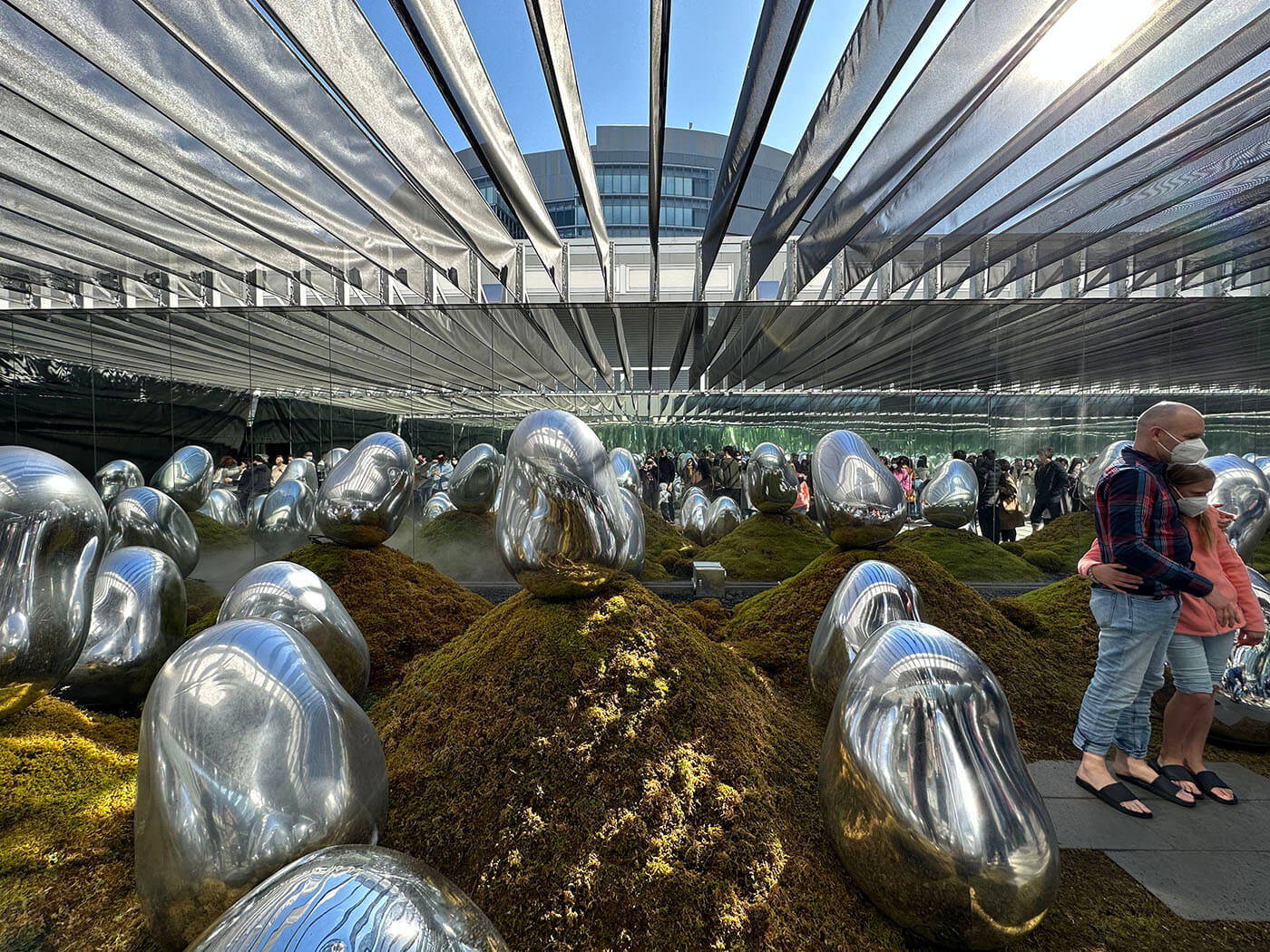 Secondly, instead of a free-for-all type of exhibition, PLANETS makes everyone go through each exhibit in a set order. It kinda takes care of the logistics for you, which I think is great because when I went to teamLab Borderless (the other exhibit in Tokyo that's currently being renovated) the queue to get into some of the most popular exhibits was insane.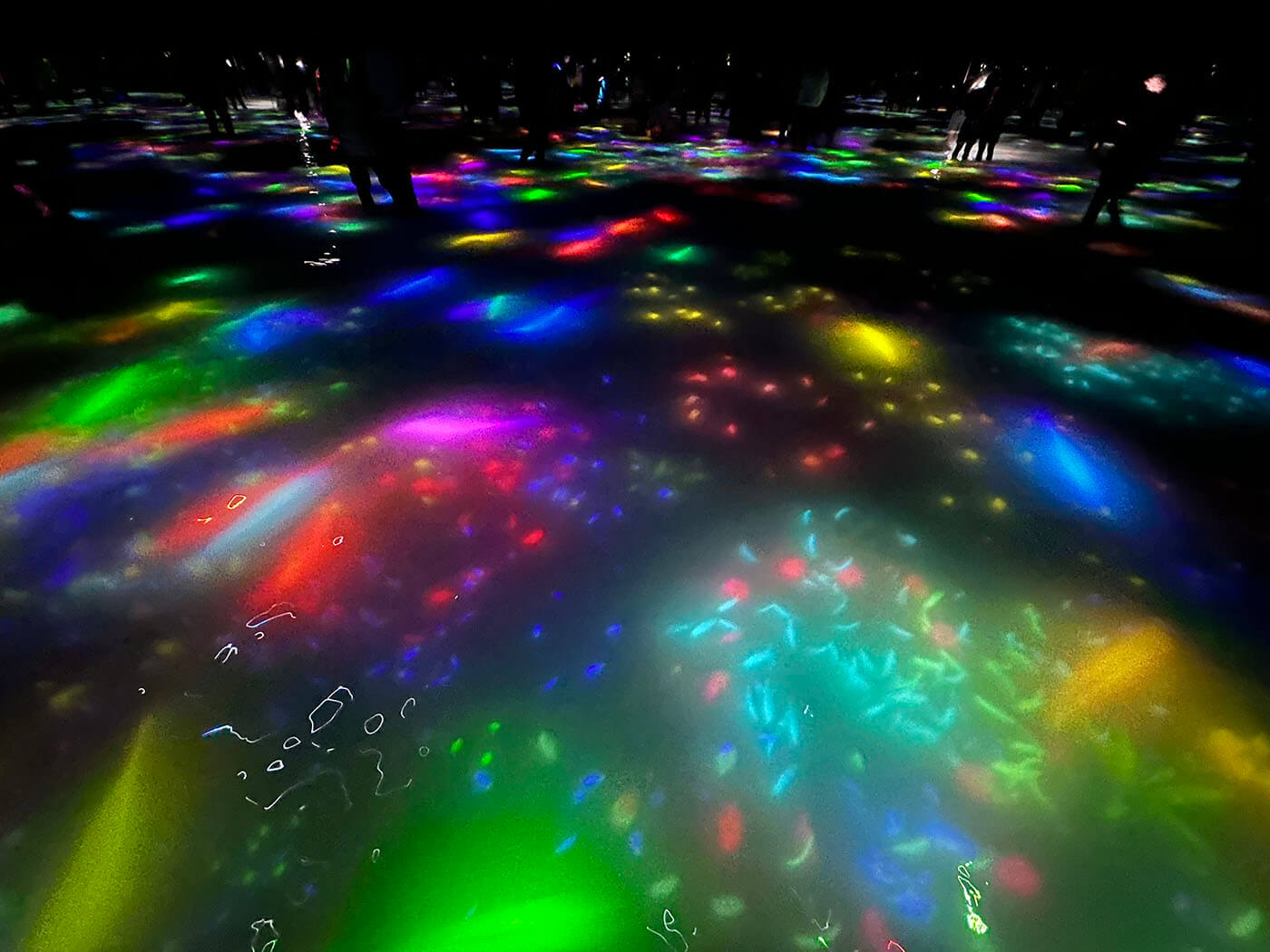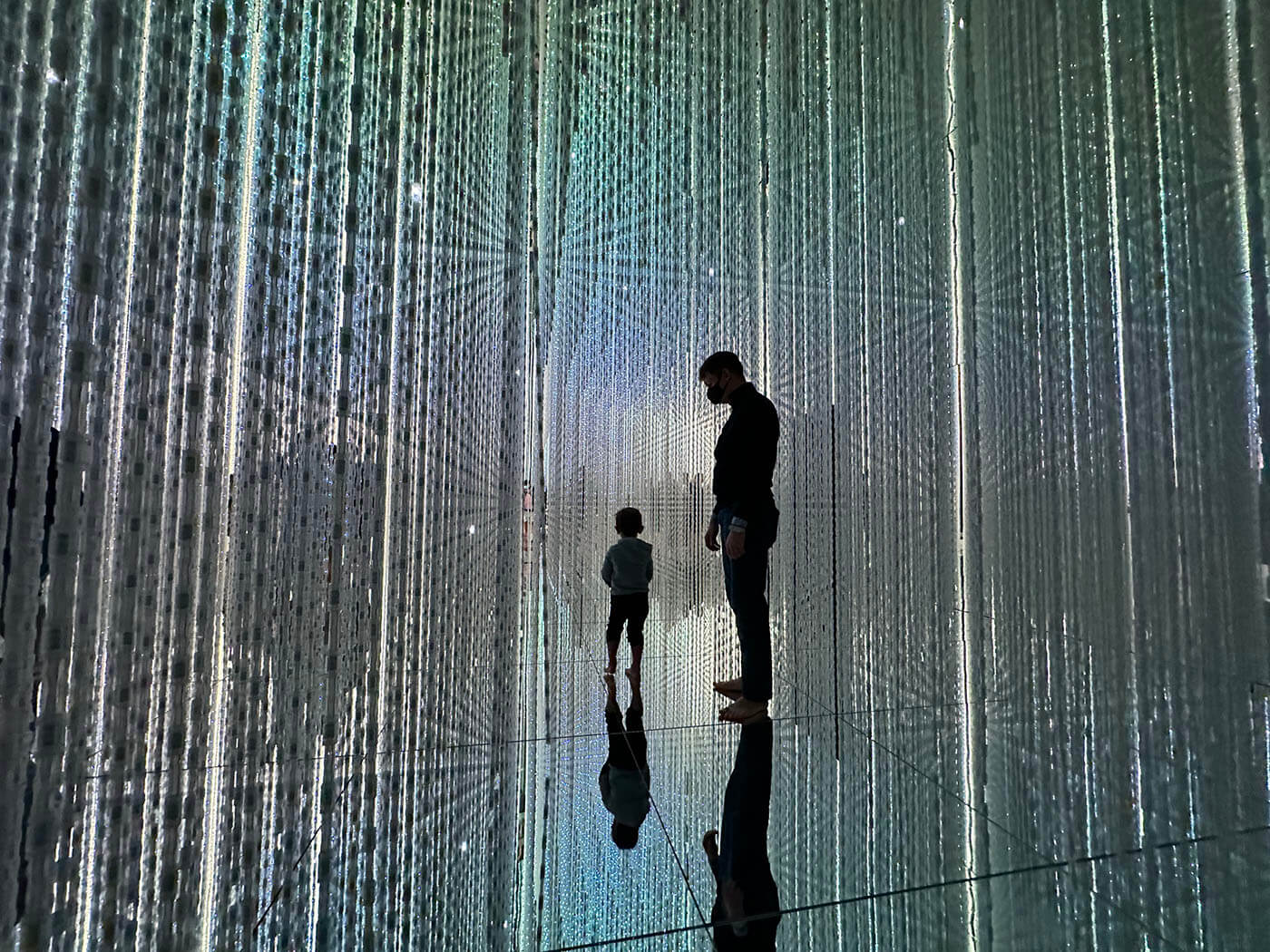 The adults were having fun at the exhibit, but my toddler really enjoyed his time here too! However, the exhibits are not stroller friendly (because you literally have to go through water), so if you want to bring your infant it's best to carry them with a babywear.
Admission Info
6. Tokyo Disneyland
Good for: All ages, even adults!
Tokyo Pass: Tokyo Disneyland can be purchased as an add-on to Tokyo Pass! You might be able to save some money if you get the ticket through Tokyo Pass.
Disneyland is fun, but Disneyland in Tokyo? 1000x better. They have super cute food and merchandise that you can only find in Tokyo Disneyland. Most of the rides will be in Japanese. However, I still highly recommend visiting!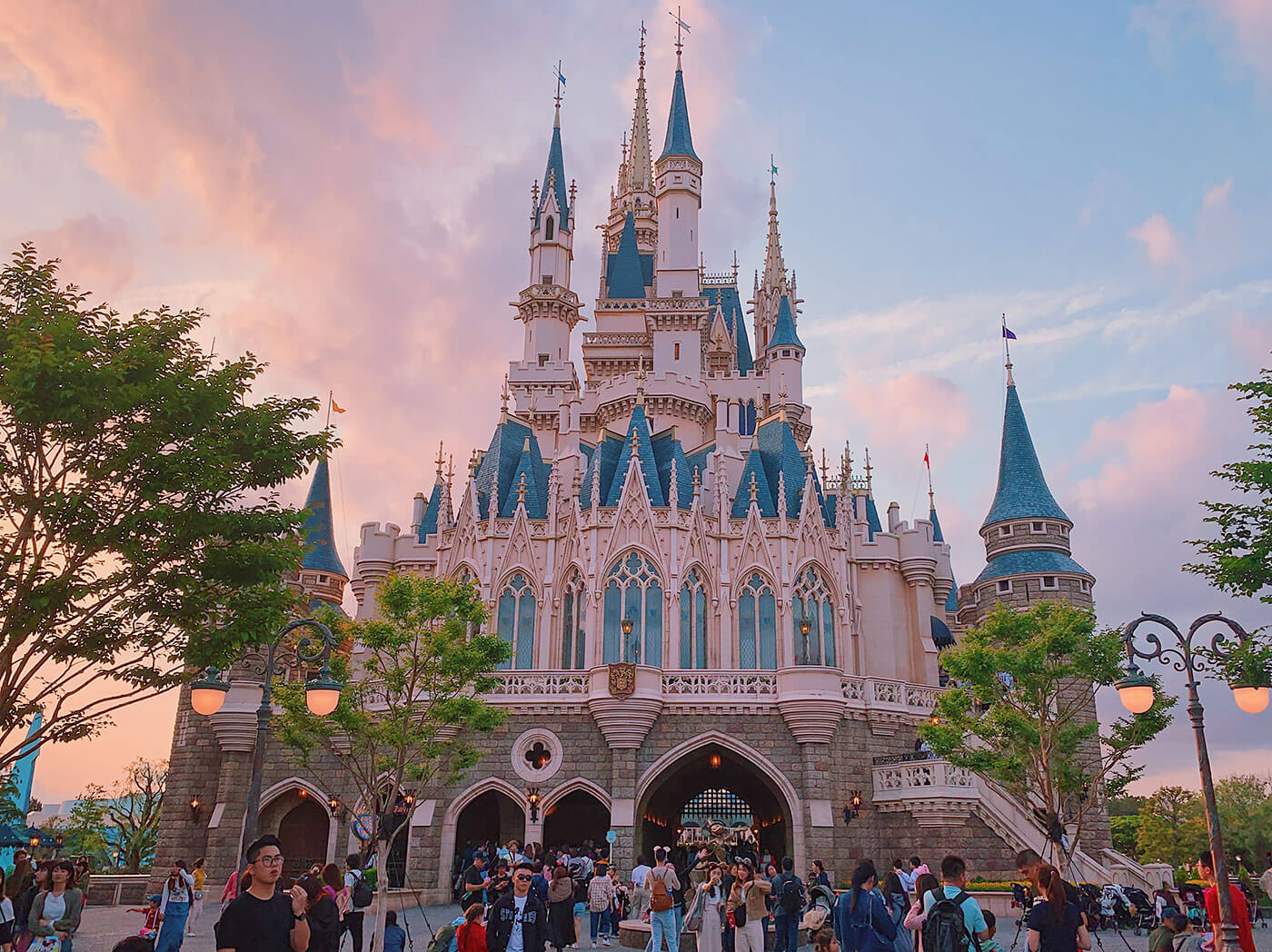 If you want to know more about visiting Tokyo Disneyland, please read my Tokyo Disneyland Guide.
Admission Info
7. Legoland Discovery Center Tokyo
Good for: Kids from 3-12 years old
Tokyo Pass: Legoland Tokyo is one of the attractions included in Tokyo Pass! You might be able to save some money if you get the Tokyo Pass.
I mean, who doesn't love Lego? At Legoland Discovery Center, you can play with the beloved color blocks to your heart's content. Legoland in Tokyo is indoors, so you can enjoy this place regardless of the weather. Adults must be accompanied by children to enter.
Admission Info
8. Kidzania Tokyo
Good for: Kids from 4-12 years old
Kidzania is a theme park in a children-sized city. Kids can participate in this city, learn how to take on a job, and even get paid! They can try different professions too! I recommend going on Wednesdays when the activities will be conducted in English.
Admission Info
9. Sanrio Puroland
Good for: All ages, even adults!
Tokyo Pass: Sanrio Puroland is one of the attractions included in Tokyo Pass! You might be able to save some money if you get the Tokyo Pass.
Sanrio Puroland is an indoor theme park, similar to Disneyland but for Sanrio character lovers. There are rides, activities, and goodies you can buy while at the theme park. Highly recommend it if you love Hello Kitty!
Admission Info
10. Little Planet Digital Park in DiverCity, Odaiba
Good for: Toddlers from 0-2 years, and kids up to 6 years old
Tokyo Pass: Little Planet is one of the attractions included in Tokyo Pass! You might be able to save some money if you get the Tokyo Pass.
Little Planet is an indoor playground in Odaiba. Similar to teamLab PLANETS, Little Planet offers a chance for children to play and learn through interactive digital exhibitions. You can purchase a time-based ticket, or you can get a day pass which will allow you to come and go as you please.
A bonus point is that it's located in a mall with plenty of family-friendly amenities.
Admission Info
11. Eric Carle Play Park at Futako Tamagawa
Good for: Toddlers from 0-2 years, and kids up to 5 years old
Located at Futako-Tamagawa station, this indoor playground is perfect if your little one loves Eric Carle books! My toddler loves The Very Hungry Caterpillar, so we decided to visit.
The place is an indoor playground, with really high-quality toys and activities. There is a beautiful wooden playground, a dedicated area for infants, and a colorful room with colorful illustrations from Eric Carle's books. There is also an art room where kids are free to draw, color, or use any materials to build whatever they want. There is also a drink station where parents can get coffee, and the kids can get fruit juice or non-caffeinated tea.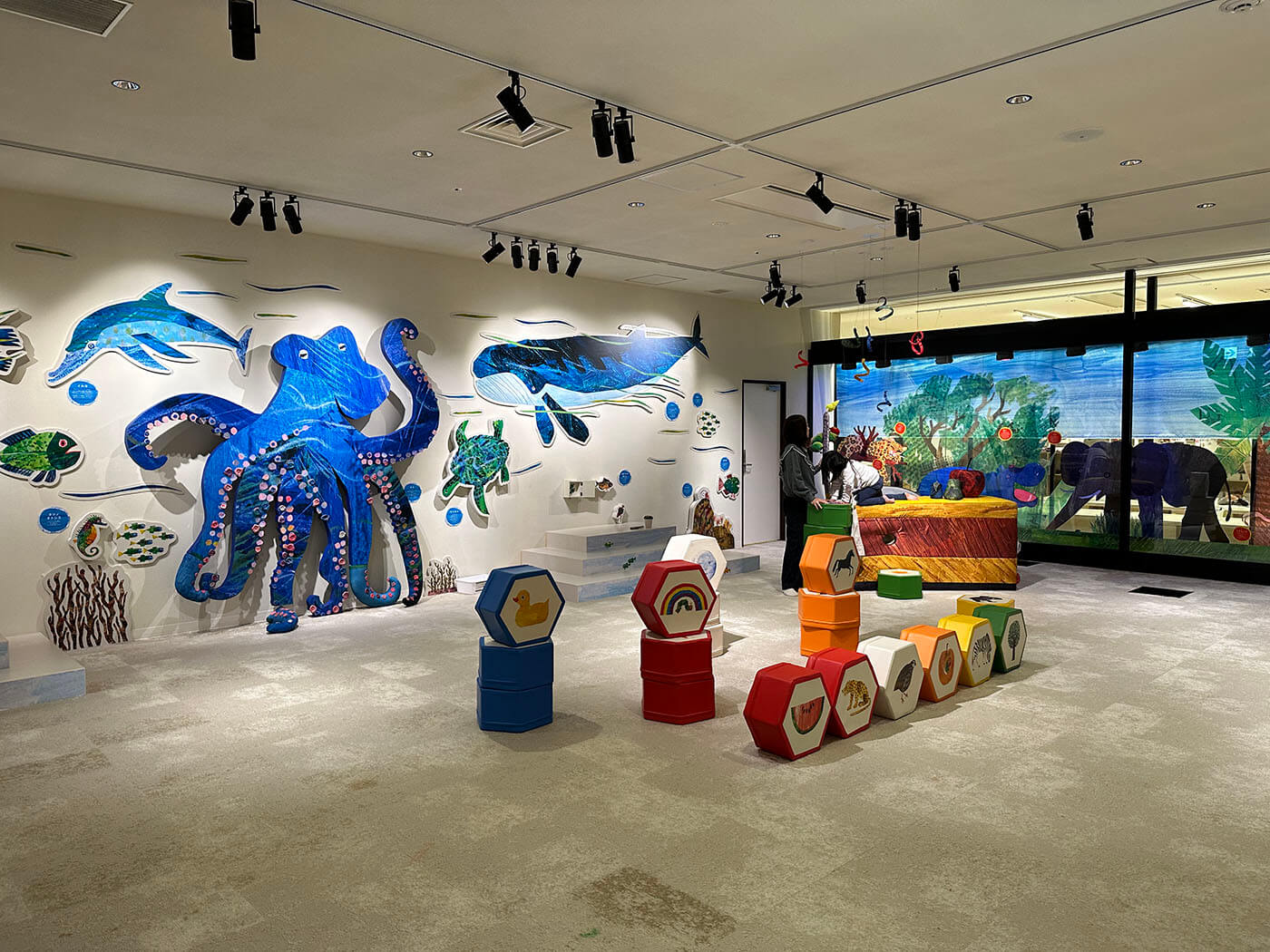 I personally think it was quite expensive, but it's a nice safe space to let kids run around while parents could (hopefully) catch a much-deserved break. At the entrance, they'll give each person a reusable cup that you can take home. You can get 500 yen discount if you come back and bring back this cup.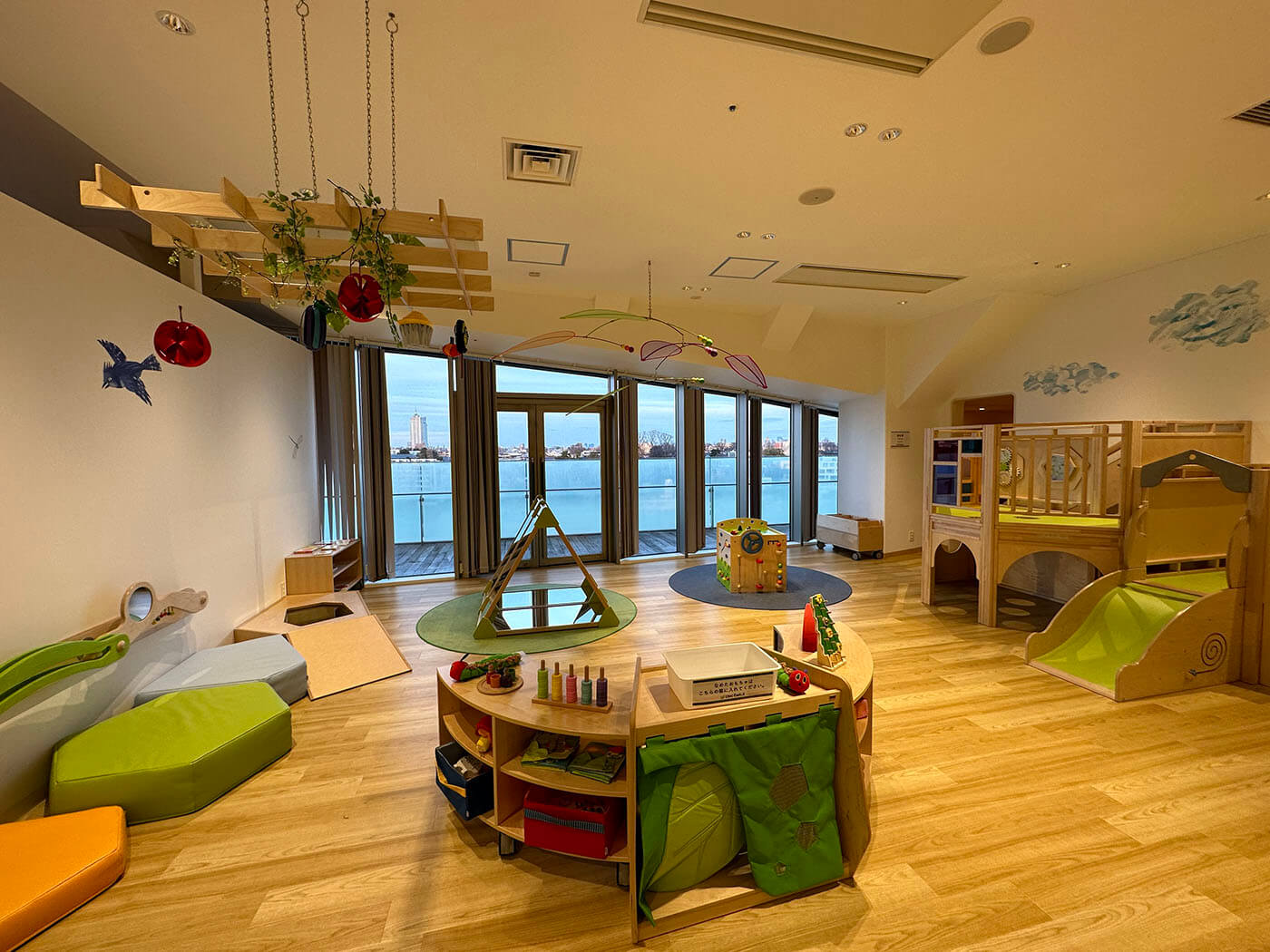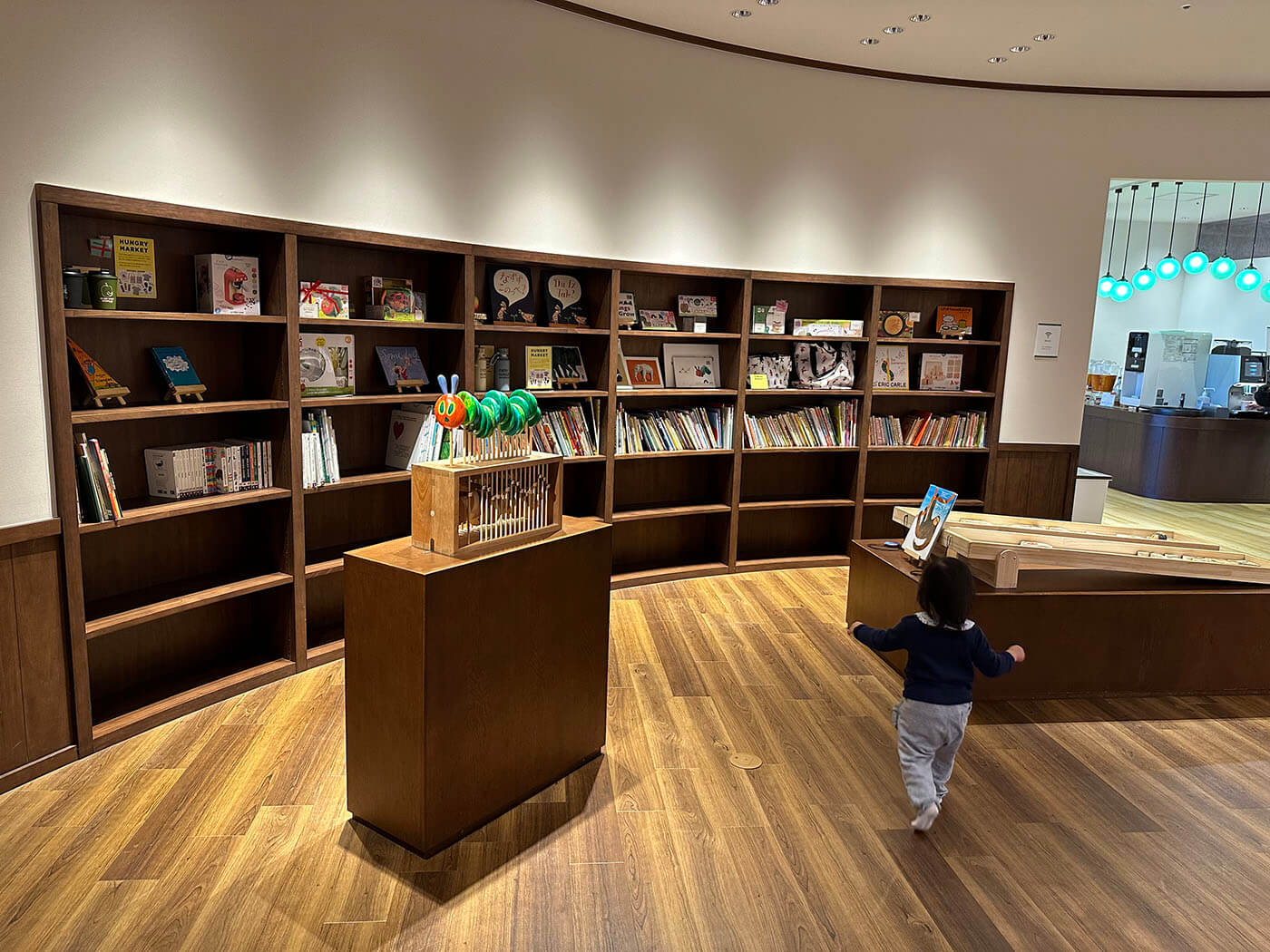 The area around Futako-Tamagawa station is also a great place for families, with large malls, and plenty of restaurants and shops that are kid-friendly. Going out from the station area, there is a park near the river where you can take a nice stroll if the weather permits.
Admission Info
And that's all folks! Let me know what you think in the comments below.