A few years ago, I flew to Osaka to meet Kat, my good friend from college, and finally experienced Autumn in Japan. We've done the exact same trip a year back where we met in the middle – she flew from Los Angeles while I came from Singapore, and we met in Osaka.
I guess we must have a knack for accidentally picking the best time to visit Japan. This time we came during the best time of the season for Autumn Leaf viewing, also known as Momijigari in Japanese. At that time, neither of us even knew Momijigari was a thing!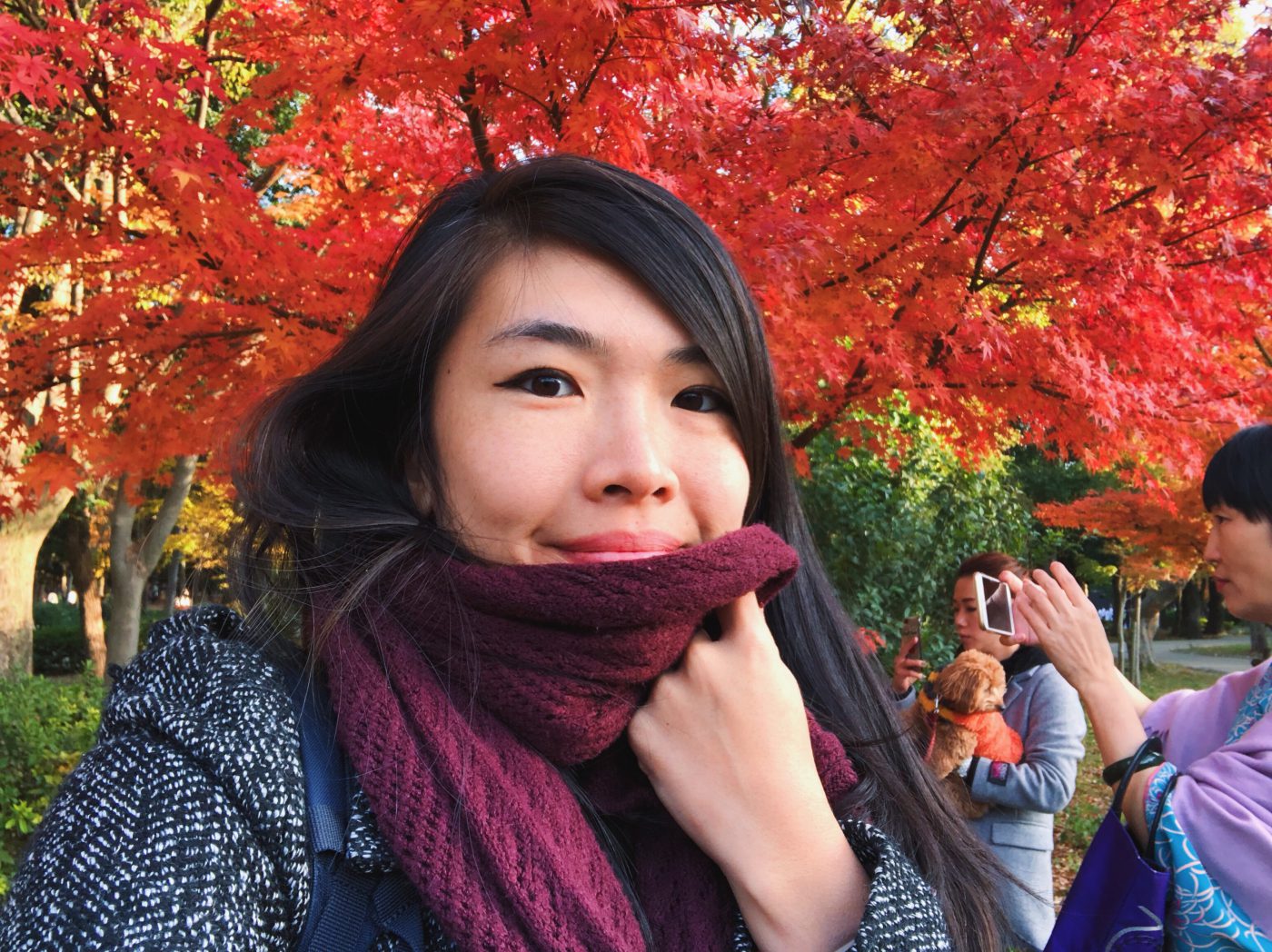 What is Momijigari?
As it turns out, Autumn in Japan is indeed a very special season. Momijigari (紅葉狩り) is the Japanese tradition of visiting areas where leaves have turned red in the autumn. "Momiji" means red leaves, and "Gari" means hunting – so quite literally, it means hunting autumn leaves.
The tradition began in the Edo period when royalties started visiting certain areas of Japan just to enjoy the autumn leaves. I could see why, because the leaves had changed into their beautiful fall colors – Ginko trees turned brilliant yellow, Maple trees turned vibrant red, and other trees turned various shades of brown while some remained green. It makes for a warm blend of colors that is very pleasing to the eye.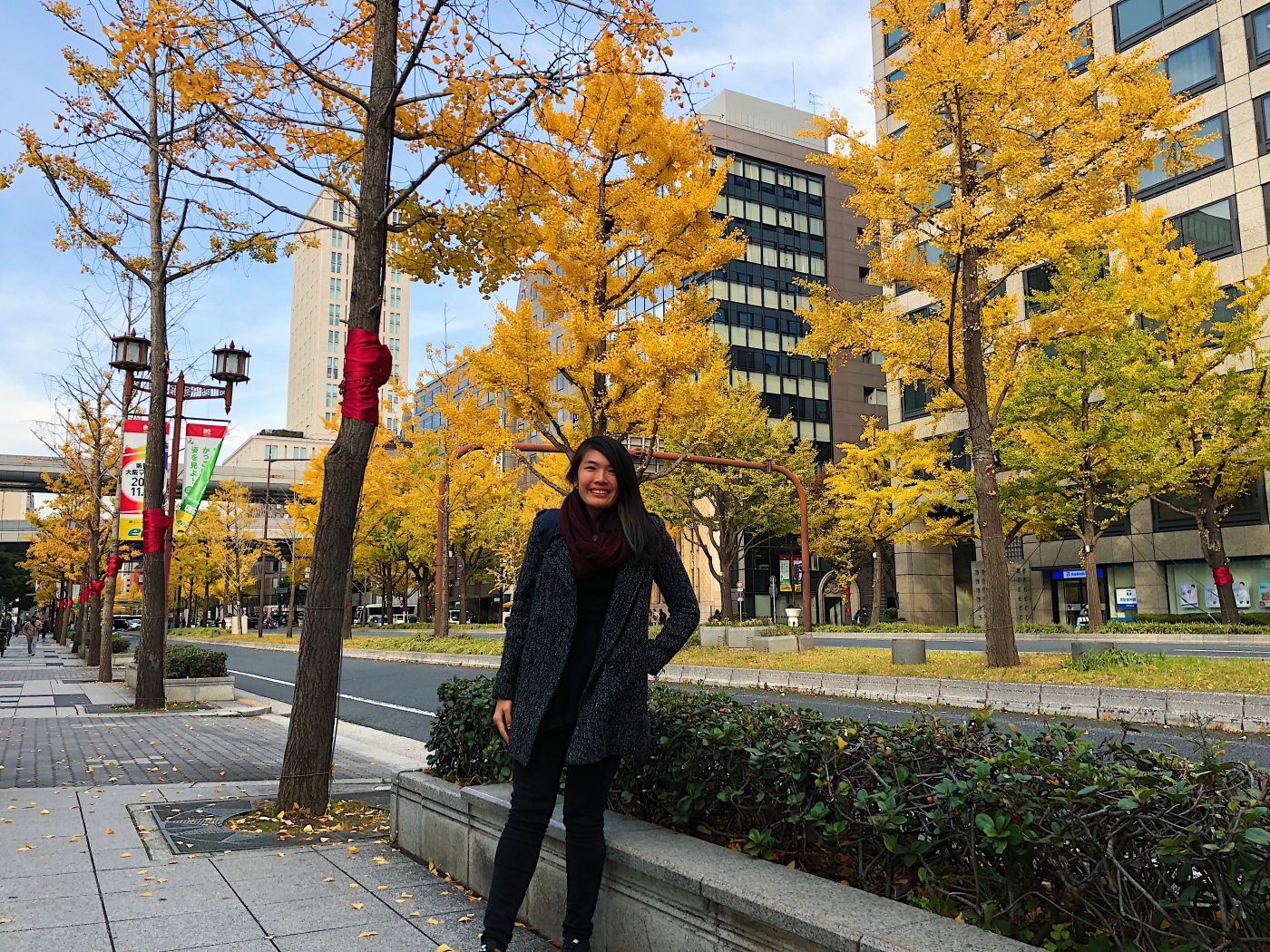 I'm convinced Japan is the most beautiful country in the world. They've got something for every season – Sakura in the spring, beautiful snowy mountains in Hokkaido (which I've yet to visit), amazing diving in Okinawa (still on my bucket list), and Momijigari in the fall.
When is the best time to see the autumn leaves?
The best time for Momijigari is of course during Autumn, which ranges from as early as September, but mostly peaks around late October to early December.
Much like the Sakura season, the Autumn leaves peak time varies depending on where in Japan you are going, so they can be quite elusive. The general rule of thumb is that the leaves will start turning colors when the temperature drops below 8 degrees Celsius.
To get an idea of the peak Autumn colors you can read this Autumn Color 2023 Report, which is updated annually with predictions for each area in Japan.
For context, the photos below were taken in Kyoto / Osaka from 26-28 November 2017, when the daily temperature at the time had dropped to around 8-10C – Perfect for Momijigari!
As it turned out, we lucked out with our trip and came during peak Momijigari season. Had we come a week before, the leaf colors would not have been as vibrant. Conversely, if we came a week later, most of the red maple leaves would have fallen off.
Where is the best place for Momijigari in Japan?
No matter where you are in Japan, there will be great places you can watch the autumn leaves. Here are a few of my favorites:
1. Akame 48 Waterfalls (赤目四十八滝) in Mie
Akame 48 Waterfalls (pronounced Akame Shijuhachi Taki) is a beautiful waterfall trail about an hour out of Osaka. It's an easy trail following the main river which forms many small and big waterfalls.
Akame 48 is famous as the birthplace of Ninjas. It's also known as home to the giant Salamander. You'll get to see some of the Salamander before you enter the waterfall area.
Dive Deeper: Interested in visiting? You can read my guide to visit Akame 48 Waterfalls.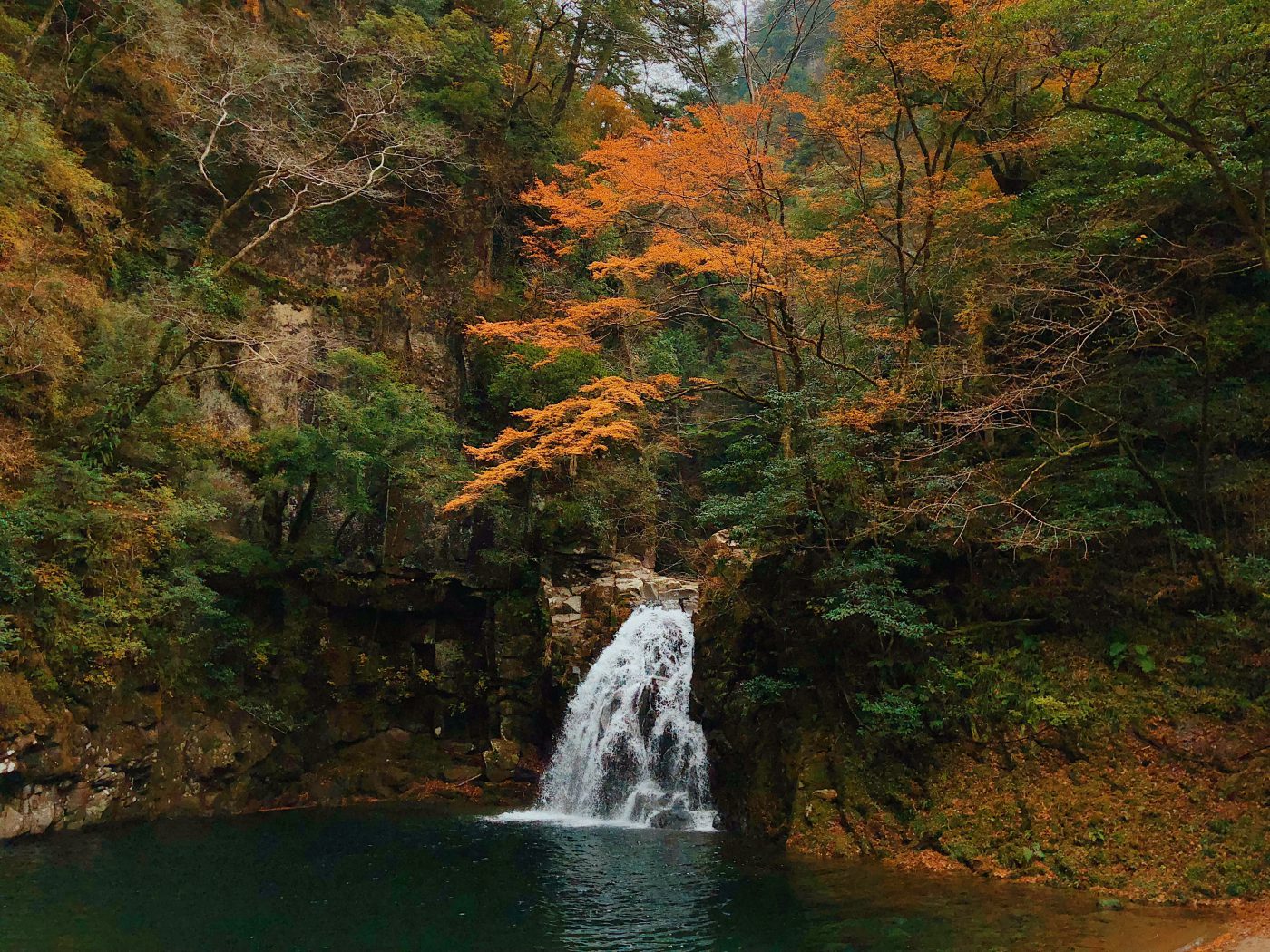 2. Kiyomizu-dera in Kyoto
Kiyomizu-dera in Kyoto is undoubtedly one of the most important temples in Japan and a very popular choice for Momijigari. If you ask me though, it wasn't my favorite because it's very touristy… The temple was so crowded when we went in late November, with hordes and hordes of tourists seemingly coming in non-stop (including us). It was really hard to get a good picture without getting nudged or pushed around.
Read up on my Kyoto Travel Guide if you're planning to visit Kyoto!
However, I can see why the temple is so popular. They do have the highest concentration of maple trees I've seen during the entire trip! Pretty much the entire temple ground was filled with dreamy vibrant red trees.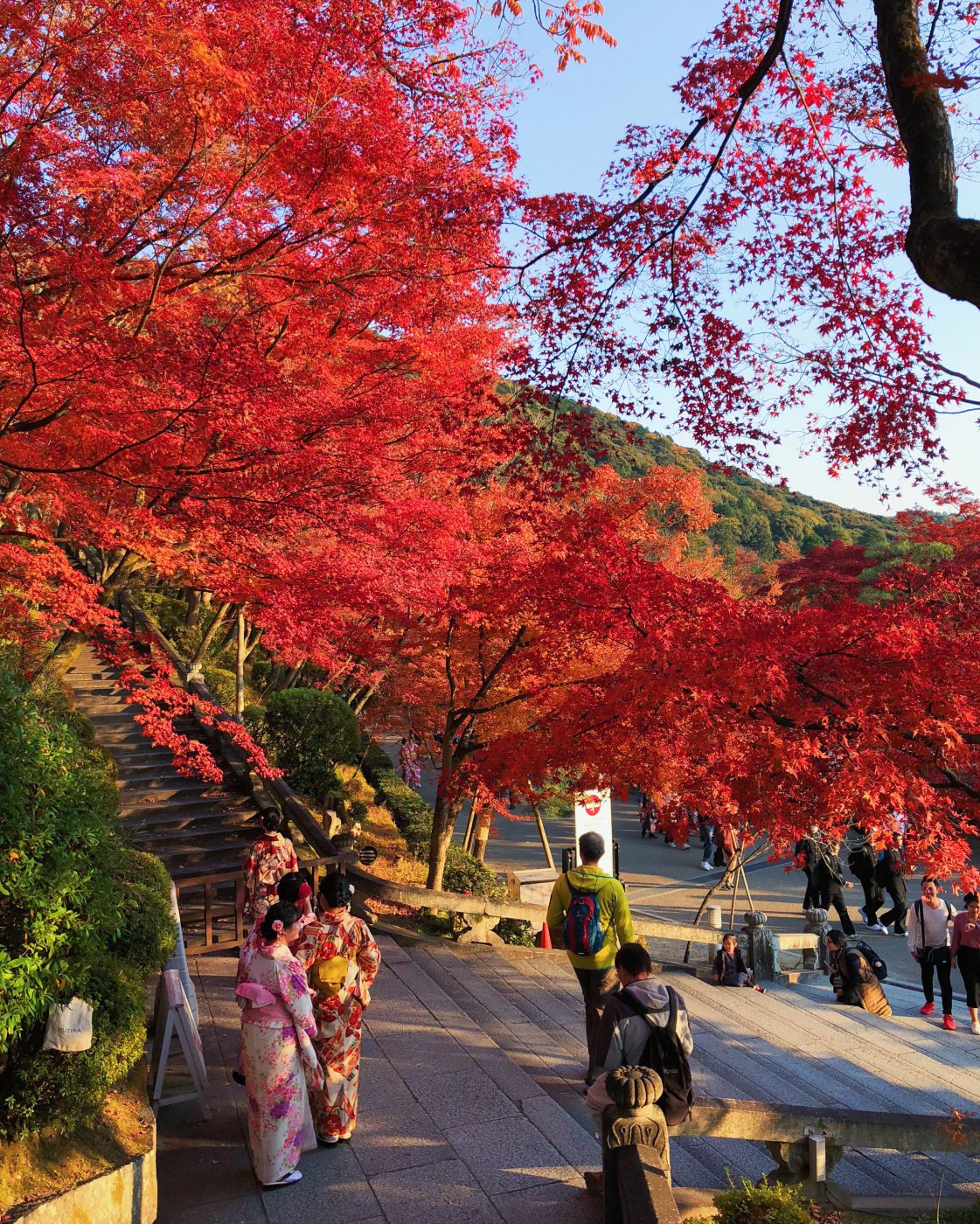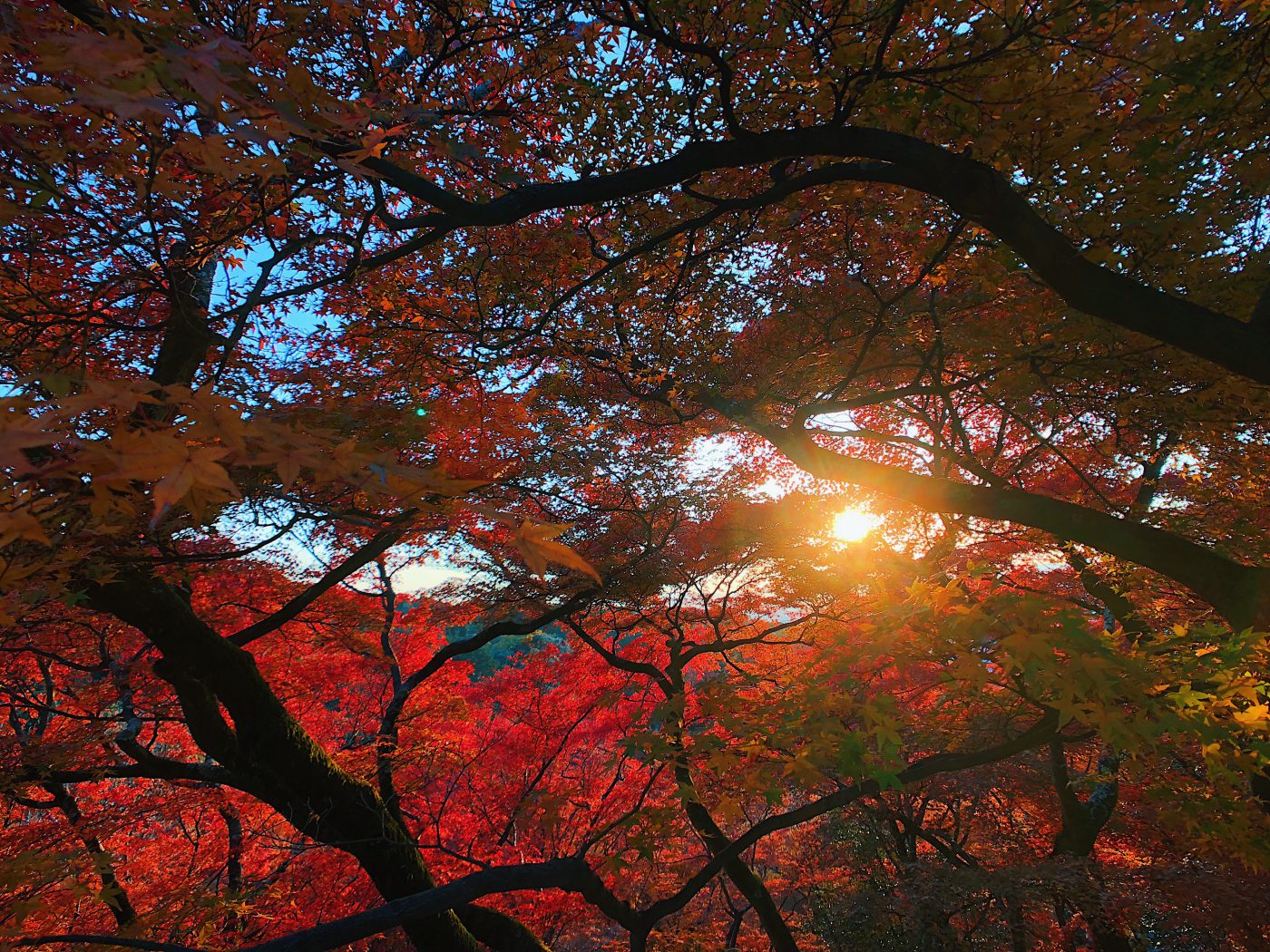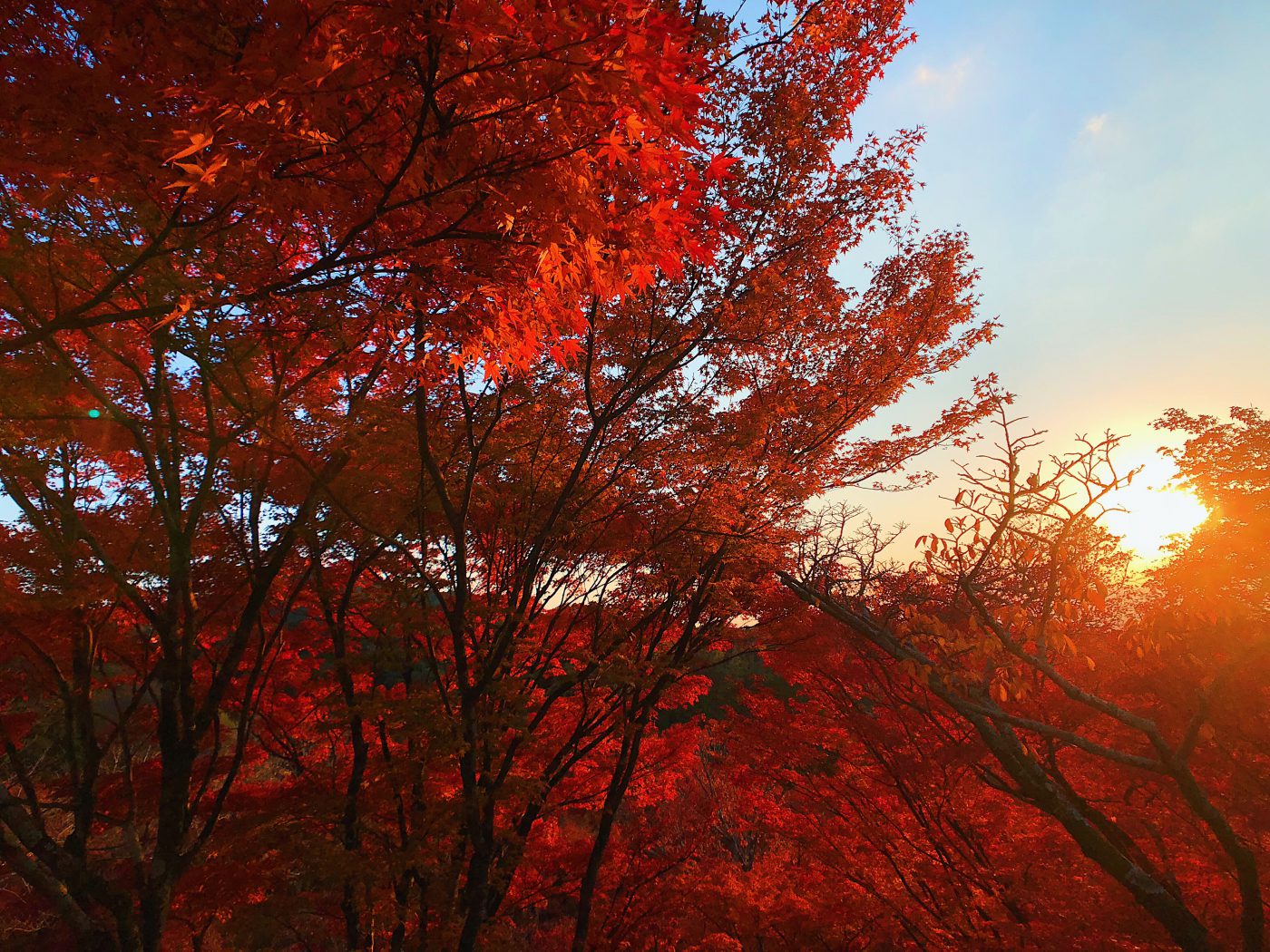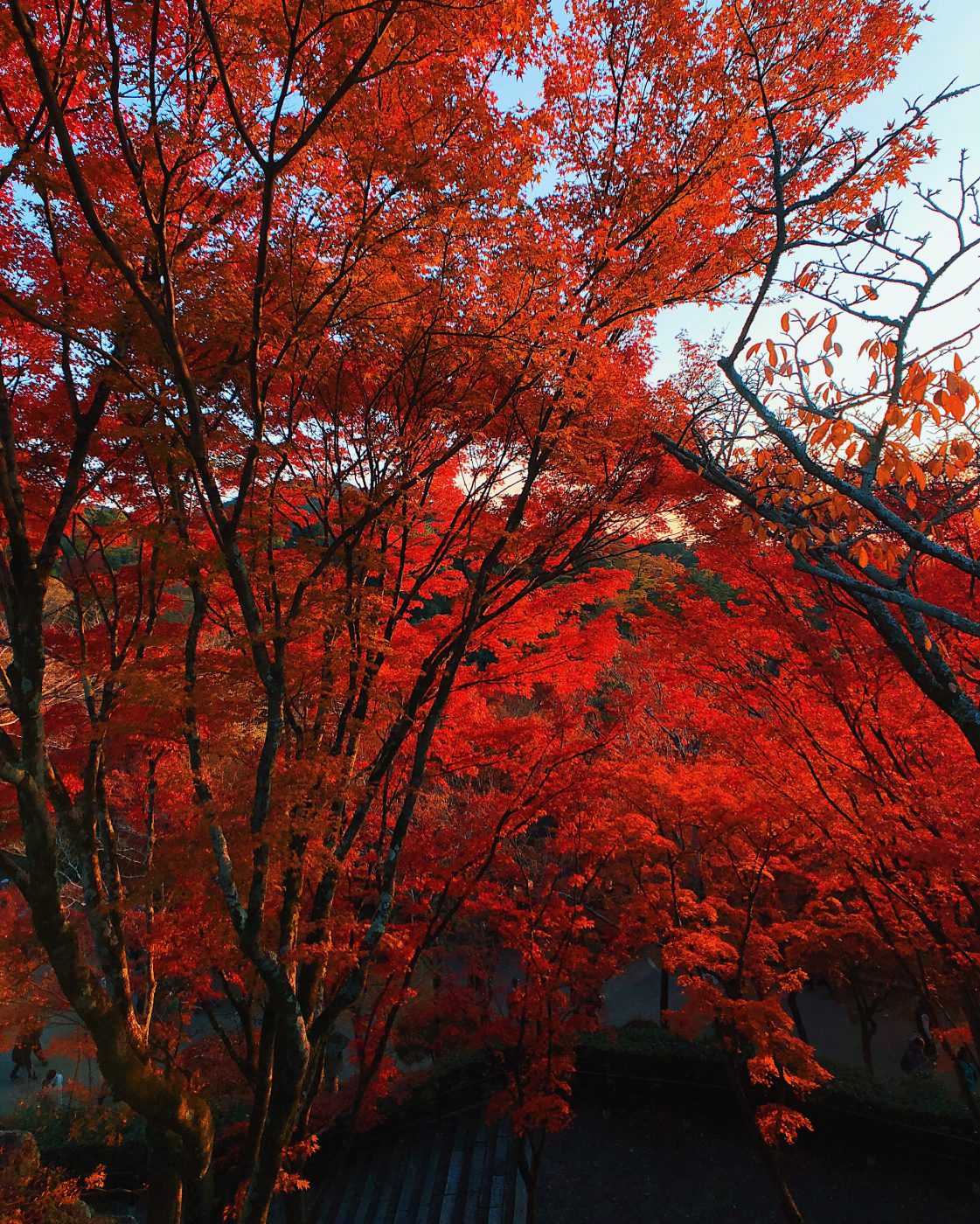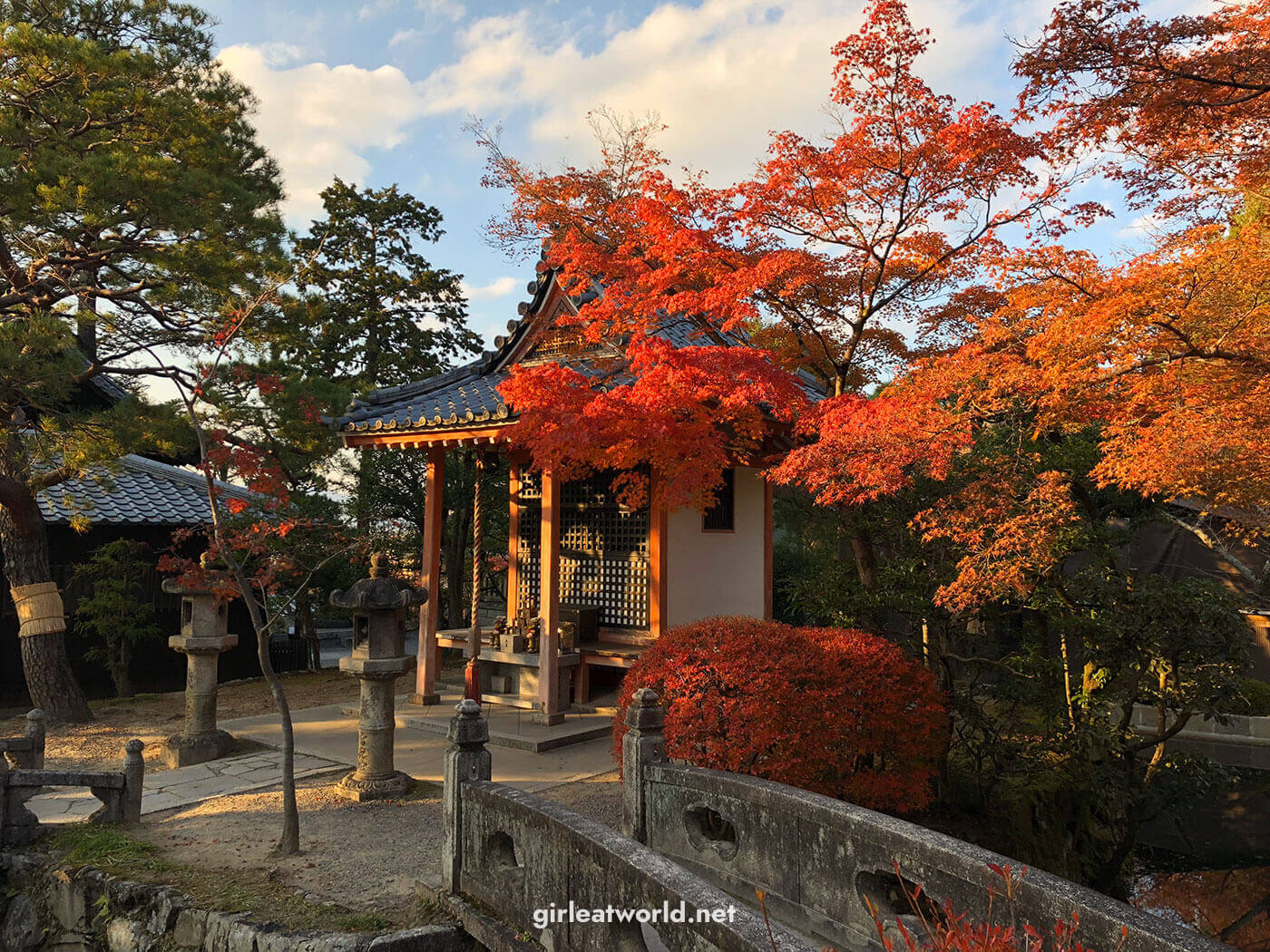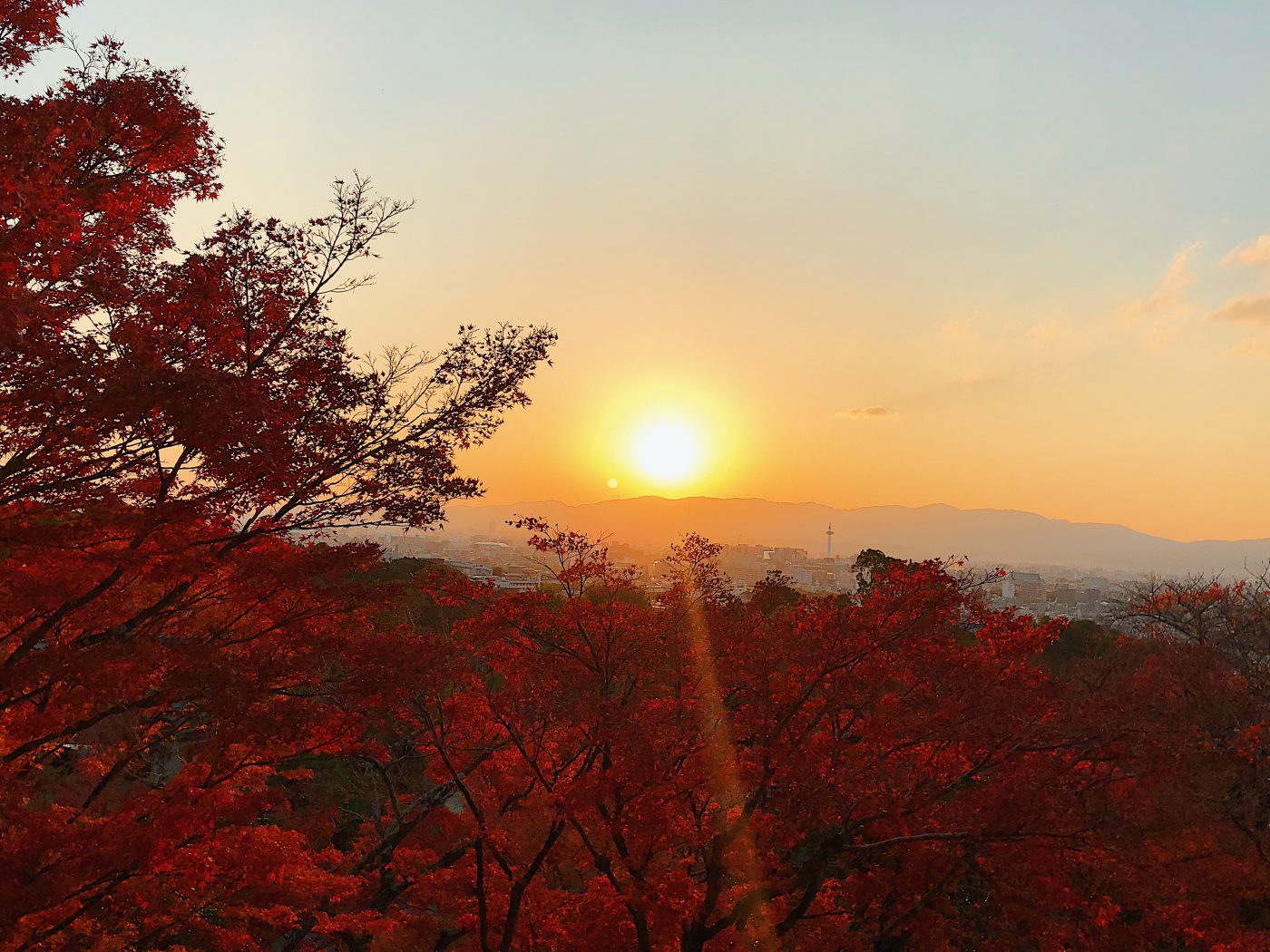 What is Girl Eat World without some snack recommendations? Kat and I discovered Zarame Senbei (Japanese rice crackers) while walking around Kyoto, from a random snack stall along the street of Ninenzaka. Usually, Senbei tends to be savory with bits of seaweed, but this one is coated with Zarame (large crystal) sugar! So it is sweet but still retains a hint of soy saltiness similar to other Senbeis. And it's very delicious, so much so that we each got two more to go. 😂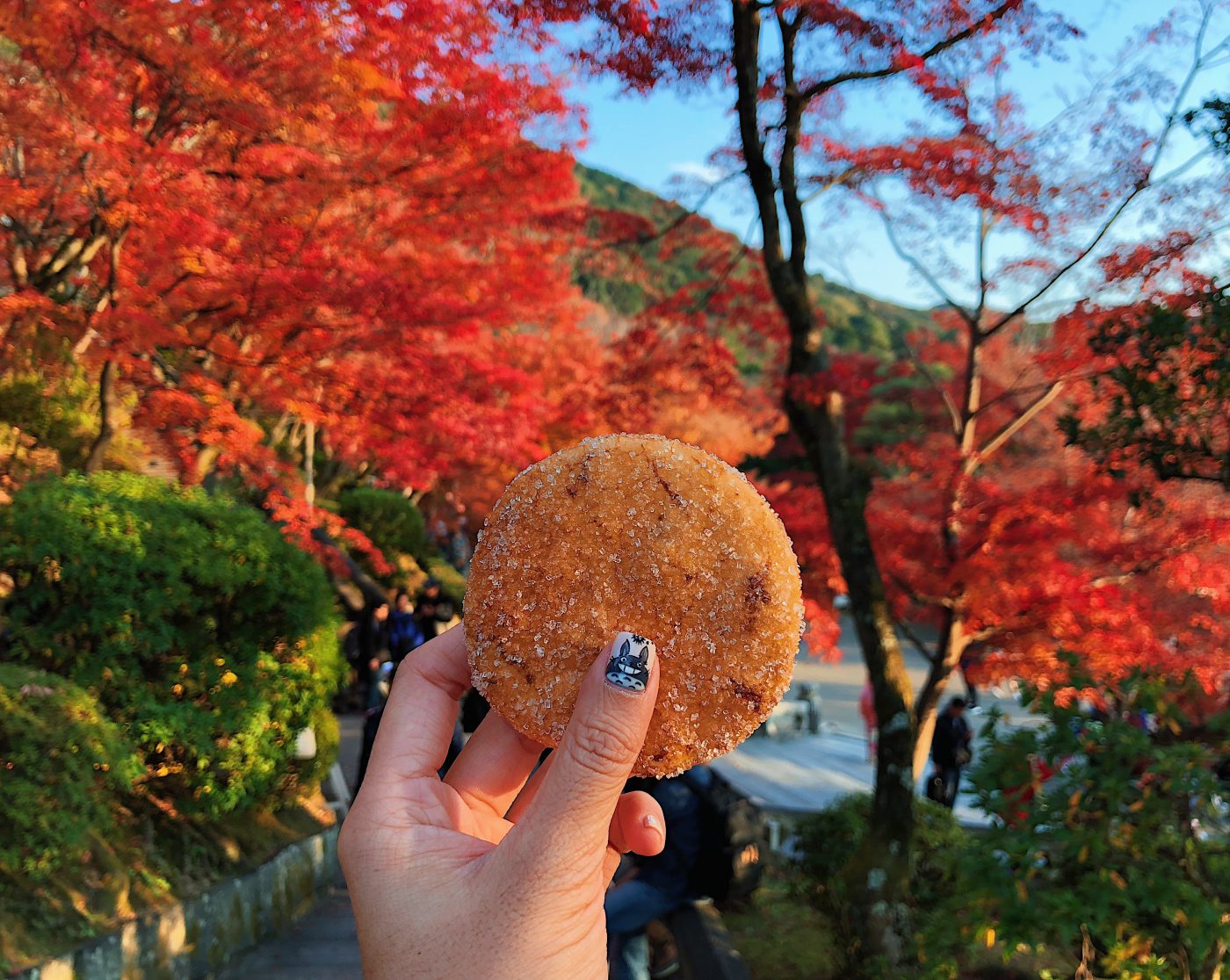 3. Osaka Castle Park
While places like Kyoto and Akame 48 undoubtedly provide the best view of the autumn leaves, if you happen to be in a major city, you actually don't have to go out far for Momijigari. Just head to the biggest park – all major Japanese cities seem to have at least one.
In Osaka, we visited the castle park near Osaka Castle. The park is really easy to get – just get off Morinomiya station on the Chuo line for the closest station to the park and you'll be greeted with colorful leaves soon after.
Further reading: Check out my post on Osaka and what to do in the city!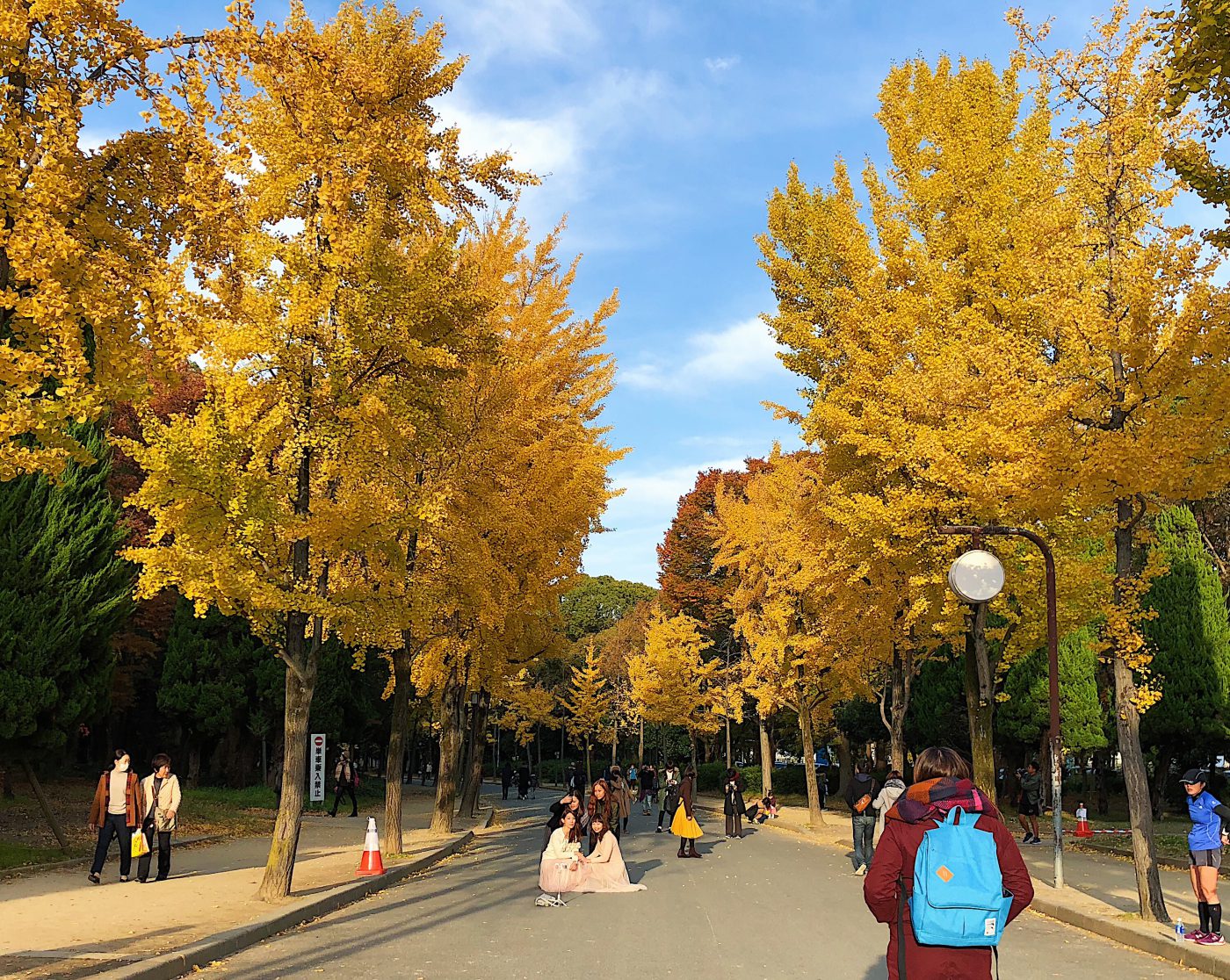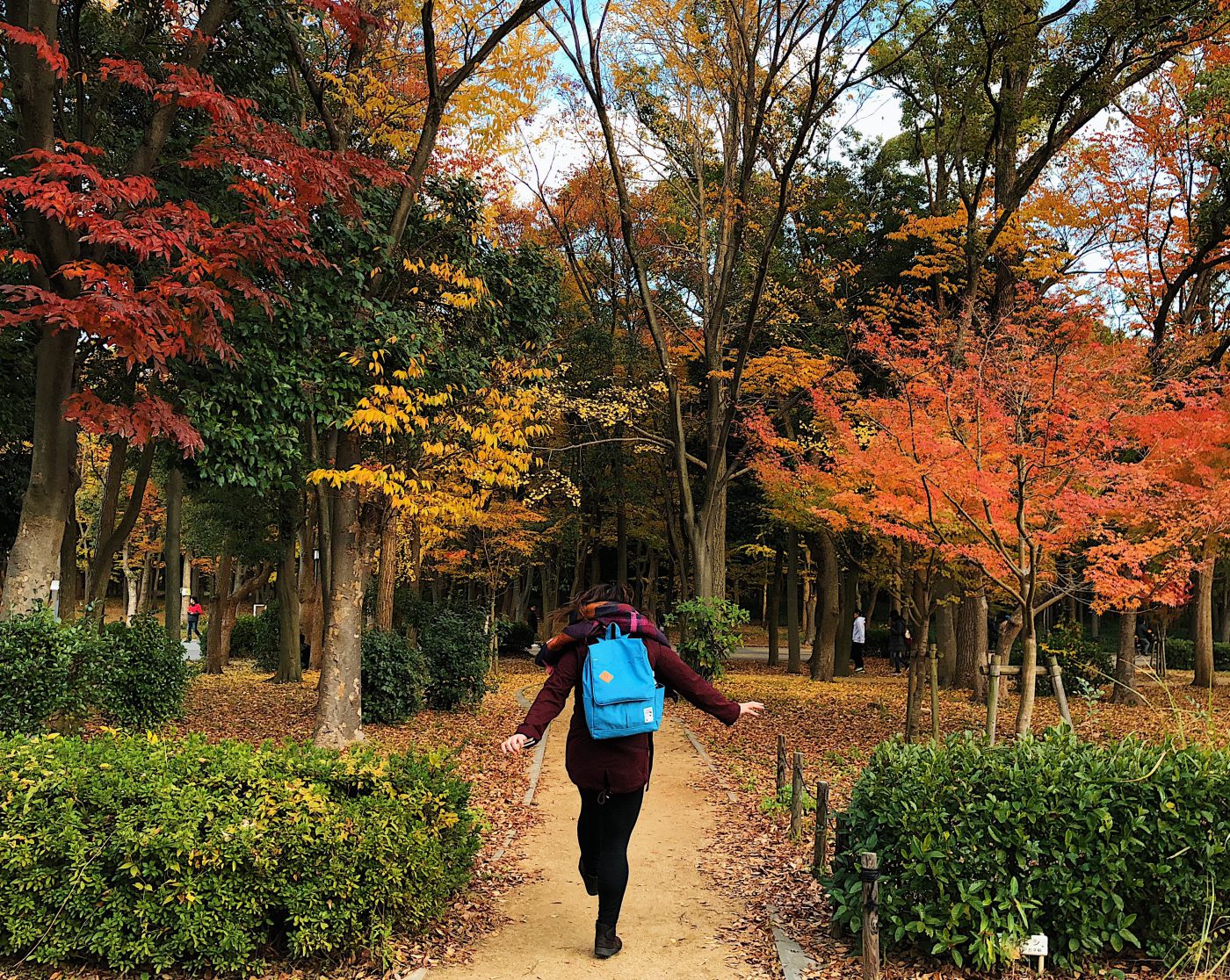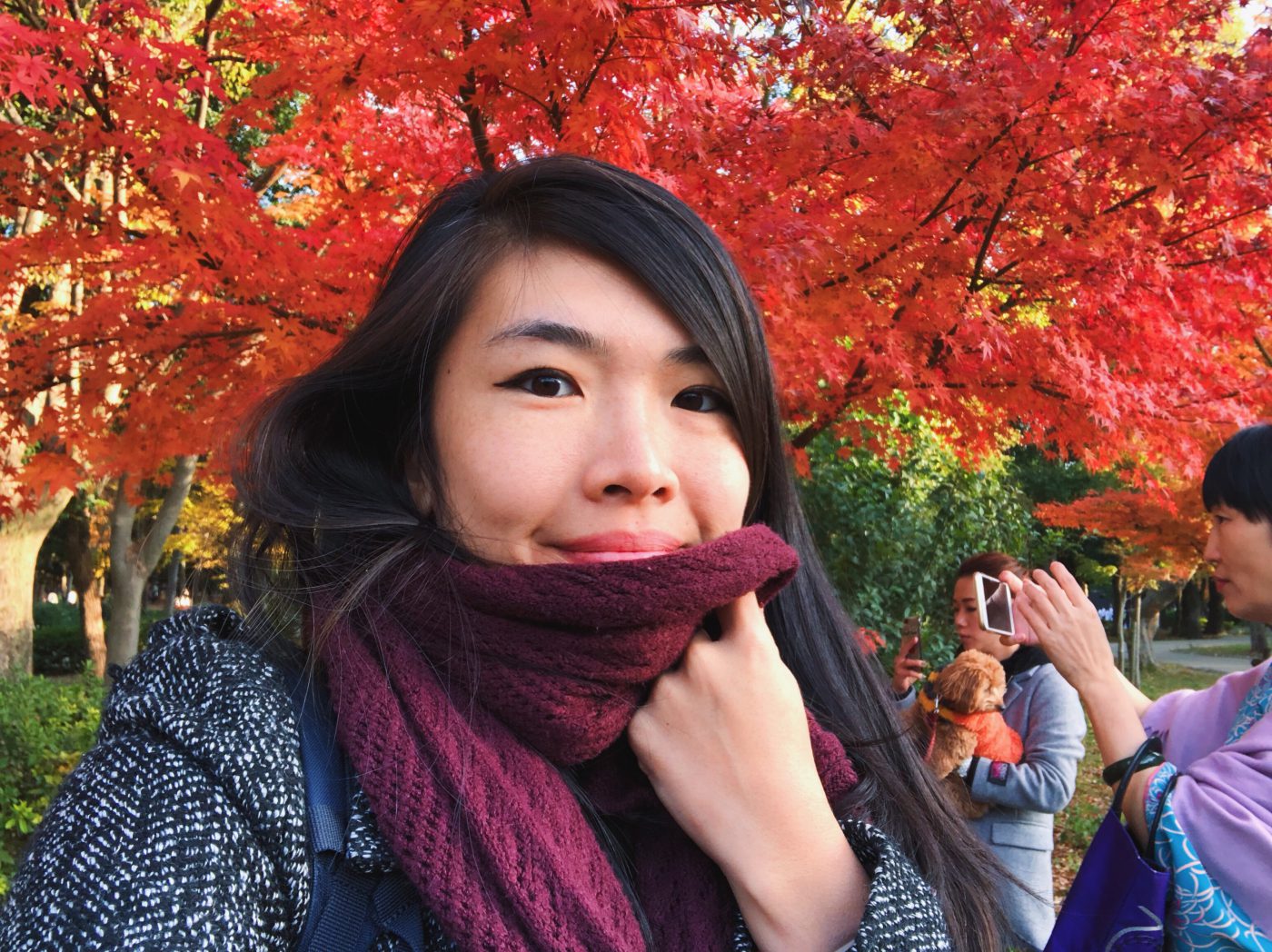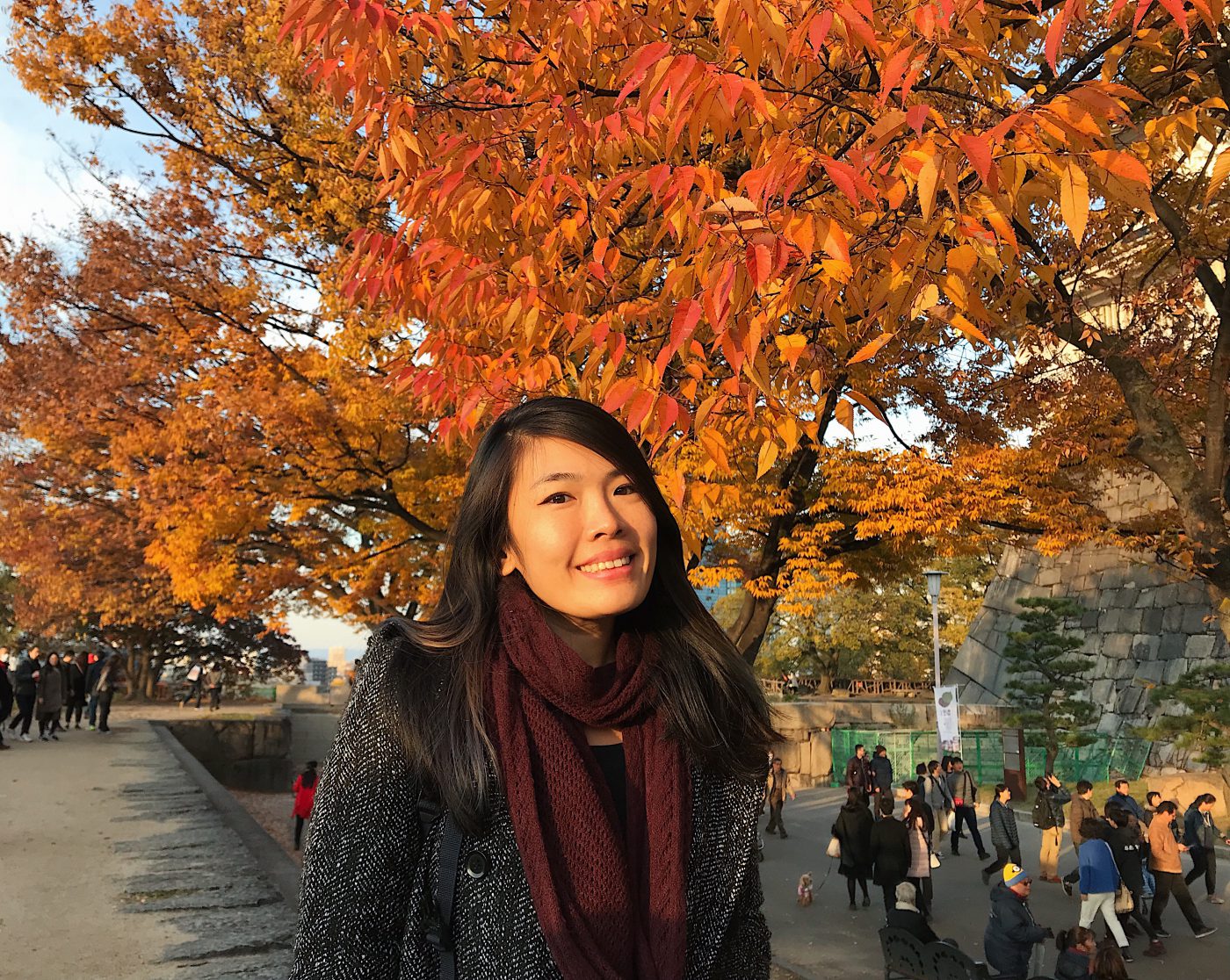 4. Kamikochi in Nagano
Kamikochi is written as 上高地 in Kanji, which gives an insight into its literal meaning "the place where gods descended". It is a popular starting point for those who are looking to tackle the Japanese Alps, as well as day-trippers who just want to see Kamikochi without proceeding further.
In Kamikochi, the peak time for Autumn Foliage is a little bit earlier, owing the its higher elevation. It usually peaks from mid to late October.
For more information on how you can visit Kamikochi, please go to my Kamikochi Travel Guide post!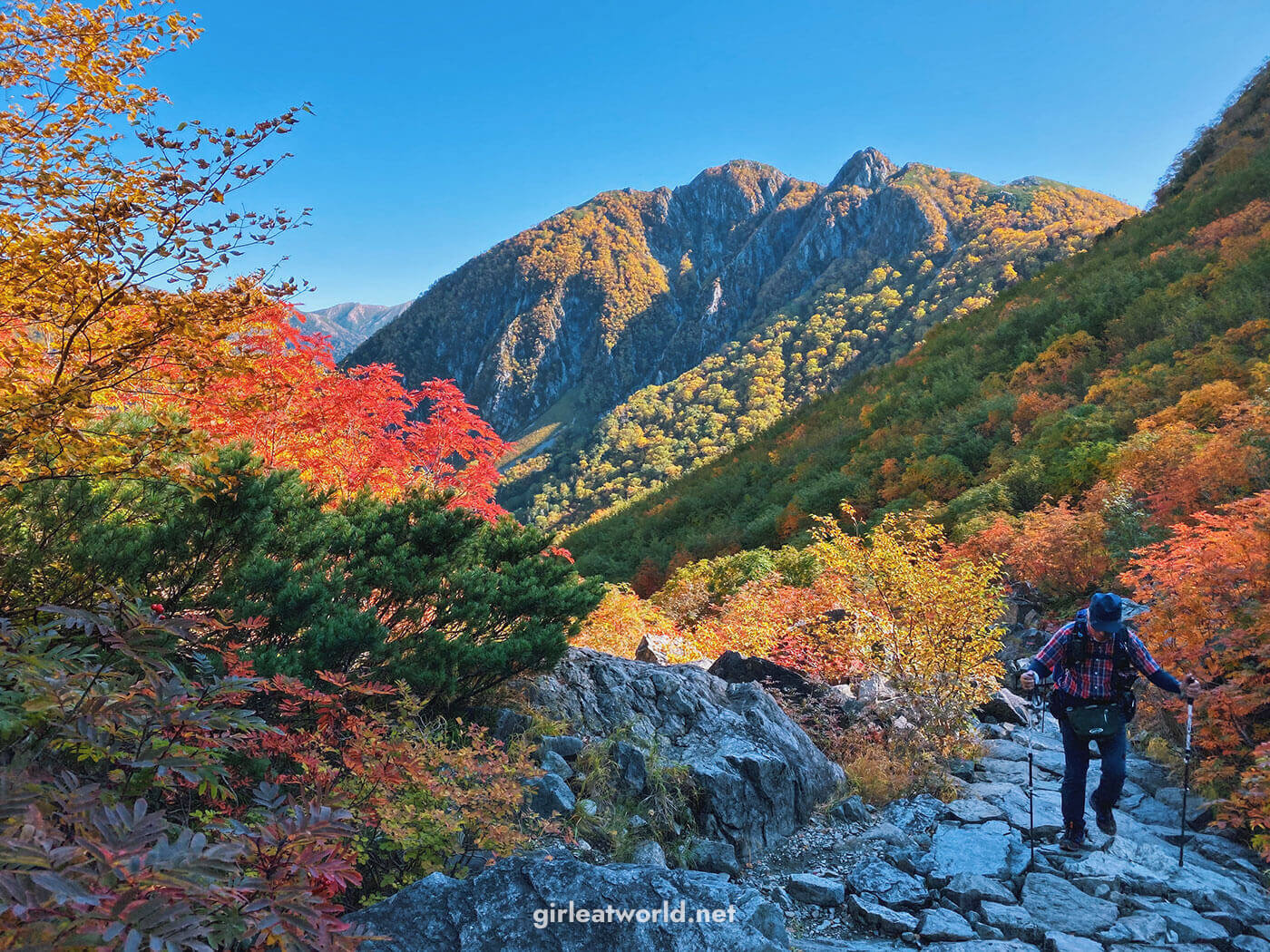 5. Nikko
Nikko can be easily reached from Tokyo, and it is a popular place for autumn leaf viewing. Although I have not been there during Autumn, Nikko is located in the mountains and there are many lush greeneries that make it a perfect spot for Momijigari! One of the most popular spot is Ryuzu Falls.
For more information on Nikko, you can check out my Nikko Travel Guide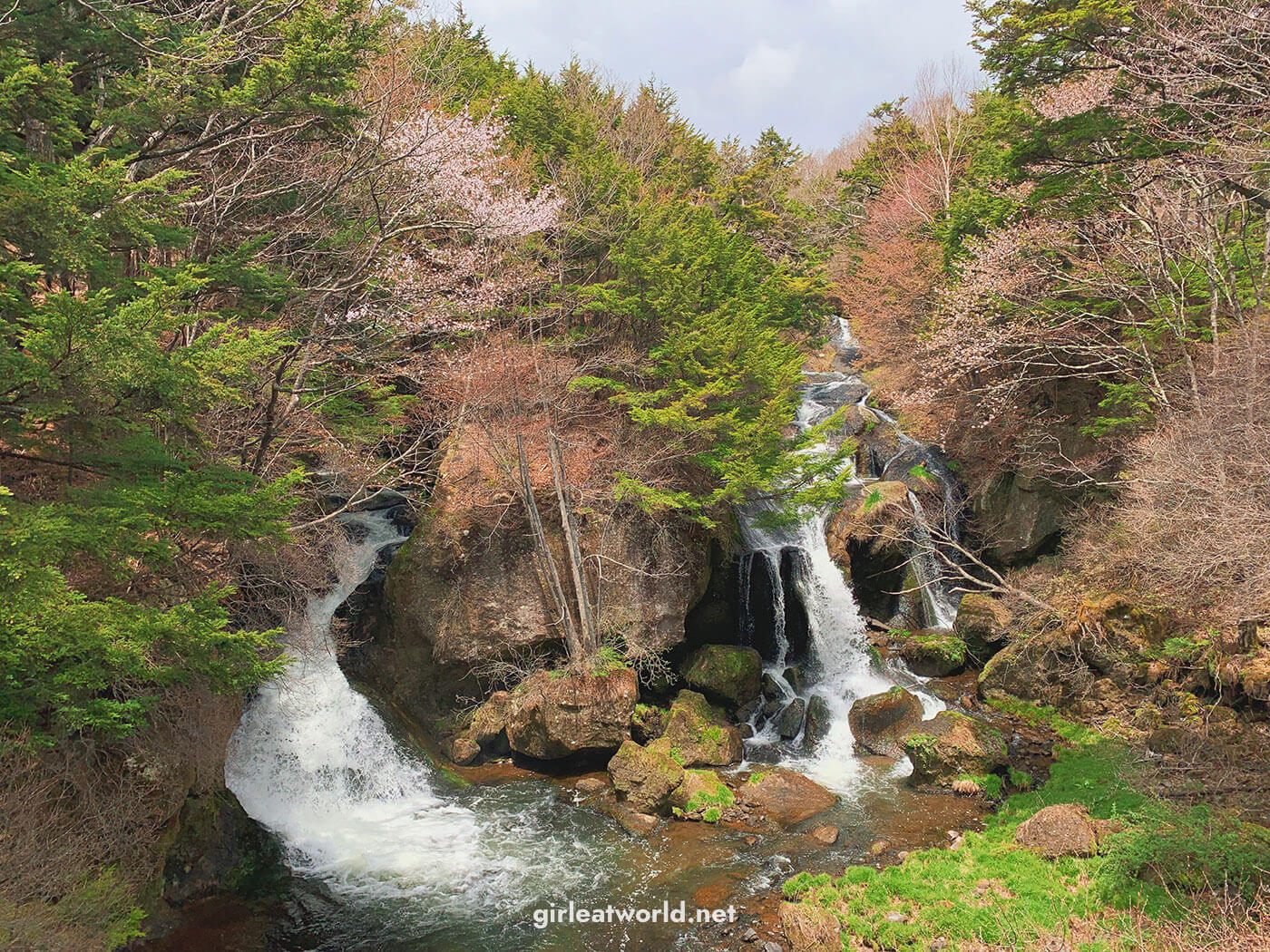 And that's my experience visiting Japan during Autumn! If you have any questions, please do not hesitate to comment below.
See you next time 🍂
Are you planning a trip to Japan? I've written loads about the beautiful country. Check out the 'Japan' category of this blog for some travel inspiration.